The penultimate goal of every business is to make money. The only way to make money is to sell products to customers. That revenue funds salaries and operating expenses, attract new investors, and is the source of funding to grow the business. Success comes from selling more products either by selling more to existing customers or attracting new customers and, attracting new customers in the digital age, means you must master SEO (search engine optimization) and stop SEO mistakes in their tracks.
Organic search traffic comes when a user enters a query into a search engine then clicks on one of the results listed in the SERPs (search engine results pages). For most brands, SEO traffic accounts for over half of all traffic to their website although the contribution of search engine traffic might be must higher for your website.
How search works
A user's query on a search engine triggers a search through the search engine's databases to find and rank content found across the internet related to the words used in the query — called keywords. Originally, these keywords were a single word or two but now, as search engines became more complex, queries got longer so now we talk about keyword phrases. With the increased use of voice search, queries are more conversational and keyword phrases even longer. Content creators build new content around relevant keywords to guide the search engine on the proper categorization of the content so the content is triggered with the proper queries.
Once the search engine identifies appropriate content that reflects the user's intent when making the query, the search engine ranks the content using a complex algorithm to deliver the highest quality content to users first. Search engines implement the algorithm by crawling the internet looking for new content using a spider (also called a bot) to seek new content and pull keywords and other factors from the content then adding the information to a database.
Search engines rank content in hopes of keeping the user happy and encouraging them to continue using the search engine. Google is so good at keeping users happy, it now accounts for nearly 93% of all internet searches (with the exception of the dark web and content behind a wall, such as internal company information protected by a password, which aren't indexed by Google). So, our advice on how to stop SEO mistakes builds on the way Google ranks content.
Adhering to the ranking factors contained in the algorithm is what we call SEO because it greatly impacts your rank in search results. Users commonly choose one of the top results shown them, as you can see from the graphic below. That's why ranking high in a Google search is critical for your success.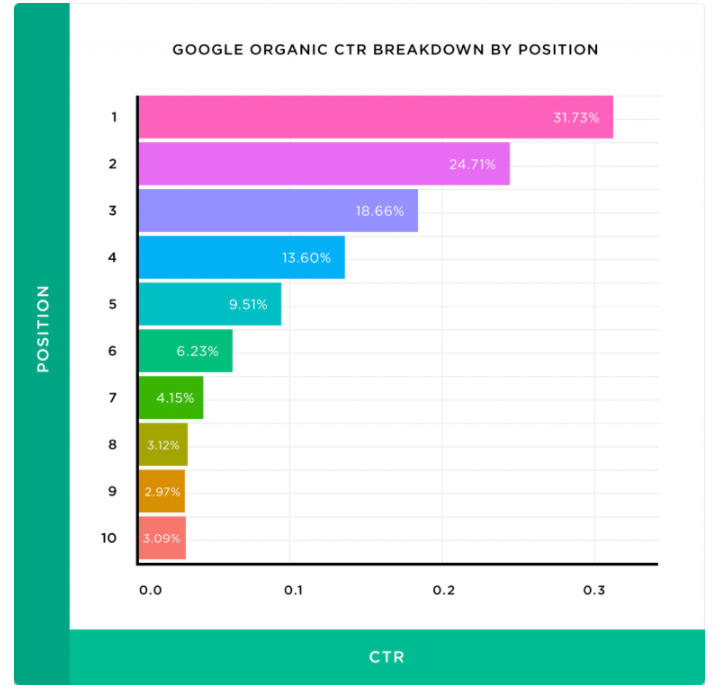 Why you must stop SEO mistakes 
By avoiding SEO mistakes, you increase your visibility and create awareness of your business, which substantially increases your potential for sales. Better still, SEO doesn't have to cost anything, although you might want to use an SEO tool like SEMRush or Moz or even a free tool like the Google Search Console to help optimize your SEO efforts. So, whether you run a homemade jewelry business or offer a rent a storage unit service, being SEO savvy is free advertising that you cannot afford to overlook.
There are a variety of tools and tactics you can use to improve your website's search engine optimization and you can find a variety of resources available to point you in the direction of SEO best practices. Similarly, there are plenty of common SEO mistakes that business users make all of the time, which actually depress their rank on SERPs. These mistakes are less well-publicized.
Stop SEO mistakes in their tracks by avoiding black hat SEO tactics and creating the highest quality content possible, remembering that Google wants to make users happy so you should, too. In fact, if you remember nothing else from this discussion, remember to create valuable content on a consistent basis and your content will perform well with search engines. If you want to learn more about how to stop SEO mistakes, read on.
Stop SEO mistakes to improve performance
Now that we know how SEO works, we can talk about how you can stop SEO mistakes from sinking your business and, instead use organic search traffic to make more money with both your online and offline marketing efforts.
According to Social Media Today, an expert on all things digital, here are the top SEO mistakes businesses make:
Ignoring Your 'Google My Business' Listing
Only Focusing on On-Site SEO
Overlooking Page Titles & Meta Descriptions
Not Running Regular Website Audits
Leaving Old URL Structures in Place When Redesigning A Site
Placing Important Text In Images Rather Than On The Page
Not Adding Fresh, High-Quality Content
Buying Backlinks
Building Content Specifically for Algorithms
Falling Behind on SEO Trends
Skimping on Your Website
Treating SEO as a One-Time Task
Cramming Keywords into Your Copy
Not Researching Customer Questions
Lack of Unique Keyword Targeting
We can't deal with all of these SEO mistakes, and I've added a few of my own to this list, but if you stop SEO mistakes like the ones below, you'll find you improve your rank in search and drive more traffic to your site.
Slow site speed
Recently, Google increased the impact of site speed as a ranking factor through its Core Web Vitals changes. Again, this mirrors Google's other efforts to keep users happy. A slow-loading site is a very common culprit hampering your keyword research and the dedicated hours you spent uploading quality SEO content. Slow site speed also deters users from engaging with your content, which eliminates your ability to convert them.
Recent studies by Forrester Research show that 40% of users will wait no longer than 3 seconds for a webpage to load. The results are even worse on a mobile device, where 53% of users will wait no longer than 3 seconds for a page to load. Thus, slow website speeds cost you both in terms of SEO and user engagement, eliminating much of your ability to make money.
Keyword stuffing
Keyword stuffing refers to a variety of efforts to write to the algorithm rather than humans. Yes, your content should contribute to your overall rank by including keywords in the content but including too many keywords signals the spider crawling the site about poor quality. This ranking factor was added several years ago to stop a prevalent practice of writing nonsense content full of keywords to rank higher — in fact, most changes to the Google search algorithm resulted from efforts by companies to abuse users in favor of making the algorithm happy.
While we're on the topic of keywords stop SEO mistakes related to them by only using each keyword once. I know it's tempting to use keywords that represent a large number of searches multiple times to capture that traffic but you actually compete with your own content when you do that. The result is you rank lower for both pieces of content. You can read more about using unique keywords here.
Duplicate content
Google doesn't like duplicate content in the slightest so you must stop SEO mistakes by avoiding duplication on your website. Duplicate content refers to content that is essentially similar or identical to other content found on your website or other sites on the worldwide web. This is part of Google's commitment to the protection of intellectual property. So, writing duplicate articles disseminated across the web for the purposes of a solid backlink to your website does you more harm than good. Copying content from other online sources also counts as duplicate content, although you can use a small part of the content from other sites with proper attribution, such as my list of common SEO mistakes copied from Social Media Today posted above (note this is a small segment of this post). Although there are no official penalties for duplication, Google prioritizes original content so ensure your content is fresh and authentic.
BTW, the same thing goes for images, so it's best to create your own unique images as image search becomes more accurate. Failing that, ensure proper attribution to any images you use from other sources.
Outdated content
If your website has been around for a number of years, it is important that you go back through and vet your older content. Older, outdated, or no longer relevant content can start to bring down the domain authority of your website, ultimately making it harder for your content to rank. When the clever robots behind Google's algorithm crawl your website and find your content is outdated or irrelevant you may find that content eliminated from the search database, meaning your old content is no longer visible in search. Ultimately it is important to remember that Google's function is to produce the results to queries and search terms that people actually want and need to see, which is not outdated content. Not only that but visitors develop a poor image of your brand when they receive outdated information on your website. For instance, I was looking for a new internet service provider and one of the options showed an outdated price on their website. When I went to sign up for the service, the price shown on the signup form was $10 higher than the price shown on the website. Even though this provider was still cheaper, I didn't feel confident in the brand or that their pricing wouldn't change on a whim, so I eliminated them from my consideration set.
Stop SEO mistakes by going back through old content and updating it to make it relevant for the present day. Or eliminate old, outdated content completely. That frees up your ability to reuse a high-traffic keyword with content likely to rank higher. Not only does this reduce the chance of your webpage being bumped lower, but it likely helps it climb the rankings also. Plus, it increases your authority and relevance with visitors when your content is up-to-date.
Lack of mobile optimization
Think about the websites you access and how you access them. How often do you sit at your desktop looking through websites? Now, how often do you use your smartphone to look at these same websites? Does the answer surprise you? Well, you're not the only one trawling the web on their smartphone. In fact, website traffic from a mobile device now accounts for over half of all website visits, especially for B2C products. Smartphone usage for online shopping and browsing increased exponentially over the last few years such that mobile now accounts for 73% of online sales. It is imperative, therefore, that your website offers a mobile-friendly website and experts advise creating your website with a mobile-first strategy. Failure to do so results in losing traffic and revenue.
Missing SEO elements
While keyword stuffing is a big no-no, you must include your keywords in certain parts of your content. Including keywords in your title and at least 1 subheading within your content is necessary to stop SEO mistakes. You also want to include them in your Alt tags or alternative tags associated with images contained within your content. Including keywords in the first paragraph of your written content is a good idea so readers (and spiders crawling your site) know what the content contains from the very beginning.
Modern web pages also use a meta description. In the old days, a meta description was added to the beginning of a website to let spiders know what the content was about. This description was invisible to visitors. Today, the meta description appears after the hyperlinked title of your content and helps users determine whether the content is likely to answer their query, although it doesn't appear as part of the readable content on the web page itself. Writing a meta description that meets the needs of the search engine spider as well as offers an irresistible invitation for users to click is required and using your keyword within that description helps stop SEO mistakes.
Conclusion
These are but a few of the SEO mistakes you must avoid to rank well (at least as well as possible given the competition). Follow this advice and you'll see your rank improve over the next few months — SEO improvements are always slow.
Need marketing help to support business growth?
We welcome the opportunity to show you how we can make your marketing SIZZLE with our data-driven, results-oriented marketing strategies.  Sign up for our FREE newsletter, get our FREE guide to creating an awesome website, or contact us for more information on hiring us.
Hausman and Associates, the publisher of MKT Maven, is a full-service marketing agency operating at the intersection of marketing and digital media. Check out our full range of services.