Being an Adwords expert requires mastery of a number of skills — marketing, analytics, copyrighting, graphic design, etc. That's because, Adwords involves not just crafting the ads, but the landing pages used to capture leads or sell your brand. The more closely your ad links to the landing page, the higher the quality score — a major factor in determining where your ad appears.
The infographic below, by my friends at Premium IT Solutions, deals specifically with being an Adwords expert, but much of their advice holds true for other digital advertising platforms like Facebook and LinkedIn. For today, let's take a look at these skills and the basics necessary to master Google Adwords.
Becoming a Google Adwords Expert
Analytics
Analytics is really the heart of all marketing decision-making and digital marketing lends itself to much more effective and nuanced metrics than traditional media.
When planning an advertising campaign, you must decide whether the cost is worthwhile and I recommend clients treat their advertising decisions like any other financial expense for the organization by targeting an ROI (return on investment).
Using historic data, or data gleaned from results common in your industry, you need to calculate whether advertising offers sufficient return. Because advertising generally results in a short-term return, the calculations are fairly simple.
You'll need information on:
P = product profit/ unit (after costs to acquire the product and shipping costs plus any other costs necessary to deliver the product to customers)
D = development costs for the ad campaign and landing page(s)
T = targeted ROI (the percentage you consider an appropriate return — often around 20%, but it can be much higher)
A = adjustment for returns by customers and the costs to ship those products back if you offer free shipping in both directions
E = estimates of sales volume (I recommend setting an optimistic volume, a pessimistic volume, and something in the middle)
C = proposed spending on Adwords ads
You then set this information up in a spreadsheet using the following formula (We call this sensitivity analysis):
ROI = P (E) – A
You'll end up with 3 projected ROIs — 1 for each scenario reflecting estimates of your sales volume. You then need to determine whether your ROI percentage exceeds the targeted ROI (T) established in your firm. Thus:
ROI percentage = ROI/(D+C)
if ROI percentage > T, then Adwords is justified
Performing such calculations ensures your spending on Adwords makes financial sense for the firm.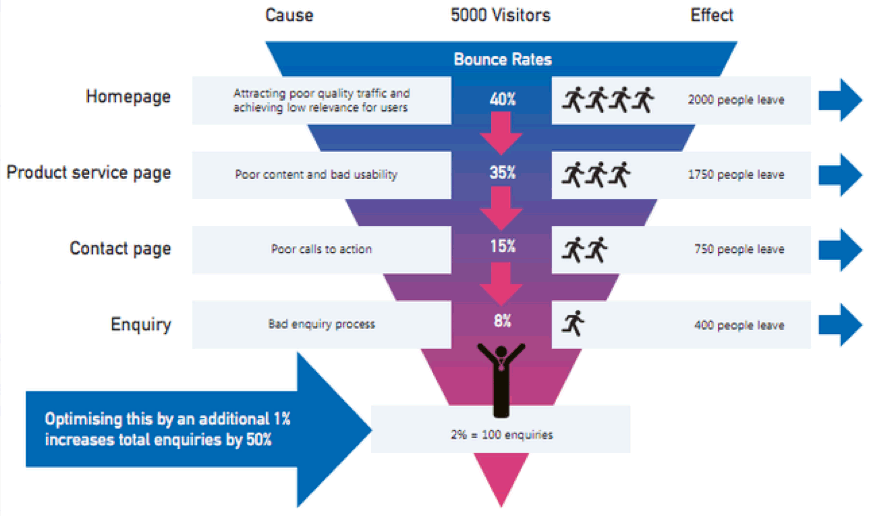 Things get much more complicated when you're Adwords goal is something other than immediate sales — like lead generation, subscriptions to a newsletter, or other intermediate goals.
That's where using Google Analytics for conversion tracking really helps. First, you set up a conversion funnel to estimate the value of the intermediate steps.
Having information from a funnel such as the one above is invaluable to an Adwords expert. By knowing how many inquires convert and the average value of each sale, you can now assign a value to each visitor added to the top of the funnel.
Let's say 50% of inquires convert — that's 50 sales.
If the average sale is $250,000 then the total gross revenue is $12.5 million. With 5000 visitors, that's an average value/ visitor of $2500. Now, you can use this number to evaluate the ROI if your Adwords campaign drives an extra 1000, 5000, and 8000 visitors to the page. Just use the formulas above for these calculations.
Content
It's great to calculate the potential ROI from your Adwords campaign, but you need great content to realize potential returns. An Adwords expert must master copy, images, and keywords.
I always start with a great landing page when crafting an Adwords campaign.
Landing pages are where conversion takes place, not your ad. So, landing pages should be visual, persuasive, and informative. They must provide a clear USP (unique selling proposition) that resonates with your target audience.
According to Wikipedia, the average rate of shopping cart abandonment is over 67%. That's a huge number. It also means that, for every dollar you spend on Adwords, you're wasting over 2/3!
Keywords are an important part of becoming an Adwords expert.
Landing pages must contain keywords (in this case long-tailed keywords meaning phrases not literally a word) that prospects would use to search for your product. And, the most specific the keyword is to the search term, the more likely you'll drive clicks to your site.
Using the same keywords for both your ad and landing page is one of several factors that improve your quality score, which impacts both your cost and ranking (how high up you appear in the ad list — note, Google recently eliminated ads on the side of search results due to their poor relative performance).
Negative keywords are a great way to eliminate irrelevant traffic and keep costs down. The infographic uses negative keyword JOBS to reduce clicks from folks not interested in buying your brand. A host of other negative keywords may similarly reduce costs. In their list of negative keywords, Return on Now includes words related to research, consumers (for B2B players), adult topics, enterprises (for B2C players), and education. You might also want to include negative keywords related to cheap or discounted products unless that's what you're offering (which I don't recommend – competing on price isn't a good choice).
An Adwords expert manages the customer journey
Managing the customer journey (or customer experience) was the new buzzword for 2014 and became a top priority for brand managers in 2016 according to a new report from Adobe.
For those not familiar, a customer journey map (such as the one to the right-click to enlarge) includes all steps customers take along their journey to buy (or reject) your product. Notions underpinning the customer journey include ensuring visitors effectively navigate from your landing page through the rest of the conversion process with a minimum of clicks and only requiring as much input from visitors as necessary to complete the sale. Each click and each piece of additional information invites would-be buyers to leave.
Building a customer journey map requires a deep understanding of your target audience, what matters to them, how they search, and what triggers decision-making. Some of this comes from analytics, some from research, and some from educated guesses about customer behavior. For a good overview, try this post from CMO Digital Forum.
Once you craft a customer journey map, you need to create content specifically designed for each stage along the customer journey — for instance, once a customer buys a ticket, they're interested in projected on-time arrival of their train, not schedules. Using cookies or logins, you can optimize content for each visitor and what they're likely looking for.
The same can be said for the device a visitor uses. On mobile phones, the visitor is likely more interested in your address and phone number than shopping online. If they have location turned on, you may even be able to know when they're interested in comparison shopping and optimize that experience for them.
That brings up the topic of local.
Local marketing in Adwords
Not only does adding a location to your Adwords ad reduce the competition from other businesses that don't serve a particular geographic area, but it reduces costs by eliminating clicks from visitors who aren't interested in what you're offering.
Google makes it easy to restrict location. Once signed into your account, you simply edit the location in the campaign settings.
You can select individual countries or areas within a country. You can even craft ads aimed at individual areas to optimize performance. For instance, you might advertise your winter coat closeout in cooler areas of the country while advertising new spring products in the south.
Remarketing
Remarketing refers to delivering specific ads to visitors who left your site or used your app. Dynamic remarketing even serves up ads for recently viewed products from your website.
I have mixed feelings and experiences with remarketing. In some respects, it makes a lot of sense to reach folks already familiar with your brand and already in the buying mode. From that standpoint, it makes a lot of sense and reduces your overall costs for advertising.
In another way, remarketing may be a total waste of money. For instance, you spend money reaching folks who already discarded your brand from their consideration set — those products still in the running for purchase. I spend a lot of time researching social media tools, but I'm not in the market for any of them — I'm happy with those I currently use. Brands waste money remarketing to me.
Remarketing might also seem a little creepy and "Big Brotherish" especially to visitors with high concerns for privacy. It's like Google was looking over their shoulder as they shopped, which, in fact, is exactly what Google did.
Final thoughts on Adwords
I hope you find this article helpful. If you have specific questions or have a topic you'd like me to cover, please ask in the comments below.
Need marketing help to support business growth?
We welcome the opportunity to show you how we can make your marketing SIZZLE with our data-driven, results-oriented marketing strategies.  Sign up for our FREE newsletter, get our FREE guide to creating an awesome website, or contact us for more information on hiring us.
Hausman and Associates, the publisher of MKT Maven, is a full-service marketing agency operating at the intersection of marketing and digital media. Check out our full range of services.