Starting a new business is a wonderful journey toward discovering financial freedom to set your own hours and do what you love. However, in the early days, it may seem like you're working to pay the bills, with little left over for your family and their needs. Yesterday, we discussed elements necessary for building a business plan that reduces uncertainty and provides a pathway toward success. As part of that, we discussed building pro forma financial statements to ensure you never face a cash flow problem that can quickly sink your hopes. Today, we discuss some startup costs to consider as you work on those pro forma statements.
Startup costs to consider in building a pro forma
Website costs
It doesn't matter whether you have a physical store or a digital service business, you need a website and other digital platforms to tell the world what you do. Of course, there are the usual costs that come with launching a successful website, such as hosting, domain registration, paid themes, and plugins, as well as website design. These are but the first steps in building your online presence but you must do more to ensure your website runs properly, such as SEO services, monitoring costs (ie. software such as Tableau for data visualization), maintenance, and security. For instance, the average cost of SEO is nearly $3000 per month. You need SEO to ensure your business shows near the top in search engine results, otherwise, no one will ever find your website. Below you see the impact of search rank on organic traffic to your website, so you can appreciate that SEO isn't something you can do without.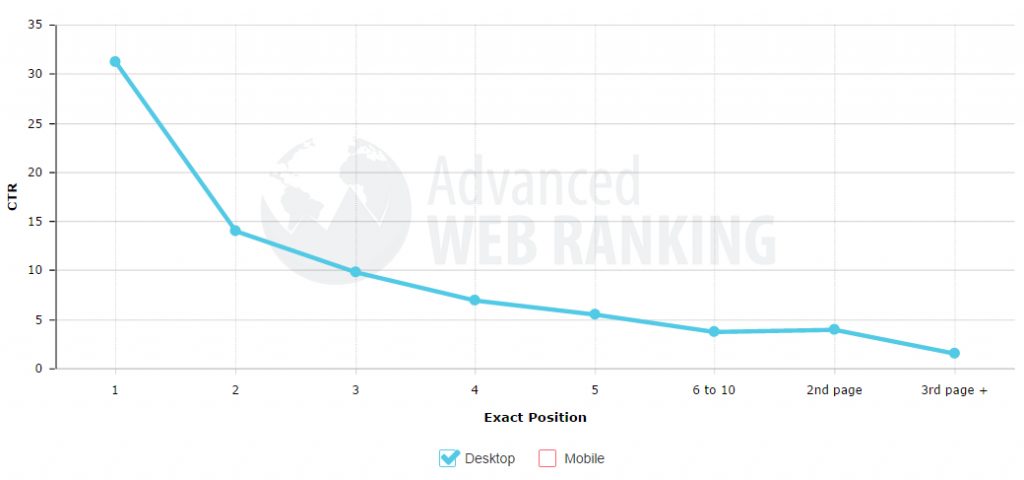 SEO is also very technical and most entrepreneurs don't have the skills needed to go it alone.
Accountants, tax professionals, and financial advisors
If you think that you don't need an accountant, ask yourself this, do you feel confident you can get your taxes right? Just as with SEO, accounting and taxes are something very technical and most entrepreneurs lack the skills necessary to do their own accounting, so the answer is probably no. An accountant's job is to ensure that your books are balanced, that taxes are paid, and ensure that there are no issues with the finances of the business. Not only do you need accurate financial records to ensure you pay all related taxes (income, sales, employee withholding, etc) but you need these records to monitor your financial performance to guide decision-making.
If you are wondering how to hire an accountant, there are plenty of places you can search for registered and chartered accountants. Often, when you apply for your business license or file incorporation papers, accountants proactively reach out to tout their services. Investing in an accountant to perform these tasks as well as make payments (especially payroll, which is very complex) and to track receivables helps take the pressure off you so that you can get on with running the business.
Insurance
It might have crossed your mind that you need insurance for certain things but did you know that you should have business insurance? Even the smallest of businesses benefit from coverage with a form of business insurance. Business insurance fills the pages when you don't get paid for a job or if someone tries to sue you by covering the costs. It is always wise to look into what is available and see what type of coverage suit your operation. And don't forget, you might need several special types of insurance if you have a food business or something with a high potential for lawsuits.
Equipment
Depending on the financial backing that you get and the type of business that you have, you might choose to buy new equipment for your business or rent what you need on a short-term basis. For example, if you are a butcher, you might want to buy new meat grinders to ensure they perform adequately with little downtime. New equipment also requires less maintenance but buying used equipment might fit your budget in the early days. Meanwhile, renting equipment reduces demands for capital and is a great alternative when you won't use the equipment all the time.
Consider both the tools of the trade as well as office equipment, such as computers, tablets, copiers, and a phone system.
Staff
If you are working by yourself, you probably won't require a full-time staff. You may find hiring freelancers to cover you when you need specialized skills or experience high demand might provide an optimal staffing solution. You might also consider hiring a virtual assistant to help handle office needs like answering the phones and scheduling appointments.
Another option for gaining specialized skills on an ongoing basis is using stock options or profit-sharing to acquire these skills at a lower cost. Bringing on skilled employees as partners is also an option. If you have investors or a board, you might also find them willing to contribute advice and talents to protect their investment.
Marketing
There is only so much you can do with a website and some word-of-mouth advertising, so you must allocate money for marketing and advertising. I worked for the Small Business Administration for years and found most would-be entrepreneurs don't include any advertising in their startup costs. This is a huge mistake as it strangles the business; making it impossible to reach a business's financial goals and forcing the business into multiple rounds of financing as they wait to gain traction in the marketplace.
Hiring a professional team of advertisers or a marketing agency helps you make a splash that translates into revenue. And, hiring an agency is often cheaper than trying to go it alone, as you can see below.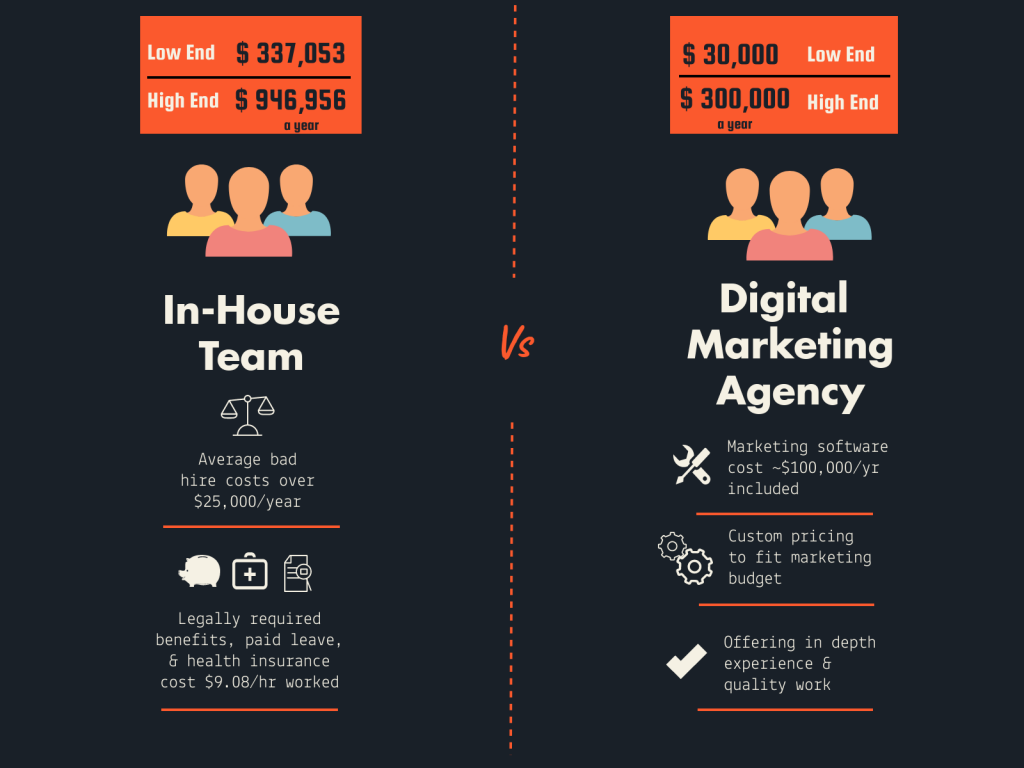 The best thing about an advertising company is that they know the best ways to get your name out there quickly and they're able to spread the cost of expensive software across multiple clients. Not only does this save you money on wasted marketing efforts and costly software, but it saves you from making a mistake that damages your brand before you even get a chance with prospective buyers.
Agencies worked with many other companies and gained insights into the best strategies for your business and can help navigate the world of billboards, online advertising, brand building, messaging, and traditional advertising. Many agencies offer a range of strategies and tactics along with the flexibility to change agencies or tactics if you're not comfortable with the results.
Conclusion
As you can see, there are quite a few hidden or forgotten startup costs to consider when you build your business plans and statements. We hope that this discussion of startup costs hasn't put you off and that you are now in a better position to build a plan that results in success.
Need marketing help to support business growth?
We welcome the opportunity to show you how we can make your marketing SIZZLE with our data-driven, results-oriented marketing strategies.  Sign up for our FREE newsletter, get our FREE guide to creating an awesome website, or contact us for more information on hiring us.
Hausman and Associates, the publisher of MKT Maven, is a full-service marketing agency operating at the intersection of marketing and digital media. Check out our full range of services.