With the sustained growth of e-commerce (see below), maybe you considered starting your own e-commerce store to take advantage of this growth. Maybe you think adding an e-commerce store to supplement your existing business allows your customers greater flexibility in buying your products. Maybe you think starting an e-commerce store is a low-cost means to supplement your existing income from a non-retail source. Whatever the reason, take time for adequate planning before you jump into something that might turn bad quickly. Starting your e-commerce store the right way means you lay the groundwork for success. You also reach critical mass faster (the point at which you reach an inflection and sales require less effort) so you become revenue-positive as soon as possible.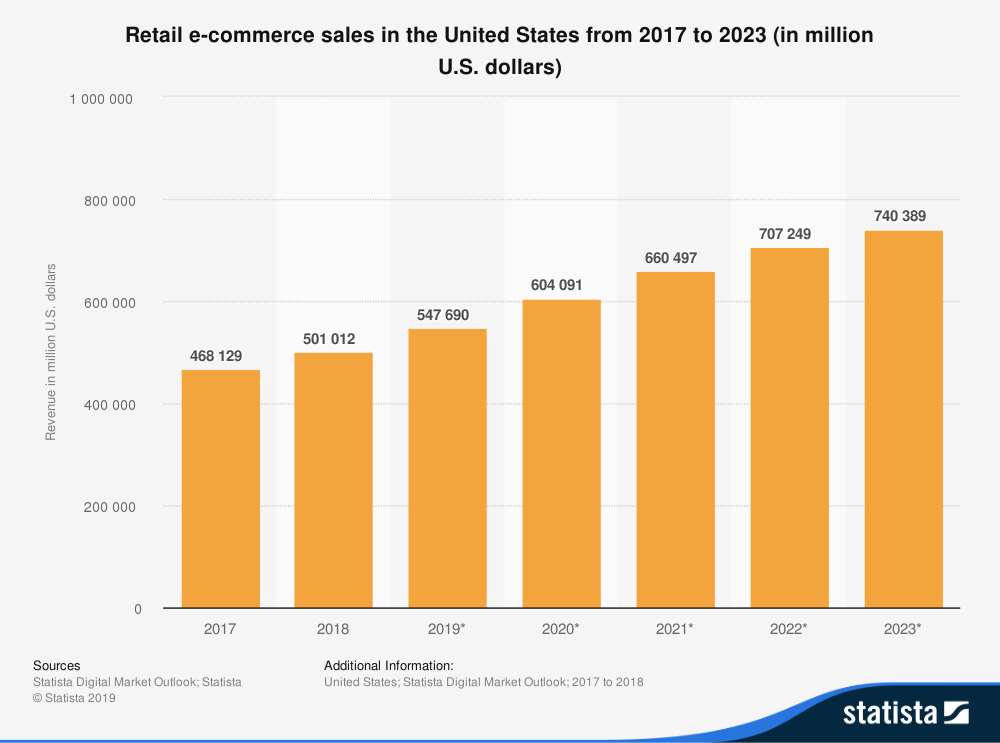 Note the date of this survey pre-dates the pandemic, which resulted in a serious escalation of e-commerce sales, especially among those who'd never shopped online before.
Starting your e-commerce store
In many respects, starting your e-commerce store is just like starting any other business. The first step involves doing your research to determine the basics.
Do your research
The e-commerce industry is divided into multiple markets and niches, all of which have their nuances, competitors, and other factors to worry about. Before making a decision about which niche offers you the best opportunity for success, conduct thorough research into the external factors that impact potential, including:
Competitive environment, including the strength of direct competition plus the potential for new competition based on Porter's Five Forces model (see below). Your assessments require research and objectivity if you want good insights to guide your business decisions. 
Legal environment, such as business licensing, name registration, and tax implications on both your personal and business taxes, which help you make the best decision among various types of business (corporation, S-corporation, LLC, etc). You must also consider regulator issues prevalent in the industries you consider.

Cultural environment, which includes how customers see products in your chosen niche (or several niches you're considering), how they view competitors in the industry, how they make product buying decisions, who influences those decisions, and much more. As you can below, the single biggest source of business failure comes from the lack of market need for what you provide. Remember that consumers buy solutions so, unless you can offer the best solution, don't bother starting your e-commerce business. The final element of this process is to develop personas for each of your target markets to help in developing a marketing strategy to reach them.
Economic environment, such as inflation rate, unemployment rate, interest rates, consumer confidence level, and other factors that might impact consumers' willingness to buy from you.
The technological environment changes all the time, and you must understand how technology impacts your ability to succeed in your chosen marketplace.

Of course, this type of analytics doesn't just happen before you make your move into starting your e-commerce business but happens as part of your yearly strategic planning.

The more you know about the market you're considering entering, the better you are able to make the right business decisions. You should spend a lot of time identifying and researching your ideal customer as part of this. You can make more informed business decisions once you have all the information.

Other factors likely weigh into your choice of a market niche. If you have experience working in a niche, it might make sense to at least consider entering this niche. If you have a passion for a particular product line or service, add this to your list to investigate for further consideration. But, these shouldn't be the only factors considered in entering a marketplace for, without market potential as identified through your research, you won't likely achieve success, at least not at the present time.

Build a website

Any business today needs a website but, with an e-commerce business, your website is your store, so it deserves even more consideration. As an e-commerce platform, consider critical elements such as the customer journey, product images, reviews, and the load speed of your pages, which are all factors contributing to (or deterring) from customer conversion.

SEO or search engine optimization, as well as social media (owned, earned, and paid), helps prospective buyers find your website and, thus, offers the potential to convert new customers. If prospective buyers can't find you, it doesn't make any difference how well you do other aspects of your e-commerce business. That means you need content produced on a consistent basis that provides value (entertainment, informational, or interesting) to your target market.

Starting your e-commerce business: 3 crucial steps

1. Choose an e-commerce platform

Choosing an e-commerce platform is one of the biggest decisions you need to make and greatly impacts the ease of maintaining your site, the look of the site to visitors, and the conversion rate. There are more than a few e-commerce platforms to choose from, each offering its pros and cons. You need to spend time comparing them. That's where much of your research above will help you make the best decision.

You have more than a few options to choose from including both paid and free e-commerce platforms, such as:

Magento
Shopify
WooCommerce
Squarespace

You also need to consider the option of headless eCommerce – where the frontend (visitor's view) and backend (developer's view) are kept separate – and multiple other factors. Make sure the platform you choose can scale up with you.

2. Develop your products

Before you can start your e-commerce store, you need products to sell. Developing your product list, images, and descriptions greatly impacts your conversion rate. Starting off with two or three product lines might work best in the beginning so you can focus on them but, remember, some consumers really want to find a one-stop-shop to buy multiple goods (ie. look at the success of Amazon) so they avoid sharing confidential information with a host of websites.

In some cases, you develop high-quality products yourself, which involves a host of other planning and research requirements such as sourcing raw materials, arranging for manufacturing or setting up a manufacturing facility, and developing an operational process to optimize performance in your manufacturing facility. In other cases, you might find products made by others and then sell them on your website.

In either case, you need a reliable source of materials and finished products so you want to find partners you can work with easily.

Consider the cost to consumers and provide clear, accurate pricing early in the buying process. Also, consider payment options, such as PayPal which eliminates the need for customers to share sensitive information, or offers payment options for more expensive purchases.

3. Logistics

Logistics involves the physical movement of products from one place to the next. We can also include warehousing within this area, as well. Unless your product involves only services, getting products from suppliers and to customers is a major factor in your success, especially given that many consumers demand fast, free shipping.

In some cases, you may offer drop-shipping directly from the manufacturer to customers, so you never have to worry about warehousing and shipping. In other cases, you must consider where to locate your warehouse to reduce the time and expense of getting products to customers.

How to start your e-commerce store: wrapping up

Once you know how to start your e-commerce store, the process becomes much less overwhelming and anxiety-inducing. To achieve the success you might see in other storefronts, you need to make sure you start on the right foot.

As complicated as that could seem, it doesn't need to be. With each of the above steps, you'll make it more straightforward. You'll also be better positioned for future success. There shouldn't be anything stopping you from launching your e-commerce store the right way.
Need marketing help to support business growth?
We welcome the opportunity to show you how we can make your marketing SIZZLE with our data-driven, results-oriented marketing strategies.  Sign up for our FREE newsletter, get our FREE guide to creating an awesome website, or contact us for more information on hiring us.
Hausman and Associates, the publisher of MKT Maven, is a full-service marketing agency operating at the intersection of marketing and digital media. Check out our full range of services.