SEO is a complex field that many businesses don't manage effectively or even understand fully. Without the ability to implement an effective SEO strategy, you're wasting precious resources and delivering far too few results in terms of reach. Today, we'll discuss specialized SEO and whether, in fact, this is a new strategy or an adaptation of your strategy to the realities of your market niche.
It is all too easy to get drawn into aspects of a strategy, like SEO, that aren't really impactful on your business performance, and many companies find themselves in a tight spot when they invest in a marketing strategy but don't see a sufficient return to justify their budget. Any business strategy that doesn't generate a positive return is on the chopping block in most businesses as resources are inevitably scarce.
One of the biggest mistakes you can make is ignoring specialized SEO companies that offer services to specific niches. Tailored to your industries and extremely knowledgeable about your business, a specialized SEO agency can save the day when you're struggling to achieve success on search engines. But why should you go with a specialist rather than an SEO generalist? Let's discuss the benefits of specialized SEO. But first, I'd like to start our discussion with an overview of SEO to ensure all my readers are on the same page.
SEO
SEO or search engine optimization is critical for getting found by search engines. Below, you see how your rank in search results impacts your performance.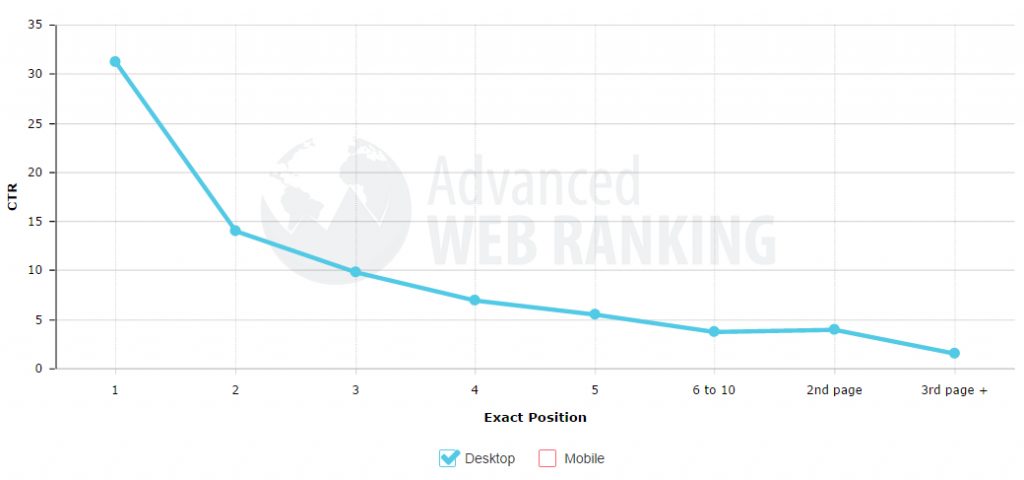 Hence, your click-through rate drops as your rank in search results goes down, leveling off after about position 5. Once you drop to the second, third, or subsequent page of search results, you're not seeing much in the way of clicks to your content. Without clicks, your opportunities for conversion plummet. Sure, you might argue, your social media strategy brings in sufficient clicks and you don't need SEO. And, while you may convince yourself that this is true, the two metrics are intimately related, as we'll see later.
Elements of SEO
Let's first talk about what happens when you post a piece of content. Google (which is the big tuna when it comes to search engines), as well as other search engines, uses spiders (small pieces of javascript) to crawl the internet looking for new content. You can make this more efficient by submitting your sitemap to the search engine.
When the spider finds new content, it attempts to categorize the content and establish its quality using a complex algorithm of factors and weights assigned to each factor, since not all factors are equally important. That's where SEO comes in. By optimizing your content based on current criteria, you improve your rank and drive more traffic to your content.
Some of the most influential elements of SEO are:
Fresh, valuable content produced on a consistent basis
Keyword phrases that match user intent as reflected by the query
Best practice use of keyword phrases such as including them in headings and subheadings, in image alt tags, in the meta description, and natively within the content
Backlinks to your content from other sites, which acts as a quality signal
Social media engagement, hence the reason your social media strategy and SEO are intimately linked
Security on the site, as evidenced by HTTPS protocols
Site speed
Mobile-friendliness
Other indicators of quality such as time on site, bounce rate, etc that indicated visitors like your content
Specialized SEO
As you should glean from the factors listed above, a successful SEO strategy relies heavily on a deep understanding of your market niche. Some agencies provide this specialization through divisions that focus on a narrow band of market niches while other agencies specialize in a specific market niche.
Here are some benefits you get from a specialized SEO agency.
Benefits of a specialized SEO agency
Superior market research
Market research is a crucial element of any SEO campaign. It's important for SEO agencies to have a clear idea of the niche markets they serve, including understanding how they phrase queries, keyword phrases used, the competition for specific keyword phrases, and where a brand can achieve the highest engagement on social media. This is only possible with an emphasis on a particular market or several closely related markets. For example, a general SEO company knows what makes Google happy, in general, but they may not know what makes your customers happy and how they frame queries if you work in a niche field like construction. Despite the skill of your chosen agency, it's a steep learning curve to bring them up to speed with what's going on in your niche. In most cases, it will be easier to go with a specialist.
Understanding the competition
Every market is filled with competition, and this means that you can't rely on simply knowing about the state of your own SEO or general SEO strategies. Alongside this, you need to compare the work you do with the SEO strategies employed by other companies in your niche, ensuring that you can build an understanding of what works in your niche. There are tools (paid) that allow you to dig deeper into the strategies employed by your competition and their success but those efforts are limited by privacy and proprietary issues.
Employing a specialist or agency that already knows about the competition and has experience that allows them to avoid common mistakes in the niche makes this process a lot easier. Not only will you know what competitors are doing, but you also benefit from knowing what strategies offer opportunities to overtake them.
Accurate content creation
Content creation has the largest impact on SEO, especially collectively when you consider the impact of content on backlinks, engagement, and keyword strategy. In fact, writing blogs and creating new web pages is vital to the SEO process. Working with a general SEO company to create content for you is a risky process, especially when you work in a niche with its own terminology and technical issues that your content creator must get right.
This SEO tutorial for law firms shows how important content creation is and the dangers inherent in legal content creation, especially. If a legal firm or someone representing a legal firm publishes content that's misleading, inaccurate, or lacks the caveats necessary to reflect that it doesn't substitute for legal representation faces legal consequences that can bankrupt the firm. I have a lawyer who contributes content to this website periodically. Even small edits to the content he submits often elicit a request to reframe or edit the content to ensure it matches the law generally and doesn't go beyond what the content is meant to do.
Conclusion
As you can see, SEO is quite complicated. It's worth some analysis to determine whether working with specialized SEO companies that understand your niche as well as possible makes sense in your situation. A big part of this analysis includes a good understanding of the type of business you operate and how specifics in that niche differ from other markets. As time goes on, can assess your results and, if not satisfactory, change your decision.
Need marketing help to support business growth?
We welcome the opportunity to show you how we can make your marketing SIZZLE with our data-driven, results-oriented marketing strategies.  Sign up for our FREE newsletter, get our FREE guide to creating an awesome website, or contact us for more information on hiring us.
Hausman and Associates, the publisher of MKT Maven, is a full-service marketing agency operating at the intersection of marketing and digital media. Check out our full range of services.