Is social media marketing dying?
That's the question asked by Joe Hall in Saturday's edition of Cup of Joe on Marketing Pilgrim. A lot of folks appeared to agree with him, yet when I shared his thesis on my own social media accounts, I got a lot of pushback. So, I ask YOU the questions, IS SOCIAL MEDIA MARKETING DYING?
Is social media marketing dying
Here's my answer — NO.
I don't think social media marketing is dying.  I DO think people are doing social media marketing wrong, so they're not getting the results they hoped. If you go into social media marketing understanding how to do it right — you'll find social media marketing very successful.
Doing social media marketing right
1. Social media marketing isn't traditional advertising
You can't use social media marketing like traditional advertising by sending press releases or advertising through social channels.
In fact, I wrote an entire post, on the differences between digital marketing and traditional advertising, which is on page 1 in many search results because it provides value.
Social media marketing isn't like ABC or CBS — you don't tap into an existing network of millions. You're also not supporting the entertainment folks come to see, so don't expect them to let you interrupt their social community without giving SOMETHING back. Instead, you must build a network by entertaining, interacting, and supporting folks you want to join your network.
Hence, you need quality programming (content) to attract people to your network and to get them to share your content with their friends. Simply putting "Follow us on Twitter" at the bottom of your print ad or at the end of your commercial doesn't do anything.
2. Social media marketing takes time
You won't get results from your social media marketing campaign overnight, but, then, you didn't get anything from a single traditional ad in print, on the radio, or on TV.
If you need something NOW, use email or direct marketing, as those come closest to giving you results fast. Of course, email requires a list and CanSpam regulations mean you can't just go out and buy or borrow a list. Direct marketing still works and you can buy some pretty specific lists to increase the yield (conversion rate). However, you'll pay around $2 to mail a simple direct mail piece, not including creative and operational staff.
A one-shot social media effort is a waste of money. It takes time for a social media marketing campaign to spread through your network and even longer for social media marketing efforts to show up in your bottom line. Your target marketing also requires multiple exposures to your marketing message before they're likely to respond (this aspect of advertising is shared with traditional media channels).
3. Social media marketing takes effort
With traditional advertising, you create a message once, then broadcast it or print it off lots of times.
Social media marketing doesn't work like that. You need fresh content published on a consistent basis to get results regardless of your social channel. And you must adapt your content before sharing it across different social platforms.
This means creating and spreading content every day (or at least several times a week). Here's a typical posting schedule from DowSocial: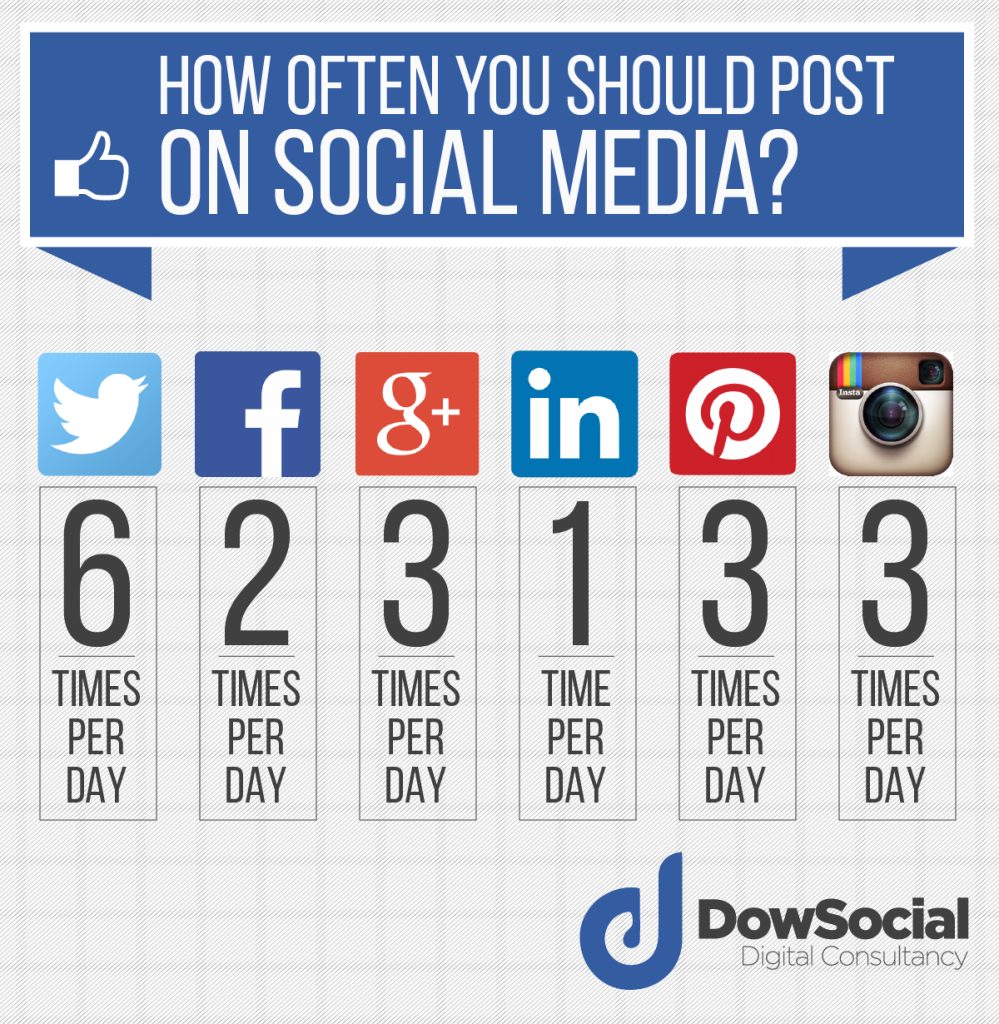 And, the content you share differs across platforms. Here are some suggestions borrowed liberally from Social Media Examiner:
On Facebook, keep your post conversational and personal. Facebook is like sharing across the kitchen table.
Instagram, also owned by Facebook, is primarily visual, so images should spark attention. Also, include hashtags in your Instagram posts.
LinkedIn is more professional so no one expects (or wants) to see pictures of your nephew's bar mitzvah. Although, Covid-19 forced most users to work from home, so the rules are a little more relaxed for now. Whether they'll change back to all business once the pandemic is over is open for discussion.
Twitter expanded its character limit, but you still need to keep posts short. Try to contain your enthusiasm to the original 140 characters and be sure to include a hashtag or two.
TikTok is a short video platform, so keep that in mind when you schedule content. YouTube, the other video platform, is very different from TikTok in terms of user demographics and allows longer videos that have staying power.
Google +, which shows up on the infographic above, disappeared a few years ago.
4. Social media marketing takes money
The myth that social media marketing is free persists. Certainly, compared with the millions you might spend on traditional advertising, social media marketing is less expensive, but it still takes money to do it right.  You'll need quality hosting and web designers (if you use a blog), graphics design, and content managers. You might try doing some of this yourself — and you can bootstrap your start-up effectively with a little cost — but ultimately, you'll need people to optimize your success as social media marketing is both an art and science, so doing it yourself only works if you're expert at social media.
increasingly, you need advertising to cut through the clutter on social media. And, that brings an entirely different skillset to the forefront. So, in addition to your ad spend, you'll need to hire digital advertising experts.
5. Social media marketing is changing
What worked yesterday might not work today. The Google algorithm that determines whether you show up in search results changes constantly and gets a major spruce-up every year or so. Doing what worked a year ago, may send you to Google hell where no one will ever find you.
Platforms change, consumers change, and the digital landscape changes. Look at recent changes to Facebook such as new Facebook rooms, enhanced privacy and security rules, and new features like Facebook Marketplace.
Changes challenge marketers to develop new tactics for success. Hence, you need to constantly monitor the platforms you use, the Google algorithm (which still accounts for 90+% of all searches), as well as reporting platform changes.
6. Social networks are dialogues not monologues
Social networks are constructed so people can talk to their friends. If you talk to them there, they want to talk back. You need to listen and take their criticism, as even the best companies have folks who aren't happy.
Shutting down conversations you don't like has a very high piss-off quotient. This means you must have the rest of your marketing act together — building good products, delivering value, and making it easy for customers to get what they want, when they want, and where they want.
Then, develop responses to complaints so when they inevitably appear on your fan page or Twitter feed, you have a response ready to defuse the situation. Give Listening Agents wide leeway to address concerns and make customers who didn't get your best whole again. Train them to answer questions or at least show users where to find answers. Thank folks who offer suggestions and praise those willing to engage other users or answer their questions.
7. Social media marketing means celebrating your target audience
Social networks are about "them" not you.
Interactions of social networks look more like real friendships; requiring self-disclosure, support, caring, and open communication. You need to step from behind the screen and be a real person, with real feelings and foibles, even in professional settings you can be real. You need to embrace your target audience — they're helping you and you need to recognize their efforts. If you only write or do things to improve your SEO (Search Engine Optimization) you may lose out on SMO (Social Media Optimization).
Your Turn
Have I left anything off? What are your tactics for keeping your social media marketing efforts alive?  Please share them with us in the comments below.
Need marketing help to support business growth?
We welcome the opportunity to show you how we can make your marketing SIZZLE with our data-driven, results-oriented marketing strategies.  Sign up for our FREE newsletter, get our FREE guide to creating an awesome website, or contact us for more information on hiring us.
Hausman and Associates, the publisher of MKT Maven, is a full-service marketing agency operating at the intersection of marketing and digital media. Check out our full range of services.