So, maybe you've created a Facebook Page and a Twitter Profile. But, you're not seeing much – your Facebook is stubbornly stuck at 15 Fans and your Twitter isn't getting many clicks despite having lots of Followers. See, you say, I knew that social media didn't work. Social media only works for big brands or exciting products and I just wasted my money trying to do social media when I would have been better off doing what I've always done.
That's what I hear many businesses say. In fact, it isn't that social media isn't working it's just YOU'RE DOING IT WRONG!
Over the last few years, social media transformed from a cottage industry full of lots of wanna-be social media gurus who knew nothing about marketing and NOTHING about analytics. They managed their own Twitter and built a strong Facebook following with their friends so they figured, "heck why not make money at it". These self-proclaimed social media gurus suckered some businesses into paying them $35 an hour (a ridiculously small fee) to set up some social profiles and share drivel.
Or maybe you let your son, daughter, cousin, neighbor, etc to run you social media since they "had a great Twitter". Of course, their social media efforts didn't work. So, you abandoned this experiment as a waste of time.
Wrong!
A sustained and optimized social media marketing campaign offers significant lift to improve your ROI, enhance reputation, and build trusting communities around your brand. And, you don't have to be a large business or sell an exciting product that sparks the imagination of users. You just have to provide quality products and services, then use social media the RIGHT way.
Doing social media the RIGHT way
Goals
Doing social media the right way starts with clearly identified goals — SMART goals. And, don't get suckered into only creating end goals, like ROI. You need intermediate goals reflecting how consumers move from awareness to purchase because you need to optimize every stage in this process. Recently, I created a post based on a post from Occam's Razor that makes the case for SEE — THINK — DO goals.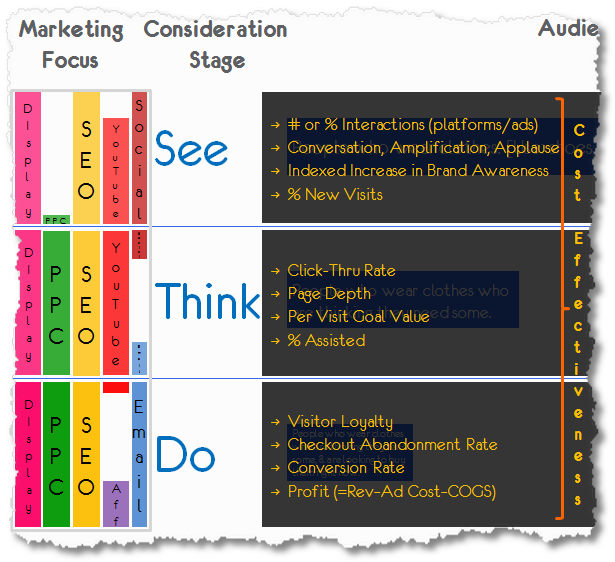 Strategy
Once you have goals, you need to translate that into a strategy and tactics designed to achieve those goals.
Content marketing strategy
For social media success, a sound content marketing strategy is probably the most significant influence on success. Your content marketing strategy starts with finding the right keywords (keyword phrases) that resonate with your target market. Then, create an editorial calendar ensuring you post consistently using your keywords. An editorial calendar should contain both content creation and content curation strategies to share others messages through your social networks.
Analytics
You really can't run a successful social media campaign today without metrics — and we're not talking about # followers! But, you'd be surprised how few social media companies routinely provide metrics along with their mediocre social media marketing campaigns!
You need analytics to optimize your social media strategy — metrics tell you which efforts help meet your goals, which pieces get amplified the most, which pieces drive ROI. You need analytics for each stage in the purchase process, plus metrics to help you build your community, and identify opportunities.
Need help?
Let us help you create a winning content marketing strategy or subscribe to our email newsletter  (we promise — no spam) to learn more about content marketing, analytics, marketing, and other advice for optimizing your marketing strategy.