Just a few years ago, social media or digital marketing was heralded as the "Great Equalizer" — a tool that would give small businesses an equal footing with the giants (enterprise businesses). With the recent change in organic reach at Facebook, is that still true? Is social media a boon or bust for small businesses? Let's explore ways your small business can join the social media boon with these tips to optimize ROI.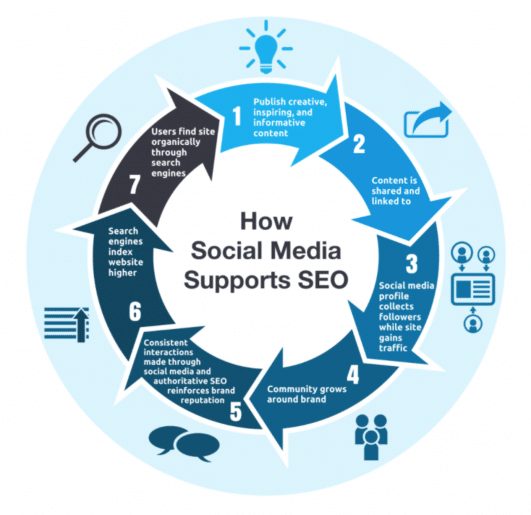 Social media boon or bust?
It's getting tougher for small businesses to compete with the big boys when it comes to social media — just like traditional media. That's because GOOD social media isn't free anymore. In fact, maybe it never was. Small businesses will still find social media marketing a great value, but not free.
Here are some things to spend a little money on if you want to ride the social media boon with your small business:
A cool website for as little as $150 plus a small yearly charge
Do you really need a website for a social media boon? Sure, I know you can set up a marketplace on Facebook or sell products through Amazon and eBay, but you still need a website if you want to succeed with your social media efforts. If you want a longer, more heavily supported reason to build a website, check out this post.
OK, I know you can get a free website through Wix, Google Sites, or even WordPress (WordPress.com, not WordPress.org, which is a superb CMS (content management system) that underpins nearly 1/2 of the websites on the Internet) and a few other website builders, but you won't get much value from them. Free websites don't offer enough branding and flexibility and often don't include SEO tools or analytics to monitor performance. Unless you can count on your social media delivering a ton of visitors to your website or you're so well known that folks enter your URL into their search, you can't expect to succeed with these website builders.
Instead, craft your website (or hire someone to do it for you). Called self-hosted websites, these marketing tools offer great potential reach and conversion. And, the best part is you can create your own website for as little as $150 plus a small yearly charge for hosting without writing a single line of code. I've even written a guide that walks you through the process of creating a dazzling website, with a ton of step-by-step images that anyone can follow.
Spend a little money to get a RESPONSIVE website that looks good on a mobile device. Keep it simple, but be sure to integrate social media (both for joining and liking) and think about an email list capture program; MailChimp offers free email for small businesses.
And for heaven's sake, don't get suckered into a deal where a firm creates your website for free then charges you for it on a monthly basis afterward. You'll find this a truly expensive option.
Advertising
You can't just put up posts and expect them to bring organic traffic on Facebook or your website anymore and other social media sites will likely follow suit by using an algorithm (like the one used by Facebook) to effectively limit the reach of posts unless you pay to promote them. Plan on spending a little money and monitoring results to optimize your ad spend.
Analytics – $39
Google Analytics is free, but you'll probably want some other analytics tools to help track performance across your social media marketing efforts. I use SproutSocial, which is really a combination of analytics and social media automation. It's not anywhere near as powerful as enterprise-level analytics like SimplyMeasured, SocialBakers, SAP, and others, but it costs $39/month rather than $100s/month. It also handles tricky tasks such as finding influencers, building your networks, and curating content. A good investment for a small business.
Social media platforms
Facebook and Twitter are pretty much a necessity. You might add Pinterest, Instagram, Tiktok, and a few others if you have the bandwidth. The social networks you choose involve knowing your target market then choosing networks appealing to that target market. Below, I show some aspects of the various social platforms you might use in choosing which platforms might work best for your brand.
Use your social platforms to share your content, curate content from other great folks in your product area, and build community by creating engagement with fans.
YouTube videos, podcasts, and webinars are also pretty easy these days by investing a few dollars. Buying things like cameras and microphones doesn't have to break the bank anymore to get a professional product.  You also need to invest in software like Photoshop (image editing) and Premiere Pro (video editing) to turn raw material into a finished product. Both are part of Adobe's Creative Cloud and involve a small monthly fee.
Other software helps create professional content of various types. I use Powtoon, for instance, to quickly and easily create animated videos that I share on YouTube and on my blog. Powtoon is free or $228/year to get upgraded, which removes Powtoon's branding and increases the length of your video (also gives you access to more graphic elements, music …). I also love Canva for creating infographics and other cool images. Canva has a free tier but also offers extras for a small charge, as well as a subscription model.
Google Meets is quick and easy, as week as a FREE way to conduct webinars with interested folks with certain limitations. A paid model is also available.
Great hosting
A great hosting company is a MUST for your social media boon rather than bust. Look for hosting that's up more than 99% of the time, is fast, and responds quickly to support requests. I use Siteground and love it.
Some "nice to have" extras
Graphics — Get some nice images and a logo for your business. Fiverr and several other sites feature creatives willing to create graphics and other marketing products for just a few dollars. Be careful and check their previous work and recommendations before hiring someone through these sites (or any other for that matter.
Paid themes — sure, you can use free WordPress themes (or free themes on other platforms), but they'll cost you big time in the end. That's because many free themes include malware, are difficult to use unless you're a developer, and aren't very responsive — looking wonky on a mobile device. I use the Genesis framework and I love it. With Genesis, you buy generic functionality that meets most developers' needs then add child themes with specific designs built to your exacting standards. Child themes aren't required but eliminate the need to code certain design features. Themeforest also makes a bunch of great themes that require only a single product, unlike Genesis where you often buy 2. Most themes are a one-time purchase, although I'm starting to find themes that require a yearly fee if you want to ensure you get upgrades as the themes advance or adapt to new WordPress features. I love both of these themes. So does Google.
Landing pages — I use Premise for landing pages, which is free with the Genesis framework. It's very versatile and easy to use — creating professional-looking landing pages that allow A/B testing.
Plugins — most platforms offer a variety of plugins to extend the utility of the site. Most important are social sharing, analytics, and SEO plugins. Others are great to have. Here's my list of recommended plugins:
Jetpack, which is from WordPress and adds things like Spelling/grammar checking, an easy tool for creating image galleries, and a bunch more functions
Google Analytics for WordPress by MonsterInsights is the best tool out there for tracking your performance (you'll need to create a free Google Analytics account then follow the directions for linking the account to your website.
Yoast SEO, which helps bring more visitors to your site by helping you rank higher when users search for things related to your site
W3 Total Cache helps your site load faster. You don't need to understand how it works, but it caches the website, so returning visitors don't have to wait for it to load again
Social Profiles Sidebar Widget, which makes it easy to connect your social profiles to your website so visitors can find you there. It also makes sharing your posts easier for visitors.
Akismet, which helps protect your site from spam
Pagebuilder, which helps create entire pages with plug and play functionality like all those page builders that kill your SEO and make your site look cookie cutter.
Conclusion
I'm sure I've forgotten a bunch of things that are nice to have when running a small business site, but these are the biggies. Also, take a look at my list of marketing tools for more recommendations to optimize the social media boon.
Add your favorites in the comments and this post will become increasingly valuable to visitors.
Need marketing help to support business growth?
We welcome the opportunity to show you how we can make your marketing SIZZLE with our data-driven, results-oriented marketing strategies.  Sign up for our FREE newsletter, get our FREE guide to creating an awesome website, or contact us for more information on hiring us.
Hausman and Associates, the publisher of MKT Maven, is a full-service marketing agency operating at the intersection of marketing and digital media. Check out our full range of services.