Have you ever considered social media as market research? Well, you should. Social media allows you to step into everyone's living room and hear the kinds of conversations they have around their dining room every night (well, assuming people still HAD conversations around their dining table). While these conversations aren't totally free of bias, they're about as good as it gets as you won't find brands putting their thumb on the scale or asking the wrong questions. Still, interpreting these conversations takes trained professionals and even hearing them in the first place takes a concerted listening program, but the opportunity to gain valuable information about competitors, consumer attitudes about brands, and the ability to identify unmet needs is unparalleled.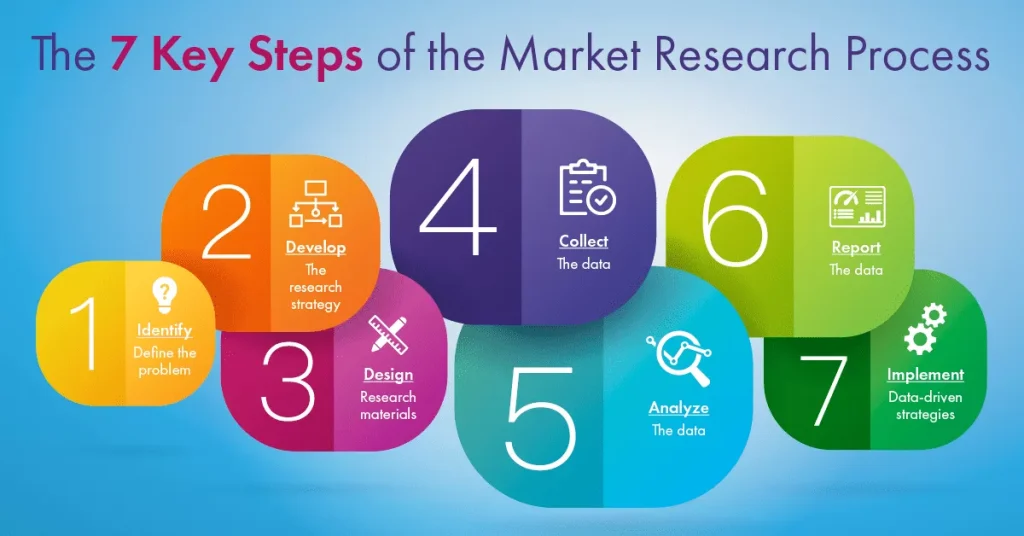 Social media as market research
Businesses seem to always think about social media as a way to TALK to consumers or get consumers to talk about them. But, social media is the perfect vehicle for listening to consumers because you get opinions untainted by the brand and free of biased questions.
Remember the New Coke disaster? Many of you might be too young to remember the fiasco that occurred when Coke decided to scrap the formula for Coke they'd used for over a hundred years based on a single survey question that asked about how sweet consumers liked their cola product. Using the answer, Coke added more sweetness to the product and stopped making bottles produced via the old formula. A media frenzy erupted as consumers began hoarding bottles of the old formula and protesting the change. In response, Coke was forced to bring back the old formula and kept the new formula under the brand name, New Coke. The mistake cost the company millions of dollars, although the publicity gained by the protests and hoarding probably covered much of that loss over time. This fiasco points to the problems of traditional market research.
If you view the image above, you'll find other problems inherent in the market research process, some of which disappear when you use social media as market research. For instance, it doesn't take much imagination to realize the traditional market research process is time-consuming and, likely, expensive. Even with the ability to use online market research from companies like Qualtrics, you're still looking a weeks before you can deploy data-driven marketing strategies based on your research.
Social media market research using marketing intelligence systems
Possibly more important for the success of the firm, is the potential to HEAR what consumers are saying.  You can hear what's important for them, what they're doing with their lives, who they identify with, what problems they encounter …
A different type of market research focused on hearing consumers in your marketplace is marketing intelligence. As you can see below, marketing intelligence involves scanning the environment for information on factors that impact your success, such as competitor behavior, consumer preferences, and new product potential. And using social media to collect this type of data offers a wide range of benefits.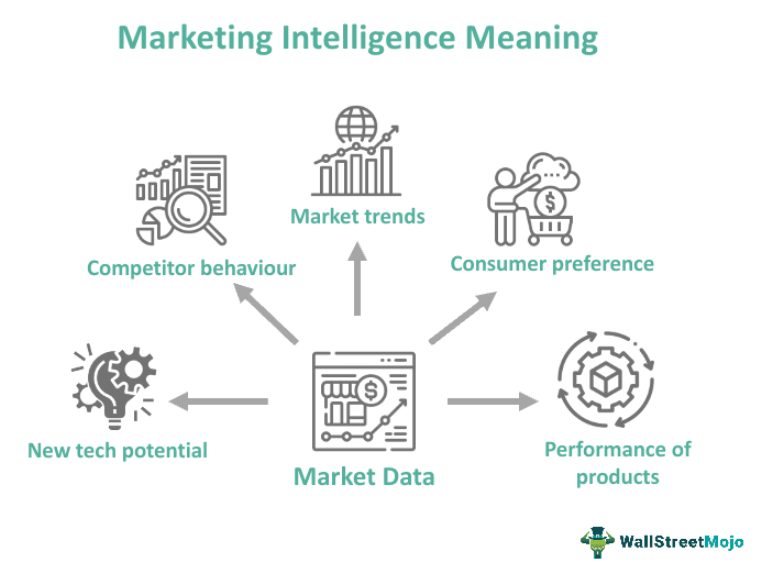 Not visible in the image is that the collection of this data is purposeful and ongoing. Rather than starting with a research question, marketing intelligence gleans data from a variety of sources without any notion of how that data might prove useful in the immediate future.
Knowing more about your target market helps you succeed in a number of ways:
1. Better advertising
Consumers buy products because they identify with the brand and its values. When you understand what consumers like and who they are, you can create ads that they identify with. Ads that contain images of people who look like them, people who live the way they do, and images of people they admire are more successful than those that don't.
For instance, a study done by a colleague showed the impact of even a small, nearly unconscious difference in an ad caused a measurable change in its success. An ad for a car in Europe didn't use words due to language differences and showed the car in front of a home that could be in any of the three countries targeted in the ad. It turned out, a small portion of the license plate was visible and, even without identifying the country where the car was licensed, was sufficient to convey to buyers in the other two countries that the car wasn't targeting them and they purchased at lower levels.
2. New product design
When you discover problems consumers encounter in their daily lives, you can create products customized to solve these problems since consumers buy solutions, not products. Identifying these unmet needs means your products have a ready-made market on day one.
The new liftgate on some SUVs and Minivans is a good example of a product designed to solve a consumer problem. When people use their cars, they often have their hands full with children, packages, sports equipment, or a briefcase and coffee cup. You don't have hands free to fumble around for your keys to push the liftgate button or even touch the button on the liftgate. With the new liftgate, you don't need to. All you have to do is use your foot — and most people have a free foot!
3. Improved customer satisfaction
Despite the way it feels some days, few dissatisfied customers complain to the company about products. But, they DO tell their friends. And, with social media, consumers tell complete strangers on Twitter, Facebook, or TikTok when they encounter a problem. Thus, dissatisfaction reaches consumers who never even bought your product and discourages them from giving it a try.
If you're listening, you can use these complaints to fix many problems. Maybe the consumer didn't understand how to use the product correctly, which resulted in dissatisfaction. You can help them understand or set up their product correctly by responding to their complaint on social media. This open and honest conversation helps to diffuse any negative comments and shows you as a company that cares about its consumers. If you find you did make a mistake, own the mistake and be transparent about how you plan to fix the problem. Again, this goes a long way to diffuse the problem.
4. Modifications to existing products
Just as you can listen to dissatisfied customers and help them become more satisfied with the product, you can use customer complaints to make your brands better. Maybe consumers post a desire to see the product in a different color. Viola, you can get this into production fast.
Don't just use comments to modify existing products, let consumers know you were LISTENING by telling them you made the changes. This way, you're forging better relationships with your customers, which leads to customer satisfaction, loyalty, and positive word of mouth.
California Tortilla does this well. When customers complained about losing a menu item, the company brought it back for a limited time.
5. Encourage UGC
Both positive as well as negative messages are amplified on social media. Amplification means more people hear your message and they hear it from a "friend" — whether that's you (if you built a relationship with them) or someone else in their network. In marketing, we call this decommodification, which is a big word that means taking commercial products out of the equation when it comes to the identification of self. As it's used in communication, we refer to decommodification as a way to transmit brand messages between consumers as opposed to transmission from the brand. This type of consumer-to-consumer message, often referred to as UGC or user-generated content, is much more powerful than brand messaging because consumers know you have a vested interest in selling them something and don't necessarily believe you.
Listening to comments on social media means you hear when consumers say good things about your brand. Reward them with a mention or share their positive comments as a surefire way to increase comments in the future. For instance, I got this from Google Analytics: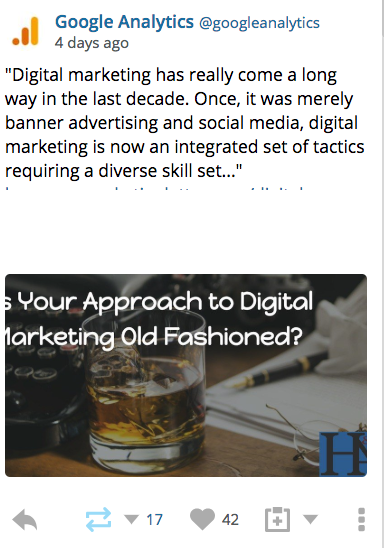 You can bet it impacted my results and encouraged me to say more things beneficial to the brand.
How to use social media as market research
1. Listening post
The first step is to collect data in a listening post. I really like Radian6 for this, although it's REALLY expensive.  Traackr is a good, less expensive alternative. The quality of your listening is critical for success. As research for writing my marketing book, I interviewed an exec who worked for a pharmaceutical company. They entrusted an intern to collect mentions of their brand on a spreadsheet. The result was listening so bad that the company was blindsided when they received a query from the FDA (US Food and Drug Administration) about failures of the product. That's not what should happen.
With a good listening post, the company would have known about complaints from consumers, reached out to them to learn more, fixed the problem, and avoided problems with the FDA.
2. Analyze

The data generated by a listening post is called unstructured data because it's not numeric. Analyzing unstructured data is much more challenging because you can't run statistical analysis using common programs like SPSS  to create algorithms, identify statistically significant variance, and validate findings using P-values or Chi-squares (but so are the rewards).
There is software to help in the analysis of unstructured data (and here are my 3 favorites), but dealing with this type of data is more of an art than a science. I'll leave this topic for another post.
HyperRESEARCH is a product of ResearchWare. I've used this extensively for qualitative research and find it very intuitive, easy to use and powerful. While I've never used this for keyword-based categorization, it should be able to handle this just fine. One advantage of the software is it can handle audio and visual data (i.e.. YouTube and Instagram), however, this data must be categorized manually (at least in the version I own).
nVIVO is another excellent qualitative analysis software program. I've used an earlier version of this software with excellent results. Again, it's intuitive and easy to use. It's not as powerful as HyperRESEARCH, but still a good option. It similarly required manual development of categories but it's great for grouping similar comments into categories.
SPSS text analysis software is a new addition to the SPSS family.  Since it shares an interface with familiar SPSS software it's easy to use and subsequent data analysis can be accomplished using SPSS statistics after converting data to a numeric representation. A drawback is that this software doesn't handle visual or auditory data.
Need marketing help to support business growth?
We welcome the opportunity to show you how we can make your marketing SIZZLE with our data-driven, results-oriented marketing strategies.  Sign up for our FREE newsletter, get our FREE guide to creating an awesome website, or contact us for more information on hiring us.
Hausman and Associates, the publisher of MKT Maven, is a full-service marketing agency operating at the intersection of marketing and digital media. Check out our full range of services.