Marketing a small business offers unique challenges and opportunities. For one, control your own destiny, to an extent, setting your own hours and reaping higher rewards for your efforts. You can also play a big role in your community itself, since, when done right, a small business can help their local community grow and thrive, and in turn, win the loyalty and admiration of those in that community. However, being a small business owner requires you to learn business marketing tools and strategies foreign to your training and, likely, outside your area of expertise. Yet, every small business needs marketing tools to capture customers and survive.
Of course, a small business faces stiff competition from others operating in the market space, including enterprise businesses with dedicated marketing staff and economies of scale. Walmart, it is argued, forces out mom-and-pop stores with its massive buying power that undercuts pricing options for these small businesses.
If you're a local business, your prospective customers, clients, or patients are limited to those who live near you. If there is just one other business like yours in the area, you'll struggle to gain a foothold against a known brand. You have your work cut out for you in trying to attract customers away from those they already know unless they dislike existing options or the local area is growing to bring in new prospects for your business.
Small businesses propel the economy and provide the biggest difference for their communities. They add individual flair, help add to the local culture, and are generally a great way for a business to grow. You need to be smart, however. A small business can succeed or fail based on decisions made in the early stages of the new idea, so plan wisely.
Today, we'll focus on the unique aspects facing professional service providers such as physicians, dentists, and other healthcare providers. These folks are highly trained but their training falls short when it comes to understanding the needs of their business. Our discussion should help.
Top business marketing tools and strategies
First, find the right location
Your location is the most important marketing tool and decision you make for your business. You know the old adage about the 3 most important aspects of business are location, location, location. This even applies to more essential businesses, like dentists or orthodontists. Put yourself too far out of the way for convenience and you might suffer.
Most orthodontists and other healthcare providers do well surrounded by other medical clinics, especially when other providers don't directly complete but compliment their business. Someone who goes to the doctor regularly or who is visiting some other specialist for the sake of their health is more likely to discover your business and feel your location fits their needs. Not only that, but it adds a certain gravitas and aura of professionalism when you align yourself so visibly with other healthcare providers.
The right location will make or break you. It isn't always possible to get prime real estate in your area, at which point you need to find a cheaper alternative that has a lot of potential. Put in some serious research and work with an estate agent who has your interest in mind. If they try to push you into a location you cannot afford or cannot properly back up why your business would flourish in any given location, then find another one who will.
Work with a specialist agency
Most healthcare providers know nothing about marketing and only the largest firms can afford full-time marketing support. Start off by hiring a marketing agency specializing in healthcare marketing right off the bat. Your launch is crucial. Launch well and you start your business off on sound footing and start building up loyal and repeat business.
Marketing, at the end of the day, involves a lot of trial and error, and you don't have time to figure out the ins and outs of marketing in your desired marketplace. Instead, find a specialist agency that works closely with your type of business. This also reduces the cost associated with marketing on a small scale, as you can see in the graphic below.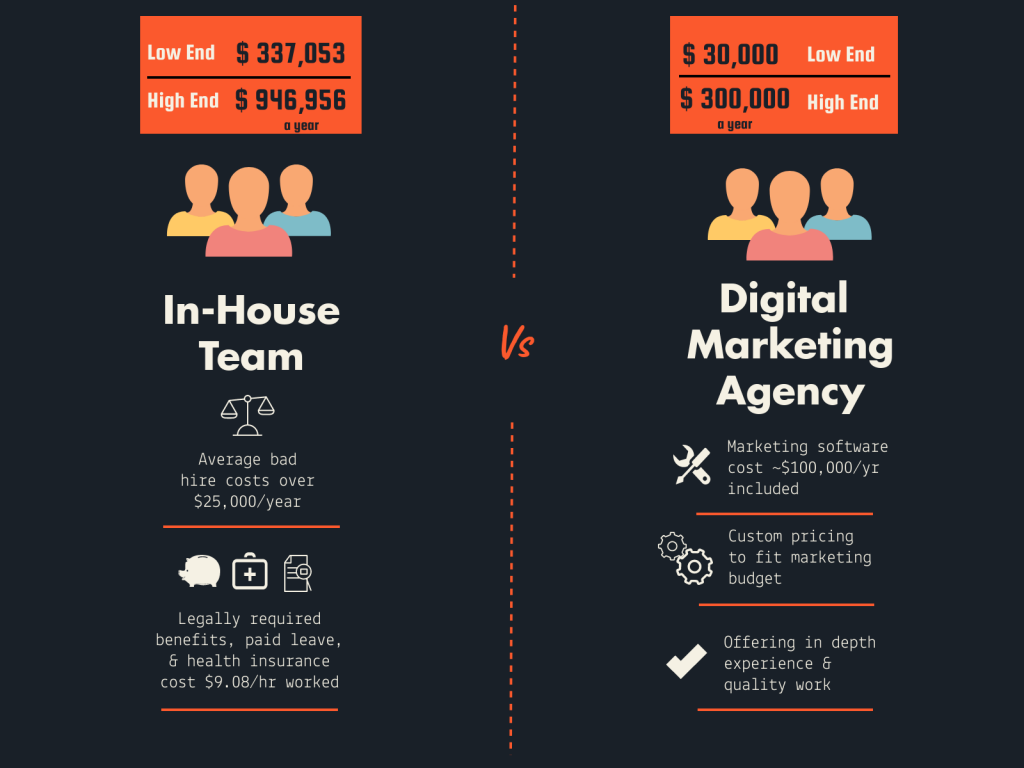 As an orthodontist, for example, you can visit https://hip.agency for more orthodontist marketing ideas. You can even hire that agency for their specialist information and then use what they craft to both bring in potential patients and learn business marketing tools and strategies to support your own marketing efforts in the future.
Use your store
Your physical location has the potential to bring in people who have never heard of you and have never seen a single ad into your store. A great window front, a plaque outside, and smart store marketing can go a long way. Remember, when choosing designs and messages, the goal isn't to sell. The goal for a healthcare provider isn't to attract walk-ins, as this damages your reputation, but to encourage passersby to consider your business for their future needs or entice them to mention your business to friends and family. For instance, a pediatric dentist might paint happy rainbows on the storefront along with listing their credentials.
Use your online presence
Use your digital platforms or, if you don't have one, create one. It is a mistake to assume that you don't need a website or social media because you're in the health professions. Dentists and orthodontists, for example, also do very well online because people want to know how to care for their health. So, invest in blogs, guides, and tutorials on your website as these assets attract new patients exploring healthcare questions on search engines. Offer interesting facts. Offer health tips. Offer before and after photos – people love all of it.
As a local business, invest in a Google My Business listing and encourage patients to post reviews on the platform to attract new patients. Below see how a local business listing enhances your visibility on search engines.
Work with local businesses
There are so many ways you can market your business through other local companies. The first and most obvious way to do this is through local newsletters, local newspapers, and local travel sites. You can really kickstart your company just by hosting a launch party and informing local news sites about the event as they are always on the hunt for new things to see and do in their local area and are often more than happy to publish and advertise your event for free.
That isn't the only way that you can use other local businesses as a marketing tool. For example, if you are a bakery or coffee supplier, you can get your products in all the cafes in your area – even in your city. The same works vice versa if you operate a boutique and want to expand your offerings.
The only thing to remember when it comes to partnering with other local businesses is to keep the partnerships relevant. An orthodontist and a dentist can partner up simply by recommending each other's services to their patients. A chiropractor and a massage therapist can do the same.
Partnering like this allows you to offer a greater range of products or services, even if you don't get paid directly. Instead, you get an increase in referrals. When trust is a huge part of customer retention and increasing customer loyalty, referrals make all the difference.
Need marketing help to support business growth?
We welcome the opportunity to show you how we can make your marketing SIZZLE with our data-driven, results-oriented marketing strategies.  Sign up for our FREE newsletter, get our FREE guide to creating an awesome website, or contact us for more information on hiring us.
Hausman and Associates, the publisher of MKT Maven, is a full-service marketing agency operating at the intersection of marketing and digital media. Check out our full range of services.