There are many misconceptions surrounding digital marketing. For some, this is some magic wand you wave to achieve results in immediate sales and revenues. For others, this is a sustained approach that eventually starts delivering results after a period. If you set realistic expectations that you'll see an immediate improvement in sales revenue (which isn't realistic) you're not only disappointed but may discard a very valuable means to improve your market performance.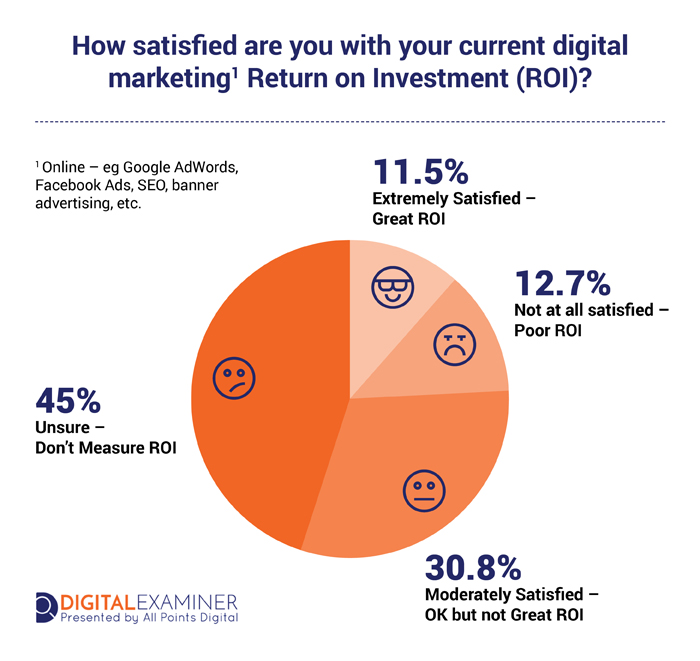 No matter what your expectations are from online or digital marketing, you need to understand that this is a highly complex field of expertise. Think of this as an experiment that has hundreds of variables that impact outcomes. Optimizing the variables at every step of the way is essential. As you can see in the graphic above, most small businesses feel dissatisfied with the performance of their digital marketing strategies. Whether they didn't set realistic expectations of the outcome or didn't implement a digital marketing strategy successfully, it's clear.
In other words, you might not get digital marketing right the first time around. You might experience failure, but that itself should help you uncover where you were going wrong and allow you to optimize your strategies to reach success. More likely, however, is that the firm didn't set realistic expectations from their digital marketing strategy. According to the experts, it can take anywhere from 6-12 months to see the full impact of your digital marketing strategy, and that's if you set up the right strategy, to begin with.
In this article, we are going to look at an issue that brands and business owners need to understand from digital marketing to understand and set realistic expectations that help inform the outcomes in terms of the performance of digital marketing.
Why setting realistic expectations from digital marketing is important?
One of the first things that you should understand is that frustration with digital marketing is common. As shown above, most small businesses feel they're not getting enough return for their investment in digital marketing.
One of the biggest sources of frustration with digital marketing comes from the belief that digital marketing is free. Even though organic digital marketing exists, you still need to pay salaries, create content, use tools (that usually cost money), and so on. All this means that there are some basic investments and expenditures that you must incur to play in the digital marketing game. In fact, organic traffic from social media is virtually dead and organic search traffic is declining over time.
Small business owners that work with limited resources often don't set realistic expectations for their digital marketing. Thus, they start expecting unrealistic results from their efforts right from the get-go. Setting the right goals means being realistic and rational, which leads to better decision-making regarding which strategies to keep and which to discard.
In an age where everything is guaranteed instantly, we expect everything from fast food, to e-commerce and data to be available instantly. Something like digital marketing takes time. In the following section, we look at various digital marketing strategies and see how you should set realistic expectations from each of them.
5 digital marketing strategies and setting expectations
1. Search engine optimization (SEO)-
SEO continues as one of the most sought-after strategies in digital marketing. An easy explanation to what is SEO strategies that improve your rank when users use search engines. Creating high-quality content, building quality backlinks, and optimizing your website according to Google's best practices are some common tools employed to support SEO. And, SEO isn't free. You must pay for content creation, pay from SEO tools such as keyword tools, and monitor performance over time.
To set realistic expectations for SEO strategies think of the analogy of compound interest. You need to understand that SEO efforts are compounded over time, so you're unlikely to see results immediately. This means that you need to invest at least six months before you start seeing results. SEO guarantees success over time and allows you to enjoy organic traffic visiting your website, thus improving your conversions.
2. Paid search (PPC)-
Search engines and social media platforms encourage brands and agencies to invest money through advertising to improve their engagement and generate traffic to their website. Organic reach is getting severely limited, especially on social platforms that rely on advertising to pay the bills. Paid search or PPC is executed on search engines via Google Ads or similar platforms on other search engines, such as Bing.
Unlike SEO, paid search can generate instant results because your brand starts gaining visibility immediately after you set the budget and publish ads. However, this isn't a long-term strategy, especially for small businesses due to the cost. While PPC is much less expensive than traditional advertising, you must budget a lot to have your ads show near the top of paid advertising, especially if you don't have a great quality score. PPC is best for short-term instant campaigns, especially around the holiday season.
3. Social media marketing (SMM)-
Social media platforms represent a large number of users who spend billions of hours on platforms such as Facebook, TikTok, and others. a brand can ignore this at its own peril. Social platforms have captured the imagination of a sizable section of the audience. A strong social media presence can support your revenue goals but advertising on these platforms is commonly required since, as mentioned, organic reach on social media is pretty much dead.
When you set realistic expectations of social media, remember that this tool is commonly used in the early stages of the customer journey. Hence, reach, engagement, and similar metrics are usually sought from an SMM campaign. Using influencers and UGC (user-generated content) as part of your social strategy increases your chances of success and can generate sales pretty quickly.
4. Email marketing-
Many brands do not understand how beneficial email marketing is for their branding and sales efforts. As a digital marketing strategy, email marketing continues to deliver the highest ROIs. Putting in place a strong email marketing strategy relies on building your audience and nurturing leads through targeted messages personalized to subscribers.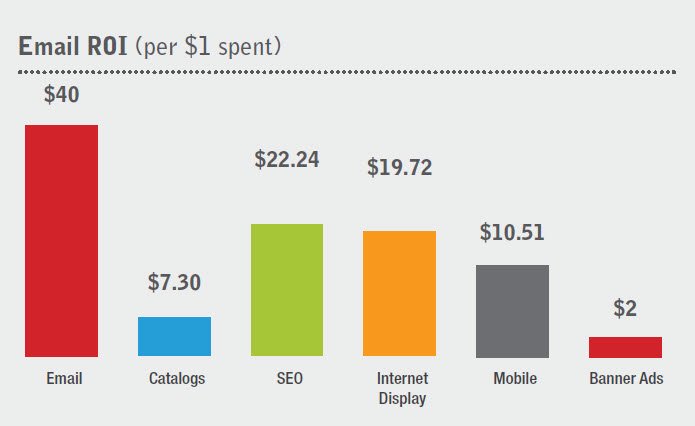 Expectations and results from email marketing can be instant if you can hook your target audiences with strong subject lines and promotions. One thing that you need to watch out for is becoming spammy in nature.
Q and A + review platforms-
Audiences are much more aware than they were some years back. They have also started detesting product ads that compromise their experiences, especially on social media. This is why many users turn to platforms like Reddit, Quora, Medium, Question Hub, and other platforms for authentic knowledge and information, which is not branded in nature.
Brands and agencies need to be as authentic as possible on such platforms. By offering informative education that is valuable and unbiased, they can help in building authenticity for themselves. This builds credibility. On such platforms, you need to invest a lot of time, effort, and expertise to start seeing results. If you pursue this, you need at least six months.
The Bottom Line
There are so many things that work in the background that pinpointing every single one of them would be impossible even for someone like Neil Patel. While digital marketing has progressed beyond being simply something that used the trial-and-error process all the time, there is still a long way to go in making this an exact science.
Perhaps this is the reason why many refer to digital marketing as part art and part science. In this article, we have tried to help brands set the right expectations from their digital marketing strategies. If you would like us to help you out with regard to anything, in particular, do let us know in the comments below.
Need marketing help to support business growth?
We welcome the opportunity to show you how we can make your marketing SIZZLE with our data-driven, results-oriented marketing strategies.  Sign up for our FREE newsletter, get our FREE guide to creating an awesome website, or contact us for more information on hiring us.
Hausman and Associates, the publisher of MKT Maven, is a full-service marketing agency operating at the intersection of marketing and digital media. Check out our full range of services.