Maybe you've owned an e-Commerce platform for years or maybe you started into e-commerce during the global pandemic because your physical store wasn't able to open or customers weren't willing to shop due to fears of the virus. Regardless of how you got online, as a company, your main goal is to sell products. And that isn't always easy, even if you offer a great product at a good price. So, if you are interested in selling more products online, we offer some options that might help, so read on.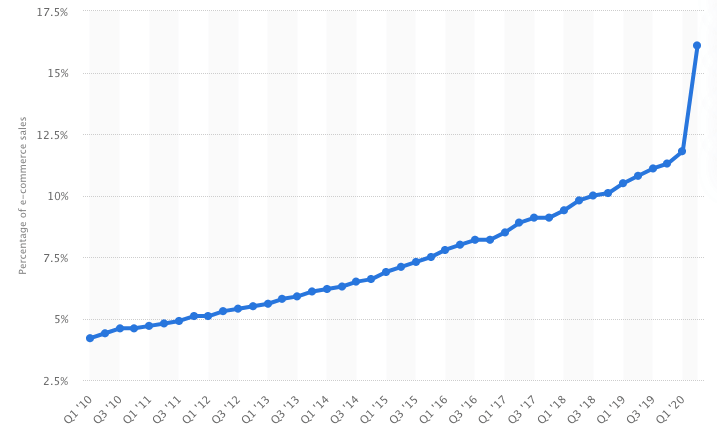 Where to sell more products online
With the growing impact of online shopping, which represents 15.5% of worldwide retail (a number likely to continue into 2023, as the graph below depicts), there are more options than ever to sell goods online. There are a million e-commerce sites customers use to shop for items, all of which differ in significant ways. How do you know which one is right for your business? The choice is overwhelming, so you must choose a few e-commerce platforms that represent the highest potential for you to sell more products online. Yet, many business owners struggle to find which options likely perform best for their brand, given their target market, profit goals, and competition. Instead of choosing a manageable number of platforms to list their products for sale, they attempt to be on too many platforms for them to manage effectively.
To reach the right customers and increase your chances of sending buyers down the sales funnel, you must determine which platforms offer your brand the highest sales potential at the most reasonable cost, then learn how to use those platforms effectively. The following guide outlines the five best places to sell your products online and some tips for making the best use of them.
Your own website
One of the most popular options for entrepreneurs to promote their products is creating their own branded website. A website ensures all your branding and products are located in a single place, you have landing pages as destinations for your online marketing efforts (such as email and social media marketing), and you have total control over how your products appear to visitors as well as the process required to convert customers. For instance, on an owned website, you choose the payment options you accept (including, in some cases cryptocurrency) and can offer financing options through relationships with banks or by accepting split payments whereby the buyer pays for the product over time.
Customers go to your website not only to buy your products, but also to learn about your company, read interesting information on your blog, and conduct product research; actions not feasible when using another sales platform. Plus, your website doesn't show competing products from other manufacturers as happens on other sales platforms. You can influence your customers' actions by sending them to appropriate landing pages, capture information to add visitors to your subscriber list to accomplish lead nurturing, and have complete control over the design and layout. You also get to keep all of the proceeds from sales on your website, which isn't the case on any other platform.
Even businesses that don't sell products online, instead of sending visitors to online or physical retailers (often done for large brands to avoid channel conflict) need a website. Despite these advantages, nearly half of small businesses don't have a website at all and a large percentage don't put sufficient effort into building an effective website due to lack of expertise or funds. Click the image below to get a step-by-step guide to help you build a website.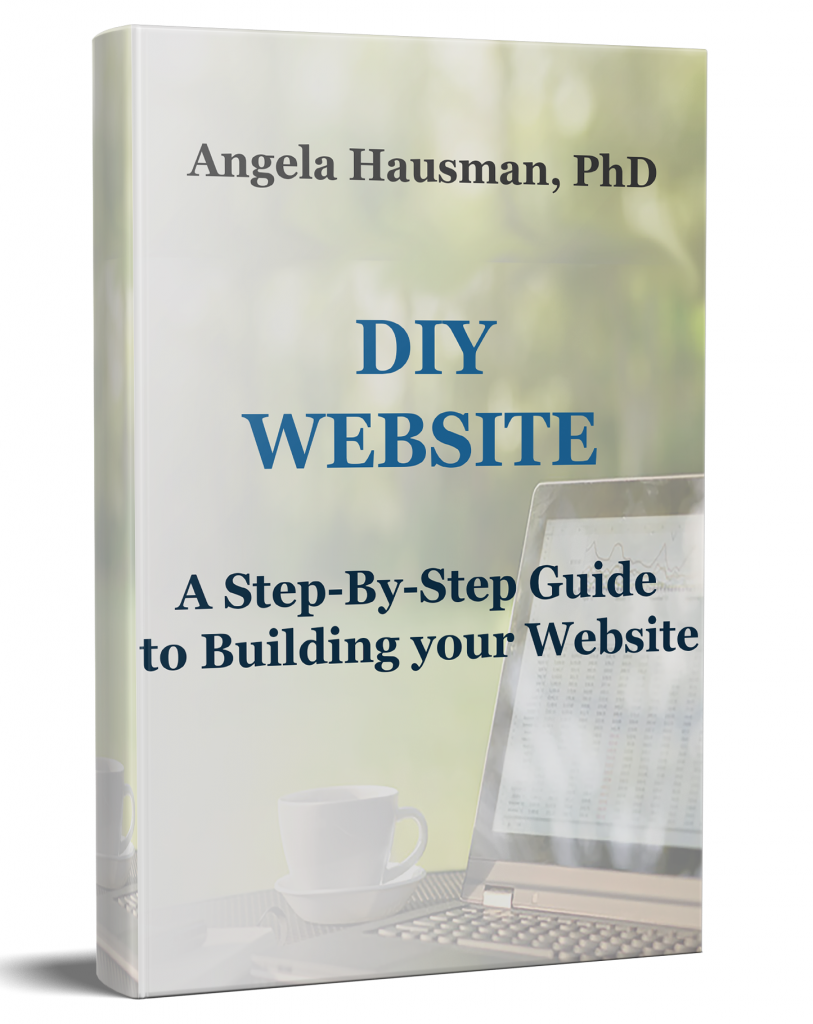 On the downside, having your own website involves tangible costs in the form of credit card processing fees, the website design phase, and website expenses. Owning your own website also involves intangible costs in the form of time and effort spent learning effective website maintenance, such as content marketing, even after the initial design phase is complete.
Of course, having a website isn't a situation where you build it and they will come. Instead, it's totally up to you to drive traffic to your website, which requires concerted effort, time, and money as you seek to improve your performance in search through content marketing and other SEO efforts. It's a big challenge in the early days of your website to drive large volumes of traffic to your site.
eBay
You likely used eBay at some point to buy cheap products or sell your old possessions, but using it for business purposes is a different matter. The primary benefit is that the site has an enormous marketplace with massive amounts of traffic, and you can immediately push your product out to an audience of millions. With eBay's promotions and prior SEO efforts, even the smallest startup has a global reach within seconds of listing products for sale on the platform.
However, eBay's popularity means it's a highly competitive site, so it can be hard to cut through the competition to sell more products online through the platform and it often becomes a price competition that limits profitability. Every time a user searches for products like yours, they discover dozens, maybe hundreds, of similar products offered by other vendors. And eBay takes 10% of your sales too, so you need to crunch the numbers to make sure it is a financially viable option. Another drawback is you're limited in the amount of information you can share to entice buyers and don't have options for building a relationship with them to bring them back to your store.
Amazon
Amazon is probably the biggest player in the global marketplace, shipping a colossal 2.5 billion packages each year. Selling through an established, reputable company like Amazon gives your products visibility to millions of shoppers and its ratings provide the stamp of approval you'll struggle to get otherwise. Setting up a shop on Amazon is easy, with tools available to help those with technical challenges. Their high rank in search means buyers can more easily find your products when sold through the Amazon platform. Take a look at these 25 Amazon seller tools to remove the stress and hassle and start shifting your products with ease.
Amazon suffers from much the same downside risk as eBay. Like eBay, Amazon takes a small cut of your sales, and their percentage increases as your sales volume grows (something different from the sales process on eBay). You also face stiff competition from other sellers and Amazon makes it easy for buyers to make comparisons by offering suggestions for other products related to the product buyers search.
Facebook Shops
Facebook Shops is a new online selling platform allowing vendors to sell through Facebook, Instagram, and/or Messenger to harness the power of social shopping to sell more products online. The first step in creating a Facebook shop is building a business page on the platform then build that page to create engagement with potential buyers. Similar to the online sales platforms we already discussed, Facebook charges a percentage of each sale as a commission. However, unlike other sales platforms, you face less competition for sales on Facebook Shops because your catalog of products is tied to your Facebook business page. While you might face competition when users search for particular products on the Facebook site or through a normal search (since search engines index Facebook Shops), when you sell from your business page linked to your store, visitors only see your product offerings.
Google Shopping Ads
This one isn't technically a shopping site, but rather a handy search engine function that serves to drive shoppers to your website. Shopping Ads are only available to companies selling products directly from their website. The main advantage of the shopping ads is that they show up before other links, including search ads. The ads also contain an image of the product, the name of the store, and the price at that store, allowing users easy price comparisons between store offerings. When users click on a Shopping Ad, the ad takes the user to a destination determined by the advertiser, normally a landing page.
Displaying your products on the most popular search engine in the world is a fantastic way to raise brand awareness and sell more products online, as Google Shopping Ads enjoy high clickthrough rates and are highly visible. The ads are attention-grabbing and update automatically when you make changes to the product page, such as pricing.
The main drawback to using Google Shopping Ads is the cost. You pay a small fee every time someone clicks on your ad, regardless of whether they make a purchase or not. Cost is a function of the popularity of the keyword entered by the user, the quality of your website and landing page (called your quality score), and your bid price.
Final thoughts
In conclusion, although there are many places to sell more products online, the one you choose depends on the unique nature of your business. Consider the information above and weigh the pros and cons before making a decision about which platforms you use.
Need marketing help to support business growth?
We welcome the opportunity to show you how we can make your marketing SIZZLE with our data-driven, results-oriented marketing strategies.  Sign up for our FREE newsletter, get our FREE guide to creating an awesome website, or contact us for more information on hiring us.
Hausman and Associates, the publisher of MKT Maven, is a full-service marketing agency operating at the intersection of marketing and digital media. Check out our full range of services.