When it comes to search marketing, ie. getting found in a relevant online search, industry differences are big so today we focus on investment firms. Search marketing, also often referred to as SEO (or search engine optimization) stands out as one of the best tactics to focus on if you want to attract new customers and remind existing customers about your benefits. When you're looking to improve your digital marketing tactics SEO delivers a huge bang for the buck.
Measuring your ROI (return on investment) from SEO requires a little work as it's a function of your conversion rate, your average revenue per conversion, and your costs. However, here's a recent report showing the average ROI of search marketing efforts by industry. Notice the ROI for financial services businesses is among the highest for any industry, 1000% with a low time to hit break-even of around 8-9 months. If you're not doing search marketing or you're not optimizing this tactic for the investment industry, you're leaving a lot of money on the table. Read on to learn more about how search marketing can rock your bottom line.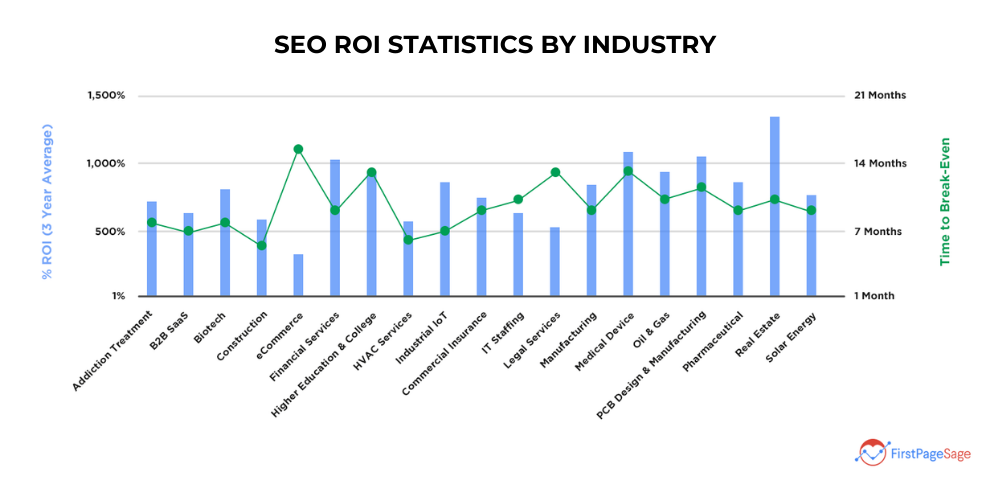 What is search marketing?
Search marketing or SEO, the terms are used synonymously, reflects attempts to reach users when they enter a query into a search engine looking for links to relevant information. At its most basic level, search marketing is the same regardless of industry. We'll start by building your understanding of SEO in general before moving on to how to optimize this tactic for your investment firm.
Start at the beginning
Everything happens when a user enters a query, regardless of whether that query comes from Google (the largest search engine) or another one like Yahoo, Bing, or Duck-Duck-Go. In processing that query to deliver relevant results that match the user's needs, a search engine filters through millions of indexed pages across the internet to first find content that fits the query by using the words entered (via typing or, increasingly, voice) to anticipate user intent (what information the user wanted). To make the search engine more useful (and attract more users), search engines attempt to rank all suitable content using an algorithm so it delivers the best, most relevant content first. Google does this exceptionally well, which is why 91+% of all queries happen on this search engine. We call this traffic coming from search engines, organic traffic and it's the largest source of traffic to your website; 53% on average, over 70% for B2B firms. That's why search engine marketing is so critical for your success.
Search results
In the search results, users find a variety of information, including:
Ads called search ads or PPC (pay per click) advertising that's paid to the search engine by a business.
Shopping ads are a special type of advertising only available to companies who sell tangible products online. These highly-visual ads contain more info, as you can see below.
Next come the organic search results, ranked by the search engine based on the quality and relevance of the page content to the user's query. This is where SEO comes in, it impacts your rank.
Some queries also generate a link called a featured snippet that contains the presumptive answer to the user's query. These results appear prior to other organic search results.
Impact of your rank
Users review the search results driven by their query and select links from the results for further scrutiny, ie. clicking the link to learn more from the website. Most users choose a link near the top of the search results, commonly one of the first 3-5 results. Your goal is to have your content show up in search results in one of these coveted positions, if possible, and certainly as close to the top as you can manage.
Behind the scenes, search engines send small code snippets (called spiders) looking around the internet for new content. When the spider finds new content, it looks at various aspects of the content to categorize and rank the content according to a complex algorithm that includes ranking factors that are weighted based on how important the search engine finds that factor in delivering good results to users.
Category
When users create new content, they tell search engines how to categorize the content by using keywords (originally a single work now more commonly a phrase). In producing the results list, the search engine first looks for content where the keywords used matches the ones entered by the user in his/her query. Thus, choosing keywords is a critical factor in attracting the right users to your website and we know it only benefits your business if you attract prospective buyers to your website, not just random users.
Keywords also impact your rank but we'll save that discussion for the next section.
The ranking algorithm
Search engines don't publish their algorithm, although they provide hints about upcoming changes to the algorithm on their blogs and other digital efforts. In addition, industry experts conduct experiments to see the impact of different content and website factors on rank. Based on these sources, the top ranking factors are:
Quality and authority signals like backlinks, social media engagement, time on page, repeat visits, including authoritative links within your content
Signals of security such as using the HTTPS protocol, notifying visitors that your site uses cookies,  domain age, stating your privacy policy
User experience factors such as load speed, formatted content so it's easy to read, menus
Technical SEO factors such as schema and site architecture
Producing content on a consistent basis
SEO for the investment business
Everything we shared above is true for any industry. However, investment firms must adapt these tactics to the specific character of their industry and the market.
Here are 3 things to consider in developing your SEO strategy for this industry
Industry-specific keywords
Using the right keywords and using them correctly is important for any business but the right keywords differ by industry. A variety of tools, both paid and free, exist to help businesses choose the right keywords. For instance, Google offers a tool called the Keyword Planner that's free to use, although it's a part of their Ads platform so you need to create an account to access the planner. You start by seeding the tool with industry-specific terms, such as investment bank, managing investments, etc. The tool then displays related keywords as well as information to help you choose the right keywords. You're looking for keywords with a significant amount of traffic and low competition, although that's a unicorn that's hard to find. Instead, you must balance the 2 benefits in determining the right keywords for your website.
You then use the keyword in prominent places on your website such as in the domain name, menu items, and your content. In drafting content, use a unique keyword for each post (which is a huge challenge) and feature the keyword prominently in the title, headings, as alt text in images, and a few times within the body of your content. I recommend uploading an SEO plugin, like Yoast SEO or All-In-One, which allows you to specify your keyword to grade your success in creating content with good SEO, and also allows you to generate a meta description that appears under your link as part of the search results.
As an investment management firm, you likely know the most popular buzzwords associated with your industry to use as seeds in your keyword research. Whether you're writing an in-depth blog post about your gips compliance and verification or you're incorporating location-based keywords into your website content to target a specific type of client, you need to use keywords to improve your rank when users enter queries related to your content. Although these keywords might be more expensive when it comes to paying for search advertising, they draw the right visitors to your site, thus increasing your conversation rate and improving the return on investment for your ad spend as well as your organic search marketing efforts. You should also use a number of high-intent keywords at the top of your agenda, as they optimize your campaigns and maximize performance through clicks.
Long-tail keywords
Long-tail keywords make it easier to rank high in search as they reduce your competition. These keywords also give you more options since you need a unique keyword for each piece of content–if you produce content on a consistent basis as part of your SEO strategy, then you need a lot of keywords. With voice search through devices like Alexa, queries naturally become longer.
When it comes to the world of finance, long-tail keywords are often used as part of a user's query, so you have a lot of opportunities. Long-tail keywords are slightly less competitive and less expensive, but they help you generate potential leads earlier on in your marketing process and funnel. When it comes to pinning down the best long-tail keywords for your business, you usually want to adopt an informative approach and aim to answer a specific question from your target market using related keywords. The more specific and niche you go with your long-tail keywords, the more clicks and conversions you get by attracting more of the right people to your site.
Prioritize guest blogging
As you ramp up your business SEO, then guest blogging is something you should consider as a routine part of your strategy. When you get your content on more reputable websites, you build your reputation as an industry leader, gain backlinks to your website, and improve your search rank. Take full advantage of getting your words published on high-profile websites that are not direct competitors of yours. One of the biggest advantages of guest blogging is to gain more and more relevant links from websites that are authority figures in your industry. As well as improving your SEO, you will also enhance brand awareness simultaneously and you will be driving organic traffic to your website without putting money behind advertising.
Conclusion
With all of these ideas in mind, you will soon have all of the search marketing tools you need to grow your investment firm and improve your online presence. Whether you're putting more time into guest blogging or researching the best keywords for your industry, there are so many ways in which you can stand out in a busy online space.
Need marketing help to support business growth?
We welcome the opportunity to show you how we can make your marketing SIZZLE with our data-driven, results-oriented marketing strategies.  Sign up for our FREE newsletter, get our FREE guide to creating an awesome website, or contact us for more information on hiring us.
Hausman and Associates, the publisher of MKT Maven, is a full-service marketing agency operating at the intersection of marketing and digital media. Check out our full range of services.