One of the great benefits of having your own small business is the tax deduction you get for having a home office. Also, as working from home appears here to stay in many businesses, at least for part of the time, a home office is a must even though you can't deduct the home office from your taxes unless you don't have the option to work in a company office. Either way, you may want ways to control the expenses associated with your home office.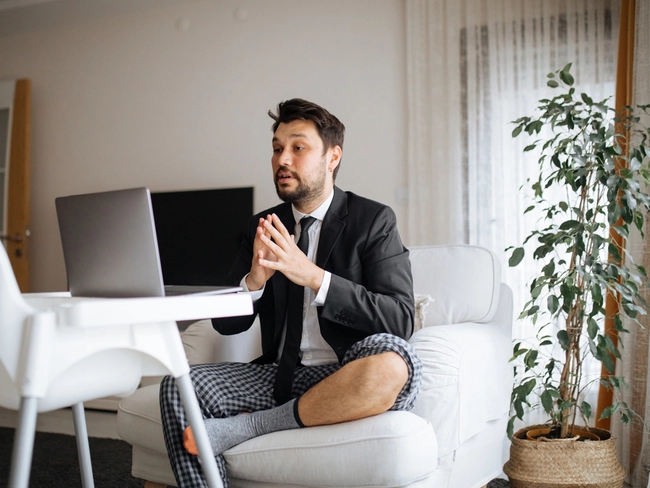 Most of us loved working from home during the pandemic. It saved the cost and frustration associated with commuting to an office and, as you can see above, allowed you to work in your pajamas. The kitchen was only a few steps away, saving you money on restaurant meals and coffee. Your laundry bill was also less costly since you could wash most of your clothes/ rather than send them out for dry cleaning. And recent US data suggests that the number of people working from home tripled from 5.7% to 17.9%. While working remotely can save you time and money as I mentioned above, it could increase your home expenses such as energy costs, wear and tear on your home, and office supplies.
A recent study of workers who transitioned from working in an office to working from home found that working from home wasn't all it was cracked up to be when it comes to saving money. In a study of 700 workers (nearly 50% worked using a hybrid model, while nearly equal numbers worked exclusively from home or exclusively from work. The following graphic depicts the findings.
Counter these increased costs with savings over working in an office such as:
60% report higher spending on eating out
34% say they spend more on after-work drinks or other social activities
53% report higher spending on coffee
46% spend more on work clothes
Plus, based on the US Bureau of Labor Statistics, commuters spend an average of $626/ month on transportation fees
Fortunately, you can do a few things to improve the equation without hindering your productivity. Below are some helpful tips to save on your home office.
How to save on your home office
1. Ask your employer for reimbursement of your expenses
Many employers recognize they're saving money by transferring some of their office expenses to their work-from-home employees, for instance, less office space needed, lower energy costs, lower cleaning costs, and increased productivity. Hence, many offer reimbursement for these expenses to employees who work from home or work a hybrid schedule. Most common reimbursements include:
A portion of your internet bill and your phone charges
An allowance for office supplies
Office furniture and devices
Your first step in controlling costs for your home office is to ask your employer to pay some of the additional costs you face.
2. Save on your energy bills
When it comes to power-saving, everybody thinks about turning off the appliances when not in use. However, having your electronics and small appliances plugged in can cost you money, even if they are off. Keeping your printer or phone chargers plugged in all the time can constitute up to 10% of your energy bill. Therefore, remember to switch off all unused monitors, lights, and other electronic gadgets and remove them from the power source.
Consider plugging all your computer-related gadgets into one power strip. In addition to protecting your home office equipment from power surges, you can turn off all your home office gear via a single switch. You can switch off the power strip when not in use or remove your office equipment from the power source to make your home office energy efficient.
Accumulated dust particles and debris can impede airflow in your ductwork. And clogged ductwork could lead to poor conditioned-air flow and create hot and cold spots inside your home. As a result, your HVAC system may have to work extra to circulate enough cold or warm air. Unfortunately, this means more energy consumption and higher energy bills. Removing all the debris and dust particles inside your ductwork allows free air flow and peak efficiency performance by the HVAC unit. Fortunately, good air duct cleaning services can assist with this task for more efficient energy usage and money savings.
You might find it impossible to enjoy sufficient sunlight when locked up in a cubicle. Thankfully, this isn't the same in your home office. For instance, you can set up your desk and devices closer to a window to provide natural light. You only have to open your curtains to brighten the space with sunlight and enjoy natural warmth. Aside from the refreshing natural light and a great view, you can also save significantly on your energy costs to light your workspace. Task lighting might also prove more ideal than overhead lighting if you must use artificial lighting. In the summer, buy room darkening window coverings to avoid heat transfer from natural sunlight, which puts more strain on your air conditioner, resulting in extra expenses.
3. Use less space
During the pandemic, with more office workers working from home, many felt cramped and sought a larger space to accommodate their home office. This is an expensive option that may add hundreds or even thousands of dollars to your monthly rent or mortgage. Instead of moving into a larger space, try to make do without increasing your existing footprint.
Simply setting up your office in your bedroom or dining room table isn't an optimal solution as it looks unprofessional to conduct Zoom meetings from your bed or trying to host a meeting while everyone is gathered around the table doing their own thing. Convertible furniture allows you to make each room do double duty. For instance, you might turn your guest room into an office with a murphy bed that folds up when you don't have company. Or, set up a small desk in an unused corner of a bedroom or other living space.
Furniture for your home office can add up quickly. Instead of buying new furniture, consider buying from an estate or even a garage sale. You can easily refurbish or rehab the old furniture with a new coat of paint, new fabric on seat cushions, or even change the legs. Take an old table and add a short filing cabinet under it to make a usable desk.
4. Bundle services
You likely need a stable internet connection as well as a phone line to communicate with your teammates, customers, suppliers, and administration. Consider ways to bundle these services with others you need only for home use. For instance, most companies offer a bundle that's much cheaper than subscribing to individual services. This bundle might include TV for home use, with internet and phone service for both home and business usage. You can even find providers that roll up your wireless bill with the other services. Also, consider a family plan for your wireless and apportion the bill between home and office.
5. Buy in bulk
Companies save money by buying office supplies and other consumables in bulk. While it might not be feasible to buy your office supplies in bulk due to storage issues, consider forming a co-op with other employees from your company or with neighbors. With a little planning, you can buy larger quantities and each person pays a portion for the order based on their own needs. Thus, you can buy a pallet of paper with each co-op member paying for a few reams they need for their own office.
Or, forgo paper altogether by automating processes and storing your records digitally. Cloud storage is now incredibly cheap.
Conclusion
Setting up your office at home doesn't have to cost a lot of money and may save you time, hassle, and money if you follow these simple tips.
Need marketing help to support business growth?
We welcome the opportunity to show you how we can make your marketing SIZZLE with our data-driven, results-oriented marketing strategies.  Sign up for our FREE newsletter, get our FREE guide to creating an awesome website, or contact us for more information on hiring us.
Hausman and Associates, the publisher of MKT Maven, is a full-service marketing agency operating at the intersection of marketing and digital media. Check out our full range of services.