Saving money for your business contributes to profitability in the same way selling more does. Whether it's cutting back on production costs or looking for new ways to save, it's always a good idea to find out how you can spend less and make more. This blog post discusses nine different ways your business can save money, which ultimately helps you generate more revenue!
Before we dive into these 9 tips for saving money, a little caveat. I once heard a prophetic statement that
So, how to reconcile these two different philosophies?
The answer is in how you save money. If you save money in ways that make customers unhappy or damage your reputation, you're doomed to failure as you can never shrink enough to make up for lost sales. However, if you cut back on waste and work smarter, you can save money for your business in ways that don't impact your customers, including your internal customers (your employees).
So, let's get started with my 9 tips to save money for your business.
9 tips to save money for your business
1. Negotiate lower prices with your suppliers
One way to save money is to negotiate better prices with your suppliers. You can do this by asking for discounts or finding new suppliers that are willing to give you a better deal for the same quality merchandise or raw materials. For example, Vertical Consultants can negotiate better cell tower lease rates for you and, in turn, save you money.
Remember you can't settle for poor quality in these negotiations, as that negatively impacts your customers. Also, cheaper products may mean higher costs to make finished goods, such as more waste or more processing needed to transform the material. Cheaper suppliers may also present supply chain challenges that require you hold larger stock, which quickly reduces any cost savings.
2. Find better office space
Another way to save money is by finding cheaper rent. You can do this by moving your business into a smaller space or working from home. With the pandemic, many businesses made the decision to continue work from home policies or stagger employees who come to the office so you have a smaller staff to accommodate on a daily basis. Thus, instead of having a space for each employee, you might share the space with two or three employees who come to the office on different days.
You can also consider moving out of high-cost cities like New York in favor of less costly digs outside the city. During the pandemic, businesses discovered many ways to use technology rather than co-location to make this alternative feasible.
Or, if you want to save on long-term costs, consider signing a longer lease, which often involves a smaller monthly cost. Even purchasing your office space may reduce your long-term costs while building equity. Just make sure the space is adequate for your needs!
3. Cut back on production costs
One way to save money is by cutting back on production costs. You can do this by using cheaper manufacturing methods (such as robots) or outsourcing some of your production to another firm if you don't use your production facility efficiently. This is the classic make versus buy decision that involves more than just a financial decision.
Be careful not to sacrifice quality in the process, though! You don't want to end up spending more money in replacing defective products or damaging your reputation that costs you sales.
4. Invest in the right technology
Phone systems are an excellent way to save money. Businesses typically have many incoming and outgoing calls each day, leading to expensive long-distance charges or cell minutes. By investing in a business phone system, you can reduce these costs.
The same goes for other technology such as computers, copiers, and printers. Consider the cost of operating your current systems versus investing in more efficient systems. Ensure you have the right number of devices, especially if many of your employees are now working from home.
5. Outsource employees
A great way to save money is by using a virtual assistant or outsourcing other tasks to third parties. Virtual assistants can handle many administrative tasks your business requires, such as bookkeeping, answering phones, routine correspondence, and other activities. This frees up your time so you can focus on more important tasks!
You should also consider outsourcing professional needs such as accounting, HR, and marketing if you don't require full-time staff for each position. These are very technical jobs best left to the experts so don't scrimp by hiring someone who can't really handle the job. Below you can see the wastefulness of hiring the wrong marketing employee versus outsourcing your marketing to an agency whose people know what they're doing.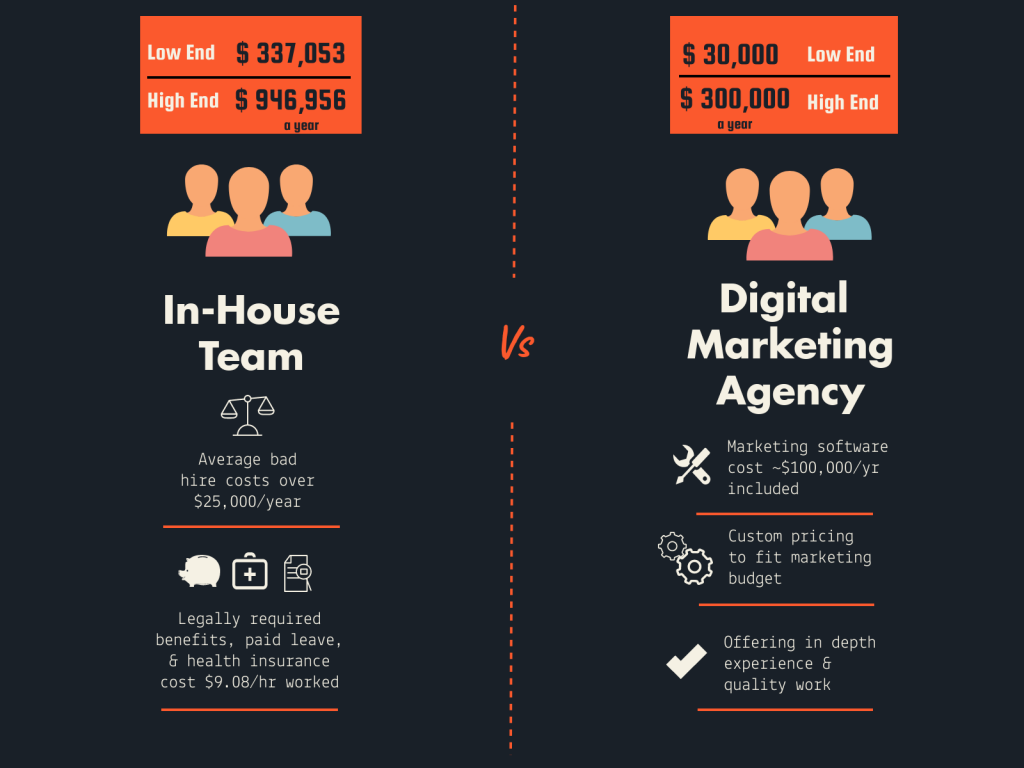 6. Use cloud-based service
Cloud-based services are another great way to save money. Rather than purchasing and maintaining your servers, you can use a cloud-based service to host them for you. This saves you both time and money!
7. Use CRM
A CRM is an excellent way to save money. CRM can help you manage your customer relationships, which leads to increased sales and decreased costs. By using CRM software, you are able to spend less time and money on marketing and customer service while still maintaining good relationships with your customers!
8. Ensure you use the right software for the job
One of the best ways to save money is using the right software. There are many different kinds of business management tools, and each one helps your company perform a task. Using software that works well together saves time and reduces mistakes so think about software like Salesforce or Hubspot that performs multiple tasks. Also, some software has built-in integration to expand communication between software products.
By knowing which software tools are best for your needs, you can cut back on costs without sacrificing efficiency!
9. Get rid of old or obsolete equipment
Another great way to save money is by getting rid of old, unused equipment. For example, if you have older phones or computers lying around that you no longer use, selling them can help recoup some of your original costs! The same goes for printers and copiers. Again, can reduce your cost by selling these pieces of equipment.
Similarly, old equipment might result in costly downtime as you wait for repairs or increased maintenance costs. Finally, consider the security threat posed by old equipment connected to the internet.
Conclusion
There are many different ways that your business can save money. By regularly looking at what you have and how it's being used, as well as finding new suppliers to work with, you can generate more revenue without increasing expenses!
Need marketing help to support business growth?
We welcome the opportunity to show you how we can make your marketing SIZZLE with our data-driven, results-oriented marketing strategies.  Sign up for our FREE newsletter, get our FREE guide to creating an awesome website, or contact us for more information on hiring us.
Hausman and Associates, the publisher of MKT Maven, is a full-service marketing agency operating at the intersection of marketing and digital media. Check out our full range of services.