You don't always have to increase sales to improve your profit position. By reducing costs, you also increase your profits. There are great places to start in reducing costs but your office may represent one of the biggest opportunities to cut costs without impacting customer satisfaction, product quality, or employee morale. We all know of the importance of minimizing business expenses, but your office expenses are one area that is often overlooked because many see it as a necessary cost of doing business and, instead, focus on big-ticket items they perceive as having a greater contribution to the firm's bottom line. Often salaries are the first place businesses consider when reducing costs, as this is a big-ticket item. However, cutting staff often directly impacts the performance of the remaining staff, lowers morale, and often results in customer frustration or dissatisfaction. By lowering staff in this way, you actually negatively impact profitability as it's expensive to replace staff, lower productivity results in higher costs, and customer problems reduce sales to current customers and impact your ability to attract new customers.
Instead, consider ways to reduce costs in your office. To get you started, here are 5 ways of reducing costs in the office that might be just what the doctor ordered.
Luckily, it's relatively easy to cut these expenses down if you know where to get started. You just need to have a strict plan in place. Sound interesting? Then keep on reading.
5 ways to reduce costs in the office
Offices are a great place to waste money. You have the cost of rent, operational expenses like heat and lights, supplies, equipment, and cleaning. While you may find it impossible to eliminate any of these expenses, you can make a lot of headway in reducing costs associated with your office through careful planning and thoughtful execution.
So, let's take a look at tactics to reduce these expenses.
1. Reduce equipment costs
Consider the fully-loaded cost of all your office equipment. Calculate how much it costs to maintain your office equipment, including repairs, downtime, and suppliers. You might find that, while purchasing a new printer is an extra expense, it can save you more in the long run. Not only might you experience lower repair costs, but if you switch to something like one of these Brother black and white printers, that don't require as much expense for colored ink, you can significantly reduce your printing costs. Downtime also represents the cost of doing business. By upgrading to new equipment, you might experience less downtime, reducing costs associated with lower productivity.
Another way to save up on printers is to buy multifunction printers that can perform numerous functions, such as printing, scanning, copying, and sometimes faxing, all in one machine. Konica Minolta multifunction printers, for instance, offer a range of features and price points to suit different needs. HP printers are also known to have cost-effective models for businesses. Konica Minolta is known for advanced features and image quality, while HP offers a wide range of models and compatibility. It's important to compare the costs and features of different models to find the best fit for your business.
While software isn't technically equipment, you might find reducing costs easy by replacing obsolete software with newer software that's faster and integrates more completely with modern business practices. Replacing multiple software programs with a single solution that handles multiple functions, you might find you save a lot of time in building integrations while experiencing fewer errors.
2. Reduce rent and utility expenses
If the pandemic taught us one thing, it was the ability to work remotely. In fact, productivity rose during the lockdowns as workers worked from home (47% increased productivity was reported in some studies) in most countries and employees reported improved satisfaction with working from home (22% happier than those working in the office). This begs the question of whether you need a big office with the associated costs for rent and utilities only to experience declining productivity and poor employee morale.
Of course, 100% remote work isn't right for every business but office-centered businesses like consulting, software and website development, accounting, financial planning, and many more don't require workers to work in an office all day every day. Instead, businesses might consider downsizing to a smaller office with shared space rather than a larger office with dedicated office space for each employee. That way teams have a space for meetings, workers can meet with clients, and other activities that require group work have a space to call their own. Reducing meetings by using tools like Slack and Trello allow teams to work effectively without a lot of physical meetings.
Even better, consider using on-demand office space, especially if you're a small company. That further decreases your office expenses if you don't require frequent meetings.
3. Reduce supply expenses
You get a much better deal when you buy office supplies in bulk. So, if you can roughly predict what you need for the next few months, it's certainly worth contacting wholesalers and comparing their prices for larger orders. Don't forget that there are also certain times of the year when you can stock up, thus reducing costs even more. For example, back to school always offers great savings on paper, pens, and other supplies, while you might discover other holidays offer discounts.
When it comes to common items such as paper and pens, you don't need branded products to meet your needs. Instead, keep an eye out for generic products, especially when you research your wholesaler's prices. A lot of the time, you can find generic items that work just as well at half the price. So you won't sacrifice quality and you can still use them to get the job done. It's a simple switch and your bottom line is better.
One of the reasons why many businesses overspend on their office supplies is that they don't keep an accurate record of what they have. It's easy to get carried away when shopping, especially when you don't have a list. Keep an accurate inventory of everything you order and analyze it every few months to prevent accumulating excess inventory. Maintaining that inventory is also important. When employees feel you are too strict in controlling access to supplies, they might each create their own inventory, which actually drives up expenses. Alternatively, letting every employee access suppliers whenever they want and withdraw as much as they want leads to waste. Establishing a balance helps reduce costs.
4. Go digital where possible
One of the best ways to save money is to try to go digital as much as possible. You can find more benefits of going digital and paperless here.
Transitioning to digital solutions reduces mistakes since information transfer isn't subject to human error. For instance, by integrating your accounting, order processing, and production operations, you can reduce costs through accurate billing and payment of accounts as well as reducing costs for raw materials by implementing a JIT manufacturing process. Chatbots powered by AI (artificial intelligence) reduce reliance on humans to answer questions, replacing them with software that never takes a day off and always disseminates accurate information.
5. Outsourcing
Another great tactic for reducing costs is to outsource activities like marketing, accounting, payroll, and others. While operating these functions in-house provides better control, outsourcing allows for economies of scale that reduce the overall cost for the function. For instance, hiring an agency to handle your marketing means you spread the cost of expensive software like Adobe Creative, analytics software, and tools for implementing marketing strategies, as you can see below.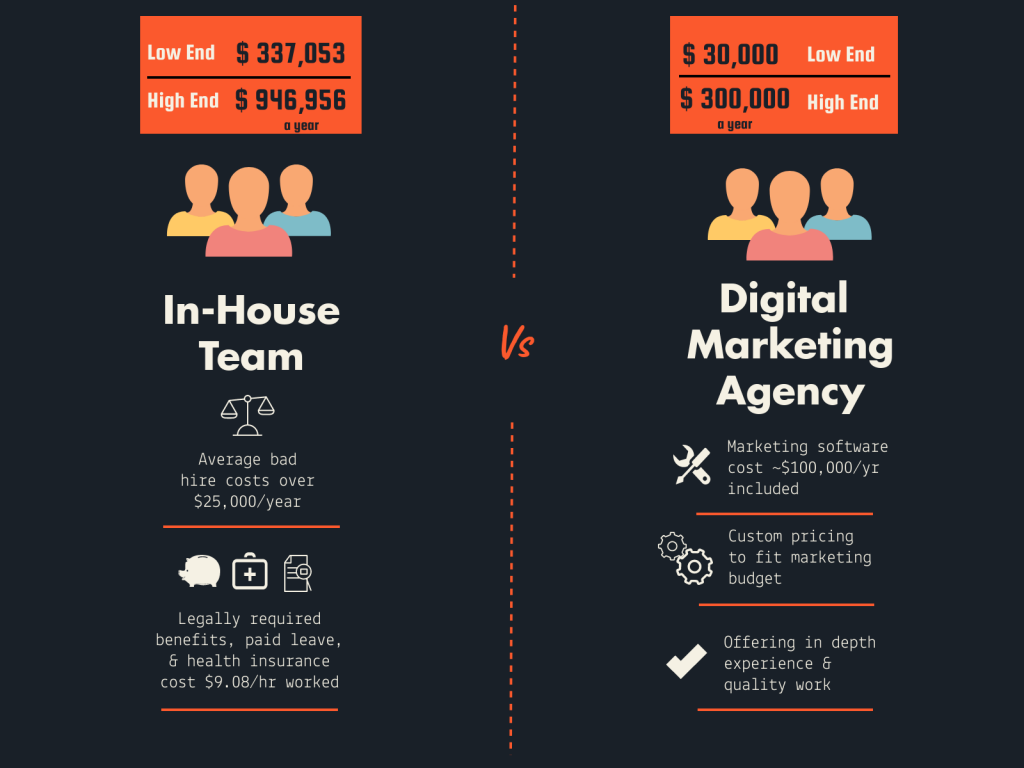 Plus, hiring employees with highly sought-after skills means paying a premium for these workers. Unless you can employ dedicated staff to a specific, highly skilled function, it's cheaper to spread the cost over multiple organizations by hiring an agency. The cost of using less-skilled employees for technical functions that require training and experience comes in the form of opportunity costs and costs associated with mistakes, such as poor brand image when a marketing tactic falls flat.
Final thoughts
As you can see, there are quite a few tips that you can follow to reduce the cost of your office. So remember to monitor what you are using, and always keep an eye out for the best deals.
Good luck!
Need marketing help to support business growth?
We welcome the opportunity to show you how we can make your marketing SIZZLE with our data-driven, results-oriented marketing strategies.  Sign up for our FREE newsletter, get our FREE guide to creating an awesome website, or contact us for more information on hiring us.
Hausman and Associates, the publisher of MKT Maven, is a full-service marketing agency operating at the intersection of marketing and digital media. Check out our full range of services.