Over the past year or so, new entrepreneurs were motivated to follow their dream of becoming their own boss by setting up their own business online. It's not difficult to see why this option gained popularity during this period. The pandemic robbed many people of their jobs as companies shuttered their doors or suffered low demand from consumers trying to protect themselves by staying home, which contributed to an additional 200,000 business failures. The pandemic also gave many people enough time away from work to contemplate what they actually wanted from their day-to-day roles and careers. Running your own business provides you with control and freedom. It's also easier than ever to set up an online business using options such as 3rd party stores from Amazon or Facebook, and the increasing ability to set up an e-commerce store without learning to code. But getting your business up and off the ground isn't quite as easy as setting up an online store. Promoting your online business is the key to success. And, we're sharing some of our best tips for promoting your online business in 2022.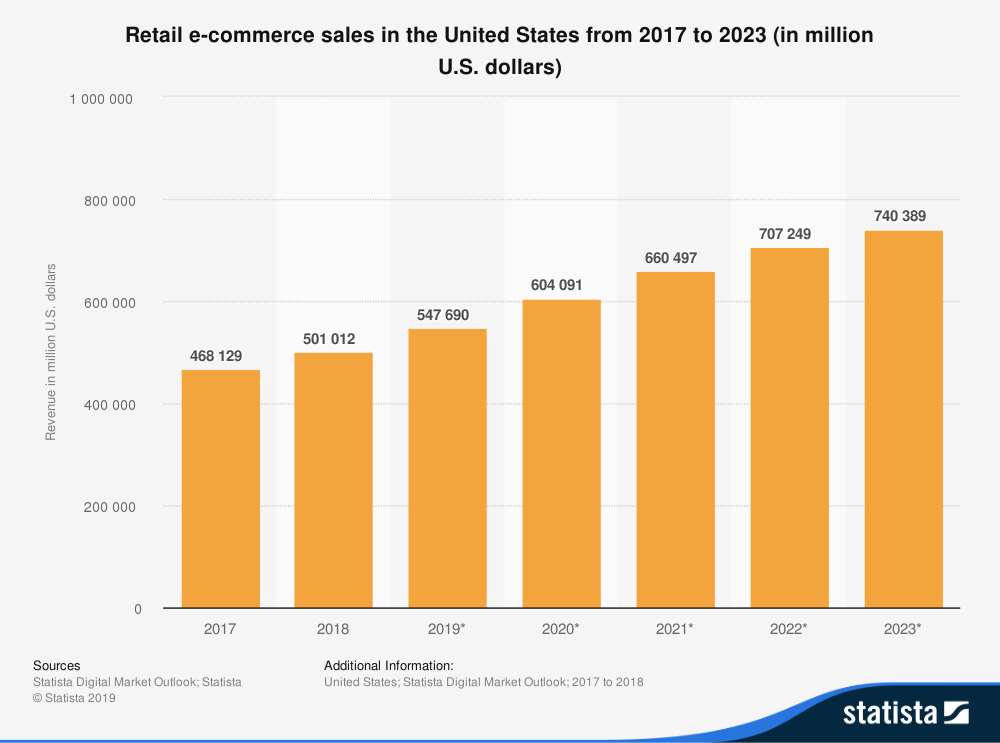 Promoting your online business
As you can see in the graphic above, there's steady growth in e-commerce. Not represented in this graph are the effects of the pandemic since data were collected in 2019 and the pandemic years were estimates made before the disease impacted consumers and businesses. Indeed, the pandemic accelerated the transition to online retail sales, a reality most experts predict will forever change the trajectory of online sales growth.
While the growth of e-commerce offers great opportunities for online businesses of all types, it also increases competition. These competitive pressures highlight the need for efforts to promote your online business if you wish to achieve your goals. Below, we share some strategies you should incorporate into the online marketing plan and how to best implement these strategies. We divide these tactics into paid and earned (organic) reach designed to help you when promoting your online business, primarily focused on increasing the reach of your messaging. In addition, you'll find a number of posts on this site focused on the next step in efforts to generate success; driving conversion from that reach.
Promoting your online business: Organic reach
Since promotion is all about reach (percentage of the target market that sees you messaging) and frequency (number of times the average member of your target market sees your message), a host of promotional efforts help you achieve these twin goals. Organic reach doesn't require you to spend money on promotional efforts, but that doesn't mean these tactics are free. Instead, most involve dedicated, highly-trained employees (or agency employees) working on implementing a consistent strategy. Bear that in mind as you weigh the pros and cons of various efforts for promoting your online business.
SEO
SEO or search engine optimization is a means to improve your rank in search results. We know that rank greatly impacts the amount of traffic visiting your website and, thus, represents an opportunity to promote your online business, as you can see below.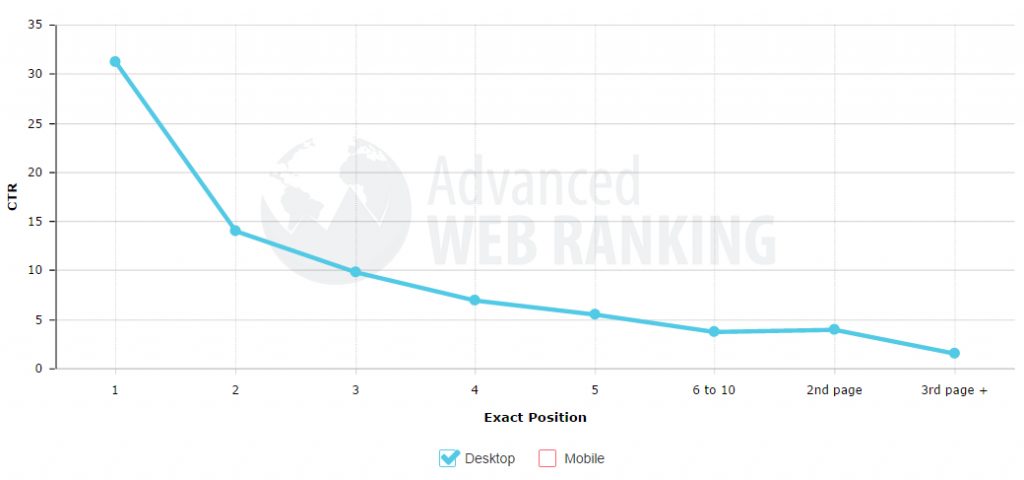 Since search engines want to satisfy the needs of users, providing highly valuable content that matches user intent is the key to improving your rank. You can demonstrate the value of your content in several ways, including:
Social proof, such as backlinks to your content from other websites
Engagement on social media
Time on site, repeat visits, low bounce rate
In addition, showing your website provides a great user experience improves rank. You can demonstrate a good user experience by loading content quickly, providing clear navigation, providing security and privacy on your site, and offering a clean design.
Social media
Social media provides organic reach that supports the growth of your business. Again, posting valuable content on a consistent basis is the key to improving reach and driving traffic to your e-commerce platform. Marketing automation and a content calendar help you keep up with your plan to provide this content on an optimal schedule.
We'll talk later about additional social media tools that fall into the paid category.
Promoting your online business: Paid reach
While paid reach involves an exchange of money for promoting your online business, the costs are much lower than those associated with traditional advertising, making them perfect tools for small businesses. Here are some paid tactics that make sense for those wanting to promote their business.
PPC
PPC stands for "pay per click" and is a popular promotional tool regardless of whether you have an online business or one in the physical world. PPC ads, through Google Ads and similar tools offered by other search engines, appear at the top of search results and are identified as paid ads. PPC ads may also appear on other websites or on YouTube as part of a revenue share with the content owner. Traditional search ads contain text and a link while ads on other platforms are visual or, in the case of YouTube, video.
Shopping ads are particularly valuable as they contain information users want to help them make an online purchase. As you can see in the ads below, these ads show the product, price, and rating for products and link directly to the landing page where these products are sold. The ads appear before all the regular search results.
Just as the name implies, you only pay for the ad if someone clicks on it, which greatly reduces the cost and increases the ROAS (return on advertising spend) from these ads.
Contests, promotional items, and gifts
People love free stuff and they're willing to do a lot to get something for free, such as share your content with their online community or promote your products (we'll talk about this later). Hosting a contest where users enter to win by sharing your content or encouraging their community to do something that supports your brand, such as signing up for a trial, is a great investment.
Promotional gifts go a long way toward encouraging conversion when consumers are on the fence. After all, who doesn't love receiving something for free? Generate greater success by ensuring your promotional items are branded (so people remember your company name and can find you), and that gifts are related to your business and what it sells. For example, if you sell products for curly hair, you might want to consider a promotional gift of a branded wide-tooth comb with every order. If you sell journals you might want to include a free branded pen with each journal order placed.
In addition to encouraging conversion by offering a free gift with purchase, handing out promotional items at trade shows, community events, or anywhere your target market gathers is a great way to get your name out there.
These are items that people use on a regular basis, which means they see your brand name every time they use the item. This contact exposure to your brand keeps you top of mind when it comes to considering additional purchases and can help promote your business when others see the customer using your free gift. Branded gifts are a great way to increase sales!
Make sure you have the relevant materials and manufacturing processes in place to create these gifts, such as printing presses, badge makers, or 651 vinyl. Alternatively, you'll find a host of companies ready to produce just about any promotional item with your logo and other information.
Social media marketing
If you have a younger target market, social media marketing is essential. In addition to organic reach on social platforms, you can engage your target market with paid ads, social media influencers, or opening an online store on the social platform. The perfect thing about using paid social media is you have nearly unlimited control over who sees your promotions, especially as the advertising platforms allow you to selectively target users based on demographics, lifestyle, and interests.
Conclusion
These are just a few starting blocks you can use in promoting your online business. Each goes hand in hand with a host of benefits, so why not give them a try?
Need marketing help to support business growth?
We welcome the opportunity to show you how we can make your marketing SIZZLE with our data-driven, results-oriented marketing strategies.  Sign up for our FREE newsletter, get our FREE guide to creating an awesome website, or contact us for more information on hiring us.
Hausman and Associates, the publisher of MKT Maven, is a full-service marketing agency operating at the intersection of marketing and digital media. Check out our full range of services.