Podcasting really exploded over the last few years due to declining startup costs and increased interest in these alternatives to the radio, although, as you can see below, many podcasts are actually produced by established radio stations and TV stations, such as NPR and CBS.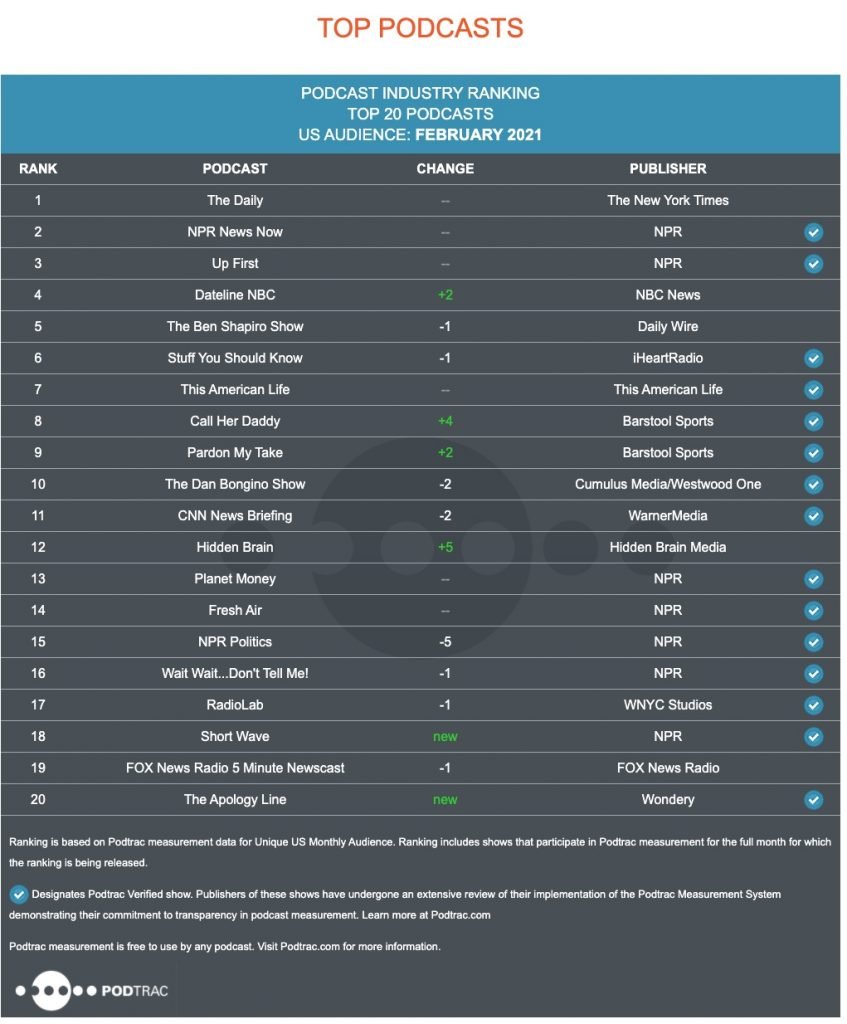 Sometimes it may seem like just about everyone has a podcast now but there are several very good reasons for that. People love podcasts because they can be consumed while doing other things, whether it's driving, cleaning the house, or working out. Podcasts are commonly centered around a relatively narrow set of interests. For instance, my actor daughter and her husband recently started a podcast of their D&D sessions as a way to highlight their voice-over abilities to potential studios. Name a topic and you'll probably find at least one podcast focusing on this area. There are podcasts for current events, solving mysteries, health and wellness, various forms of entertainment, working out, self-improvement, or anything else you can think of.
What is podcasting?
A podcast is an audio or video file, usually available as a single episode. A podcast can be watched via a streaming platform or downloaded to a mobile device or computer. The podcast industry covers a number of niches, including music, culture, society, comedy, health, business, and many others.[source]
A few statistics about podcasting
One reason why podcasting is so important is the potential profit. In 2020, 144 million Americans listened to podcasts. In other words, 51% of the population 12 and older in the US listened to at least one podcast, 32 % listen to a podcast at least once a month. A hefty 45% of podcast listeners have a household income of more than $250,000, well above the national average and 54% of listeners say they think about produces shared on a podcast. On average, brands advertising on podcasts see a 14% lift. [source]
Maybe you've considered podcasting or maybe you're simply finding it onerous to continue producing the same marketing content day after day. Today, we'll share some reasons why you should add a podcast to your content and how to get started.
Reasons to include a podcast in your content
There are several excellent reasons to include a podcast as part of your content marketing strategy. Podcasts are very engaging and easy to consume, making them very popular with a variety of audiences, as shown above. If you need more evidence, here you go.
Americans who listen to podcasts play more than six hours of podcasts every week and the majority of people listen to an episode until the end.
Podcasts are a much less crowded content channel than blogging and other content marketing options.
Engaging your audience with a podcast helps build brand affinity.
Engaged listeners keep coming back, as well as engaging with your brand in other ways.
You can even use your podcast to help you create further content.
Know your reason for starting a podcast
Your content should always fulfill a purpose. If you're thinking about starting a podcast, consider what value you are going to offer your audience and the things you want to achieve through your podcast efforts. Set goals for your podcast that tie into your overall business goals. For instance, determine how you hope that your podcast will market your business, increase engagement, or boost your sales?
What type of content can you offer in a podcast?
Before you decide to launch a podcast, you need to think about what exactly it is that you have to offer. With so many people and businesses starting podcasts, the market may start to seem a little oversaturated when it comes to certain topics. So, you have to be able to offer something unique and engaging to your audience. There are plenty of concepts you might want to consider that relate to your brand and audience. Here are a few:
Try interviewing a different expert from your industry each week?
Maybe you can provide advice or discuss the latest industry news.
Play a game.
Get people thinking deeply about a topic, such as Hidden Brain on NPR.
Introduce new products or highlight your team.
Tell a few jokes or share other creative talents
Keep content for your podcasts to around a total of 22 minutes. Ted Talks, which are 18 minutes at most, fit the bill for podcats based on the relatively short attention span observed in experiments. If your goal is to build your audience, as it should be, consider uploading new podcasts every week or twice a week at most.
Stuff you need to get started
Podcasting is pretty easy to get into. You don't need a huge amount of equipment and putting your podcast out there doesn't take that much skill. You can get started by recording from your smartphone, although having the right gear means producing a higher quality product. That doesn't mean you need to go hog wild and purchase every piece of gear imaginable. Instead, go for the minimum number of products necessary to produce a quality outcome.
Here's the list of some of the things required to get started with podcasting:
a microphone- get something good but don't worry about buying the best product on the market
while not strictly gear, you'll need two or three hosts involved in your podcast
a roadmap, or format, to guide podcasts. Mix it up every few minutes to keep your listeners engaged.
something to record and edit your podcasts, such as GarageBand (on Mac) or Audacity (on PCs)—both free
a hosting site such as Soundcloud to generate an RSS feed to your podcasting platform
Although it's relatively simple to start a podcast, don't assume that you can do it all on your own. If you need help with production, it's smart to hire a digital agency that can help you with your podcasts and getting the biggest return for your investment of time and money. They can assist with everything, from planning your podcast and setting goals to production and marketing. Although anyone can make a podcast, it doesn't hurt to get professional help.
Conclusion
Podcasting could add some valuable content to your content strategy, but make sure you're starting a podcast for the right reasons.
Need marketing help to support business growth?
We welcome the opportunity to show you how we can make your marketing SIZZLE with our data-driven, results-oriented marketing strategies.  Sign up for our FREE newsletter, get our FREE guide to creating an awesome website, or contact us for more information on hiring us.
Hausman and Associates, the publisher of MKT Maven, is a full-service marketing agency operating at the intersection of marketing and digital media. Check out our full range of services.