Even before the pandemic, having a physical location where your employees worked was deemed unnecessary, especially by startups trying to stretch each dollar. Plus, distributed networks allowed firms (mostly in technology) to hire the best people for the lowest wages. In addition, a host of options existed for firms needing a physical location, including companies like WeWork that offered flexible office space and firms offering a physical address along with as-needed space and administrative help. While many startups can operate from home and work with any employees remotely, there are still some advantages to having a physical office even though the world shifted to a more remote and hybrid approach to office work during the pandemic. As the world begins returning to the office, you may determine you need a physical location for your business and looking for office space with a property management company can help you get started on the right foot.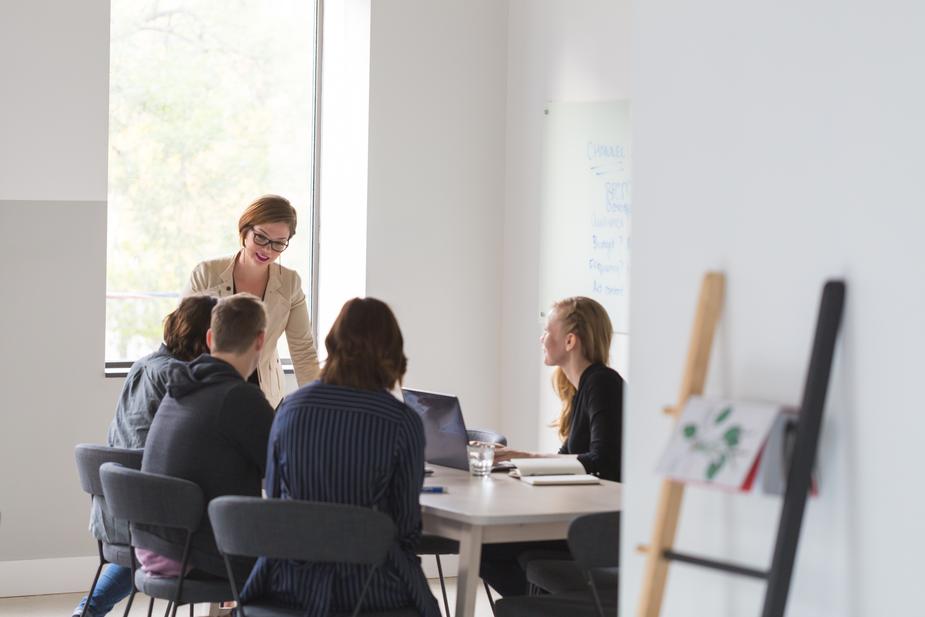 As you struggle to make the decision, here are three things to consider.
Physical space versus virtual space
There are obvious advantages to remaining virtual. Among these are:
You save the expenses associated with an office, including rent, utilities, cleaning, and furnishing the space
Increased productivity. One of the unexpected outcomes of shuttering offices and having employees work from home was the increased productivity that resulted.
A larger talent pool. As with a distributed workforce, you can hire the best people regardless of their physical location.
You provide a healthier work/life balance for employees who no longer spend hours commuting to work and can slip household chores in between meetings or take care of a sick child so they don't call off work. This results in higher levels of employee satisfaction, which leads to lower turnover and better performance.
Better time management as businesses replaced wasted meeting time with technology, such as Slack for project management.
Scalability, as you can accommodate more employees without acquiring more space.
Despite these advantages and early projections of a permanent transition to virtual work, more businesses announce a return to the office every day. even tech giants like Google recently announced a return to the office policy (at least 3 days a week).
The question of whether or when to transition to a physical space isn't easily answered. For some, the decision rests on perceptions regarding the benefits of having everyone in the same space, for others, it's a partial return, such as Google's 3-days a week policy. Here are some considerations that favor a return to a physical workplace.
Team building
Many businesses choose to have a physical office space because they want to improve collaboration and increase problem-solving between work teams. Having a physical office space puts employees in close proximity for spontaneous conversation. Even non-work conversations, the colloquial water cooler type, helps build team cohesion. Google constructs their office spaces with conversation pits between desks to encourage such brainstorming in addition to formal meetings. These informal gatherings help generate unique solutions, as well as building social capital that greases interactions within and between teams.
Working from home resulted in feelings of isolation among employees as they struggled to manage their work without the support of the rest of the company. A simple question meant scheduling a formal meeting rather than popping over to another office to get your answer. Many struggled with poor internet connections and equipment failures, although there are solutions to these problems if a firm decides to continue virtual work.
A physical location also provides an opportunity for team-building exercises. For example, you could assign your employees to different corners of the office space with specific tasks assigned to each one. And by having individual tasks assigned, you have an opportunity to see how well-equipped your team is for their particular roles.
Security
A big concern with employees working from home revolves around security issues. Instead of a single network of computers to secure, you now have any number of devices each using a public internet connection. This represents a large potential threat to your business and its customers.
These unsecured home networks open up a host of vulnerabilities such as
data theft
the introduction of viruses or malware
exposure of sensitive information
ransomware
Poor home security habits might also translate into vulnerability for your firm as employees might not notice phishing schemes or other issues as readily as they do in the office.
Returning to the office means you revert to a single network with professional security oversight and an improved ability to detect and deflect efforts aimed at mischief on your network.
Build brand identity
Starting or running a business is challenging. You probably have a lot on your plate, like trying to find funding and hiring people. It's not always easy to think about how you want your company to look and its brand identity. One of the benefits of having a physical office space for your startup is creating a strong brand identity from day one. An office space also lets clients and employees know you're here to stay, rather than a business that might close up shop any day.
The location, furnishings, and layout of your office say a lot about who you are as a brand. Signage, color schemes, and even the appearance of your employees translate into support for your brand. Plus, gone are gaffs caused by employees who only dressed from the waist up (then stood to reveal pajama bottoms) or unprofessional backgrounds or noise. For instance, a plush office suggests success while an informal office suggests nimbleness.
Ability to host clients
Another advantage of physical office space is the ability to host clients. It isn't easy to find the time to schedule a meeting when you're running in circles across town. When you have a physical office, it's easier to schedule appointments with potential and current clients. One of the significant benefits of meeting in person is that it allows for better communication than digital methods, like Skype or email. You can create face-to-face connections with your clients by talking about their interests and needs. You'll also be able to gauge their reactions to your product or service as they try it out in person.
Another benefit of having a physical office space is that it will help solidify your professionalism and show you are serious about your new startup. It will help towards building respect and loyalty amongst your clients.
Conclusion
The question of remaining virtual or returning to the office is a difficult one, in contrast to before the pandemic when an office was a minimum requirement for doing business. I hope the points raised here help to make that decision easier.
Need marketing help to support business growth?
We welcome the opportunity to show you how we can make your marketing SIZZLE with our data-driven, results-oriented marketing strategies.  Sign up for our FREE newsletter, get our FREE guide to creating an awesome website, or contact us for more information on hiring us.
Hausman and Associates, the publisher of MKT Maven, is a full-service marketing agency operating at the intersection of marketing and digital media. Check out our full range of services.