Rather than thinking of paid and organic Instagram posts as different strategies, they work best when combined effectively. As the importance of Instagram marketing powerfully resonates with businesses these days, savvy entrepreneurs increasingly consider ways to integrate Instagram marketing into advertising campaigns using both paid and organic Instagram posts. For instance, below you see recent figures for the growth in time spent on some of the biggest social media platforms. Clear in this image is the opportunity for businesses to capture followers and grow their business using Instagram.
However, businesses should not limit their Instagram strategy to just one option and can ensure success by implementing a combination of both organic and Instagram followers booster strategies from paid posts. After all, working on creative, organic growth strategies and then amplifying them through paid Instagram marketing allows for more versatility in creating meaningful conversations with potential customers and helps you reach users who don't already follow your account.
In this blog post, we break down the advantages of using organic Instagram posts and paid posts, as well as combining them, so that you can get started on creating an optimal marketing strategy for your brand's presence on Instagram.
What is organic marketing on Instagram, and why should you use it?
Marketing through organic Instagram posts is a powerful tool in any business's marketing arsenal. It involves implementing organic strategies, such as using hashtags, engaging with followers and influencers, and creating content that your specific target market finds relevant and interesting. Using organic Instagram posts allows businesses to connect with their customers in a meaningful way by providing entertainment, demonstrating shared values, and offering helpful content.
In the graphic below, you see some types of content as well as other Instagram strategies that work with organic Instagram posts.
The connections you make by sharing this content are invaluable when it comes to fostering relationships, increasing engagement rates, and boosting brand awareness. By authentically connecting with users, businesses can organically grow their following and build strong customer loyalty over time.
This type of organic marketing is often much more cost-effective than traditional advertising campaigns, making it an ideal solution for those looking to make the most from limited budgets.
How to get organic followers on Instagram
Engaging organic followers on Instagram involves creating quality content that caters to a specific audience while consistently and actively engaging with other users. By curating your page's aesthetic, accurately utilizing hashtags, and regularly participating in conversations, other users are more likely to engage with your account in the form of likes and follows. You should aim to create organic Instagram posts at least once a day for optimal returns and below you see advice about the best times to post.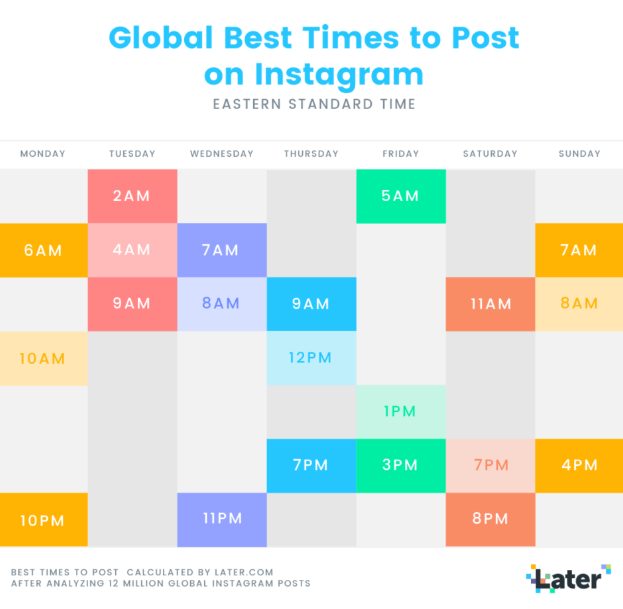 Furthermore, responding promptly to existing followers and running social media campaigns on other platforms both aid in the development of strong relationships vital for your continued success on the platform. With focus, consistency, and dedication, building an organic fan base is within reach.
What is paid marketing on Instagram and how it benefits your business?
Paid marketing on Instagram is an effective way for businesses to increase awareness of their brand and products by showing ads or sponsored posts directly to users on the platform. By strategically targeting specific audiences with relevant content, businesses can capitalize on the large network of users that Instagram has.
Many users spend a significant amount of time on Instagram. In 2022, for instance, Instagram ranked fourth in average time spent on the site with 11.2 hours a month. This stickiness presents a unique opportunity for brands to connect with current and potential customers. Furthermore, Instagram's clear metrics allow companies to measure the success of their campaigns and accurately gauge their return on investment.
In this way, paid marketing on Instagram is a powerful tool for businesses looking to reach new markets and achieve greater success.
Tips for effective paid marketing on Instagram
Paid marketing on Instagram is a great way to promote your products or services. However, success won't come easy. You should have a clear understanding of the shared characteristics of your target market and the image you want to portray in order to convey the message of your brand.
Make sure that each post is well-crafted with attention-grabbing visuals to achieve engagement and encourage sharing
Tell stories with captions and use hashtags strategically to take advantage of the algorithm and show up in searches on the platform. A mixture of popular, trending, and branded hashtags represents a great strategy
Utilize your analytics tools to help you analyze the performance of posts and make adjustments as needed for greater returns on investments. This includes monitoring clicks from content on your website through Google Analytics
Follow key competitors, outside influencers, and thought leaders who operate in your niche for insights into market trends or special appeal items.
Lastly, optimize your profile page with relevant keywords to help attract people from search as well as ensure that you stand out among similar competitors.
With these tips in mind, paid marketing on Instagram offers an extremely effective tool for growing your brand visibility!
The Benefits of Using Organic Marketing Over Paid Advertising
When it comes to marketing, marketers often find it difficult to determine which route offers the most benefit for their business. While paid advertising is certainly an option, there are a number of benefits that come with organic Instagram posts as well. Let's take a look at what these benefits are and how they can help your business succeed.
Organic marketing is more cost-effective
The primary benefit of organic marketing is that it's more cost-effective than paid advertising. While paid ads yield results quickly, they can also become expensive over time—especially if you do not see the desired outcome from those ads.
With organic marketing, however, you won't have to worry about spending money on something that may or may not work in your favor. Plus, since organic marketing relies heavily on content creation and SEO optimization, you can reach out to potential customers without spending a lot of money.
Organic Instagram posts are long-lasting
Another benefit of organic marketing is that it provides long-term benefits for your business. Unlike paid ads that only last for a certain period of time before you either find you're spending more money than you want or must refresh the ad, organic content lives on indefinitely—and continues to grow in popularity over time.
This means that your content continues to appear for potential customers even after the original post was published. Additionally, since organic content isn't tied down to any specific platform or campaign, it has the potential to reach new audiences and build relationships with them over time—which increases brand loyalty and recognition.
Organic marketing builds credibility
Lastly, organic marketing helps build credibility among potential customers. By creating quality content and optimizing it for SEO purposes, businesses are able to establish themselves as industry experts—which increases their trustworthiness among their target audience.
Additionally, creating high-quality content also allows businesses to engage with their customers in meaningful ways—which helps build strong relationships between them and their customer base over time.
Conclusion
Both organic and paid Instagram posts offer benefits. By combining the two, you get the best of both worlds to support your brand.
Need marketing help to support business growth?
We welcome the opportunity to show you how we can make your marketing SIZZLE with our data-driven, results-oriented marketing strategies.  Sign up for our FREE newsletter, get our FREE guide to creating an awesome website, or contact us for more information on hiring us.
Hausman and Associates, the publisher of MKT Maven, is a full-service marketing agency operating at the intersection of marketing and digital media. Check out our full range of services.