Outsourcing certain aspects of your business operation are often seen as a way to save money for businesses. Small businesses, in particular, benefit from using an outsourced service that provides them with the skills they lack in-house or with tasks that don't require a full-time employee. In an earlier post, we shared ways to use outsourcing to cut costs and gain expertise that's expensive or in short supply. But outsourcing won't always save you money. Sometimes, you may even find outsourcing is more expensive rather than just doing it yourself or utilizing an employee. And, outsourcing some aspects of your business may even damage your brand. Hence, outsourcing isn't always the right decision. In this post, we discuss 4 business tasks you should think carefully about before jumping into an outsourcing arrangement.
Outsourcing isn't always right
Outsourcing is great for saving money on tasks that aren't part of your core business. For instance, outsourcing accounting, payroll, and other necessary functions make sense, especially for a small business with limited resources. Anyone trained in these technical aspects can do a great job for you without the expense of hiring a trained worker. Because accounting and other ancillary activities function pretty much the same regardless of your business operation, your market niche, or your customer segment, outsourcing these activities makes a lot of sense. Accounting uses GAAP (generally accepted accounting principles) to guide their activities, so they don't need to know much about your business. The same goes for payroll, which relies on government regulations and tables to calculate taxes so the firm or individual only needs information provided by the employee as well as a list of employee benefits earned by the employee such as vacation time.
It's even effective to outsource production once you have a good handle on the requirements. A manufacturer builds your product based on your specifications within the tolerances you provide and you can check their performance. The same goes for coding a product such as an app, although there's a little danger here as you may encounter difficulties modifying the code if the developer didn't document their work properly. I can't tell you how many hours I spent reading code line by line looking for what I wanted to edit when the documentation didn't specify what a particular segment of code was designed to accomplish.
Some elements of your core business are difficult or impossible to outsource without representing a danger to the business from lost revenue or other factors. Below, we share 4 situations where outsourcing isn't always right.
Recruitment
Using a recruiting firm to help you hire the right people is a good idea if you want expert help in certain situations. Using a headhunter or a search firm to help find executive talent works because they have access to a large number of folks with highly idiosyncratic skills that's hard to replicate, especially for a small business. However, outsourcing your recruitment doesn't always make the best financial sense, especially when hiring middle managers and front-line workers. Small businesses often handle all of their recruitment needs in-house because they don't need a dedicated agency helping them advertise, source, and interview for the roles they need to hire for. You could save money by doing it yourself and it might not necessarily take you a lot more time to do it. It can also make more sense because you already know what you're looking for and you know all about your industry and how your business works. You may even find it counterproductive to outsource recruitment because of all the administrative tasks you must perform as part of the outsourcing agreement.
Equipment and machinery maintenance
Calling for a professional service to repair something within your business or help with maintenance can seem like the sensible thing to do, especially if you have a small number of items. The concept of economies of scale suggests it only makes sense to use internal resources if you have sufficient demand for their skills to justify hiring an employee. Again, this is a technical task you can't just do efficiently using a part-time employee or a gig worker.
Scheduling maintenance isn't always an easy task when you outsource this function and you may find your equipment offline for days at a time waiting your turn for maintenance or repair while your outsourced agency juggles the demands of multiple clients. As a small business, you may find yourself far down the list as the bigger clients take priority in the queue. Thus, it is often more cost-effective for businesses to maintain their own equipment and machinery so they can set their own schedule for maintenance based on their usage of the equipment as well as when it's most convenient for the equipment to be offline. If you can learn how to get the parts to fix your log splitter or other machinery and repair it, teach your employees how to maintain their company vehicles, or ensure everyone takes good care of your office equipment, you won't need to outsource these maintenance and repair functions. You can get everything done in-house and save money for your business by experiencing less downtime.
Digital marketing
It's definitely useful to have a marketing company to help you out with all of your marketing needs. As you can see below, it's also very cost-effective when you consider the cost of the tools needed to do digital marketing right and the cost of hiring someone who doesn't know what they're doing — and believe me, there are way too many folks out there applying for digital marketing jobs who have no idea what they're doing. New certifications offered by the AMA (American marketing association) may help you identify the right candidates for the job.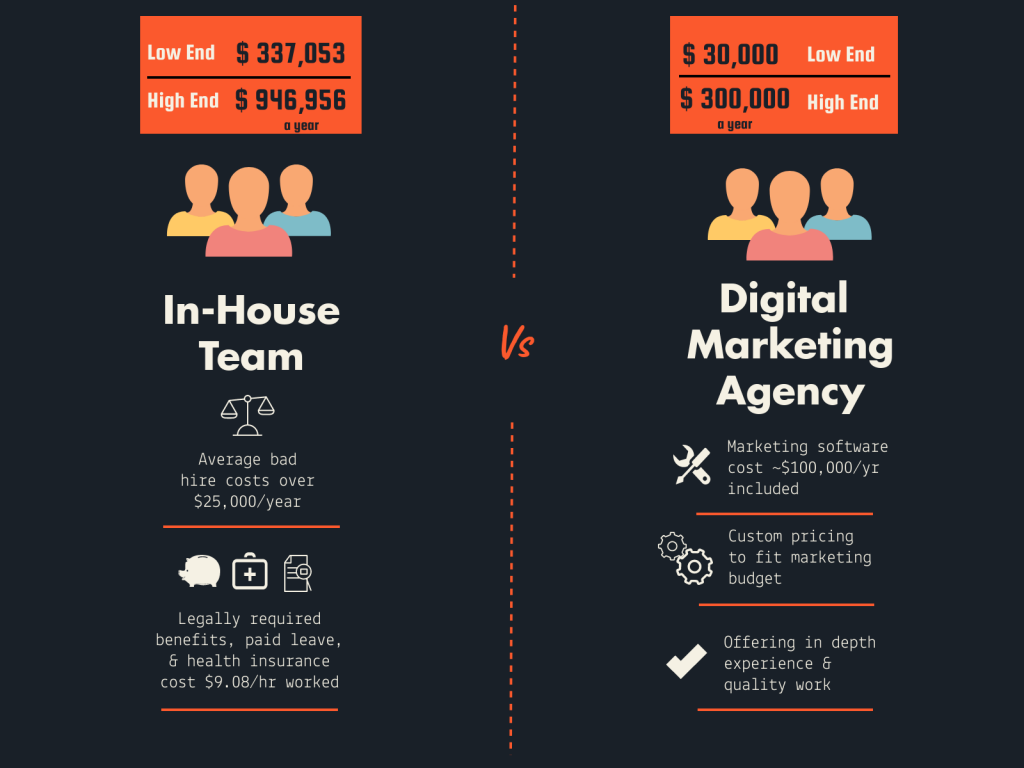 But not every business needs to have a whole agency taking care of their marketing. If you run a small business, you might find that you can do a lot of your marketing in-house with a generalist. With adequate training from online resources and that provided by Google Ads, you could set up your own PPC ads or get started with some content marketing without enlisting expert help, especially if you have trained marketing generalists to help you. Besides, maintaining your brand image is a critical element contributing to your success and trusting your messaging, especially on social media, to an outsider is pretty scary. Make a substantial gaffe on social media and you can sink your brand. Writing expert content on your website is also best done in-house by your experts who really know the business.
But most small businesses can't afford the kind of talent it takes to master digital marketing, which seems to change every other day. Some digital marketing tasks, such as SEO and analytics, are also very technical and require an expert.
Customer service
You might think that outsourcing customer service can save you money, but it can actually result in excess costs for many businesses. Not only could you save money by keeping your customer service in-house, but there are other smart reasons to avoid outsourcing this critical function.
Outsourcing your customer service means you lose control of this function, which is key for continued customer satisfaction, repeat purchase intention, brand image, and other mission-critical factors impacting your revenue. A poor customer experience magnifies when poor customer service doesn't resolve the matter completely and quickly. Look at the backlash when brands exported their customer service to places outside the US like Pakistan and India where cultural values impact the level of service provided to callers. The language difficulties encountered didn't help either.
As more businesses transition to chat on their website for customer service, recognizing the effect of an AI-enabled chatbot on customers is a function of how well you trained the chatbot. In fact, 60% of consumers in a recent study said they believe a human can understand what they need better than a chatbot. So, even if you use a chatbot to handle your customer service, you still need a human to address questions unresolved by the chatbot or for those who don't like using chatbots.
Conclusion
Outsourcing isn't always right and knowing which functions you can effectively outsource to save money and which can't has a huge impact on your success. Some outsourcing options don't make financial sense but, more importantly, some outsourcing decisions can negatively impact your brand and, in turn, your revenue.
Need marketing help to support business growth?
We welcome the opportunity to show you how we can make your marketing SIZZLE with our data-driven, results-oriented marketing strategies.  Sign up for our FREE newsletter, get our FREE guide to creating an awesome website, or contact us for more information on hiring us.
Hausman and Associates, the publisher of MKT Maven, is a full-service marketing agency operating at the intersection of marketing and digital media. Check out our full range of services.