Optimizing content marketing isn't easy, but it's REALLY important!
After all, you spend a lot of time crafting content and you want it to produce a sizable return — over time.
How do you optimize content marketing?
Not such an easy question to answer.
To find out how businesses optimize content marketing, Software Advice, a web-based advisory firm for social CRM tools and Adobe surveyed companies, generating some interesting finding about how they use social media and optimize content marketing within their firms.
Let's take a look at some of the key findings and discuss how you can use them to optimize your own content marketing efforts.
Don't put all your eggs in 1 basket
Take a look at slide # 3. You'll see that savvy social media marketers optimize content marketing by sharing across multiple networks usually 3, 4, or 5 networks.
Which social networks do firms use to optimize content marketing? That depends on the type of business and their target marketing.
Facebook and Twitter
I think everyone should use Facebook and Twitter — and The Next Web agrees with me.
Rationale: Both are huge networks — Facebook topped 1.25 BILLION users. Users tend to go online to check what's going on in their social networks at least once (and often several times an HOUR), making them some of the stickiest social networks out there.
Now, maybe if your only target market is Millenials, we'll forgive you for overlooking Facebook and Twitter in favor of Snapchat and Vine, but the rest of you should have a consistent strategy for optimizing content marketing on these two platforms.
Google+ [depricated since original publication]
I'm asked all the time why I'm so bullish on Google+ because many folks see it as the most marginal of social networks — probably because many see it as just a Facebook copycat. And, while there's some truth to that — unless you're a creative, where Google+ wins hands down.
But, never forget Google+ has a big brother — Google. And, the long arm of Google is what gives life to your digital marketing or takes it away. Google has a long reach and a long memory for the unfaithful.
Google+ asks users to vote for content they like by giving it a +1. Unlike Facebook likes, which provide little more than an ego boost since the death of organic reach, +1's figure prominently in the Google search algorithm, hence having a huge impact on organic search. Piss Google off and your website is relegated to page 8 search results that never see the light of day. +1's likely figure into your all-important quality score determines how much you pay for ads when using AdWords.
Get over yourself and create a Google+ account. Put some time into figuring out the platform and engage with users there. And, circle me in.
LinkedIn
If you're a B2B company, you'll also want LinkedIn — because that's where business goes to hang out. And, please, don't go cheap with a free account. Pony up the $10 a month required to have a pro account. It lets everyone know you're serious (the profile highlights that you have a pro account) and lets you use a bunch of useful tools like inMail and allows you to do more extensive searches for possible connections.
Pinterest
If your target audience is women, don't forget Pinterest. Not only is Pinterest heavily populated by women (around 80%) and it's more successful at driving traffic to your site than any other social network.
YouTube/ Flickr/ Instagram
Although it takes more effort to create content on these visual platforms, optimizing content marketing requires visual content. That's because folks respond better to visual material, especially videos. So, while video is the most expensive and time-consuming part of your content marketing strategy (at least so far), you need it.
A blog
Now, most folks forget that a blog is an integral part of your content marketing strategy. And, for my money, a blog is a must-have for any business with a digital presence.
Why?
Despite new options, digital conversion happens on your website, so driving more traffic creates more revenue. Period.
A blog drives more traffic by providing content links to share on other social networks and encourages engagement (resulting in amplification) with your content.
Ever since Panda (then Penguin, Hummingbird, and Pigeon), Google increased the impact of fresh, valuable content on your SERPs (basically how early you show up in a Google search). Unless you're a media company, about the only part of your site offering fresh, valuable content is your blog.
Awareness, positive sentiment, and brand image are all tied heavily to your blog content.
Because you control your blog, a blog is the only sure bet in content marketing. Every other platform is controlled by someone else and your efforts mediated through algorithms (BTW, Twitter announced its first algorithm to improve the quality of what shows up in your Twitter feed will likely appear in 2015). This limits who can see your content. Also, disgruntled customers use social networks, especially Twitter, to complain about your brand. With a blog, you're in control and can eliminate comments against your brand, if you wish.
Other tips for optimizing content marketing
Scheduling posts/ updates
Most marketers post several times a day (at least during the workweek). The frequency when optimizing content marketing varies by platform. For instance, publishing less than 2-3 times per week on your blog results in much lower conversion (according to Hubspot), while publishing at Buffer includes 14 Tweets a day. They also post to Facebook and Google+ a couple of times and to LinkedIn once.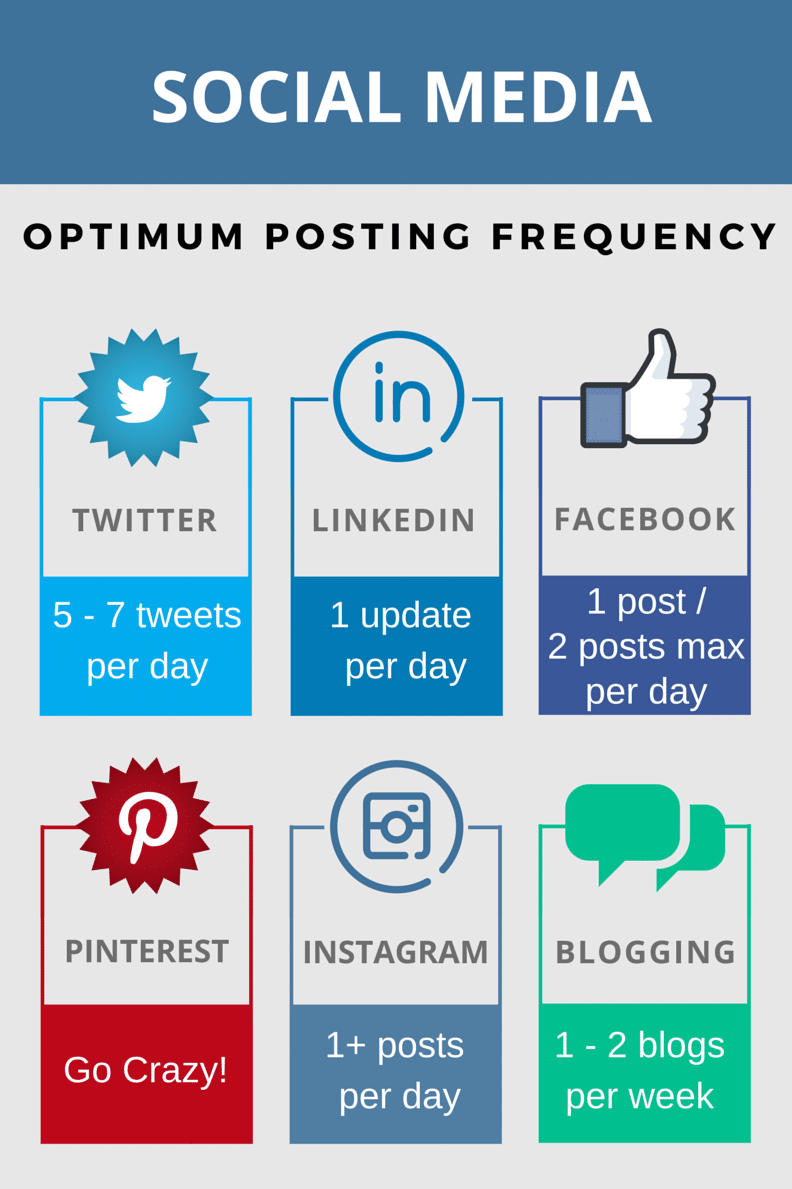 On slide 4, you see most marketers post at least once a day — which I think is really the minimum if you want any kind of return for your efforts.
When to post is also a major question for optimizing content marketing. Some tools help with this important task (such as Hootsuite, pro versions of Buffer, and other tools). Otherwise, you must test out different times using analytics provided by the particular social platform to determine the optimum time to share content.
Content marketing calendar
Experienced digital marketers know the importance of a content marketing calendar. My own content marketing calendar includes mainly blog post scheduling, but you can also schedule sharing and content curation on your content marketing calendar.
Why use a content marketing calendar?
It reduces writer's block because you're not staring at a blank screen wondering what to write about.
It ensures you produce sufficient content to reach your goals.
It gives visitors a reason to come back if you produce fresh content on a reliable schedule.
It's imperative if you have a team working on your social media because it lets everyone know what content is in the works and when it'll be published.
Elements for optimizing content marketing
The next set of slides look at elements for optimizing content marketing. Including:
Images — especially on Facebook and Google+. Pinterest requires images. And, blogs should contain at least 1 image.
Hashtags — although overusing hashtags is annoying.
Including social CTA — you need to knock users over the head so they know what you want them to do; share, RT, like
So, take a look at the Slideshare (and I'm sure they'd appreciate it if you shared it as well). Let me know if you have questions (by writing in the comments below).
Good luck optimizing content marketing!
Need marketing help to support business growth?
We welcome the opportunity to show you how we can make your marketing SIZZLE with our data-driven, results-oriented marketing strategies.  Sign up for our FREE newsletter, get our FREE guide to creating an awesome website, or contact us for more information on hiring us.
Hausman and Associates, the publisher of MKT Maven, is a full-service marketing agency operating at the intersection of marketing and digital media. Check out our full range of services.