Whenever it comes to getting your blog out into the world, optimizing your content for both search and your target market is the most crucial elements for success. Unless your blog is already ranked on the first page of Google or its respective search engine, then you need to work to optimize your blog so it shows up in the top spot for keywords relevant to your target market. Even if you do show up high in search ranks, your competition is waiting in the wings to overthrow your content by creating their own that beats you back from the first page of search results. If you don't rank high in search results related to your brand, your market won't find your content and they never discover your products or appreciate how appropriate they are for solving their problem. Check out the results from an SEO expert showing how rank impacts the amount of organic traffic to your site.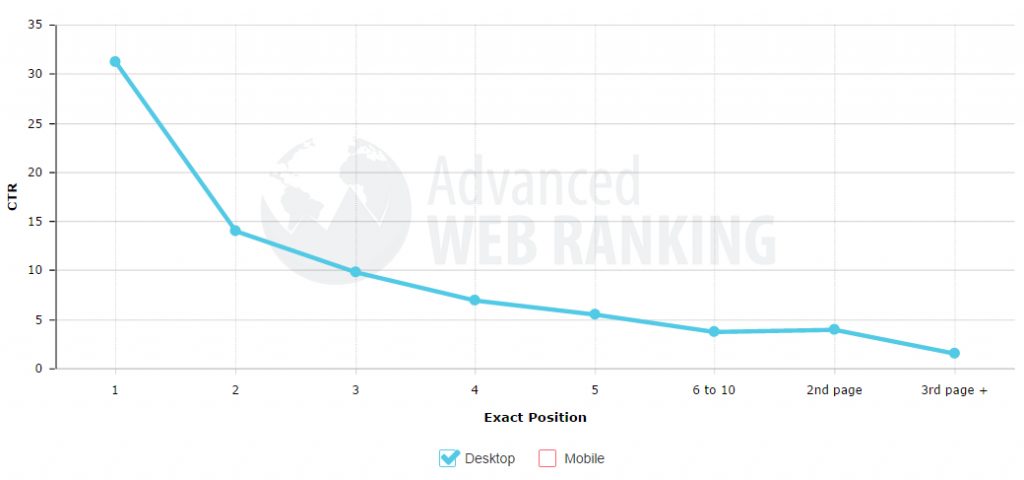 If you don't show up on the first page, ideally in the top 3-4 positions, you don't get much traffic to your website. Since organic traffic makes up as much as 73% of traffic to a business website, as compared with only 5% via social and 10% from paid search. Can you afford to lose up to 73% of your opportunities to connect with your target market?
Despite the benefit of SEO in achieving your goals, search engine optimization (SEO) is very disorienting and difficult for new businesses and people lacking prior experience with various SEO tactics. In fact, 50% of small businesses don't even attempt SEO because they feel it's too daunting to handle or too confusing to start. You might know how to write blogs, but optimizing them sounds very complicated and often hard to do. However, with just a bit of hard work and some changes to your existing writing process, you can optimize your blog and ensure that your content is at the top spot in your search engine results pages (SERPs).
Optimize your blog
SEO revolves around producing valuable content on a consistent basis. For most brands, that means adding a blog that helps educate, entertain, and engage your target market. Otherwise, it's difficult to see where you can consistently post fresh content. When it comes to driving visitors toward conversion, it's blog content that's irreplaceable as a tool for helping visitors see the value of your products, learn how to get the most from them, discover your core benefits over the competition, and other information that supports the wisdom of making a purchase. As we discussed above, social by itself can't hope to replace the value provided by your blog.
SEO optimize your blog
1. Use the right keywords
In SEO, keywords (actually multi-work key phrases) are the words users employ when crafting a query on Google or another search engine to solve a problem. Maybe they want to find a product from a store near them. Maybe they need help fixing a faucet. For example, if you own a roofing company in Alabama, people might type 'Fixing leaky roof in Alabama' in Google. If you want them to find your content, and by extension your roofing company, you need to match the keywords they use in their query when you create content. For this example, you might consider keywords such as  'leaky roof' and 'fixing roof in Alabama' to attract this user.
There are plenty of ways to find and generate keywords for your articles. You can find generators and keyword creators online for your topics, or you can use common sense and think about the words that your target market might use in searching for the products you offer. Google offers advice through the Keyword Planning Tool that's part of their ads platform (free to use although you need to create an account). Other companies offer free or low-cost keyword tools.
Just be careful not to stuff keywords in your article, or fill your article with dozens of keywords in hopes Google will up the rank of the content. That not only makes the article harder to read but also earns you a penalty from Google, a situation they fixed a few algorithm versions ago. In crafting your content, use your keywords in the title, headings, image alt tags, and in the meta description to get the most bang for your buck.
2. Share your content freely
Of course, everyone shares articles online nowadays, especially if your website has social media pages. However, while most businesses share their blog posts on their social platforms when they post the content to their website, that's where they stop. In order to ensure that your post remains relevant, draws new customers, and also stays popular on Google (social media engagement is a ranking factor), you need to share your article multiple times.
Come up with a 15, 30, or 45-day plan or something similar to share your articles several times, although sharing too frequently on sites can put you in Facebook jail to eliminate your ability to post from that URL. Make a post about the article for the day it goes live then re-share your article on a rotating schedule. Not only does this prevent your article from getting lost in your blog archives if no one reads it the first time, but it also helps keep your article fresh in the Google algorithm. It might seem a bit silly to keep reposting your content over and over again, but it's the best way to bring both new and old eyes to your content and keep it relevant. Plus, it encourages you to write evergreen posts as well, or posts that you can reuse over time regardless of the time that you post them.
Also, share your posts with subscribers through a weekly or monthly newsletter and create an RSS feed where visitors can subscribe for updates every time you post fresh content.
3. Keep your blog fresh with links and media
When it comes to content writing, one of the best strategies is the one you see here. Hyperlinking content, or placing links in your writing to direct readers to affiliate links, similar pages, or other pieces of content is a helpful tool to optimize your blog. Hyperlinks are a great tool to earn passive income on your blog, to help readers read more about a chosen topic, and to keep your blog optimized. Google tends to rank blogs on how helpful they are, and blogs with lots of hyperlinks, especially to high-value content on other blogs, are considered more helpful than the rest. Since Google tends to rank blogs with external links higher on search results, placing many of these in your content is somewhat tempting. However, adding too many links may provide more harm than good. Placing more than the necessary number of links hinders search engines' ability to understand the website pages' content, harming your ranking on Google SERPs. So how many external links per page should you add? Experts advise placing not more than 100, so feel free to consider this.
Hyperlinks are like citations in a research paper to show you know your stuff.
Optimize your blog for visitors
Creating a website and blog that's user-friendly helps optimize your blog as it encourages engagement (such as comments and sharing), helps drive visitors toward conversion, and works to help visitors stay longer. Using white space, headings, and lists makes your content more inviting to allow readers to skim your content. Employing various forms of media, such as pictures and videos, break up large walls of text, increase the number of readers who come to your blog, and encourages them to return. Again, blogs that have a lot of pictures and such to keep readers engaged are also more helpful and the optimization process likes that.
These factors interact with SEO in an additive fashion to optimize your blog.
Working on optimization
Ranking on Google doesn't need to be complicated or include a lot of extra work. If you are already writing a blog and posting on social media, you won't need to do too much extra planning to make sure the entire article is optimized and starts to rank higher and higher on your chosen search engine. If you have trouble sticking to a schedule in creating content, here's an interactive content calendar template to help with your planning.

You don't need to pay any money to optimize your blog or spruce up your articles, it might take some time and a bit of trial and error, but eventually, you'll get the hang of it and see your content improve when it comes to Google rank. With fully optimized articles, you bring people to your business and keep your business growing, all without having to do too much extra work!
Need marketing help to support business growth?
We welcome the opportunity to show you how we can make your marketing SIZZLE with our data-driven, results-oriented marketing strategies.  Sign up for our FREE newsletter, get our FREE guide to creating an awesome website, or contact us for more information on hiring us.
Hausman and Associates, the publisher of MKT Maven, is a full-service marketing agency operating at the intersection of marketing and digital media. Check out our full range of services.