I've talked about how to optimize post content earlier, but the dynamic nature of social platforms means that what makes a post perfect varies over time. Plus, this infographic was just too great to pass up. Not only does it show how to optimize post content across a wide variety of platforms, but it also suggests the optimal timing to get the most shares from your content.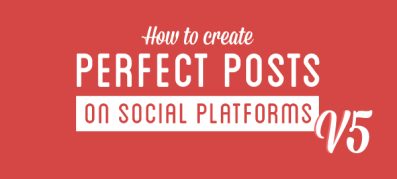 First, let me make a few general suggestions on how to optimize post content:
How to optimize post content
Research:
You need to know about your audience and how they respond to the content you post. For instance, the infographic suggests after 8 pm is a bad time to post on Facebook, however, my audience responds best to posts around 8:30.
A/B testing is the gold standard when it comes to testing. Set up experiments by varying headlines, major content elements, layout, sharing times, and see which performs best. Then, re-test periodically because your audience changes over time.
Linking:
Coming from an academic background, linking makes sense and Google now uses outbound links to rank your content. Link to authoritative sites and Google (and readers) figures you must know what you're talking about — instant authority. Get a reputation for always sourcing your content, and your site gains massive exposure. For instance, my site is now actively syndicated on at least 3 other sites and it makes it into Yahoo's business pages regularly.
Linking not only helps your SEO (despite older SEO strategies advocating against using outbound links), it increases sharing. Tell folks you're linking to them or call out to a time when you share your content and they'll likely share your content with their social networks.
Images:
Remember the old adage that a picture is worth a thousand words, which couldn't be more accurate in digital spaces. You only have a few seconds to connect with visitors before they hit the back button and get out of Dodge.
A great image goes a long way toward enticing them to stay. On Pinterest and Instagram, the image IS the content, so picking a great image is critical, but other platforms rely heavily on great images.
So, where do great images come from? Unless you have full-time graphic designers working for you, you buy them. And, don't skimp on the cost. Sure, you can get free images by searching the creative commons section of Flickr, but your competitors are doing the same thing. You want images that jump off the page and draw visitors in, not images that make you look like lots of other websites out there.
Buying images is also better than stealing them. Google now offers opportunities for image searching, which helps discover instances of copyright infringement, which might draw penalties to your site. Sure, you can use images, like I've done with this infographic, WITH proper citations — they fall under fair use laws in the US.
Most savvy companies not only expect you to use their infographics, but they also create the infographic specifically to encourage proper sharing — hence the term "link-bait" that's applied to this tactic. Notice, the creators embedded their citation within the infographic itself, which ensures they get proper credit.
Share valuable content:
If you don't have something to say, don't post. Make your posts count by providing value in everything you share and create. Yeah, I know you'll see advice to post a certain number of times/ day, but don't sacrifice value to meet these recommendations.
So, how DO you create and share valuable content on a consistent basis?
Read. Period.
I probably spend 3X as much time reading what others are writing as I do writing content (or curating content). No one is so brilliant they can think of everything.
I create a reading list using the RSS feeds from about 25 authoritative sites related to my content marketing strategy. Every morning, I scan the headlines and read (and share) some of the articles. I add topics and bookmark resources to my content marketing calendar.
SEO:
Select a couple of keywords (which are your hashtags) using the Google Keyword Planner to find keywords related to your content. Good keywords are long-tailed, have high search traffic, and low competition.
Mobile:
No article on how to optimize post content would be complete without mentioning the importance of mobile.
For your blog and website, that means using responsive designs (the old tactic of creating separate websites is just that — old). For other social platforms, mobile-friendly means adjusting images sizing, modifying content, etc.
Engagement:
Social media isn't a one-way street. Part of learning how to optimize post content is creating engagement. That means responding to comments, thanking folks who share your content, and, on some platforms, thanking folks who liked your content. Engagement helps build a community of followers who share your content consistently.
Length:
Of course, Twitter has a defined length of 140 characters. Facebook, Google+, and LinkedIn require a short, pithy sentence or two that makes connections want to read more.
Surprisingly, as the recommended length of content decreases on other platforms, blog content length is growing. In the past, having 400-700 words was considered optimal, now longer posts resonate better with readers.
The key to creating longer blog posts (1000+ words) is chunking your content using headings and short paragraphs to make the content very scannable.
CTA:
Make sure to include CTAs (Calls to Action) in most posts. Visitors need to know what they're expected to do: sign up for your newsletter, visit your website, grab your white paper …
Certainly, your content should be valuable and non-promotional, but including a quick CTA makes it marketing, not journalism. Notice at the bottom of all posts, I include a short paragraph inviting you to contact me or join my mailing list.
Layout:
Effecting content marketing means using an attractive layout — notice the recommendations in the infographic. Include lots of white space, contrasting colors, and include colorful social share buttons to make your design pop.
Take advantage of individual platform opportunities
Individual social platforms offer unique opportunities you should use as you optimize post content. For instance, some platforms use hashtags to make your content more searchable and, in Google+, tell folks you've linked to them.
Blog posts provide opportunities to really establish yourself as an authority.
YouTube, Vine, Vimeo, Instagram, all provide great opportunities to create link-bait and re-use content.
Need marketing help to support business growth?
We welcome the opportunity to show you how we can make your marketing SIZZLE with our data-driven, results-oriented marketing strategies.  Sign up for our FREE newsletter, get our FREE guide to creating an awesome website, or contact us for more information on hiring us.
Hausman and Associates, the publisher of MKT Maven, is a full-service marketing agency operating at the intersection of marketing and digital media. Check out our full range of services.