Wanna optimize content marketing on your website and social networks?
This checklist from TopDog is a great tool to help. Also, check out my ebook on content marketing.
What you'll learn:
How to optimize content marketing using editorial calendars.
Why you need to write for humans, as well as search engine ranking.
What's the optimal length of a blog post?
The importance of headlines for success.
How to make your content sharable.
Checklist to optimize content marketing
Everyone has their own way of crafting content.
Whatever system works for you, it's critical that you create unique, valuable content on a consistent basis. In the old days — a few years ago — it was enough to buy some backlinks and game the system. Today, Google's ranking algorithm is weighted heavily in favor of content and signals that content is valuable such as social shares, site visitors, time on site, and bounce rate (the percentage of visitors who leave after reading a single page). The higher you rank for a keyword, the closer to the closer your link shows up in SERPs (search engine results pages).
Once you get beyond the first page, clicks become rare, indeed. Just check out this chart from Chitika.
With Google, closely followed by other major search engines, you need to optimize content marketing to meet both humans and search engines.
But how?
It's easy with this checklist. In 5 steps.
Optimize content marketing through research
I advise clients to set a publication schedule — mine is Monday, Wednesday, and Thursday. OK, I know it's Tuesday, but we had a big graduation party for my daughter over the weekend (when I normally polish off Monday's post) and today I was at the Modev MVP (minimum viable product) conference all day — you'll hear more about this great conference on Wednesday.
Using an editorial calendar makes the process of content creation easier. That way, you're never looking at a blank screen struggling with what to write about.
My editorial calendar contains the following:
Tentative post date
Topic
Keyword (phrase)
Resources — images, links, quotes
Prospective titles
Call to action
Editor in charge
Author
All content is created around this calendar and held for approval by the editor in charge.
Just a few notes about my editorial calendar. First, use links to authoritative sources. Google sees these links just like your high school English teacher did — as signs of a well-researched paper. Plus, readers have more faith in content that uses leading references.
Next, while optimized content requires objectivity rather than promotion, include a call to action — to build email subscriptions, suggest other content, or link to your landing page.
Finally, be prepared to change your publication schedule when the situation calls for it. For instance, after a major disaster, it appears insensitive to pretend it's business as usual or to attempt to capitalize on the tragedy.
Research also involves developing a fit between your content and your target audience — attracting readers who aren't your target audience is just a waste of effort.
Optimize content marketing when writing
Wide variation exists in optimal content marketing when it comes to word count. Buffer shows evidence that all the top 10 results in a Google search have over 2000 words. This graph shows that content over 1500 words is in the sweet spot for sharing. Aim for content greater than 1200 words. While Moz shows content gets more backlinks the longer it is — with somewhere between 1000 and 1500 words representing the inflection point and content below this point gets much fewer backlinks.
Headlines matter.
In fact, a well-written headline gets 20X more traffic. Aim for about 6 words and 55 characters.
Make content chunkable by breaking it up with images, bullets, and vary the lengths of your paragraphs. Readers want content that's scannable, so use headings and subheadings. And, put important stuff toward the beginning and give readers a reason to read to the end.
Be sure to use your keywords (keyword phrase or long-tail keyword) in your headline, H2, and content.
Installing a good SEO plugin can really help keep you on track with keywords. If you're using WordPress, I highly recommend the WordPress SEO Plugin by Yoast.
Optimize content marketing by making it sharable
To optimize content marketing, you need to go beyond just writing great content. You need to make it easy to share and encourage backlinks.
One way to encourage sharing is by using a tool like AddThis or Sumome to put share buttons on your content. I really love the kind that floats on the right side and contains a share count.
AddThis also suggests additional posts as readers get about 2/3 of the way through a post and when they share content.
Beyond tools, there are lots of other things you can do the encourage sharing. A great one is creating an infographic or other cool images with your name and logo. Other bloggers are always looking for great content to share with their readers and they'll pick up your content and give you a backlink — just like I've done here with the content from TopDog.
Optimize content marketing by publicizing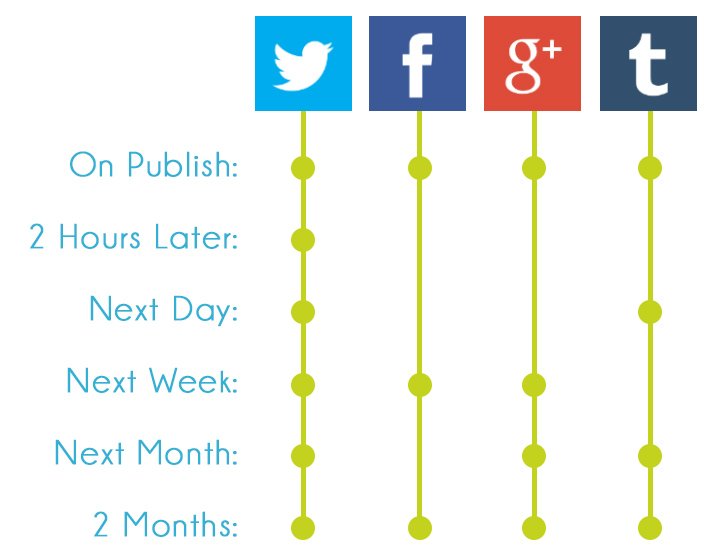 Don't be afraid to share your own content.
In fact, you should share your content multiple times. Here's the schedule used by Buffer, which I modify in my own sharing schedule.
Optimize content marketing: Beyond the checklist
Not everything you do to optimize content marketing happens on your own site or with your own content.
Pay it forward. If you want backlinks and shares, share the content of others. And, thank kind folks who promote your content.
Blogger outreach. Make a list of bloggers in your content area and ask them to share your content.
Guest blogging. Writing guest posts on other blogs is a great way to bring attention — and traffic — to your site. Also, look at blogger communities like Triberr.
Build community. Sharing your content on social networks relies on having a great community. That starts with listening to them.
Paid promotion. Facebook and Twitter are good ways to promote your posts and paid promotion fits nicely into your overall strategy. Both feature very reasonable pricing and great ability to target your ad dollars based on a variety of demographics, psychographics, and lifestyle.
Need marketing help to support business growth?
We welcome the opportunity to show you how we can make your marketing SIZZLE with our data-driven, results-oriented marketing strategies.  Sign up for our FREE newsletter, get our FREE guide to creating an awesome website, or contact us for more information on hiring us.
Hausman and Associates, the publisher of MKT Maven, is a full-service marketing agency operating at the intersection of marketing and digital media. Check out our full range of services.