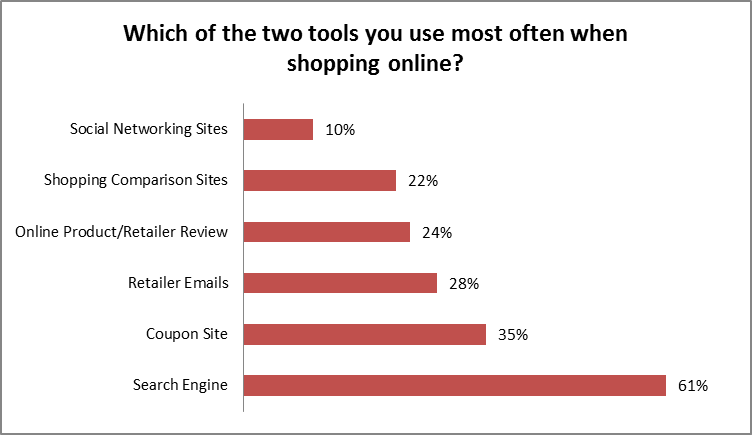 Online shopping is growing — just look at this infographic to see the steep trend line. But, are you getting your fair share of it? If you don't understand the ecosystem surrounding online shopping, then the likely answer is a resounding NO!
The extent of online shopping
Forrester Research predicts online shopping will expand to $327 BILLION by 2016 and that's a lot of money to go around. Of course, despite huge growth in online spending over the last 10 years, it never reaches the potential predicted in the heady days of the 1990s before the dot-com bust in 1998. I remember attending a conference in about 1996-97, where researchers predicted the death of retail stores.
Of course, we now know that reports of retail death were drastically overblown. Today, online shopping accounts for a mere 7% of all consumer shopping. What explains the difference between those optimistic predictions of the 1990s and the reality of today? Failure to understand the complex online shopping ecosystem.
Online shopping ecosystem
What makes up the online shopping ecosystem? A combination of consumer preferences and technology. Let's take a look.
Hedonic shopping
One of the biggest reasons online shopping figures are paltry compared with shopping in retail stores is that it's just not that much fun. Going shopping with your friends is a social event — shopping online is a solitary endeavor involving lots of confusion, overwhelming choice, and not very good tools for asking friends for feedback before making a purchase.
While online shopping is very convenient, it's easy to get lost roaming from website to website looking for just the right product. Plus, how do you know you've got a good deal? Your search involves convoluted movement through a series of links and it may be impossible for you to retrace your steps in search of that perfect item you found 8 websites ago. And, sharing your journey with friends to get their opinion involves cutting and pasting links, then hoping someone responds to your emailed links.
My daughter is currently going through this as she plans her wedding. She's forever sending links to this or that she found on a website or on a pinboard on Pinterest. The Pinterest ones are the most frustrating because it's often hard to find an item for purchase once you find it on a pinboard.
We've had many fruitless conversations beginning with: "did you get that email I sent?" In some cases, the email contained so many links, it went to the spam folder, in others, she's already rejected half the links by the time we talk and I've wasted time visiting links for items she's rejected. Not much fun. Not like going to the store, trying on clothes, then having lunch with the rest of the bridal party.
Privacy
When shopping in a store, I'm pretty anonymous. Of course, I'm exposed to hundreds of advertising messages during my visit, but I decide when I've had enough and go home. With online shopping, advertisements follow me wherever I go — showing up as pop-ups after I leave, showing up when I search for something else, even showing up in my email for months (or years) later. I like that.
Unfortunately, internet marketers forget that visiting their site doesn't give them unlimited permission to contact you later and consumers are a little shy about visiting sites knowing they'll be hounded by the e-tailer later.
Security
For a long time, folks were afraid to give their credit card information online because they distrusted the e-tailer and feared identity theft or fraudulent charges on their cards. Previous assurances, such as BBBOnline, failed to provide the comfort many sought. Now, of course, PayPal and other 3rd party payment options alleviate much of this insecurity, which probably accounts to the sharp increase in online shopping shown in the infographic below.
Ease of use
Too many websites are challenging to navigate; leading consumers to abandon their online efforts in favor of visiting a store. Face it. The biggest advantage of online shopping is convenience and when that disappears, there's not much to recommend online versus store shopping.
Searchability and ranking are the two elements most critical for making websites easy to use. That means creating databases behind the website that support consumers' search needs. For instance, I likely won't care about the brand when looking for a wedding dress for my daughter's wedding. I'm likely more interested in length, color, price. Yet, most wedding sites only allow search based on items contained in the dress's description — designer, price, and material. I'd also like to see dresses based on popularity and most sites don't give me that option. One of Amazon's early feats was creating a strong recommendation system showing visitors additional options based on things they'd already looked for. Of course, Amazon also has state-of-the-art search capabilities and 1-click shopping that makes their site super easy to use.
Give customers what they want where they want it
Increasingly, consumers are multi-channel shoppers — wanting products and information wherever they are. That means giving consumers options to get information online, then complete their purchase in-store or the other way around. It also means letting consumers return items wherever it's most convenient — in-store or through return mail.
Instead, retailers focus attention on providing mobile solutions even when these solutions are relatively unsatisfying. For instance, I tried to buy an HP computer through my mobile only to find I really couldn't do it. Sure, I could buy standard computers, but if I wanted to change the monitor or peripherals, I couldn't do it on my mobile device.
I'm not saying retailers should ignore mobile, I'm just saying there's much more to multi-channel shopping than just which device the consumer wants to use.
For instance, providing mobile kiosks in the retail store allow me easy access to order items online once I've seen the physical product in the store. Also, giving me options such as drive-through stores to pick up items ordered online at the store location. Increasingly, success in online shopping relies on understanding multi-channel shopping
Taking advantage of the online shopping ecosystem
Taking advantage of the online shopping ecosystem means a total redesign of your current e-commerce system for most businesses. For instance, Disney is a good example of a firm providing hedonic elements to support and encourage online shopping — and also off-line sales for their parks, movies, and merchandise.
Continuing as if the online shopping ecosystem doesn't exist isn't an option in today's crowded e-commerce reality.
Need marketing help to support business growth?
We welcome the opportunity to show you how we can make your marketing SIZZLE with our data-driven, results-oriented marketing strategies.  Sign up for our FREE newsletter, get our FREE guide to creating an awesome website, or contact us for more information on hiring us.
Hausman and Associates, the publisher of MKT Maven, is a full-service marketing agency operating at the intersection of marketing and digital media. Check out our full range of services.