Businesses face threats to their reputation every day. Sometimes these threats are easily managed by ensuring you provide excellent products and services as well as fast and efficient customer service. Other times, threats to your reputation come from unscrupulous actors, even competitors looking for a competitive edge and disgruntled employees with an ax to grind, out to destroy your business without any legitimate failure on your part. Regardless of the cause, online reputation management is a high priority for your business.
Online reputation management
Damage to your reputation causes consumers and business partners to lose trust in your business and businesses with poor reviews drive customers away. A recent study found that 93% of consumers read online reviews and four out of five customers will not buy from a company with negative reviews. The report goes on to demonstrate the cost of poor online reputation management translates into $537 billion in the US alone. This cost holds true regardless of whether the negative review is legitimate or a complete fabrication, according to this report. Surprisingly, another study found that about 80% of us read at least one fabricated review in the last year. In order to analyze and use data from reviews, you need to encourage your customers to leave reviews. One of the best ways to do this is through a google link.
Rather than an aberration, others support the finding. For instance, according to Qualtrics, 94% of respondents say an online review convinced them to avoid a business. To avoid this damage, constant monitoring and quick action are needed.
In a recent study by Deloitte and Forbes Insights, 300 executives (C-suite and board directors) were surveyed. One revelation? They consider brand reputation as the highest strategic risk area for a company. [source]
Thus, business owners need to prioritize reputation management strategies to drive sales and maintain their popularity. In the age of social media, bad reviews spread insanely quickly, and so it's vital that you have the right tools to manage your reputation; Quickly identifying threats to your reputation and implementing mitigation efforts. To support your business today, take a look at these software tools available to help you to manage your business reputation.
Online reputation management tools
1. Reputology
Reputology is a software program designed to help businesses manage their online reputation by easing the burden and helping businesses monitor, respond to. and analyze their online reviews. The tool offers both social listening and monitoring features, to help your company manage your online reputation. This software, used by leading brands including Ashley Homestores, Gold's Gym, and House of Blues, helps businesses leverage their reviews to grow their bottom line.
The software allows 24-hour review monitoring and helps businesses respond quickly directly from the platform. The software also includes tools to analyze customer sentiment, providing a benchmark of where your company stands.  Using the data, you possess the tools needed to enhance your reputation and make adjustments to your services and products. Reputology can help your brand monitor surveys, comment cards, and more. You can access analytics and get tips on improving your online reputation.
2. Bright Local
BrightLocal supports businesses to improve their online reputation with the help of review tracking. Brands like Hilton hotels, IKEA, and Roto-Rooter trust BrightLocal to manage their online business from one easy dashboard that combines Google Analytics, SEO, and aspects of reputation management into a single dashboard. The tool lives up to its local name by helping to track "Google My Business", a free tool to help local businesses gain visibility in search. It's a popular solution to manage customer reviews, plus there are features to manage and improve your online reputation. A few of the benefits of using Bright Local include:
Cloud-based software with an easy-to-use interface.
Organize your GMB listings and boost your local SEO.
Social inbox to respond to your mentions on every social channel.
Integrates with social marketing to make life easier.
3. Sprout Social
Sprout Social is a platform for social media management through listening and evaluating consumer sentiment toward your brand over time, thus, helping brands organize and improve their social marketing strategies and online reputation management through monitoring social media. Using the tool, you can also manage your editorial calendar and take care of scheduling posts at optimal times to ease the time-consuming task of content marketing.
The value of the tool for online reputation management is the ability to check and respond to messages posted on any of your social accounts, and employ customer relationship management tools to build valuable relationships with users. Sprout Social also allows you to check your brand mentions on social media and manage your reviews across platforms like TripAdvisor and Facebook. When it comes to marketing your business, it's important to have a solid social marketing strategy, so why not choose a tool that helps with online reputation management at the same time.
4 . Brand 24
With the help of Brand24, businesses can access social listening features as a means to manage their online reputation. Using this software, you can observe the latest industry trends and monitor how users talk about your brand as a critical step in responding to negative sentiment. Businesses can monitor positive and negative comments about their company, quickly and in real-time. The tool also provides marketing analytics, helping you to gain insights to optimize your digital marketing strategy. Brands can also take advantage of features including influencer score, sentimental analysis, and competitor knowledge.
5. Google Alerts
Google Alerts is a free service that monitors the internet for keywords, such as your brand name, product name, and the names of key employees, and sends an email alert anytime it encounters those keywords posted in online content. BTW, you can also use Google Alerts to help find productive keywords for creating your own content to help it rank better.
6. Social Mention
Social Mention is another free tool. This tool tracks user-generated content across many social media platforms then categorizes the content based on:
Strength. This refers to the likelihood that your brand is discussed on social media.
Sentiments. This is the ratio of positive mentions to negative mentions.
Passion. This is the likelihood that people talking about your brand will do so repeatedly.
Reach. Refers to the number of unique authors who write about or mention your brand.
7. SEMRush
SEMRush offers limited options for monitoring your online reputation as part of a broader digital tool. More options are available through their paid service. Regarding reputation management, SEMRush monitors mentions and the reach of the mentions, assess the authority of the source of the mention, and the sentiment expressed as part of the mention.
Online reputation managers
Online reputation managers are another option for brands that want to protect their valuable reputation or clean up adverse publicity, whether it's negative reviews or unflattering images of company execs or even a youthful indiscretion that dominates on a social platform. These managers are part traditional PR and spin doctors and part tech wizards able to surmount obstacles surrounding scrubbing your reputation.
The first defense in managing your online reputation is ensuring you never post anything you wouldn't want shared on a billboard in the middle of town. Keep the drunken images from the bachelor party and playful images that others might misinterpret offline. Remember Senator Al Franken. He lost his seat in Congress due to a silly image taken during a USO trip. He and his fellow comedians pretended to touch the breast of a female comedian as she slept on the plane. Although he never actually touched her and this was an acceptable joke among his group, the action resulted in his summary removal from Congress by his own party.
Even if you never post content on the internet, protecting your online reputation is still critical. In the age of "deepfakes," anyone with a grudge can post something damaging to your reputation. And, these fakes get better all the time, making them nearly impossible to detect as forgeries without sophisticated software. Remember the video of Nancy Pelosi posted at below-normal speed to make her appear to slur her words like a drunk. Never happened in real life. So, don't think you don't need help with your online reputation management just because you don't maintain a digital presence.
How managers protect your online reputation
Never get into arguments
If someone posts a poor review, don't give in to the temptation to argue that they're wrong or accuse them of being dishonest. Sometimes called internet trolls, the best advice is to simply ignore them. If you have a lot of positive reviews, prospective buyers quickly discount the aberrant negative posts. If a troll begins to gain some traction, apologize (even if you feel you did nothing wrong), be transparent about the steps you took to correct the problem, and offer a solution for the disgruntled customer.
Legal options
Legal avenues are likely to draw more attention to the negative review, giving it legs it didn't have on its own. Besides, the law hasn't really caught up to the reality of deepfakes and fake reviews, so you're unlikely to win even if you can prove malice. Plus, deleting the post almost never works since the internet is a persistent information mill, where things don't disappear but get spread to different locations. Like whack-a-mole, deleting the content from one site means it pops up in 3 more sites.
Blast positive reviews
The way SEO (search engine optimization) works, only the best content shows up on the first page of search results, as you can see below.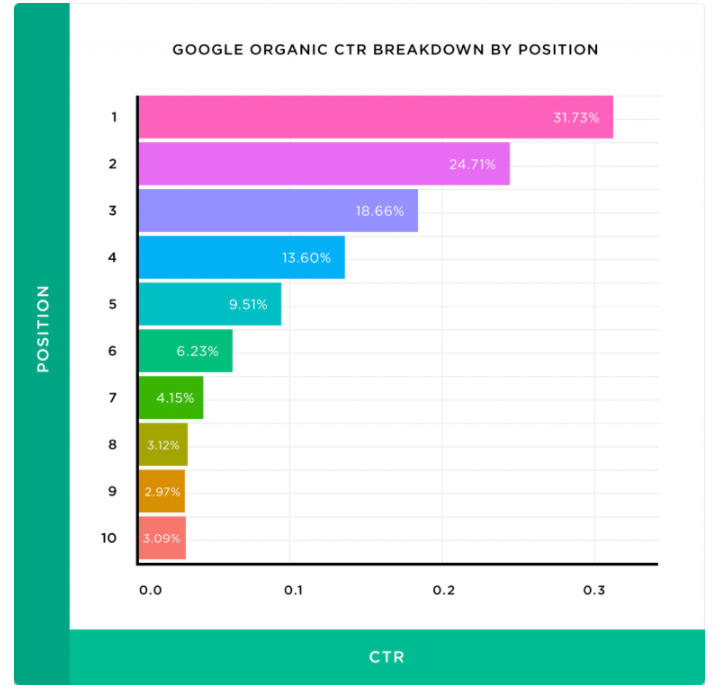 Your task is to make certain your content is the best it can be so you push negative posts farther down the results pages. Google will relegate the post to lower-ranked pages, making the post all but disappear.
Protecting your business
When you're looking to protect and manage your business reputation, there are several other important considerations to make. You'll need to make sure that you get yourself the right business insurance to protect yourself from reputational damage, financial issues, and legal issues. No matter which industry you operate in, it's important to research liability insurance for small businesses, to find the right coverage.
An ounce of prevention is worth a pound of cure
Be proactive in managing your online reputation rather than react to something negative. Post favorable content on a consistent basis and ensure that content provides value to your market, not just self-promotion. Then, start an active listening program that constantly monitors your brand name for negative comments and addresses them quickly, but respectfully.
Need marketing help to support business growth?
We welcome the opportunity to show you how we can make your marketing SIZZLE with our data-driven, results-oriented marketing strategies.  Sign up for our FREE newsletter, get our FREE guide to creating an awesome website, or contact us for more information on hiring us.
Hausman and Associates, the publisher of MKT Maven, is a full-service marketing agency operating at the intersection of marketing and digital media. Check out our full range of services.