I first published this post on online privacy and social media nearly 12 years ago. A lot happened in the intervening years, yet, in some ways, nothing happened over this time. Facebook and other social media platforms continue to face concerns over online privacy that haven't diminished over time and with the increased use of these social networks and a burgeoning number of social platforms. Other online platforms arose as a way to reduce privacy concerns. For instance, DuckDuckGo offers a browser that doesn't collect personally identifiable information (PII). But, with their 2.51% share of the market, usage is dwarfed by Google, with a commanding 65+% of the market through their Chrome browser.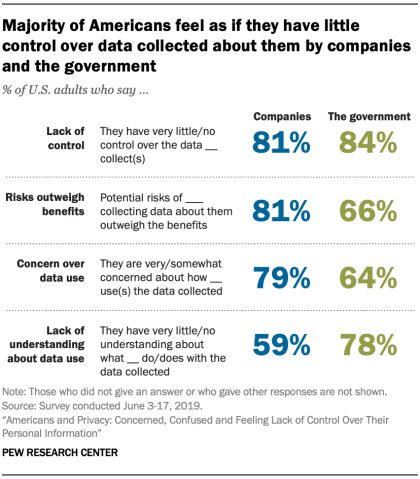 Yet, consumers, especially younger ones, still don't like their loss of online privacy (see graphic above), which experts predicted would happen over time. In fact, millennials (that elusive, but important segment of younger, affluent consumers) and their GenZ cousins are very privacy savvy. Since privacy concerns are not going away, marketers need to find a way to deal with them.
What's happening with online privacy?
New legislation across the US and even more stringent rules in the EU (California also adopted privacy policies similar to the EU) attempted to give users more control over their online information and how it's used. A new rule, for instance, requires companies to notify users if they collect cookies on their website and asks them to accept these cookies to continue using the site. These laws join existing laws that forbid selling or sharing email lists with other companies. These laws also mean you can't email individuals without their express agreement.
We all know cookies, that little snippet placed on you as you traverse the internet to identify where you've been. These cookies allow companies to cyber-stalk you with advertising on social media based on a visit to the website of a company that sells a competing product or sends a popup if you leave a site without making a purchase. These are third-party cookies and, in the very near future, these cookies will disappear in an attempt to protect online privacy. Safari already got rid of them and Chrome will phase them out by the end of 2023. First-party cookies, using visits by users to your site, will still work, which means you can still use retargeting to support your marketing goals.
Apple now makes it harder to track mobile users online with their update to iOS in 2021. Likely Samsung and other mobile brands will follow suit by adding a popup that allows users to opt-out of mobile tracking anytime they add, open, or update an app.
Of course, these new laws and tech updates do little to address the key problems of online privacy, which often come from bad actors or from companies that simply see profits as more important than privacy. Offending companies, most prominently social media platforms, counter with long privacy policies filled with legalise that negates their public statements regarding how they handle PII.
How can companies respond to online privacy concerns?
In a recent study conducted with consumers across the US and Europe, we find that not all consumers are the same — there are variations in how consumers feel about privacy, what things they feel offer protection online, and how they respond to their privacy concerns. They also view online privacy and online security as synonymous.
The study found 4 groups (segments) of consumers:
Pragmatists
Concerned Users
Unconcerned Users
Minimalists
Some consumers feel privacy policies, such as the hotly contested ones used on Facebook, guarantee promised levels of privacy. However, despite the prominence of these discussions in the media, this is not a large group of consumers.  In fact, most consumers don't take the time to read privacy statements, and those that do, don't understand them because they are too complex and long. More seriously, most consumers don't BELIEVE the promises made in privacy statements.
How do consumers respond to their concerns over online privacy?
many won't shop online – most online sales are from existing online users; an 80/20 situation
most won't access online financial data – such as bank statements
many don't share on social networks, like Facebook
some won't even use email or only open emails from known sources
Many won't visit websites from companies they don't know and trust
While these actions have serious negative implications for online profitability, in combination, they can be a death knell. For instance, if they won't visit your site because you don't have an established reputation, they won't buy from your site. And, if they won't share on social networks, it's hard to develop an online reputation they will see — thus, pull strategies won't be successful. If they won't open emails from unknown sources, you aren't likely to see success from your push strategies.
So, how does an online marketer deal with these privacy concerns?  It's important to know your visitors and offline customers and which group they fall into  – the study uses a short, multi-item scale to measure this. Once you've identified your consumer groups, there are several ways to deal with them. If your consumers are Pragmatists, consider yourself lucky because you probably don't have to do anything special to meet the lower level of privacy concerns among these consumers.  However, if you have significant numbers of consumers from the other groups, you need to make SUBSTANTIAL changes in your privacy strategies.
Step 1 – Find out how concerned your visitors and offline customers are about their privacy
Use my scale or another reputable scale to measure how concerned your consumers are about their privacy. Once you have data from a sample, you can perform hierarchical clustering to see which privacy groups are represented. Find out if you have 1 prominent privacy group or whether multiple groups are represented. The value of my scale is that you can determine not only the privacy group your consumers fall into but how to develop effective strategies for alleviating these privacy concerns.
Step 2 – Determine whether you need a single privacy strategy or multiple for different visitor segments
If you have more than 1 privacy group represented and you feel like you can't ignore the needs of some of these consumers by developing a single strategy, then you have to test all consumers to categorize them into a privacy group. Multiple websites will have to be developed employing those strategies that are most likely to alleviate privacy concerns for a private group.  Information on the private group for a particular visitor can be coded into customer login information or attached to their cookie info so that they will see a website they find helpful.
Step 3 – Determine which online strategies to avoid
This means your online firm will have to make some trade-offs between gathering visitor information and alleviating their privacy concerns. For some visitors, this will mean allowing access to your website without exchanging personal information.  While online marketers may prefer to gather email or other information from all their visitors to aid in future marketing efforts, ie. outbound email marketing, insistence on gathering this information will not benefit the organization.  Instead, visitors with privacy concerns will bounce from your site without seeing your valuable content. If your competitors don't require this information, they'll get the business rather than you.
Online firms should also seek to develop strong relationships with customers since even consumers concerned about privacy are likely a feel safe with firms they know.  Participation in social media, reputation management, and the use of offline promotional events are some successful tactics for developing these relationships. For instance, your firm might enter a team to compete in local or national charity events, such as Koman's Walk for a Cure or the March of Dimes. You can attend a Red Cross blood drive as a group. Your firm can adopt a highway. There are lots of social responsibility opportunities your firm can use to develop strong relationships with customers and prospects.  Make sure you optimize these activities by getting both online and offline PR for your efforts.
Step 4 – Monitor changes in online privacy
Sometimes, an individual's level of privacy concern change over time. While privacy concern appears to be a stable personality trait, media reports, of privacy invasion or stories of invasions from friends can change a consumer's need for privacy. Also, as technology changes to allow new website features and strategies change to include new online tactics, these innovations need to be assessed for their ability to heighten privacy concerns.
Step 5 – Ensure consumers understand the value of your efforts
Most consumers don't understand the value of sharing PII with companies, especially in the form of cookies. Knowing more about an individual consumer allows you to target them, sure, but it also helps them find products that meet their needs. For instance, if a user searches for a black dress, it helps you provide a better user experience when they visit your site or log on to social media platforms because you know the type of product they want and can send them directly to the products they want rather than sending them through several clicks to see related products.
Similarly, remembering visitors from one visit to the next lets you help them to pick up where they left on during a different visit or when they switch between mobile and desktop devices.
Having PII in an aggregate form helps you develop products that meet the needs of some segment of the target group.
Conclusion
What is your firm doing to address these privacy concerns?  Is it working?
Contact me if you want a copy of the full report of this study or a copy of the scale I developed.

Need marketing help to support business growth?
We welcome the opportunity to show you how we can make your marketing SIZZLE with our data-driven, results-oriented marketing strategies.  Sign up for our FREE newsletter, get our FREE guide to creating an awesome website, or contact us for more information on hiring us.
Hausman and Associates, the publisher of MKT Maven, is a full-service marketing agency operating at the intersection of marketing and digital media. Check out our full range of services.