If you want to build a local restaurant successfully, then online marketing is essential. In today's digital age, people increasingly turn to the internet for information about restaurants and other local businesses when they need something. They want to see restaurants near them and easily find menus, reviews, and contact information before deciding where to eat. However, if your restaurant isn't online, then you're missing out on potential customers. This post discusses the importance of getting online marketing for local restaurants and other local businesses along with tips for getting started.
Online marketing for restaurants
As a small local business like a restaurant, you know it's hard to compete with the chain locations. But, as a consumer, you also know you sometimes want something unique when you're hungry or you want something different than the chains offer. When you optimize your online marketing, you can compete and beat the chain restaurants. Today, we discuss various online marketing tactics to employ to ensure you show up first when local users want something to eat.
The first thing to understand is that online marketing is not a one-time effort but something you must do consistently if you want to see results. Digital marketing is an ongoing process and you must build a cohesive strategy that incorporates online marketing into your overall marketing strategy. Just like traditional marketing, online marketing requires planning, execution, and measurement. You need to set goals, create content, and track your results.
One of the main benefits of online marketing is that it allows you to reach a wider swath of your target market than you would through traditional marketing channels. In traditional marketing channels, you reach a larger audience but you have little control over targeting, which means many of the folks you reach aren't part of your target market and are unlikely to convert. This wastes your advertising budget. With online marketing, you reach your target market selectively either through your choice of keywords in search advertising or direct targeting on social platforms. Thus, another benefit of online marketing is that it is more cost effective than traditional marketing methods.
You also reach your market organically through SEO (search engine optimization) or social media marketing without incurring any direct costs. Search engines offer the added benefit of immediacy because an online search is commonly the result of a desire for an immediate purchase. On social media posts, you reach a community that is already aware of your brand and predisposed to purchase from you through content shared. When your community engages with you through sharing, commenting, or liking, they share your message with their network, which likely shares many commonalities that make them targets for your products.
You can also track your results and make changes to your campaign quickly and easily, which is nearly impossible with traditional advertising with its long production lead time and the inability to directly correlate advertising with sales. You also don't have many options for free promotions like you do with organic reach options on social and search platforms.
So, what are some of the best ways to get started with digital marketing for your restaurant? Here are a few tips:
Online marketing for local restaurants
1. Create a website:
Your website is the foundation of your digital marketing efforts, so ensure it shows off your restaurant's competitive advantages while creating a great user experience for visitors. You need a website that looks great regardless of screen size since users often use a mobile device to find a restaurant when they're not sitting at a desktop or laptop device. Using a good responsive template takes care of ensuring your site looks great on every device.
Don't waste your time and effort creating a website using a website builder such as Wix or Squarespace. This is a mistake many local restaurants make because you can create a website for free without writing any code. However, the resulting website lacks originality and these website builders are MUCH more difficult to use than the promotional materials suggest. These websites also don't show up near the top of search engine results, which makes it hard to attract organic traffic to your site (as you can see below). Instead, opt for a self-hosted site with a reputable hosting company, a good CMS (content management system) like WordPress, a responsive theme, and a few plugins to build your website. If you really want a low-skill option, choose one of several plugins that replicate the drag-and-drop feature touted by the website builders. You'll find everything you need in my ebook on DIY website design and it'll only cost you about $150 to get started then around $100/ year in fees.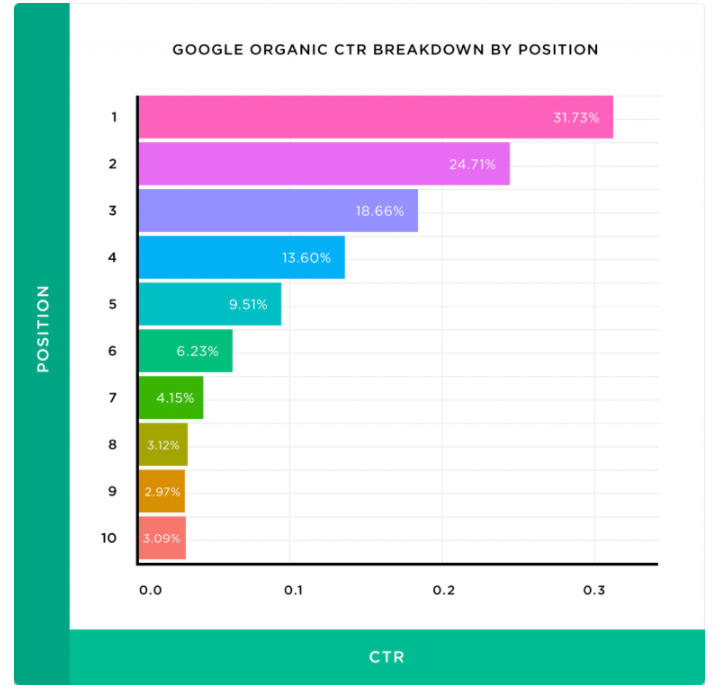 In designing your website, think like your visitor. What are they looking for? Likely they want to find your address, your phone number, your menu, and maybe a review or two. Display this information prominently so visitors don't have to search for it (because they won't).
As you build out your restaurant's website, make sure to:
Optimize your rank in search using SEO tactics that include:

Use keyword-rich titles and descriptions for your pages
Consistent content that adds value to your visitors such as recipes, profiles of key employees, an in-depth look at your menu, and information on your sourcing, especially if you do local sourcing. Websites that post at least once a week achieve a much higher rank in search results.
Easy navigation and user-friendly web pages
Fast load speeds

Include high-quality photos of your food and restaurant to attract visitors to dine at your location
Include recommendations and reviews as well as awards you receive, charitable events you participate in, writeups in local media, or any other content that creates trust with your local community
Set up social media accounts to automatically share your content on your chosen platforms
2. Social media
Social media is a great way to connect with potential and current customers. Using the social media platforms preferred by your target market allows you to share news and updates about your restaurant, promote special offers, and answer customer questions. Below, you can see the benefits of various popular social media platforms.
Instagram is a particularly useful platform for restaurants as it is visual and allows you to share mouth-watering photos of your food. Make sure to use relevant hashtags, such as #foodie or #nom, as well as local hashtags to reach a wider swath of your target market since users search hashtags looking for interesting content. For instance, you might use a hashtag representing your cuisine, such as #italianfood, a specialty dish, such as #eggplantparm, or your location, such as #madisonavenuerestaurant.
If you prefer to use Facebook since it is the largest platform with a significant amount of time spent by users, then create a business page for your restaurant. Pinterest is also a good option since this platform is still dominated by women who are often tapped to choose the restaurant and make reservations. Notice in the image above, food is one of 4 topics that dominate Pinterest.
3. Use Google My Business:
Google My Business is a free listing service that allows you to manage your local marketing efforts. Make sure to claim your listing and fill out all the information, such as your hours of operation, address, and contact details. You can also add photos, menus, and special offers to your listing. Update this information as you make changes, especially regarding your hours of operation to avoid losing business. Also, encourage your customers to leave a review to encourage other diners to give your restaurant a try.
Once you have a listing, Google shows your information along with a star rating when users search for a local business, even if they don't add the term "near me" to their search. The enhanced listing shows up before organic results and maps your location to make it easy for users to find a restaurant with a desirable location, such as along their route. Here's an example of a local search result:
Users have additional information about your restaurant that's not a normal part of an organic link. Plus, the user can employ filters to find restaurants based on price, cuisine, hours, and star rating. Hence, if users want an Italian restaurant, the listings update to include only restaurants serving Italian food.
4. Add customers reviews:
Customer reviews are an essential part of online marketing. They provide potential customers with valuable insights into your food and service quality.
There are a few ways to encourage customers to leave reviews. For example, you can send follow-up emails after their visit, include a call-to-action on your receipts, or set up an online review monitoring system.
5. Use online advertising
As mentioned earlier, online advertising is a very cost-effective tool for reaching your target market. You have two general options when it comes to online advertising: search engine marketing on Google, Bing, etc (often called PPC or pay-per-click because that's how you're billed) and social media advertising. Both are easy to set up and recent changes to the platforms make it possible to create effective ads without much expertise or skill.
Below, you see a graphic depicting the average CTR (click-through rate) achieved on each popular digital advertising platform to help you better plan your budget and potential outcomes.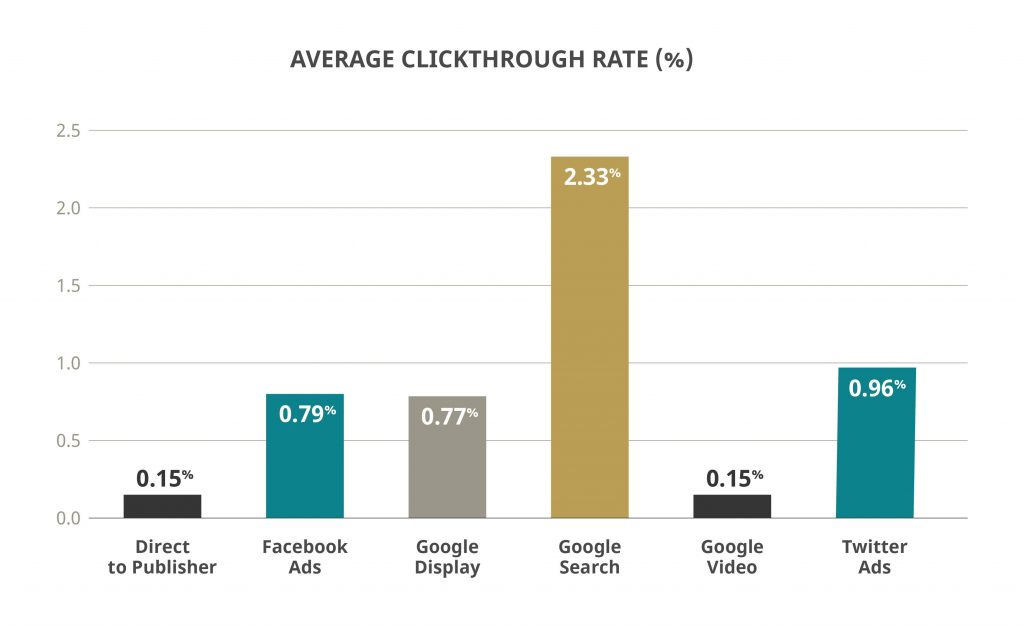 Find experts to help you with marketing
If you want to take your online marketing efforts to the next level, consider working with a digital marketing agency. They can help you create an effective marketing strategy and manage your campaigns to optimize your results.
For example, a company specializing in restaurant marketing has a team of experts who understand your business's specific needs. As a result, they can create targeted campaigns that drive higher results.
Conclusion
When done correctly, online marketing is a powerful tool to help you attract new customers, maintain a relationship with existing customers, and grow your restaurant. Use the tips above to get started with your own marketing efforts. And if you need any help, don't hesitate to reach out to a digital marketing agency specializing in restaurant marketing.
Need marketing help to support business growth?
We welcome the opportunity to show you how we can make your marketing SIZZLE with our data-driven, results-oriented marketing strategies.  Sign up for our FREE newsletter, get our FREE guide to creating an awesome website, or contact us for more information on hiring us.
Hausman and Associates, the publisher of MKT Maven, is a full-service marketing agency operating at the intersection of marketing and digital media. Check out our full range of services.