Not everything you do to help make money blogging is done from your blog — some things are done offline to support your blogging success. And using a newsletter to support your brand is a great way to create engagement with blog visitors, drive traffic back to your sales page, remind subscribers about your products, generate repeat purchases from customers, offer news, share discounts and new features, and nurture leads coming in from other sources. This is why using a newsletter to support your brand generates the highest (or one of the highest) ROIs of any strategy you can use, as you can see below.
But, email marketing isn't easy and it takes time to build your efforts to the point where they generate revenue. In fact, email marketing is a two-pronged marketing effort that focuses on building your list and generating returns from that list. Here's my strategy for using a newsletter to support your brand:
Using a newsletter to support your brand
Step 1.  Gain email subscribers
Before you can build an effective email marketing program, you need subscribers. In the old days, you could buy physical addresses, but then you faced significant mailing and printing costs. Today, email marketing is nearly free on a per-unit basis, but you still face costs from:
An email company. You can't send bulk emails from your business email account so you need a company that focuses on email marketing like Constant Contact or Moosend or a digital marketing company that includes email as part of a broader marketing product, such as Hubspot or Salesforce. Costs vary based on the number of subscribers and range from $0 for 400 subscribers for Mailchimp to $50 per 1000 subscribers on Hubspot.
A skilled email marketing manager/ staff. (About $86,000 for a manager or $56,000 for a specialist)
Images and copy. You might use a graphic designer if you have a significant need for images or buy images from a source like Dreamtime. Be wary about using free images from sites like Pexels as they get overused and dilute your brand image.
An email marketing agency if you plan to outsource this function. These cost about $100 to $200 per hour.
Analytics often come from your email company, although the information offered varies and is pretty skimpy (open rates, CTR or click-through rate, and a little more). By tagging your links in the email, you get more information about clicks through Google Analytics and can track the clicks through your website.
Template design services. You might choose a template offered as part of your payment to an email company or pay to have something unique created. This is a one-time cost or, at a minimum, paid infrequently.
Strategic services to integrate email marketing into a broader marketing program and to optimize your email marketing efforts.
List building services (see below).
Comparing the costs of various digital marketing tactics, you see that email marketing is much less expensive than other tactics, which accounts, in part, for the high ROI of this tactic.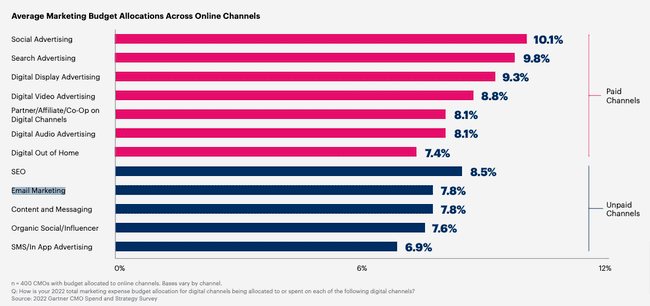 Gaining subscribers isn't an easy task as laws in the US and EU prohibit purchasing email lists and, instead, require that subscribers opt in and that you offer easy options to opt-out again. Violations are costly with fines of $10K per violation. If you have a prior relationship with a subscriber, such as a customer or an attendee at an event, that counts as an opt-in. Commonly, brands add a subscription form to their website and social media like the one below.
The codes you need are generated by your email company and the design varies depending on the company you choose and the flexibility the company allows. Some allow you to provide instructions or other text and some allow you to brand your form, which I recommend. I use the free Mailchimp program which doesn't provide this flexibility.
To embed the form, you just copy the code into a text widget (recall widgets are accessed from the "APPEARANCE" tab) on your dashboard. Once the code is copied and saved, the form will appear anywhere your theme provides for adding widgets. I usually put my form as the first widget (on the right), to increase visibility and encourage registration. I usually say something like "Get our great newsletter delivered to your inbox". You can also embed the form in a post, which is what I did above.
It increases subscriptions if you offer potential subscribers something valuable in exchange for signing up. I offer a copy of my ebook on how to build a DIY website. Michael Stelzner, at Social Media Examiner, uses a report on the state of social media he creates every year. You can also add folks to your email list when they buy products, using apps that interface with PayPal, Salesforce, and other payment systems.
Step 2. Create newsletter strategy
You need to determine how frequently to send a newsletter, the content for the newsletter, how to construct the newsletter to help you achieve your goals (often a template you use over and over), and the newsletter objectives (which is actually the first step in creating a newsletter).
How often to send a newsletter
I send my newsletter every month, plus include extra newsletters occasionally when there's some breaking news. I also use a broadcast message that sends a snippet from each blog post every couple of weeks. Social Media Examiner sends this type of broadcast message every day — but I think this is too frequently. Sending too many newsletters increases the churn rate (users who unsubscribe) and decreases open rates. Sending messages too infrequently might be ineffective.
Here are some other ideas that improve open rates.
Content of the newsletter
You want high-quality content in your newsletter, just like in your blog. Not only does high-quality content encourage visitors to continue reading future newsletters, but it also encourages them to pass your newsletter along to friends, family, and co-workers …  Newsletter readership helps build traffic to your site and ultimately helps you make money.
Designing your newsletter to support your brand often involves creating a branded template that fits your style guide and is visually appealing with white space, images, and breaks to identify sections of the newsletter. Experts recommend keeping your email messages short, around 200 words to improve open rates
A key to using a newsletter to support your brand is to make sure you include tools to make sharing easy and include tools to allow readers to join your social networks in each message.
But, what do you put in your newsletter? That depends to a large extent on your goals, your subscribers, and your goals. Segmenting your subscriber list and then sending email messages with deep personalization based on segment membership is important for the success of your email marketing efforts. Sending email messages that are relevant to a subscriber increases your churn rate and reduces your open rate. One thing I hate about Amazon emails is their failure to send relevant information, including sending emails about alternatives to a product I already bought online. I don't need to see options for durable products I don't buy frequently. Below are some segmentation strata.

Your subject line is one of the most critical aspects of your newsletter in achieving high open rates. The best subject lines fit into one of the following types according to OptinMonster.
FOMO – fear of missing out, which uses the law of scarcity to influence clicks
Embedding curiosity in your subject line
Funny
Vanity appeals
Catchy lines, especially ones including numbers (often called listicles)
Identifying pain points
Retargeting for folks who left something in their shopping cart
Personalized email
Sales
News
Follow up
Thank yous
Keep the number of words in your subject line short and think about including emojis to improve open rates.
Monetizing your newsletter
Your newsletter can help you make money in other ways beyond selling products, although I think you should be VERY selective in monetizing your newsletter. For instance, our newsletter only occasionally contains affiliate marketing links. I only include links to products I've used and tested, thus ensuring readers my honest opinion of their suitability, performance, and ease of use. Others include advertising as part of their messaging.
Newsletter objectives
Goals generally refer to what you hope to gain by employing email marketing while objectives often apply to the individual messages making up that campaign. Obviously, your objectives must support your overall goals. For instance, your overall goal might be to increase conversion by 10% while your objective with a particular newsletter might involve increasing sales of a particular product or promoted campaign by 10%.
Consider both terminal goals/ objectives such as those discussed above and intermediate goals/ objectives such as improving CTR or open rate.
You need to establish clear, measurable objectives for each newsletter so you can later run metrics to see how you're doing and tweak the program to ensure it's helping you make money. Below are some metrics and benchmarks to consider when building your strategy and defining your objectives.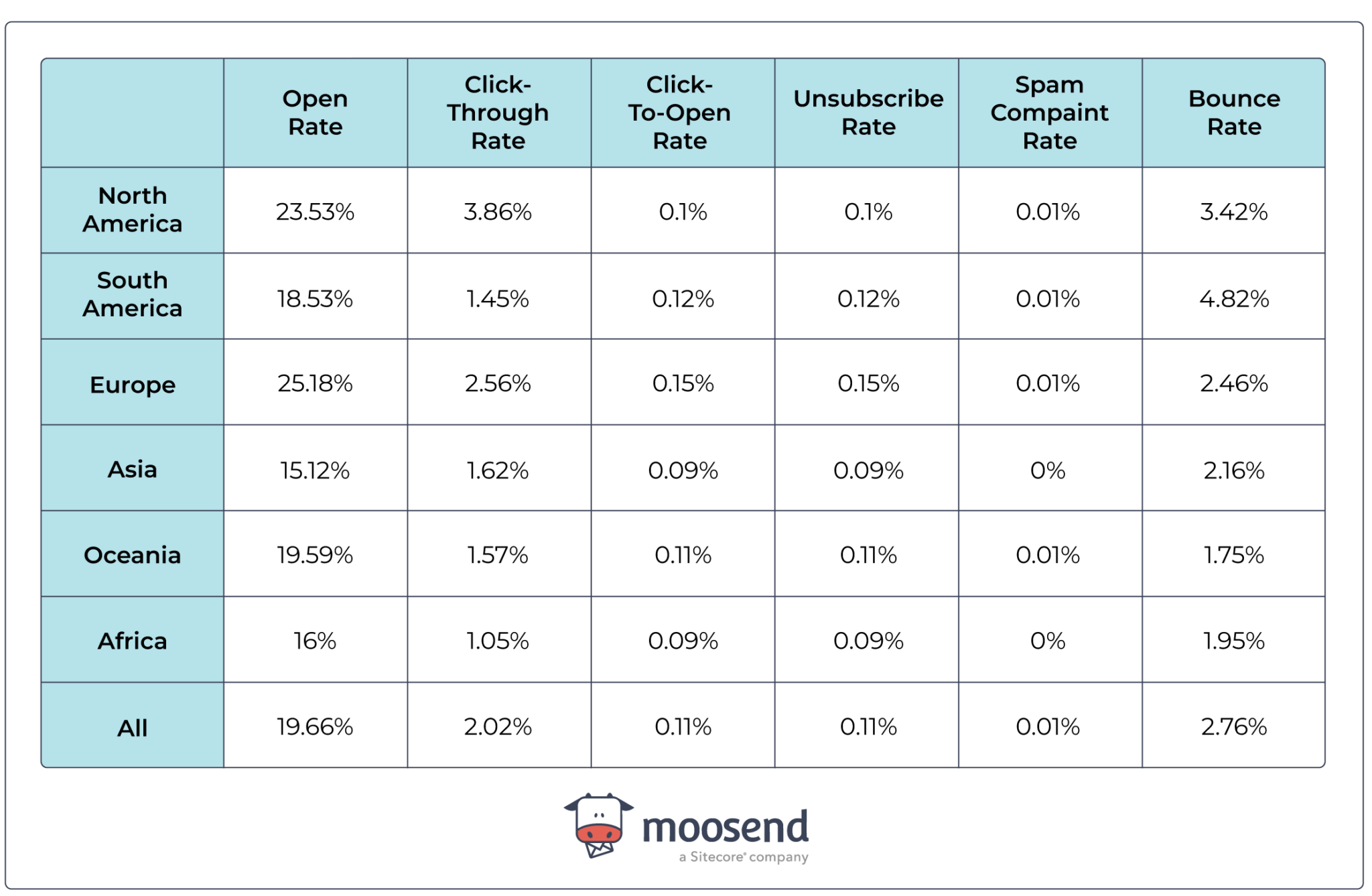 By adding tags to your links, you can follow clicks through to your website to enrich your metrics with conversion rates and other KPIs (key performance indicators), such as bounce rate, pages viewed, etc from your Google Analytics report.
Step 3. Testing
Testing content is a good strategy and it's easy to test different options in most email marketing systems through A/B testing. Track metrics and use results to improve your subscription rates, open rates, and conversions.
Experiment with the most impactful factors first, including:
how often to send messages
the optimal timing for sending messages
subject lines that get your messages opened and generate high CTR
various content elements
images, for instance, Zappos learned the response rate was much higher when shoes were shown in profile than straight on
offers, for instance, you might find an offer of a certain percent discount outperforms an offer of a specific dollar amount even when the two are equivalent.
color and size of the button used to link the newsletter to a page. Even the shape of the button might matter. Also, recognize that buttons outperform hyperlinked text.
the length of the newsletter and how many sections to include. You may find that including more than one offer dilutes your results
Don't expect results immediately. It might take several months to see the kind of returns you expected from your email marketing program.
Conclusion
Using a newsletter to support your brand is a cost-effective means to improve your performance. Plus, newsletters outperform most (all?) other digital marketing tactics.
To create a successful newsletter to support your brand, focus first on building a list of subscribers that match your brand. Cull the list periodically to keep if fresh by deleting subscribers who don't open or respond to your messages, While this might seem counterproductive, experts show that list cleaning leads to a higher return.
Next, experiment with the aspects of your newsletter to see how your subscribers respond. Finally, monitor performance to optimize results.
Need marketing help to support business growth?
We welcome the opportunity to show you how we can make your marketing SIZZLE with our data-driven, results-oriented marketing strategies.  Sign up for our FREE newsletter, get our FREE guide to creating an awesome website, or contact us for more information on hiring us.
Hausman and Associates, the publisher of MKT Maven, is a full-service marketing agency operating at the intersection of marketing and digital media. Check out our full range of services.