If you want to check your website Google rank in terms of your content's position for important keywords, then you're in the right place because in this three-minute article we update you on the 3 top Google rank checker websites.
Before we launch into the relative merits of each rank-checking tool, we want to ensure you understand the importance of ranking and how keywords impact your rank.
So read the entire article so that you get all the required information related to the ranking mantra and the relation of it with the keywords!
Keywords and why they are important!
Now, first of all, you need to know that keywords are the words and phrases optimized within your content (on-page) and other elements related to your website (off-page). When Google (or any search engine) crawls your content, the search engine categorizes that content based on keywords you provide as relevant to the content. Using this database, Google then attempts to discern the intent behind a user's query to deliver the most relevant content first. Ranking, based on a complex algorithm, determines which content appears first, second, third, etc. Rank is a critical factor in the success of your online and offline business operation, since users commonly choose links near the top of their search results, as you see in the graphic below.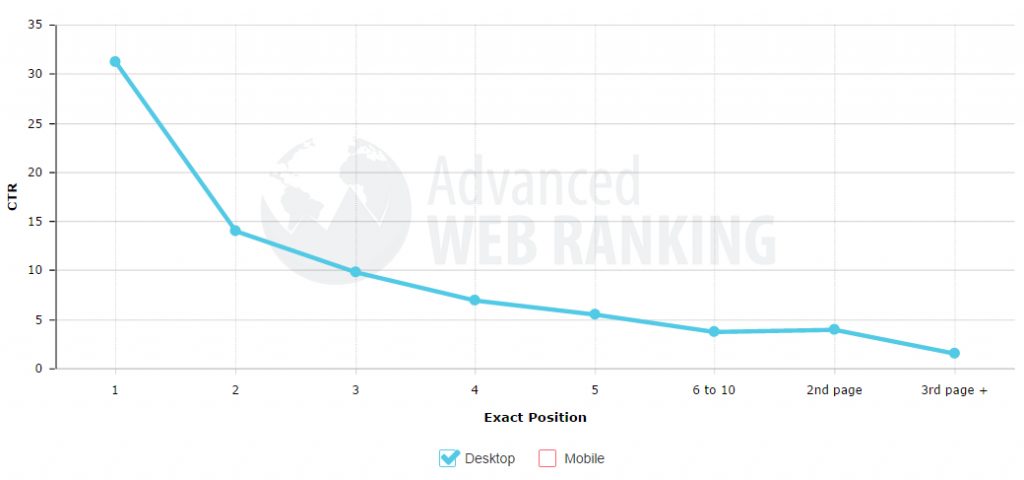 Choosing keywords
The trick for website owners is crafting content using the "right" keywords, commonly keywords with a high number of organic searches per month and low competition for the keywords. Tools such as Google's Keyword Planner, part of the Google Ads platform, as well as those from SEMRush and MOZ, aid owners in choosing keywords related to their business, since you only want visitors who want your products, not unrelated visitors.
For instance, if a user wants to check their content for plagiarism without paying for the tool, then the keywords they are are related to that needs, such as "plagiarism checker", "free plagiarism checker", or "best free plagiarism checker". If your content is optimized for one of these keywords, your content appears in a favorable position in the organic results and you gain visits.
Website Google rank factors
As you see in the graphic at the top of this page, a number of factors go into calculating your website Google rank, including how you used your keywords (ie. the number of times it appears, whether it appears in your headings and images, the use of external and internal links related to your content, as well as backlinks from other websites.
Hopefully, you now appreciate the role of website Google rank in bringing the right visitors to your website. All things being equal, more traffic translates to more sales, which is likely one of your top goals.
Why check your website's rank?
Now, let's move past understanding the role of rank in driving performance to discuss the issue at hand; using a website Google rank checker. This tool helps you in your attempts to optimize your rank by offering insights into which keywords rank well and which keywords rank poorly, thus allowing you to learn and, ultimately, create a content marketing strategy leading to higher rankings. Without this metric, you're never sure what's working and what's not.
The keyword position checker by SearchEngineReports!
This is one of the most important tools to improve your rankings is simply checking the website keyword ranking! The keyword position checker by Searchenginereports.net is considered one of the best tools on the web. This tool helps you to get the best and most authentic information about your ranking on a keyword or key phrases!
Using this tool is easy, and doesn't even require registration. You simply navigate to the tool on the top reputed search engines and start getting the free services afterward!
The use of the tool is quite easy. Simply provide your URL, the keywords you're attempting to rank for, the specific search engine you wish to check (mostly, that's Google since the vast majority of searches still use this search engine), and your competitor's URLs, if desired. The tool provides results quickly.
keywords rank checker by The SmallSEOTools!
Now with the help of this rank checker, you can quickly check your website Google rank. As with other tools in this category, this tool is quite easy and simple. To get free and unlimited services of the keyword checker, you simply ensure you add the domain address of the website you want to check and your desired keywords to get your ranking on those specific keywords.
The fantastic feature of this Google keyword rank checker is that it allows you to specify the search engines where you wish to check your rank. For instance, you can decide if you wish to check your keyword ranking on Bing or Yahoo, or do you want to use the tool as a Google rank checker.
You should also know that the tool can check a website Google rank on search engines belonging to different countries. You can also add the keywords in using this tool; with the addition of up to ten keywords on one line. You can add as many keywords as you want to the tool.
Google ranking checker by The DupliChecker!
Now, this tool is also one of the famous tools for checking the ranking position of a website on desired keywords. You should know that with the help of this tool, you can not only check a website's rank on specific keywords, but you can check performance across different devices and search engines for free. You can also check the performance of competitors on those keywords by adding the domain address of a competitor's website.
When you open the DupliChecker website, you'll find a different set of tools available on the platform. You need to navigate to the keyword research tools, found below the image tools. Within this set of tools are different free tools related to keywords and their use. That's where the keyword position checker, the keyword density checker, the keyword suggestions tool, and many other useful ranking tools live, allowing you to choose the ones you find most useful.
When you open the position checker tool, you'll find different search bars that allow you to add the domain address of your website (or any other website you want to investigate), then select the search engines where you wish to check your ranking position. In this case, our discussion focuses on website Google rank, so select Google from the list. You can also add the domain address of your competition's website, and you can also add different keywords for which you want to find the ranking position.
Conclusion
I hope this discussion provides you options for checking your website Google rank, as well as helping you understand why rank is important. If you have questions, simply add them to the comments below and we'll answer them quickly. Also, if you have suggestions for future posts, enter those in the comments section.
Need marketing help to support business growth?
We welcome the opportunity to show you how we can make your marketing SIZZLE with our data-driven, results-oriented marketing strategies.  Sign up for our FREE newsletter, get our FREE guide to creating an awesome website, or contact us for more information on hiring us.
Hausman and Associates, the publisher of MKT Maven, is a full-service marketing agency operating at the intersection of marketing and digital media. Check out our full range of services.