Small-to-medium businesses must remain competitive with new clients/customers while maintaining relationships, and increasing spend, with existing clients. But a lot of other companies are clamoring for the buyers' attention, so much so that it's become a challenge for businesses to raise awareness for their own brand while meeting the demands of their existing clients and customers. Advertising and marketing is the obvious solution for this twin-edged problem but throwing money away isn't a sound strategy. Instead, businesses of all sizes and in all types of markets much use their marketing budget effectively, increasing ROI and ROAS (return on investment and return on advertising spend).
It's a huge mistake to think marketing is something you do when you've met your other financial commitments or a nice addition to other elements of your business strategy.
For your small business to outgrow its competitors, or even stay competitive, it needs to stand out from the crowd (Competition and Value Proposition being defined) and attract customers (Marketing). A great example of the balance between all the elements of competition, marketing, brand awareness stems from Hubspot's Flywheel model that revolutionalized the funnel:
No matter what industry you're in, customers are the core of your business, with a rotating effect from Sales, Service, and Marketing rather than the corporate-centered view of marketing as a funnel portrayed on the left.
To be in business, sales and service come naturally. You wouldn't be able to profit in your business without first understanding sales and service. And while we all understand the umbrella term "Marketing" as the most effective way for potential customers to get to know your small business' products and services, what's not defined is where your marketing spend should go, and when it should be allocated when needed the most (holidays, local events, marketing channels, etc).
Here's a basic guide to help you determine how much revenue you need to allocate for your marketing budget. You'll also find out how to spend that marketing budget effectively without feeling like your money is wasted.
Allocating Your Marketing Budget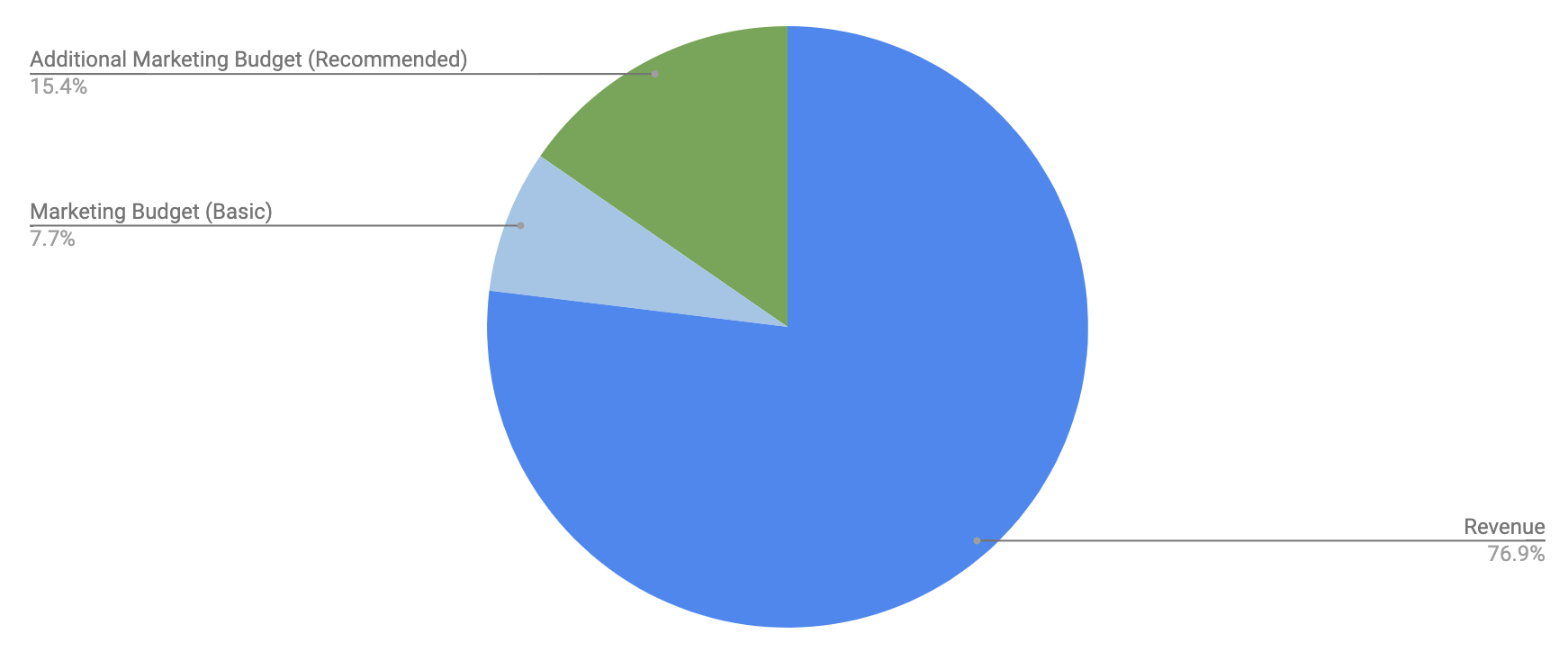 According to the United States Small Business Administration, if your small business is earning less than $5 million annually in sales and your net profit margin is between 10 to 12 percent, you should spend 7 to 8 percent of your net gross revenue on marketing. However, if your small business is in a highly competitive market, name and brand recognition can mean survival, and business experts recommend that you spend 20 percent of your revenue on marketing. This is also true if your business is in its early stages, as you'll need to recognize you'll need a larger ad spend just so prospects know you exist and maybe a little about your brand.
If your business makes less than $5 million a year, lower your margins accordingly and consider allocating more of your revenue to marketing. New customers attracted through marketing bring fresh profits, and you can't get these profits without an effective marketing strategy. After budget allocation, you should proceed to plan out how your marketing strategy will play out. Remember, the goal of marketing is to bring in new clients, you sustain the lifetime value with sales, but you grow lifetime value through acts of quality service.
Planning Your Marketing Strategy
The groundwork of a great marketing plan is understanding your customer niche. You must pinpoint which segment is the best fit for your products based on their needs, desires, buying process, and other key elements that help them decide which products to purchase. Analyze your products and services and ask yourself who will benefit from or want them the most? Once you identify your niche, you can begin drafting your marketing strategy.
The first step of an effective marketing strategy is finding out what makes your business stand out, or its unique value proposition.
What do you offer your customers that no one else can?
Perhaps it's not what you offer (product), but how you offer it (service).
Is your store open late at night or 24/7?
Do you deliver out of state?
Determine your unique value proposition because it's the core idea you'll build your marketing strategy around. Everything about your strategy should tie into your unique value proposition, from your slogan to the language on your websites and brochures. It is the main focus, and sometimes the most obvious value proposition that you'll be pushing forward in your bespoke marketing strategy that wins the most leads.
A common value proposition for local businesses is the ability for online purchasing and eCommerce.

The second step is refining your unique value proposition into an easy to remember, easy to understand slogan. This helps determine the messaging behind the rest of your marketing strategy. Make your value proposition short, sweet and simple. The stronger your value proposition, the easier it is to create the conversation around your value proposition, and this is known as your brand voice.
The final piece of the puzzle is your ideal buyers, otherwise known as your buyer personas. Isolate the demographics, geographics and business persona of your ideal buyer. Define what makes them your ideal buyer with questions such as:
Do they have the right mentality to spend with us?
Do they understand the principles of our product and have the right expectations set?
Are they capable of maintaining a steady investment with us?

Do they need our service, and does our product/service provide real life impact to their business growth?
Now you have it. Your unique value proposition and your brand voice. It's elementary, but a cemented definition of the two is what breaks most businesses' budgeting. By focusing on the most profitable marketing segments, developing a strong value proposition, and matching your brand voice to the other two, you use your marketing budget effectively.
Customer Strategy, Value Proposition, Brand Voice and Buyer personas all contribute to using your marketing budget effectively. These small, yet powerful definitions you create will determine the messaging behind the rest of your marketing strategy before stepping into the next decisive moment: what marketing channels do I need to invest in for my business to succeed?
Marketing Tactics for Small Businesses
A common conundrum in marketing your small businesses is that you have to balance maximum visibility with as little cost as possible.
The same goes for balancing out your investment in tactics vs. strategy. Where your initial investment follows the Pareto principle to allocate 20% of your budget towards your strategy, with 80% allocated to tactics.
This allows you to have a sustainable strategy for acquiring new business opportunities, with greater expense invested in experimental tactics to help drive periodic spikes in opportunities each period. Yet, knowing how much to allocate to your  marketing campaign is only the first step in marketing planning and does nothing to ensure you're using your marketing budget effectively.
The value of digital marketing for small businesses
Traditional advertising methods, such as billboards and television commercials, are expensive and, more importantly, their reach is diverse, which means you reach a bunch of folks (and pay for the privilege) who aren't part of your target market. Given the budgets small businesses have to work with, it's no surprise that they shell out approximately only one percent of their revenue on advertising, although this number varies from industry to industry.
Fortunately, small businesses can turn to digital marketing for affordable but effective marketing solutions. Through digital marketing, small businesses have access to strategies that can reach more targeted audiences than traditional marketing channels and could cost less to implement.
Implementing digital marketing
Your first tactic involves a website for your company. This is the foundation of your digital marketing strategy. Through your website, potential customers learn about your services and products, learn more about your business, and eventually become customers. A great way to improve a website, if you already have one, is to start a blog. This attracts visitors and fosters engagement between you and individuals online.
Your next concern is directing online traffic to your website, which is where Search engine optimization, commonly referred to as SEO, comes in. Because people end to use search engines to find businesses and solutions to their problems, SEO is a way to boost your business' website ranking on search engines so that it appears on the first pages of results. Understanding the popularity of the service in your area will help determine your business's growth.
While SEO is commonly referred to as a "free marketing channel" – effective SEO isn't free and doing it right is challenging unless you're an SEO expert. For effective managed SEO services, I strongly recommend you find suitable experts in the field, located in a local vicinity to your business. Not only will they be able to give you results in this marketing channel, but compared to big companies that operate nationally, they'll have the localized expertise of being in your community and understanding the trends within your micro and macro areas.
You could also look for businesses that offer SEO reseller packages to meet short-term marketing goals, thus using your marketing budget effectively.
Other online marketing tactics
You can further improve your online presence by putting up content that engages and educates visitors. Find a topic or a process that can relate to your business and make a short video tutorial about it. If you run a vegan bakery, why not upload a step-by-step recipe for a vegan dessert on YouTube? The video-sharing website is only second to Google in size as a search engine, which could direct dozens, if not more, online visitors to your site.
Finally, don't forget to capitalize on the power of social media platforms. You should create an account for your business on sites such as Facebook, Instagram, and Twitter. Hundreds of millions of visitors visit these social media platforms every day, which makes having a presence in these sites invaluable to your marketing strategy. Social media platforms are also great for communicating with your customers and to attract new leads to your site. You could send a tweet about your latest sale or post a photo of your newest product and it can be visible to all your clients. Messaging functions make receiving feedback easy, and you can address concerns and questions from customers with unparalleled ease.
With today's highly competitive and global commercial landscape, your small business might find it difficult to stand out. Efficient marketing strategies can give your company the visibility boost it deserves for people to recognize its name and products. Through digital marketing, you can put your business on the map for all to see without breaking the bank.
Need Marketing Help to Support Business Growth?
We welcome the opportunity to show you how we can make your marketing SIZZLE with our data-driven, results-oriented marketing strategies.  Sign up for our FREE newsletter, get the 1st chapter of our book on digital marketing analytics – FREE, or contact us for more information on hiring us.
Hausman and Associates, the publisher of MKT Maven, is a full-service marketing agency operating at the intersection of marketing and digital media. Check out our full range of services.