If you have as few as 1000 engaged followers on a single platform, monetizing your influence is possible, so you're making money online. This makes a great side hustle to supplement your income; over time, it might replace your income with a passion project you really care about. A few caveats before we get started, however. Building social influence isn't a get-rich-quick game. It takes lots of hard work and it won't happen overnight. Monetizing your influence is also frustrating since it's often a case of two steps forward and one step back in building your community. I hope the information I share in this post will help you on your journey to monetize your influence and meet your goals.

How to monetize your influence step by step
I teach a class at Shenandoah University on how to monetize your influence. It's designed for creatives and others who want to create a personal brand to support their career goals. One of the surprising things I learned in researching trends is that you can monetize your influence with as few as 1000 followers, which isn't really all that hard to build. In today's post, we'll cover what you need to know to monetize your influence including:
How to build your community
Which platforms work best for monetization
Ways to monetize your influence
So, buckle up and let's dive right in.
How to build your community
We'll skip over some elements here like choosing your niche and identifying attributes of the community you want to attract, although those are critically important. If you want to learn more about these aspects, I have some other content you should reach. On choosing a niche, check out this post and on identifying your community attributes, check out this one. For now, I'll assume you have already accomplished these important tasks.
Notice, I framed this task in terms of building a community. It's not important how many followers you have, you want engaged followers; those who like, share, and comment on your content. This is what companies look for when they hire influencers. It also helps you build your follower count.
Follow others in your niche
By following successful influencers in your niche, you gain insights into what's working for them and what isn't. Pay close attention to the types of posts that create the most engagement with their followers. I suggest more than simply scanning their profile but collecting data from their posts in some systematic way to help you make decisions regarding your own efforts to build a community. Pay attention to:
changes in follower count over time
what time they post content and how often
what do they post about
what types of engagement do they get from followers
which posts achieve above-average engagement
Create complete profiles
You should focus your effort on building a single platform or two, at most. You want to do a great job on one platform rather than spread your efforts too thin by trying to be everywhere. Fill out your profiles completely, including using high-quality images appropriately sized for the platform you use. Let your personality show through on these profiles even before you start uploading content.
Regardless of your chosen platform, I recommend you develop a website. This website opens up additional options for monetizing your influence and provides a space that's totally under your control. Building a website isn't nearly as scary as it sounds and doesn't cost much money (you can do a nice website without writing a line of code for around $100 a year). I even wrote an ebook that steps you through the process with lots of images that make it easy to build a website in no time.
Content is king
Building a community requires you to post interesting content on a consistent basis. Each platform has norms regarding how frequently you should plan to post on the platform and you can find guidance here. Plan to post at least once a day, except for YouTube, where once a week works well.
What you post is a function of the norms of that platform, what your community responds to, and your niche. This is where following another influencer really helps. Obviously, you don't want to copy their posts but their posts should give you some great ideas you can make your own.
There are tools that help you keep up with your content goals. A content calendar lets you organize a week or a month's worth of posts quickly so you never struggle at the last minute for a topic to post about. It reduces the dreaded writer's block. I created an interactive content calendar template you can use to organize your content. The second tool I recommend is a marketing automation tool such as Buffer or Hootsuite that allows you to schedule posts in advance. I especially like Hootsuite as it makes it easy to see how your community engages with your content. Both offer a stripped-down free version.
Focus on engagement
Engagement is important for monetizing your influence but it also helps introduce you to new potential followers. Don't just wait for followers to engage with you. Be proactive.
For instance:
if you host contests, post polls, ask questions, and use other content that favors engagement, you'll get more engagement
ask, for instance, on YouTube it's common for influencers to ask you to like or subscribe during the video
reach out to your followers via DM
respond quickly when followers engage with you, for instance, recognizing by name new members of your Facebook Group, responding to individual comments left, thanking followers for engagement
Tit for tat
Social media isn't all about you so spend some time building relationships with other influencers both in virtual and real spaces. Maybe you organize a virtual event with another influencer to introduce followers to the other influencer — remember, this isn't a zero-sum game where everything either helps you or someone else. You can both benefit. When you mention another influencer in your post, you also create visibility among that influencer's followers when the influencer responds or shares your content. Maybe you interview another influencer for a post.
You'll find that most online users are very generous in helping each other out.
Winning Facebook friends and fans
Let's use Facebook as an example of how to apply these tactics to gain followers. All things being equal, it's better to have more friends (if you have a Facebook profile) or fans (if you have a business page on Facebook). Not only is it cheaper to attract new friends/ fans, but it also supplies a steady base to spread your message. But, only engaging your followers has any impact on performance. For this reason, we frame follower counts as a vanity metric while engagement is a metric that impacts your performance.
You see, social media amplification (organic spread of your message), happens when your friends/ fans engage with that message, causing the message to reach your friends/ fans friends. The process looks a little like this: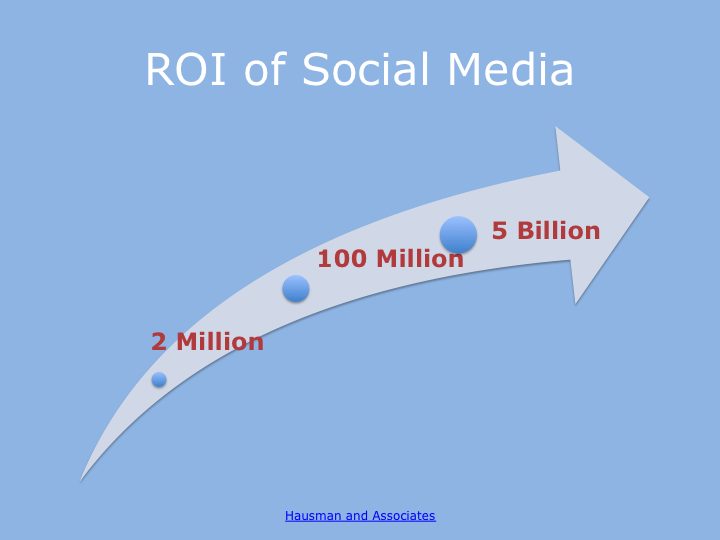 Hence, 2 million friends/ fans quickly transform into a reach of 5 billion in just 2 cycles of sharing. That's a lot of secondary reach. The more friends/ fans you have, the bigger the potential reach if you achieve engagement.
If you want to attract Facebook users magnetically to your business or your cause, you must first remember these 7 Secrest to Winning (Facebook) Friends and Influencing the Masses.
How to win Facebook friends
Be Sincere.  Joe Vitale, the best-selling author and creator of the phrase "Hypnotic Marketing" believes that the "intention" that you hold in your heart each time you pick up a pen dramatically affects the outcome of your message.  So if you write from your heart as you would write to a close friend or family member, then your reader will feel and respond to your sincerity.
Be Passionate.  Only write about subjects or cause that you believe in strongly.  Your reader will sense your passion.  If you do not accept this, then read "No More Shacks!" by Millard Fuller, the founder of Habitat for Humanity.
Be Original.  Be creative, be spontaneous, be controversial, and be entertaining.  Take a tip from the mass media – people today want to be "infotained."  They want vital information, but they also want to have fun in the process.
Be Funny.  This is an extension of number 3 above.  Use examples, stories, and "parables" to drive home your points in a humorous and, when appropriate, light-hearted manner.
Be Accurate.  Authority attracts.  If you want users to see you as an authority, you have a responsibility to ensure the information, advice, and answers you deliver to your audience are accurate.
Be Helpful.  Listen carefully to the needs, problems, and challenges of your readers and "Friends."  When you offer solutions that benefit your friends, they may repay the debt by promoting you and your expertise.  This is the embryo of true "Word of Mouth Marketing."
Be Nice!  The last secret is probably the most overlooked way to attract hordes of people eager to do business with you.  We can say this in several ways –  it's been stated Biblically as the "Golden Rule," Emily Post reinforced it in her "Blue Book of Etiquette" a century ago, Dale Carnegie thought it was so important he wrote "How to Win Friends and Influence People…
"Do unto others as you would have them do unto you"
Say Thank You and Please. Speak when spoken to. Praise others' successes.  Recommend other "Friends" and authorities for jobs, contracts, and opportunities.
If you still need a better understanding of what I mean when I say simply "be nice," then perhaps you should find a dog-eared copy of the classic essay by Robert Fulghum – "All I Really Need to Know I Learned in Kindergarten."
Which platforms work best for monetizing your influence
To an extent, the answer depends on your niche and the followers you want. Instagram is a popular platform for building a community capable of monetizing your influence. In a recent survey, 59% of influencers agreed that Instagram is the best platform for building their influence due to the amount of engagement they receive on the platform, as you can see below.

All you need for Instagram is a good-quality camera on your smartphone, a ring light, and a nice background. However, the Instagram algorithm now favors Reels, which are short videos designed to compete with TikTok.
Tiktok is another good option, especially if you're looking for engagement among millennials and Gen Z. This platform is growing rapidly, although that may change as the media covers efforts to put the breaks on growth due to the platform's relationship with the Chinese government that calls into question the security of private information. All you need to make TikTok videos is a smartphone, although you may want to purchase some lighting, microphones, and spend some money setting up your background.
YouTube is the preferred platform for some influencers raising millions of dollars on the platform, like PewDiePie ($110 million last year) and Mr. Beast ($54 million last year). Monetizing your influence on YouTube is a little more time-consuming and expensive since you likely need a dedicated space for filming, a better video camera, more lighting, a better microphone, and some editing software, such as Adobe Premiere Pro. You need a script, a couple of takes to film content, and some time spent editing to get your finished product. All this takes time and a certain amount of skill. Sure, you don't need commercial quality products but you also want something that looks more professional than you would post on TikTok or Instagram Reels. The upside is that you don't need to post as frequently to YouTube as you do to Instagram or TikTok.
Podcasting is becoming a great means to build influence, although monetizing your influence is a little harder given the audio-only aspect of podcasting which means listeners must expend additional effort to go somewhere else to take any action.
Monetizing your influence
As I said, you can begin monetizing your influence with as few as 1000 followers if you achieve good engagement with them. The larger your engaged following, the more you can charge for your monetization efforts. Also, some niches are more lucrative than others due to the value you offer to businesses. For instance, if there isn't much competition for influence or if the company's average sale is higher, you can charge more.
There are lots of ways to monetize your influence and most influencers use some combination of the following monetization options:
Affiliate marketing. You share links or small ads with your followers and get paid a percentage based on achieving a sale. You can add these links in your YouTube descriptions, on your website, or in social media posts.
Ads, often implemented through Google Adsense, embed ads in your content somewhere often based on the user's interests based on their clickstream data. The difference between ads and affiliate marketing is that the ads vary to match visitor profiles rather than the content and ads pay when someone clicks on the ad while affiliate links only pay when someone buys something after following the link.
Sponsored posts are the lifeblood of influencer marketing. A company pays an influencer in cash or a product in exchange for writing a post about the product such as a review or simply mentioning the product in the content.
Merchandise sporting the influencer's logo or other branding elements, such as mugs, hoodies, and or other tangible products sold by the influencer. Several companies cater to small influencers with the ability to create and ship merchandise to customers without the large quantities often required by larger printers and without set-up fees.
You might monetize your influence by driving visitors to your e-commerce site where you sell products.
Other influencers, especially those in B2B spaces or high-end advice, monetize their influence through creating courses or training programs. They might also offer consulting services, using their influence to drive potential clients to their website to learn more. Some influencers, for instance, those offering investment advice, offer a member-only section of their website where they share specific buy/sell recommendations to subscribers who pay a monthly fee.
You might find companies reaching out to you offering to pay for your influence using one or more of the strategies listed above, especially if you focus on a niche without much competition. There are also sites where you can share your information, such as follower counts, niche, and other brands you represent. Companies seeking new influencers search these sites looking for likely candidates.
However, you should consider being proactive in finding companies. Don't be afraid to reach out to companies operating in your niche to propose a relationship. The worst that can happen is that they ignore your request. You can find folks at these companies responsible for influencer marketing on LinkedIn or other social media platforms. When you approach them, give them a reason to hire you rather than simply asking for a relationship. It's ok to follow up with these folks if you don't get a response, just don't become a pest. The same is true if they respond that they already have an existing relationship because that may change in the future.
Conclusion
Learning to monetize your influence offers potential as a second income or even something to replace your existing income. But, you definitely need a plan and you must be prepared to work hard at building your platform over time. Good luck and let me know if there's something I can do to help.
Need marketing help to support business growth?
We welcome the opportunity to show you how we can make your marketing SIZZLE with our data-driven, results-oriented marketing strategies.  Sign up for our FREE newsletter, get our FREE guide to creating an awesome website, or contact us for more information on hiring us.
Hausman and Associates, the publisher of MKT Maven, is a full-service marketing agency operating at the intersection of marketing and digital media. Check out our full range of services.