Are you looking for effective ways to modernize your company's marketing strategies? In this ever-evolving digital landscape, it is paramount that businesses stay current with the latest marketing tactics to keep up with their competition, reach their target markets where they are (for instance, traditional media now reaches fewer eyeballs as more consumers move to streaming and other online platforms), and develop a relationship with your target market that results in greater awareness and higher purchase intentions for your brand.
However, with new tools, platforms, best practices, and guidelines available on almost a daily basis and with dramatic changes to the success of strategies you currently use based on changing environments, ensuring your existing marketing strategy still works is challenging. This blog post is designed to provide an overview of how you can effectively modernize your company's marketing strategies for success today – giving you the knowledge you need to stay competitive as consumer behaviors, marketing options, and platforms change over time.
Modernize your company's marketing strategy
Uncover your target market
Regarding marketing, your target market is the key to success. Yet, the notion of a target market evolved over time as companies gained access to more detailed and more impactful information about the consumers who need and want their products. These more insightful target markets are now called market personas and reflect much more than simple demographic and geographic variables. Inherent in today's market personas are details about the lifestyle of your target market, their biggest pain points, where you can reach them, and messaging likely to elicit a purchase. You can see a few examples of market personas below. Likely your company benefits from several slightly different personas.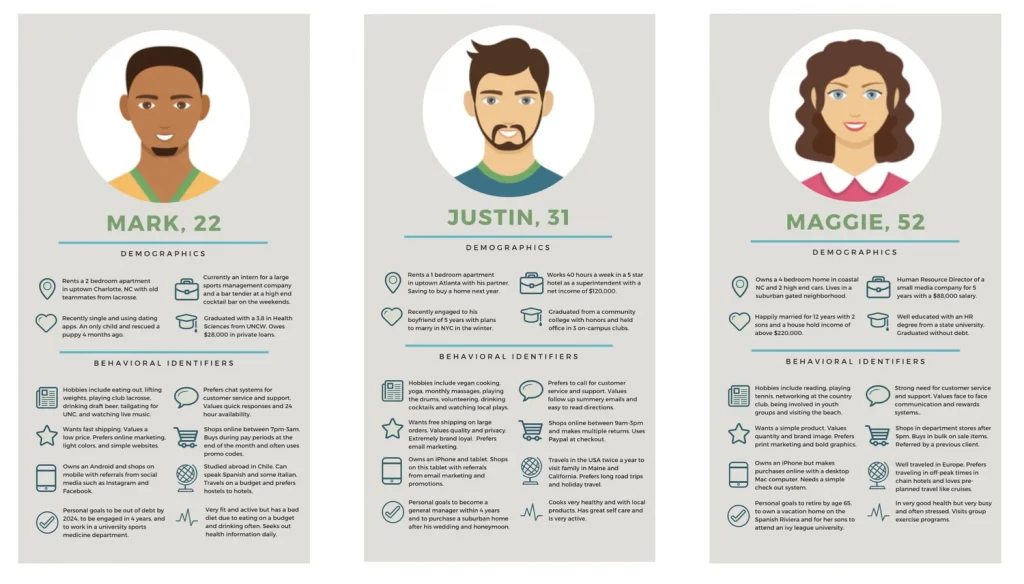 Start by looking at your current customers – assess their demographic information and motivations for purchasing from you to gain insight into the specifics of potential buyers of your products. Data may come through traditional market research, by scanning social media for insights or checking out social media maintained by your competition to determine the composition of their followers, especially engaged followers.
This research helps you zoom in on exactly who should receive your message, where to post that message, how to frame the message to gain a positive response, and why they should care about what you're selling so you can build personas. This research also means you can revise and refine strategies to appeal better to existing customers' needs that you're not meeting to reduce their potential to defect to a competitor based on incorrect assumptions about the target market. Additionally, this understanding allows for the development of new marketing strategies that meet the unmet demands of potential customers more effectively. Once you built detailed personas and have customized marketing strategies designed to reach them, you took the first step in modernizing your company's marketing strategy.
For example, Dutch consumers value personalized offers. By tailoring your communication to their preferences, you can foster stronger connections and see improved outcomes according to consumer market insights for the Netherlands.
Utilize social media platforms
Social media is a powerful marketing tool that can help companies reach larger audiences and access valuable customer data. Due to the potential of social and digital media, companies now spend about half their marketing budget on these platforms, as you can see below.
Facebook is the largest social network in the world, and Facebook API integration allows businesses to take advantage of this massive opportunity by automating certain processes, routing customers to their desired pages, remarketing to past website visitors, and tracking user behavior. Utilizing Facebook API capabilities can help you create more efficient workflow processes and allow you to engage with your target market on a deeper level by personalizing your messaging and using targeted advertising resulting in improved efficiency.
Through user insights, you can track key metrics such as likes, shares, views, and comments to know how each of your activities impacts results. The Facebook API also lets you send automated messages like thank-you notes or product offers based on customer behavior which helps improve relationships with your existing client base. These features allow marketers to use Facebook to build relationships with customers and engage them on a more personal level while also increasing efficiency in company practices.
Of course, a number of social media platforms exist and you should choose a few (depending on your bandwidth and market personas) as a part of your marketing strategy. Below is some information to help you choose which platforms are right for your company's needs.
Each platform requires you to adapt to the requirements of the platform (for instance, Twitter limits tweets to 280 characters and Pinterest is image-driven), post according to an optimal schedule (for instance, publishing on many platforms once a day is sufficient while Twitter and Pinterest do better if you publish more frequently), and use messages designed for the users of each platform.
Optimize your content for SEO
In the competitive and fast-paced environment of digital marketing, success hinges on effective Search Engine Optimization (SEO). Without the ability to show up near the top in searches related to your brand, you're almost totally invisible to new potential buyers.  Effective SEO includes:
keyword research and placement of these keywords (actually long-tail keywords made up of multi-word phrases) in the meta descriptions and title tags, alt tags on images, used judiciously within your content.
producing content related to your brand on a consistent basis, a minimum of 2 times per week. The more frequency the better.
linking to related content on your website and linking to other high-authority websites (this acts like a citation in a print article to show you did your homework and can be trusted)
gaining backlinks from high-authority websites to show the value others assign to your content
creating topics based on popular search terms that fit your niche
using appropriate imagery or visuals
By optimizing your content with SEO tactics, you are investing in improved visibility on search engine result pages which leads to more visitors to your website and more opportunities to boost in revenue. Unfortunately, many companies, especially smaller ones, fail to consider SEO as a primary tool for expanding their potential. A major mistake they make, in addition to not including the tasks already mentioned above, is choosing a poor platform for their website, like Wix, Squarespace, or other website builders. These tools may seem easy (they're not) and amenable to non-developers but they cost you a lot when it comes to SEO, making your website nearly invisible to search engines. If you don't believe me, check out what SEO experts say about these platforms.
If you don't code, it's still relatively simple to create your own website. I even wrote a post with details for a DIY website that doesn't require any coding and steps you through the entire process with lots of easy-to-follow images. And, it's free.
Focus on quality over quantity
In marketing, quality trumps quantity every time. Focusing on sheer numbers can cause careless errors and cost your business hefty amounts of money and valuable time in the future – something you want to avoid at all costs! Instead, prioritize high-quality content and services to stand out in the digital age. Investing in things like creative visuals, powerful storytelling, and conversational copywriting are all ways to bring your message forward with quality rather than just trying to produce as much as possible.
Quality stands out from the crowd and garners backlinks that support SEO, so it's worth extra time to ensure your company's message is accurate, engaging, and thoughtful. Even small efforts like creating content updates at regular intervals or answering emails quickly are noted by consumers and create a stronger brand image for your business. Focusing on quality over quantity can help you modernize your marketing strategies efficiently.
Harness the power of data analytics
Gather and assess the wealth of customer data available through data analytics, gaining insight into consumer behavior, opportunities for expanding your business, and what competitors are doing to attract your market. This permits you to make educated decisions about how best to reach out to prospective customers. With data analytics from tools such as Google Analytics (website), social media analytics available on every platform, email analytics available for your email provider, and your own internal data as your toolkit for success, you uncover areas where your marketing efforts are not bearing fruit – allowing you to adjust them swiftly to improve performance. You can also utilize this technology to measure the performance of campaigns and to help you spend your marketing budget more efficiently.
Conclusion
Ultimately, combining traditional and modern approaches within a well-crafted strategy can make all the difference in securing your company's success. So start asking the right questions, research the best methods, and find ways to implement them into this process so that you're always one step closer to achieving marketing success.
Need marketing help to support business growth?
We welcome the opportunity to show you how we can make your marketing SIZZLE with our data-driven, results-oriented marketing strategies.  Sign up for our FREE newsletter, get our FREE guide to creating an awesome website, or contact us for more information on hiring us.
Hausman and Associates, the publisher of MKT Maven, is a full-service marketing agency operating at the intersection of marketing and digital media. Check out our full range of services.