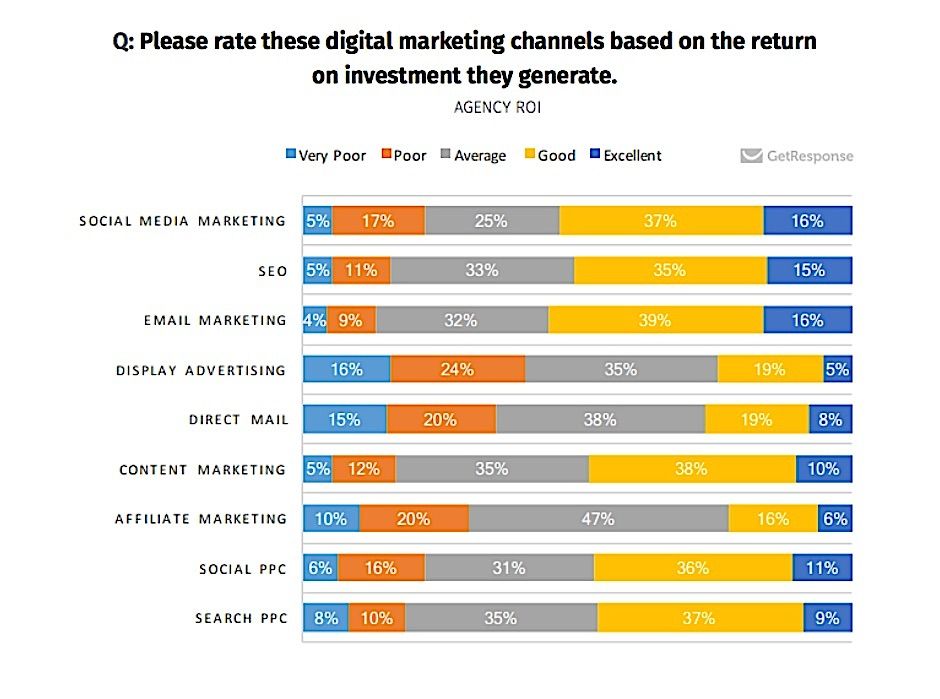 You face competing demands as you work to manage and oversee all the operations necessary to run a successful small business. So finding the optimal strategies for each functional area that encourage growth and profitability each year is a major challenge if you wish to succeed, and who doesn't. One of the key areas you must manage effectively is your marketing function, as it is revenue from customers that keeps every other aspect of your business afloat. Without sufficient sales, you'll struggle to implement strategies for other areas of your business, such as operations, payroll, and administration. Today, we'll discuss some modern marketing strategies that work to build and maintain a customer base that supports your small business.
Check out the image above and you'll see the ROI (return on investment) offered by a number of modern marketing strategies based on perceptions of the marketing managers who use the strategies. Based on the survey results, the top 5 modern marketing strategies in terms of ROI are:
Social media marketing
Email marketing
SEO
Content marketing
Social advertising
Using modern marketing strategies to grow your small business
Survey results indicate where you should focus your budget and other resources as you plan your marketing strategy. However, the real picture is a little more nuanced as the most effective modern marketing strategies likely depend on a host of factors including your goals, such as awareness or conversion, your target market, modern marketing strategies employed by competitors, and where you are in your business growth, for instance, a start-up faces different challenges than an established brand.
In the image below, we see how choosing the most effective marketing strategy varies depending on your goals, such as reach and engagement, as well as various phases in the process of marketing your brand.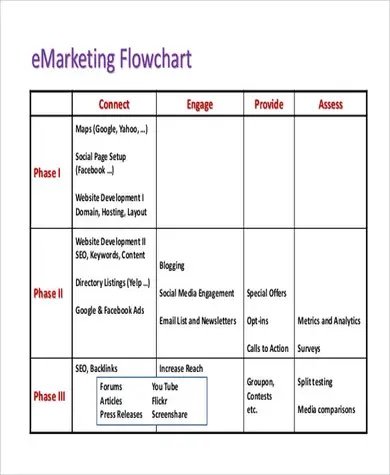 Note how Phase 1 focuses and creating properties, such as social media profiles and designing your website to start reaching your target market, also called creating awareness. In Phase 2, you're concerned with building greater reach by employing modern marketing strategies such as SEO and content marketing, as well as digital advertising to create engagement that amplifies your message to new users and builds your connections. You might implement this with special offers or other CTA (calls to action) and use metrics to monitor your progress. Finally, in Phase 3, you increase your content and the number of platforms used to reach your target market, which increases your reach. You might employ more sophisticated offers such as contests and encourage user-generated content from influencers and brand ambassadors, while using enhanced metrics and split testing to help optimize your strategies.
Implementing modern marketing strategies
Let's move through these phases and discuss how to implement strategies that support your business growth at each stage of your development. Recognize that none of these strategies result in immediate improvements in revenue, although you should see improvements in intermediate metrics that lead to conversions, such as site visits and engagement. So, let's begin with Phase 1 marketing strategies.
Phase 1 marketing strategies
Create a killer website
You need customers to build a viable business, without which don't generate revenue and must borrow to meet your immediate needs. Modern marketing strategies for attracting customers rely heavily on digital marketing as these tools are both effective and cost less than traditional marketing strategies. Plus, with the increase in users consulting online sources before making a purchase decision, as you can see below, it only makes sense to build a strong digital presence. Of course, these metrics reflect the time during which countries were on lockdown to avoid Covid infections, the trend was strong even before the pandemic.
The first thing you need is an attractive, but easy-to-use website that provides all the necessary information about your brand and services, motivates visitors to make a purchase, and, in some cases, allows visitors to complete the purchase online.
In today's business world brands without a great website face hurdles in building their brands. At least 50% of consumers are of the same opinion and actually expect a legitimate brand to have an online website.
You don't need to build the website yourself but can employ the services of a website designer to help you achieve a professional-looking website that reflects your brand's ethos. If you feel adventurous or don't have the money for a good developer (and don't waste money with someone who isn't an expert), I offer a DIY guide that steps you through the process of building a website with tons of images so that even the least tech-savvy entrepreneur can build an effective website.
According to the Science and Technology department at Missouri University, it takes a user an average of 2.6 seconds to decide whether your website is worth their time before bouncing to a different website. So think about how to design the layout and where to display relevant information to capture the user's attention long enough for them to consider your brand.
Set up social media platforms
Using social media as a marketing tool is a must in today's business world. A recent post by Gary Vaynerchuk suggests 3 platforms as especially important for business success: Facebook, Instagram, and TikTok (which, BTW, is fertile ground right now as few brands use this platform effectively). As you can see in the image below, your choice in social media platform is a function of your target marketing with different social platforms attracting different types of users.
Your social media business page allows you to promote your content, and build engagement with your target market. Social platforms also provide a tool to respond directly to any queries in a public fashion that shows you care about your customers. It also builds trust that translates into purchases.
Effectively using social media is a good way to build a loyal customer base to encourage future sales. Existing customers account for 67% more of sales compared to new customers, so retaining their loyalty is important if you want to increase revenue. An engaged community on social media also amplifies your message to reach new prospective customers.
Phase 2 marketing strategies
SEO and content marketing
SEO is the name given to modern marketing strategies focused on creating awareness through search engines. If you don't know the impact of SEO on bringing traffic to your website, check out this graphic from Moz showing the impact of search rank on clicks.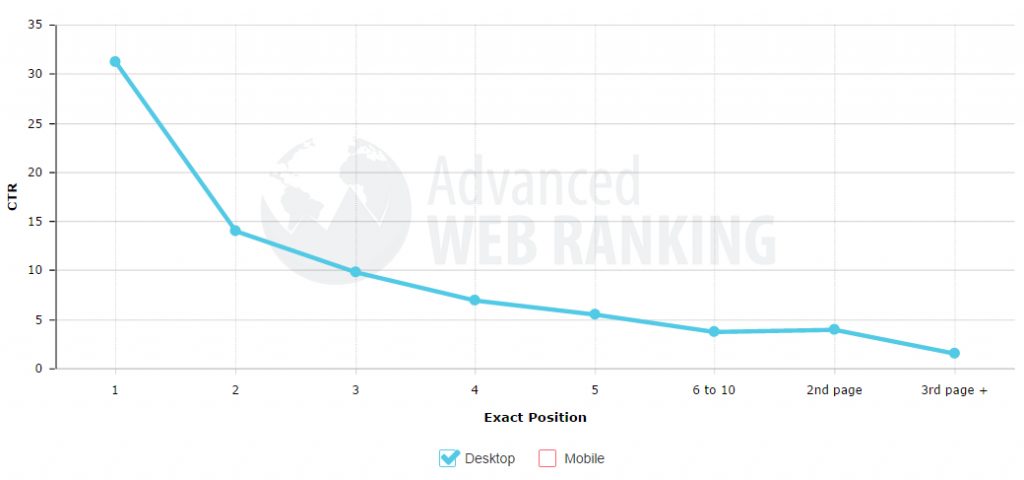 Good SEO involves a number of interrelated strategies rather than a single strategy. Here are a few of the elements of a great SEO strategy:
Creating valuable content on a consistent basis, both on your website and on your social platforms
Matching keywords used in creating content to customer search intent
Backlinks from high-quality websites, which act as endorsements of your content's value
Mobile-friendliness
Clicks to impressions ratio, which also indicates the value of your content
And, much more
Building a solid SEO strategy starts by identifying characteristics of your target market — their pain points, where they get information, who influences their decisions, etc. Once you nailed down your target market, you must choose keywords and create content around those keywords. Determining with keywords (actually long-tail keywords are phrases and voice-search results in longer keywords that look like natural speech) assumes you can use intent data to figure out the words your target market uses when looking for products like yours.
Email marketing
Email marketing is a very effective modern marketing strategy for generating ROI. However, this is really two strategies as you must both gain new subscribers and craft email messages that convert. You'll need a great lead magnet, such as an ebook, video, or special offer, to entice subscribers, and laws in the US and EU make it illegal to email individuals without explicit consent.
Including a CTA in your email messages is critical for achieving success.
Analytics
Sophisticated analysis is really the key to modern marketing strategies as there's no crystal ball telling you what will work and what won't. Modern marketing also bears little resemblance to the world portrayed in Mad Men where a cute slogan and a slick ad were the difference between success and failure.
You must become facile in reading reports and developing insights from tools such as Google Analytics and analytics provided by other tools such as your social platforms, marketing automation tools, and email marketing provider.
Additional modern marketing strategies
Build business relationships
If you feel you may struggle to build your entire business from scratch, consider the possibility of franchise marketing to gain insights from a successful business or work for someone else to learn the ropes. These options allow you to learn from an established business that already made mistakes and built essential tools for success such as training programs to develop the skills of their staff.
The advantage of going into franchising is you gain access to an established target market, primed by a major advertising outlay over time and loyalty built through years of delivering high-quality products.
Hire the right people to help
Recognize that you don't have to achieve success in your business by yourself. You don't have the time or skills to do everything it takes to make a business successful beyond a small start-up. So, focus on hiring the right people to help you; those with the right skills, commitment, and ability to work as a team to spearhead your success.
Continue learning
Successful small business owners are never satisfied with their own knowledge and recognize there's always something new to learn. Whether you focus on learning about new products, new management techniques, or new marketing opportunities, you must commit to an ongoing program of learning for both yourself and your staff to keep from getting bogged down in the old way of doing things.
Conclusion
Overall, modern marketing strategies involve promoting your business online using an established website and social media marketing to help boost your brand awareness and motivate conversion. It is also important to understand and learn from other people in your area of business to help you grow, and to employ people that can genuinely help your business progress through their valuable contributions.
Need marketing help to support business growth?
We welcome the opportunity to show you how we can make your marketing SIZZLE with our data-driven, results-oriented marketing strategies.  Sign up for our FREE newsletter, get our FREE guide to creating an awesome website, or contact us for more information on hiring us.
Hausman and Associates, the publisher of MKT Maven, is a full-service marketing agency operating at the intersection of marketing and digital media. Check out our full range of services.