Yesterday I talked about the rise of mobile marketing with a group of colleagues and the topic of creating a mobile app came up. According to stats for 2023, users spend an average of 3 hours and 15 minutes per day on their smartphones and check them 58 times per day. People use their smartphones for everything from searching for a restaurant and getting directions to playing music and games. Increasingly, folks use mobile apps to fill their dead time on the train or while waiting at the dentist's office. Games like Angry Birds and Words with Friends are downloaded on billions of smartphones, while the iTunes app and other music apps like Spotify allow users to listen to music anywhere. As you can see below, the number of mobile app downloads continues to grow substantially every year.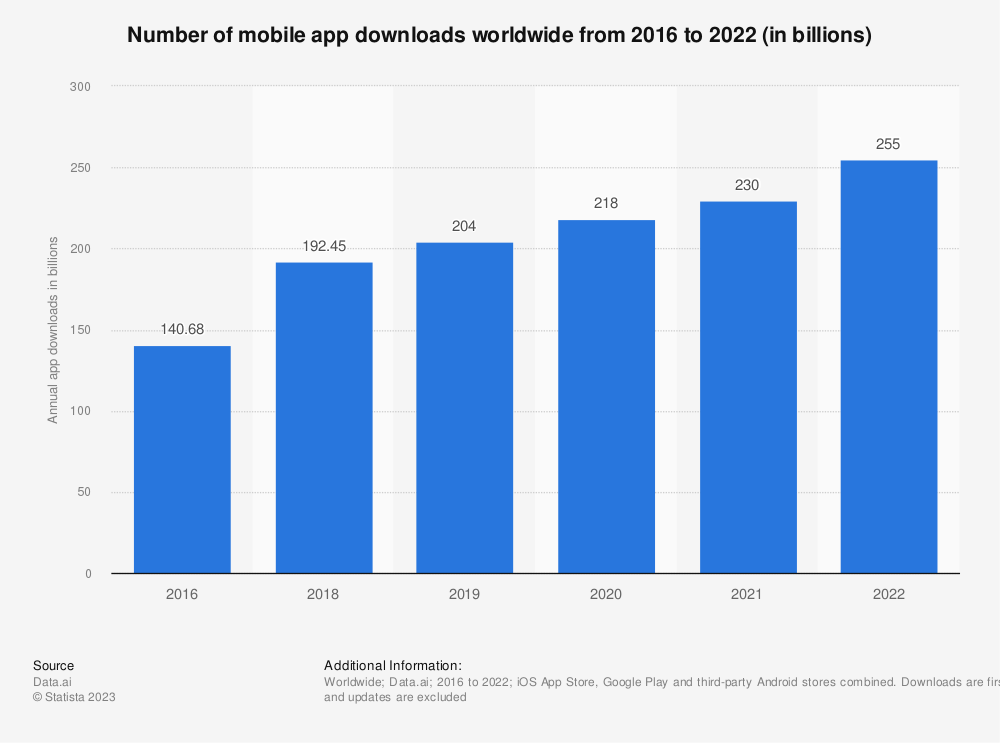 Below are the top 10 mobile apps according to expert estimates of the most downloaded apps of all time:
TikTok
Instagram
Facebook
WhatsApp
Telegram
Zoom
Snapchat
Facebook Messenger
Capcut
Spotify
Why you need a mobile app
Creating apps is easier and cheaper all the time, based on my conversation yesterday with podcasting and mobile app guru, Scott Paton of Designer Web Solutions. Here's what he had to say about mobile apps and podcasts.
The reward from well-crafted mobile apps is much greater than internet-based solutions because there's much less competition and mobile users don't really want to jump on the internet to get solutions. Increasing bandwidth gives mobile applications legs — providing more opportunities for podcasts and video.
Another key benefit of developing a mobile app is notifications that are hard for users to ignore, especially as most smartwatches deliver notifications from your mobile apps to your wrist so it only takes a flick to see the notification. This allows businesses to gain increased attention to their promotional content, updated news, and offers other reasons for your brand to stay top of mind with consumers.
Custom mobile apps
Sure, gaining subscribers so you can email coupons and other helpful information helps you increase traffic to your store or website and features a high return on investment, but interactivity is the secret to optimizing a mobile app and these other solutions don't give you that.
Custom mobile apps help develop a relationship with customers that you don't have with other digital tools, except maybe social media. But, with a custom app, you don't have to fight for attention among a bunch of other brands as you do on social or search.
Custom apps create leads for your business. Find a problem, then step users through until revealing the solution. For instance, a problem might be "How to Build a Better Relationship with your Spouse" — a problem we've all faced at some point. Step 1 might be setting aside a time to be alone together, Step 2 might be to listen when the other talks …. until the solution which might involve buying your book on relationship building or signing up for your couples seminar.
You can integrate audio podcasts into your app so that each week users get a new podcast delivered directly to their mobile device. Scott recommends including video trailers as a teaser for the next podcast.
You're using your mobile app to distribute content much as you would through your blog — except you may only face 4 competitive apps versus 10,000 competitors online.
Making money from your mobile app
Monetizing your mobile app comes through sales of your products, but you can also sell the app. You might offer the first installment free, then charge $.99 for the app. It's not a lot of money, but it adds up quickly if you have lots of downloads.
You can also embed advertising in your mobile app. Let's say you have a marriage advice app. You might also advertise your "Building a Better Relationship with your Kids" app or include an affiliate ad for a couple's resort.
All this sounds good, but …
Before you go running out to find someone to develop your mobile app, consider the downside. Among the biggest barriers to a successful mobile app is getting your target market to use the app, which means they must first download it. And, there's a lot of serious competition when it comes to getting downloads and gaining space on the increasingly competitive landscape of a smartphone.
Here are some stats you need to know:
at last count, there were nearly 2 million apps available on the App Store (Apple) and nearly 3 million on the Android counterpart, Google Play Store. That's a lot of competition, which means you need a serious marketing campaign to gain any traction in these stores.
similar stats suggest that the average phone sports 40 apps but 89% of the time spent on apps is devoted to only 18 of them. Thus, even once you get the app onto a user's phone, which is a herculean undertaking with a low probability of being one of the 40 of the 2-3 million apps, you must entice users to actually use your app.
only a handful of apps get the lion's share of downloads. Most apps get fewer than 10,000 downloads which aren't enough to sustain most businesses.
over 70% of the app downloads are for 5-star apps (on Andriod devices)
98% of the apps downloaded are free versus paid apps
games remain the most popular mobile apps based on downloads from the Apple App Store, as you can see below.

Image courtesy of Statista

despite the popularity of gaming apps, a study found that when users were asked which 3 apps on their phones they couldn't live without and the results showed most were social networking apps like Facebook and Instagram. Another popular choice was communication apps like Gmail. TikTok and YouTube were popular for their entertainment value while Google Maps was a popular choice as most folks use GPS to find directions rather than a physical map.
churn rates reflect the loss of interest by users over time. And, for mobile apps, the churn rate after 3 months is 71%. So, even after you fought hard to get your app downloaded, you will lose nearly 3/4 of your users in only 3 months. Even after making the initial push to get users to download your app, you face an uphill marketing challenge to keep them using your app long enough for the effort to pay off.
it probably comes as no surprise that app usage depends on age with the youngest users featuring the highest usage while older users don't use apps as much. Graphing usage based on age shows a negative relationship that's nearly linear, ending with older folks over 65 using a mobile app for around 50 hours a month compared to 112 hours for those 18-24.
Conclusion
So, there's a good case for developing a mobile app to support your brand or as a means to monetize your skills. However, it's definitely not a "build it and they will come" situation. You should plan to invest heavily on marketing campaigns to build and sustain your mobile apps of you won't achieve your marketing goals.
Need marketing help to support business growth?
We welcome the opportunity to show you how we can make your marketing SIZZLE with our data-driven, results-oriented marketing strategies.  Sign up for our FREE newsletter, get our FREE guide to creating an awesome website, or contact us for more information on hiring us.
Hausman and Associates, the publisher of MKT Maven, is a full-service marketing agency operating at the intersection of marketing and digital media. Check out our full range of services.