Today, we discuss how to maximize your e-commerce performance by sharing my five favorite tips to help prospective buyers find your website, remind customers to come back to buy from you again, and leverage your content to drive visitors from first visit to successful conversion. Ensuring high e-commerce performance isn't as hard as it might appear at first blush but it takes a well-planned and consistently well-executed strategy to achieve improvements.
The only certainty when it comes to improving e-commerce performance is that the system constantly evolves and businesses must adapt to stay relevant to their target market(s), implement changes wrought by changing technology, monitor performance to glean the insights needed to make improvements, and develop a sustainable competitive advantage over emerging competitors. With more and more consumers turning to online shopping, it's crucial to ensure your e-commerce website development delivers a website that is optimized for success. In this blog post, we'll cover five key elements to help improve e-commerce performance and stay ahead of these changes.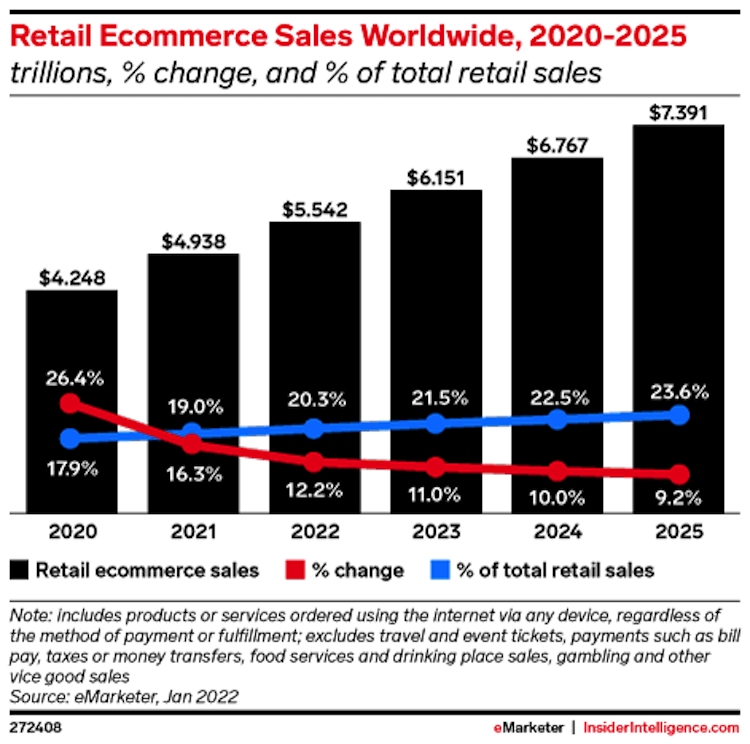 Maximizing your e-commerce performance
As you can see in the graph above, e-commerce sales continue to rise all over the world. While the percentage growth experienced during the early days of the pandemic in 2020 slowed, growth in e-commerce sales continues at around 10% year over year based on projections. This represents a massive opportunity for businesses in the e-commerce space or thinking of entering that space.
Before you start on your venture or consider options for improving e-commerce performance, you need to collect data that provides the insights necessary to guide your strategic and tactical plans. Forgoing this data is like driving a car while blindfolded–you bumble around, crash into things, and likely total your vehicle.
Monitor what matters
If you operate an existing business, now's the time to collect the metrics that matter so you can develop a plan. Accounting records are a place to start, but they likely lack the nuances needed for decision-making and lack all the metrics that matter for planning. Bring all the necessary metrics into a dashboard while ignoring extraneous data (like fan counts) that just muddle thinking to obscure insights. Display metrics by visualizing them to aid the formation of insights.
Data that matters should encompass the entire customer journey, not simply represent the end point of sales. That's why accounting data is of limited utility. Creating more awareness, for instance, provides more opportunities for conversion, so measuring awareness matters for accurate decision-making.
Below are some sources of the metrics you need to make decisions beyond those in your accounting records:
Website data such as funnel and path explorations are available in the new GA4 analytics from Google. Pay careful attention to cart abandonment and exists from landing pages, as these represent lost opportunities. GA4 now brings together information from your Google Ads, as well as from the app store and YouTube so you can see many of your online marketing efforts and their results in one place. Break up this information by device, source, and demographic variables to gain more nuanced insights to help guide strategy.
Social media results, especially engagement for organic posts and reach from advertising. Also, consider CTR (click-through rate) and CPC (cost per click) data.
Data from your email marketing programs, especially CTR and open rates.
If you run m-marketing programs using messaging or other mobile strategies, include results from these programs, as well.
Develop a plan to improve e-commerce performance
Next, develop a strategic plan based on this information, as well as information on your competition, the economy, changes in legislation and regulations surrounding your business, the evolution of the cultural environment, and opportunities offered by technological changes, such as AI-enabled chatbots. Build out this plan for a minimum of five years in the future, with much more detailed tactics and action plans developed for strategies you plan to implement in the next 12 months. Remember, the quality of the information going into the plan controls, to a large extent, the success of the plan.
Here are five specific areas to focus on in building your plan that are specific to e-commerce strategies.
1. Have a user-friendly e-commerce website
A user-friendly website is the foundation of a successful e-commerce site. In fact, having a poorly designed website is one of the main issues that can sink your e-commerce altogether. Therefore, ensure your website is easy to navigate and your products are easy to find. Make sure your website is optimized for mobile devices, and use high-quality images containing detailed product descriptions to help customers make informed purchase decisions. Experiment with landing pages by testing images, buttons, and offers to help maximize e-commerce performance. For instance, Zappos found that conversion increased by simply changing the orientation of the shoe in online images.
Include messages on landing pages that make visitors want to buy your products. For instance, you might offer the following:
Large buttons with a clear message to encourage clicks
Attractive images of the product
Specifications, usage information, ingredients, and instructions
Reviews from customers
Easy sharing tools so visitors can share your content on social media and with friends
2. Get found online
Getting found online is an incredible challenge, especially for new businesses and smaller operations. I've worked with SMEs (small and mid-sized businesses) to help expand their e-commerce performance for almost as long as there's been e-commerce and most overlook the activities needed to help their target market find their website. SEO or search engine optimization is a big part of attracting prospective buyers to your website. As you can see below, SEO helps improve the rank of your content in search results yielding more visitors.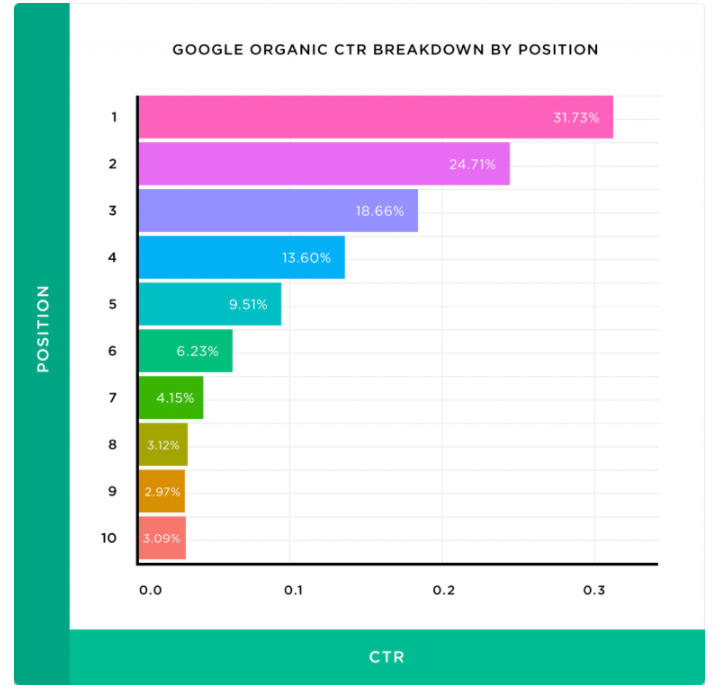 SEO involves making a concerted effort on your website and social media. Below are some things you must do to ensure users can find your content:
Create a user-friendly website, as mentioned above. That means intuitive navigation and a good appearance across all devices. Using a website builder like Wix, Squarespace, and even WordPress.com (not to be confused with WordPress, which is the most popular content management system designed to aid in building a website). Using these builders makes your site nearly invisible unless a user already knows your brand or clicks a link on your social media. Instead, build a self-hosted website, which isn't any more complicated than using a website builder, doesn't require coding knowledge, and is much easier to use than a website builder when it comes to producing an attractive end product.
Update your website with fresh, valuable content for users on a routine basis. Below, you can see how fresh content impacts your conversion rate.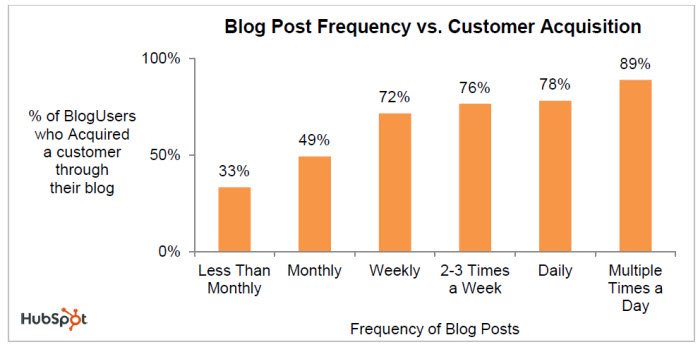 Build engagement with followers on social media. This helps search engines decide if your content provides value.
Gain backlinks from other websites naturally by creating great content. This also tells search engines you have quality content.
Ensure your website looks great on mobile devices and works well. For instance, ensure clickable elements are far enough apart to avoid accidental clicks.
3. Optimize your checkout process
The checkout process is where many e-commerce sites lose potential customers. Make sure your checkout process is streamlined and easy to use by removing unnecessary steps and don't request information unless you need it to complete the order. There's an opportunity later to collect information to help you better serve customers in the future. For example, make sure the designs of your shopping cart page and checkout page are practical and accessible. Finally, offer multiple payment options, including popular methods like PayPal and Apple Pay, to cater to a range of customer preferences.
Remarketing can improve your e-commerce performance by selectively reaching those with a prior visit to your website in your search and social advertising campaigns. Since these users already know about your products, they're much more likely to convert; in fact remarketing produces 150% higher conversion rates. Email marketing is another valuable tool for increasing conversion rates. By capturing information about a user's customer journey using login information, you can send targeted email messages incorporating this information by sending messages about the next steps based on where a user dropped off along the journey, offering discounts on products viewed during a journey, or recommending new products based on products viewed. That's why email marketing produces ROIs as high as 3500%.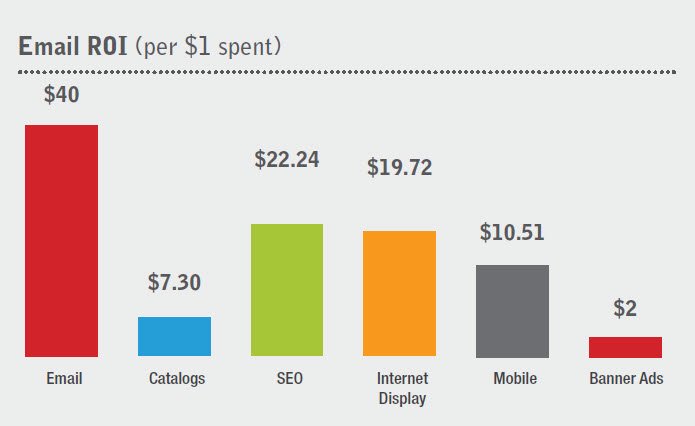 4. Leverage social media
Social media platforms feature millions of active users who spend an average of 2 hours and 31 minutes per day across social platforms. This usage, especially among younger consumers, makes them an excellent avenue for increasing your online reach. By creating a solid social media presence, you can build brand awareness and drive sales. So take advantage of social media by using platforms like Facebook, Instagram, Twitter, and LinkedIn to showcase your products, engage with customers, and run targeted ads to attract potential buyers.
Effective social media campaigns rely on crafting interesting content on a consistent basis. For instance, you should post on Facebook at least once a day and on Twitter as much as 15 times a day (the average is 5). That's challenging so you need marketing automation tools, like Buffer, and a content calendar to lighten the load while still maintaining a constant presence on each platform. It's better to do a consistent job on a few platforms that match your target market than try to have a presence on a bunch without maintaining consistency.
Always include an image or video in your post to attract more attention to your content and mix it up so your posts don't look like they're written to a formula. Also, don't write a press release. Keep messages short, personable, and interesting rather than informative.
5. Offer excellent customer service
Excellent customer service is essential for any e-commerce site. Therefore, you must ensure your customer service team is easily accessible and responsive. Consider offering live chat support to answer customer questions and resolve any issues quickly. A chatbot makes live chat a snap and offers 24/7 availability you can't achieve with human customer service employees unless you have a massively expensive team. Adequately train your chatbot and test it thoroughly before deployment to avoid problems.
Additionally, provide clear and detailed return and exchange policies to ensure customers' confidence in their purchases.  If you put effort into building trust with your customers, this leads to increased sales and positive reviews, as you can see below.
Conclusion
Optimizing your e-commerce performance for success requires attention to detail and a commitment to excellence. By implementing these five essential elements, you can create an e-commerce site that is user-friendly, easy to use, and optimized for sales. Remember to continuously monitor and evaluate your site's performance and adjust as needed to ensure continued success.
Need marketing help to support business growth?
We welcome the opportunity to show you how we can make your marketing SIZZLE with our data-driven, results-oriented marketing strategies.  Sign up for our FREE newsletter, get our FREE guide to creating an awesome website, or contact us for more information on hiring us.
Hausman and Associates, the publisher of MKT Maven, is a full-service marketing agency operating at the intersection of marketing and digital media. Check out our full range of services.