Believe it or not, marketing your business doesn't have to look or feel like rocket science. In fact, if you adopt these marketing strategies you can find ways to advertise your small business that are easier than you ever imagined and can take your business to the next level. With the right plan, you may even find that you can accomplish the results you want without having to break the bank.
Affordable ways to advertise your small business
Digital is the name of the game when it comes to affordable ways to advertise your small business. Although organic social media nearly disappeared with changes to the major social media platforms and their algorithms that favor paid content, social media advertising is very affordable for most small businesses. In part, this affordability is a function of the targeting available on social media platforms. Unlike traditional media where your face tiny costs to reach prospective buyers, the cost to reach a prospect is higher but you don't waste money advertising to folks who don't represent a viable prospect for your brand. Instead of paying thousands of dollars to reach all viewers of a particular TV program, for instance, you can reach folks between 18 and 25 who like to play Call of Duty and live near your video game store. Now you only reach users who want to buy your products rather than folks who have no use for them.
Search ads are another popular means to advertise your small business brand. Since you only pay for these ads when someone clicks the ad, you don't waste money. Also, since showing up in search is a function of the keywords included in a user's query, your ads only show up when someone is interested in what you have to offer. Driven by a query, it's also more likely that users are actively seeking to buy your product since they control the search terms used. Otherwise, why ask the question in the first place?
Another rationale for using digital marketing to advertise your small business is that consumer trends favor online purchases. As you can see in the graphic below, the value of e-commerce sales worldwide climbed at a steady rate and that growth is expected to continue at least into 2025.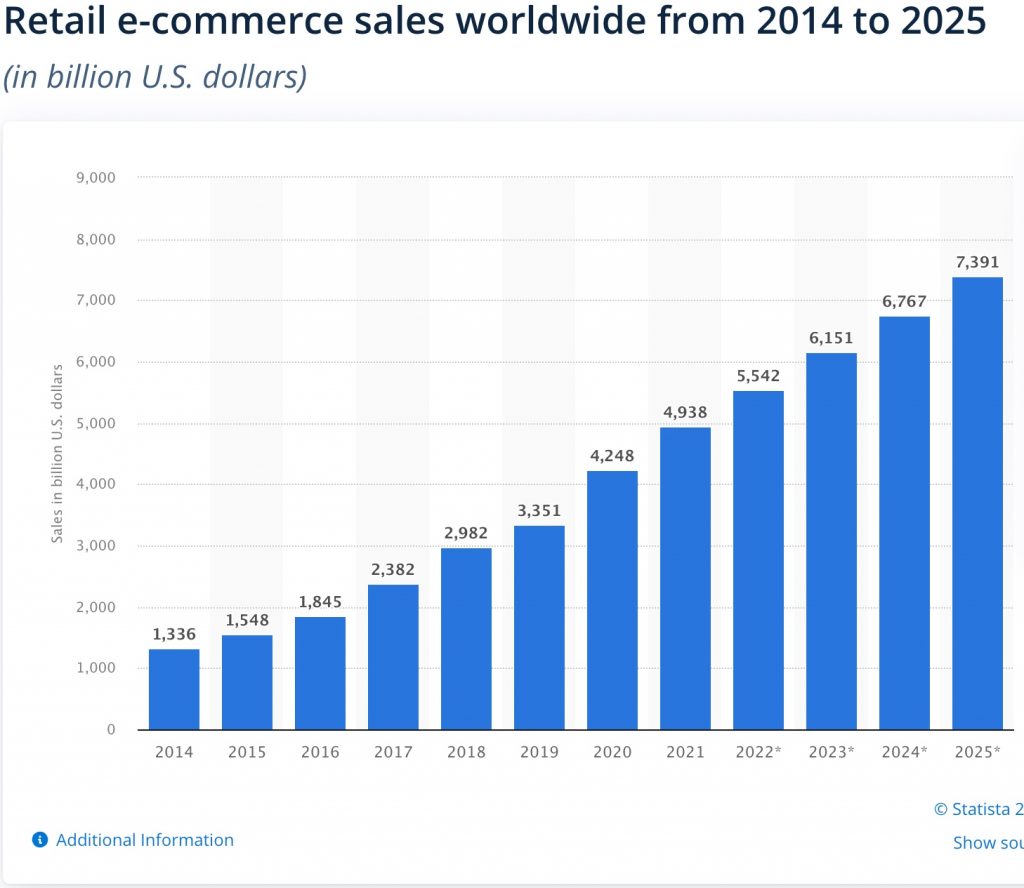 Of course, digital marketing isn't a field of dreams and, just because you build it, there's no guarantee that visitors will come. It takes a concerted effort to attract visitors to your digital platforms and convert them into customers. But, if you expend the effort over time, you will definitely see growth as your business strives for success. Speaking of time, you can't expect anything to happen overnight, as you probably won't see a significant increase in metrics until about the sixth month after implementing digital marketing. Then, with sustained effort and careful attention to monitoring your performance, you will see continued growth.
Tactics to advertise your small business online
Create a great website
Your website is the foundation of your digital marketing efforts because you control the platform and keep all the profits generated there. With social media, you're at the mercy of the platform owner and must share your profits with them unless you send traffic to your website to convert.  We'll talk about SEO (search engine optimization) in a later section, but these tactics are needed to bring traffic to your website in the first place.
But, getting traffic is only half the battle. You must convert the traffic you drive to your website. That means creating a website that provides a great customer experience through:
easy navigation
compelling content that motivates visitors down the conversion funnel
images that represent your products in their best light
multiple options for payment, including PayPal, Venmo, and crypto, in addition to traditional credit cards
no hidden surprises that wait until the payment screen to show up
options to check out as a guest without creating an account
security to protect personal information
Publish high-quality content
Content is so important if you want to market your business online. Great content engages your visitors and helps you to rank higher on search engines (SEO). Here's what you need from your content if you want to rank on the first page of search results:
Use appropriate keywords (actually multi-word phrases) that match queries made by users. For instance, if you market snow skis, you might use keywords such as best snow skis for beginners. Use your keywords in the heading, a few subheadings, alt tags on images, in the meta description, and a few times within your content.
Valuable content as reflected by backlinks from other websites. The higher the quantity and authority of the sites containing your backlinks the better your rank. Engagement with users on social media platforms is another indication of quality content. Negatives include a high bounce rate (exiting after viewing a single page) and short stats for time on site.
Content variety including images (at least 1 per post), videos, and infographics.
Long-form content that includes hyperlinks to other, high-value websites. Currently, the goal is around 3000 words per post, so at least some posts should meet this standard. Posts under 900 words represent a small value to your website.
Publishing consistency. As you can see below, you are more likely to gain customers when you publish more frequently.

Image courtesy of Hubspot

mobile-friendliness
site speed
One thing you can do is hire an SEO agency as SEO is a complex task requiring a significant, sustained effort.
Look into email marketing
Email newsletters that solve the problems your customers have helps you out a lot. As you can see below, for every dollar spent on email marketing, you get back $40. If you can, it is a great idea to use market automation tools as they can streamline your campaign while also greatly improving your ROI.
Email marketing is a two-pronged strategy that requires you to first create an email subscriber list, then send email messages to subscribers.
To gain subscribers, offer some type of incentive such as a discount, a webinar, or a lead magnet. For instance, I offer an ebook containing step-by-step instructions for creating a website without writing any code.
Next, send messages subscribers want to read. Segmenting your subscribers so you send highly targeted messages results in the highest return. For instance, a hospital might send info on cardiac disease to only patients who are interested in this disease rather than a broader group of folks. Pay careful attention to the subject line as this impacts your open rate. Inside the message, use buttons rather than links to gain clicks.
Run social media ads
Diversifying your paid efforts, by using social media advertisements in addition to search ads, as a means to gain more results from your marketing efforts. Social media is most effective for gaining awareness for your brand so the more reach you have, the more folks learn about your brand. Social media ads also boost engagement among users as a higher percentage of users see paid ads versus unpaid content (which is nearly invisible on today's social platforms). Every user who engages with your content amplifies your reach to introduce new users to your brand. It also helps your SEO.
Work with influencers
Try to connect with influencers who work in your market niche. When you have influencers who post messages about your brand, the general unspoken message is that they trust your products, find them suitable, and recommend them to their followers. This is very powerful if you want to connect with new customers and reach a wider audience that doesn't know your brand.
You can find influencers on almost every social platform. Most require something in exchange for a brand mention. Top influencers might charge thousands of dollars for each mention while smaller influencers might mention your brand in exchange for a sample. Regardless, look for influencers with engaged followers not just a large group of followers.
Conclusion
So as you can see, there are many tactics you might try to advertise your small business that don't cost a lot. The key is to choose a good combination of tactics and stick with them on a consistent basis. Why not see what works for you today?
Need marketing help to support business growth?
We welcome the opportunity to show you how we can make your marketing SIZZLE with our data-driven, results-oriented marketing strategies.  Sign up for our FREE newsletter, get our FREE guide to creating an awesome website, or contact us for more information on hiring us.
Hausman and Associates, the publisher of MKT Maven, is a full-service marketing agency operating at the intersection of marketing and digital media. Check out our full range of services.