Startups have an uphill battle when doing business. They need to draw in customers, close sales, and generate a profit, all while competing against larger, most established firms that already have traction in the market. If you're in this position, whether a startup or a firm that's been around for a while, you need to take advantage of multiple strategies, with marketing being one of the more notable. Today, we share our top marketing tips for startups and other small businesses.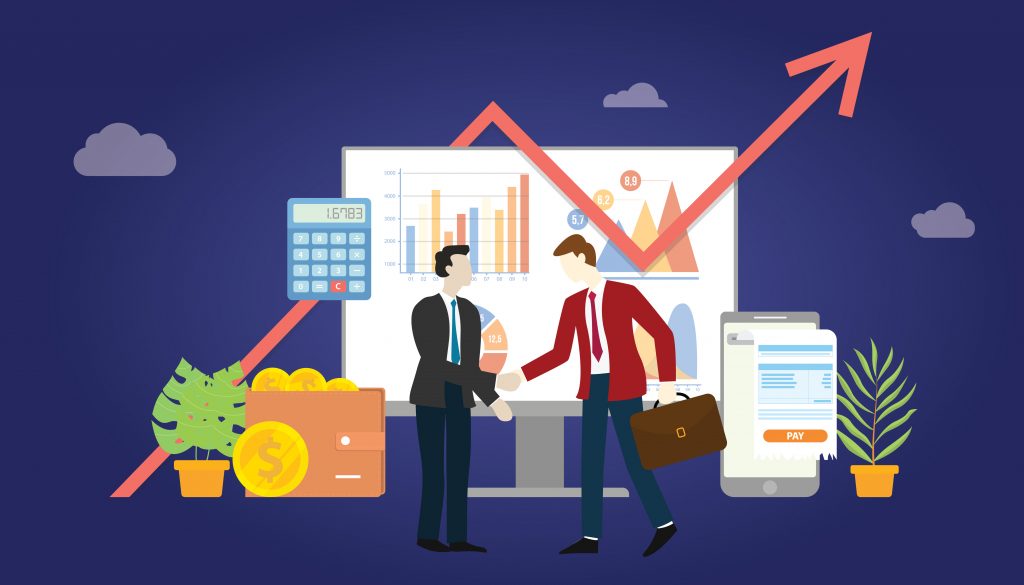 As well as making sure this is budget-friendly, you'll want to make the marketing strategies you employ as stress-free and practical as possible. And, with the help of these marketing tips for startups, you can do it. With a few of our favorite marketing tips for startups, you make reaching your goals possible with a little work and the right tactics.
Marketing tips for startups
A key thing to remember when it comes to marketing tips for startups is that marketing is so much more than simply advertising and promotion. Marketing encompasses every element of reaching customer needs, including:
product development to meet customer needs and wants in unique ways
pricing to ensure affordability, competitive positioning, and profitability
distribution (or place to keep with the P's) which involves logistics or the physical movement of product from the company to consumer as well as determining which distribution strategies meet customer needs, such as using retailers, e-commerce, and direct-to-consumer strategies.
1. Outsource
As a startup owner, you have quite a few things on your plate, which stretches your available time and your existing skillset. Marketing is critical at every stage in the business cycle but it's especially critical for startups struggling to build a brand and generate awareness.
Yet, most entrepreneurs lack the marketing experience and expertise necessary to do a good job of marketing their business. Marketing is often an afterthought rather than top-of-mind when you start a business. Newer concepts of agile, however, stress the role of marketing and suggest a business should market its product before writing the first line of code or taking out the first loan. That's because your business must be customer-driven. Rather than developing a product that looks for a market, you should develop products in conjunction with potential buyers. This iterative development process between the company and its target market means you have a product consumers want.
Maybe you don't have the skills necessary to accomplish this collaborative product development or perform the many other marketing strategies necessary for success. As one of the most popular areas to outsource, after accounting and payroll management, you can get expert third-parties to take care of your marketing for you. You might even find it's cheaper to outsource your marketing efforts due to the high cost of making a mistake and the cost of tools, such as automation and analytics software. Check out the example below to see how outsourcing can actually save you money.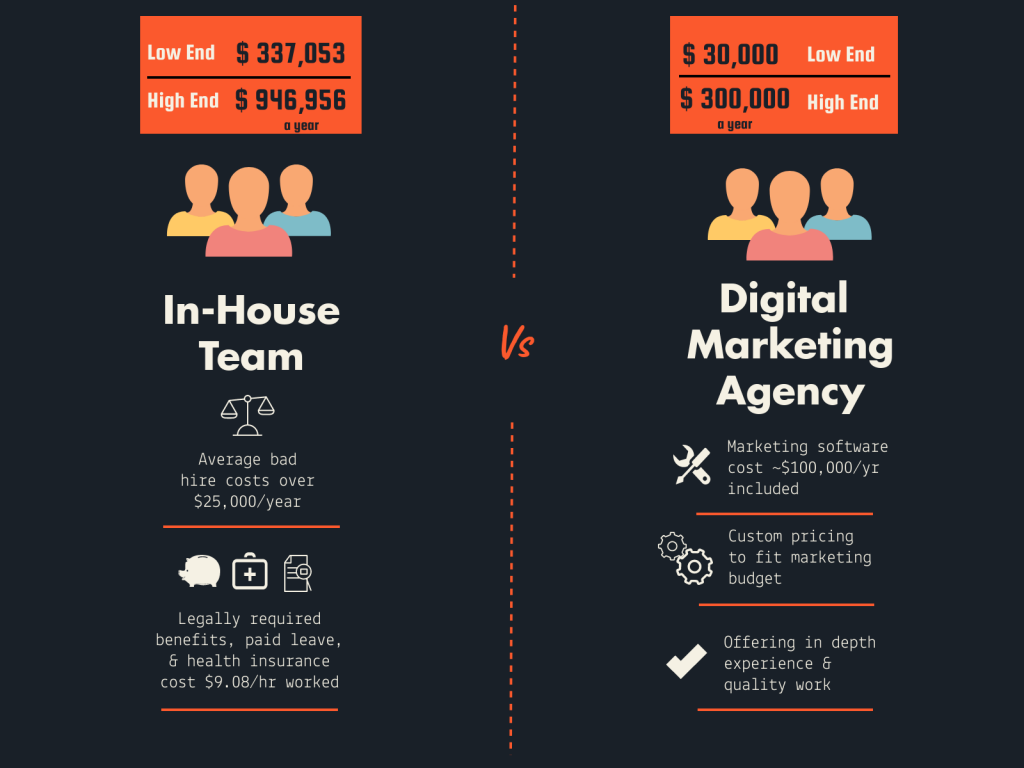 If you choose the right company to develop and implement your marketing campaigns, you'll have more effective marketing campaigns that actually work. Comparing marketing consulting firms and choosing the best one for you based on various factors is necessary, as working with the right firm ensures you get a great strategy that fits your industry, your firm, and your target market.
It'll be less stressful than doing it yourself, and more affordable than hiring a full-time employee to accomplish your marketing tasks.
2. Define your goals & metrics
If you don't have any marketing goals, you don't have anything to aim for and your marketing strategies won't work toward a goal. Your marketing will appear disjointed and unprofessional. Simply increasing visibility or sales isn't sufficient to guide your marketing direction. You need specific goals that we call SMART goals. An example of a SMART goal is increasing sales by X amount by Y date because it's Specific, Measurable, Achievable, Relevant, and Time-bound, which is what the acronym stands for.
You should develop multiple goals, both terminal goals, such as reaching a certain number of sales or increasing sales by a certain amount, and intermediate goals that lead to success in achieving your terminal goals. Examples of intermediate goals include:
increasing social media engagement
creating more awareness
developing more leads
You should also set goals for retention and loyalty.
Once you developed goals, you must identify the metrics that assess your performance against those goals. We call these KPIs or key performance indicators. By measuring your KPIs, you can determine a baseline for how your marketing is performing and use metrics over time to develop strategies that improve performance. You can thus move more effectively to achieve your goals.
Be careful you don't get caught up in measuring vanity metrics that don't have a strong correlation with improved market performance. For instance, the number of visitors to your website is a vanity metric (one that makes you feel good) but isn't a good measure of performance. Instead, assess metrics such as repeat visits that more strongly correlate with improved sales. Measure social media engagement not the number of followers.
That said, even these vanity metrics have meaning when assessed over time. For instance, increasing visitors to your website by 20% likely has an impact on market performance.
You can make sure your marketing strategy is working the way you want it to by monitoring KPIs and using data visualization to help uncover patterns in these metrics.
3. Know your brand
For customers to choose your business to buy from or work with, they need to see a fit between what's important to them and the qualities of your brand, including your brand's value. Seeing a product as "for them" is often the deciding factor when considering several different brands when making a purchase. If you don't know your brand, how do you expect them to?
You need to keep a few things in mind
Staying true to yourself and your company by living your values. For instance, consider supporting local charities that align with your values and implement changes within your firm to show your values
Know what sets you apart from your competition. We call this your unique selling proposition or USP. Don't try to be all things to all consumers. Instead, determine what's important to a segment or several segments of consumers then develop every aspect of your marketing to reinforce this USP. Differentiate yourself to succeed. For instance, Apple sets itself apart from other phones by focusing on innovation, ease of use, and development of its coolness factor. As you can see in the ad below, this same positioning permeates the entire company.
Be consistent with how you present your business across every touchpoint with consumers, including internal customers and other stakeholders.
By knowing and solidifying your brand, you can effectively communicate it to potential customers. They'll be more likely to buy from you as a result.
Marketing Tips For Startups: Wrapping Up
There are quite a few marketing tips for startups you can use as you build your brand or, as an established business, improve market performance. Many of these, especially digital marketing strategies, are more practical and budget-friendly than more traditional promotional outlets. By knowing your brand, having defined goals and metrics, and outsourcing when appropriate, you can make this much easier.
While there'll still be somewhat of an uphill battle, you should catch up with your competitors faster than you'd think, and maybe even overtake them. You don't have a reason not to take advantage of the above tips and strategies.
Need marketing help to support business growth?
We welcome the opportunity to show you how we can make your marketing SIZZLE with our data-driven, results-oriented marketing strategies.  Sign up for our FREE newsletter, get our FREE guide to creating an awesome website, or contact us for more information on hiring us.
Hausman and Associates, the publisher of MKT Maven, is a full-service marketing agency operating at the intersection of marketing and digital media. Check out our full range of services.