Customer relationship management (CRM for short) is a marketing strategy whereby firms concentrate on retaining existing customers. Customer relationship management gained prominence in developing marketing strategies, in part, because existing customers are 5 times more valuable to a business than trying to replace them with new customers, according to market research. They are also more likely to be loyal and to spread positive word of mouth about your firm to their social network.
For some, customer relationship management means technical aspects such as software used to track customers and contacts, such as the one offered through Microsoft Dynamics CRM (shown below), Salesforce, and data mining software, but in marketing strategy, CRM is much more than tracking because it requires a firm meet the promises made to customers through superior customer service, high-quality products, and great pricing.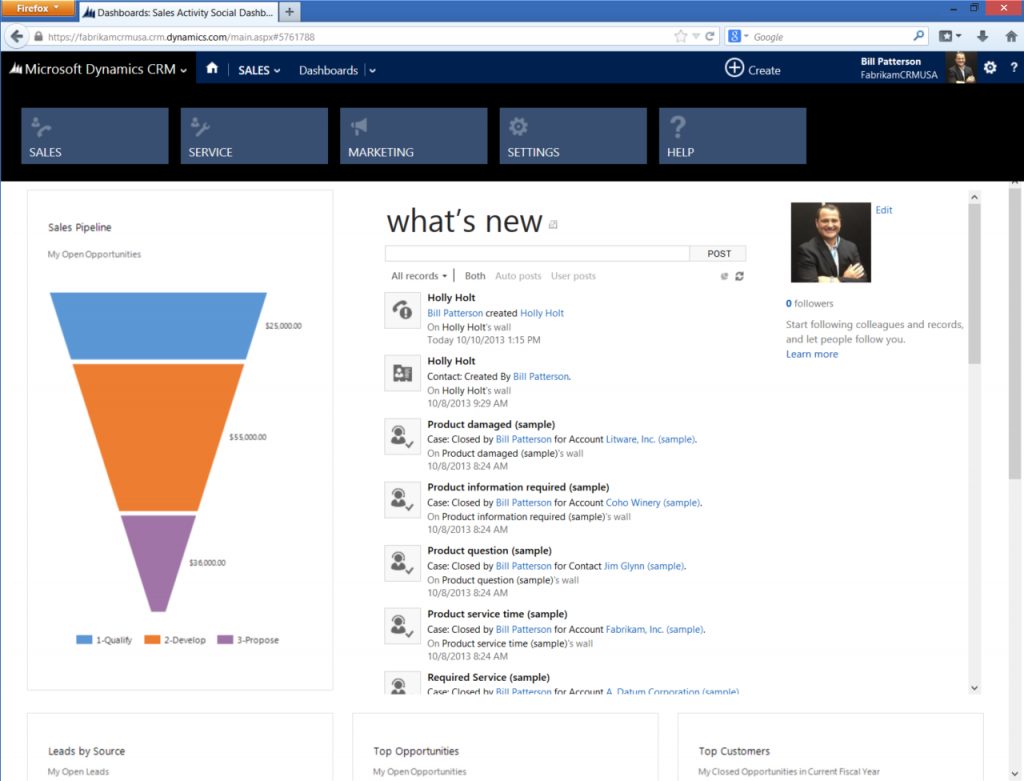 Thus, a strong CRM strategy can dramatically increase profitability.
CRM or customer relationship management recognizes the value of customers to an organization and puts their needs at the center of strategic planning. Recognizing the needs of customers really changes everything about the way a business operates to build strong, lasting relationships
Customer relationship management (CRM) is the combination of practices, strategies and technologies that companies use to manage and analyze customer interactions and data throughout the customer lifecycle. The goal is to improve customer service relationships and assist in customer retention and drive sales growth. [source]
CRM software, such as Salesforce, takes care of part of what makes a customer relationship work; communication. Other software programs, like email marketing provided by Constant Contact and digital marketing software like Hubspot, take care of some aspects of CRM, while not managing everything needed for your relationship efforts. CRM software helps:
keep track of promises made in terms of delivery schedules, prices, features/ benefits
maintain consistent communication with customers and prospects, such as writing follow-up emails after a visit or phone call
Managing your lead generation email sequence by scheduling specific messages in the email sequence and updating the messaging based on customer responses. For instance, if a customer clicks a link in a message, it triggers a different email as next in the sequence.
tracking events such as anniversaries to trigger congratulations emails
managing multiple consumers in a single organization to ensure consistency
However, CRM software does nothing to help with the bigger aspects of customer relationship marketing. For instance, you need to develop a personal relationship with customers. And, that requires more than sending generic email messages to customers and prospects. You must take an interest in your customer as an individual, empathize with their problems, make them feel special, take time to answer their questions, and provide solutions in the customers' best interest. This is sales 101.
CRM software can help with some of this, especially if you segment your subscriber/ customer list to allow for true personalization in your electronic communication. For instance, entering birthdays and anniversary dates allows you to send personalized digital cards to your customers. Tracking purchases allows you to send personalized thank you emails while tracking products viewed or placed in a shopping cart helps you personalize an email with these details. For instance, if you have a product of interest on clearance or offer a sitewide discount, you might send personalized emails to an individual with suggestions for purchases related to their products of interest. Or, try sending emails about accessories for products purchased already or products that compliment a prior purchase.
A big mistake is sending an email reminding a subscriber/ customer to purchase an item they already purchased from your business. Sure, no one expects you to know about purchases made from another retailer or e-commerce site, but sending an email about a product the consumer already purchased from you lays bear your lack of concern for them as a person. Amazon does this all the time despite its extensive data analytics efforts. And, it just looks bad.
But, CRM software doesn't help with much of the heavy lifting involved in CRM.
You also have to keep your promises, which is only partially helped with CRM software to track your promises. If a shipment is delayed, for instance, you need to communicate this to customers as soon as possible, which may mean using additional software to track deliveries. Big companies use GPS and related software on their vehicles, as well as tracking codes on packages, to monitor where they are, help drivers navigate through possible traffic or weather delays, and anticipate delays so they can reduce the impact of late deliveries.
You must follow up to ensure customers are happy with the products they purchased from you, the delivery, the product operation, and the installation (if any). Addressing any concerns quickly reduces the impact of poor performance on customer satisfaction and retention, as well as limiting the impact of poor performance on other customers and prospects. Bad news travels quickly and is far-reaching in today's digital world. Offering 24/7 customer support is no longer a rarety but an expectation from consumers for all brands.
Thus, two marketing strategy approaches to CRM are data management and relationship building.
Data management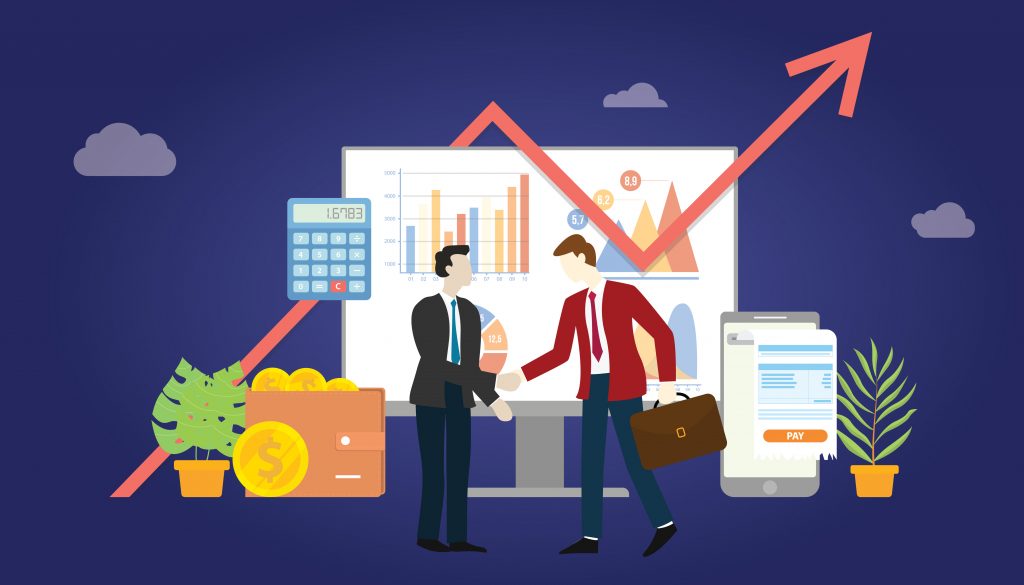 Data mining involves gathering massive amounts of data about your customers, especially their buying behavior and demographics. Commonly, this information comes from your own sales information, such as scanner data, email marketing programs, salesforce reports, or credit card purchases. Internal data might be supplemented by data purchased from other sources. For instance, credit card companies commonly sell purchase data about cardholders. Even the government sells data such as DMV records of car ownership. It's important to note that this data is NOT market research about customers but secondary data originally collected for some other purpose.
Data are aggregated, then statistical analysis gleans insights into behavioral linkages. A number of companies sell enterprise software to analyze data or software to help build these massive databases, such as SAP and SAS.
Such data mining is fashionable, made more so by software and skills to analyze massive amounts of data.
Once gleaned through data mining, data are transferred to software designed for customer relationship management, such as Hubspot (for smaller businesses) and Salesforce (for larger ones, although they offer a stripped-down version suitable for small businesses).
Benefits of data management in your marketing strategy

The more you know about customers, the better you are at building marketing strategies to reach them. For instance, if your scanner data shows your customers prefer certain brands of orange juice, you might benefit by stocking additional varieties of that brand, or you might use a sale on this brand as a loss leader to get customers into your store for their weekly grocery trip.
You can also use individual-level data mining. For instance, you might have a baby week sale, where you offer discounts for baby-related items. If you identify which customers have babies based on prior purchases, you can reduce your costs dramatically by only sending flyers to those customers.
More sophisticated data analysis builds forecasting models that predict the probabilities of behavior among your customers. Such forecasts form the basis for budgeting. You can then build marketing strategies to maximize success based on these models.
For instance, noting that advertising in a particular media two days before an event yields maximum sales is useful for planning future media buys. Knowing that sales of a brand are higher among young males allows you to better target them in developing advertising strategies. A good example is a domestic beer where a dominant buyer is a young man working a blue-collar job. Using messages appealing to this target market drive increased sales, even if the message doesn't resonate with other types of buyers.
Data are also the starting point for developing marketing strategies based on customer lifetime value (CLV). The graphic below shows how to implement customer lifetime value in decision-making. You can use this data to segment buyers, focusing on those who represent the most value to the organization or highlighting opportunities to increase revenue by increasing things like customer retention.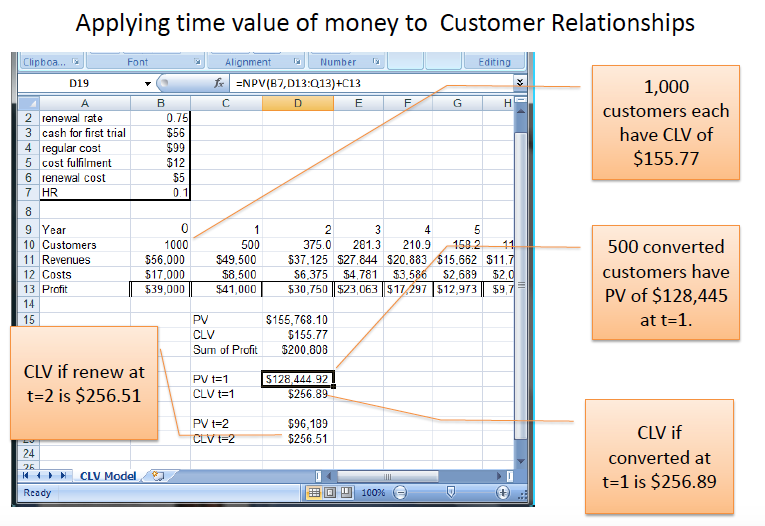 Relationship building
Another form of marketing that doesn't rely on data mining is building a strong relationship with customers. For the best results, use these two strategies in tandem. Think about the old TV show Cheers, where everyone knew your name and you have a good idea of what we mean by relationship building.
Some strategies used for building strong relationships are:
creating customer loyalty programs, such as frequent flyers to encourage customers to make repeat purchases
marketing to customers, such as newsletters and coupons
e-mail marketing to maintain communication with customers
being honest at all times to build trust
handling problems promptly to make customers whole rather than deferring blame to someone outside your organization. In a case I use with students, Club Med faced such a problem when a contractor's plane was late and provided poor service when transporting customers to the property. Rather than ignore guest complaints, Club Med managers met the plane with an impromptu party at the airport and arranged for limos to transport passengers quickly to the property, turning a possible lawsuit into the best vacation many passengers ever had, according to post-visit surveys.
offering customer service through multiple portals, including chat, email, social media, and phone. The longer customers must wait to receive service or the worse service they receive, the lower your retention.
Probably the most successful relationship-building strategies are those designed to develop interpersonal relationships — being friendly, personalizing messaging beyond just using the customer's name, exchanging non-commercial conversation, being empathetic, handling customer complaints effectively, listening to customers, building trust, etc.
Benefits of relationship building
Customers who believe they have strong interpersonal relationships with commercial enterprises give the enterprise more of their business, they complain less, they recommend the business more, they are loyal, and they are willing to help the business by defending them against critics, pointing out situations where the firm might lose money, suggest improvements, etc.



Dangers of customer relationship management
While there are enormous benefits to customer relationship management, some issues need attention to help you build the right CRM strategy that delivers results.
First, data management dangers:
provides only historical behaviors, which are imperfect predictors of future behaviors
is more appropriate for predicting how a group might respond, not a single individual or smaller group as these techniques are based on statistical analysis that requires large numbers for validity
behavior is only partially indicative of attitudes
consumers' purchase behavior might not be indicative of their own needs, but for gifts, etc., which complicates projections
data may be more costly to obtain than the value-added through the data
Relationship dangers:
customers may be more loyal to the provider than the company because their relationship is with the provider, so when the provider leaves, they take the customers
it's time-consuming to build relationships with each customer
it might create expectations that the firm can not deliver or create the feeling that customers deserve something extra
some consumers don't want a relationship with commercial enterprises (this has important implications for those employing social network marketing strategies)
relationship-building efforts often come across as insincere, which is worse than not doing relationship-building at all.
Conclusion
As you can see, both marketing strategies have enormous benefits for your organization, although they represent some dangers. Unfortunately, firms rarely implement both data management and relationship building, which means they don't get the biggest benefit from customer relationship management.  It seems to be firms buy into either one paradigm or the other. The best alternative is to employ BOTH data management and relationship building, as the two strategies are very complementary and eliminate many dangers inherent in the use of either one separately.
Need marketing help to support business growth?
We welcome the opportunity to show you how we can make your marketing SIZZLE with our data-driven, results-oriented marketing strategies.  Sign up for our FREE newsletter, get our FREE guide to creating an awesome website, or contact us for more information on hiring us.
Hausman and Associates, the publisher of MKT Maven, is a full-service marketing agency operating at the intersection of marketing and digital media. Check out our full range of services.