Brand strategy, when used as part of an overall marketing strategy, is one of the most important aspects of the success of your business. And, if you're interested in building a better brand, your brand strategy is the starting point. The reason for the impact of branding on performance is simple. People use your brand (its name, image, and all attributes associated with it) as a shortcut to forming attitudes about your brand. Branding implies not only quality and other reputational elements consumers associate with your brand, but branding also equates to a personality for your brand that informs consumers whether a brand is appropriate for them. It tells customers that this product is "for them" more than any other element of the product.
What is a brand?
Before we can discuss anything about building a better brand, we must first reach an understanding of what a brand is. As you can see from the graphic above, the notion of a brand consists of various elements including advertising, brand value, and design. Let's look at each of these elements, in turn, to see how building a better brand can provide a bump in revenue.
Brand identity
Let's start with brand identity. Just like we give a name to everything around us from kids to pets to even inanimate objects like our cars or homes, we consider the brand name as a repository or a shortcut to represent various qualities of the brand, both tangible ones such as quality and intangible ones such as trustworthiness. Shakespeare may have stated "a rose by any other name would smell as sweet" but he missed the fundamental aspect of naming in forming opinions about a thing (or person) in this often-quoted line from Romeo and Juliet.
Instead, identity is an agreed-upon way of representing a product, person, or animal. This identity becomes an amalgamation of meaning. Hence, when I discuss a rose, we all have the same set of fundamental aspects of this flower in mind such as its variety of colors, powerful aroma, and spiky branches. More than that, however, the name rose evokes cultural meanings such as love. That's why we commonly give roses for occasions such as Valentine's Day (especially the red varieties) and find them less appropriate than Lillies for funeral arrangements (the exception is white roses).
For products (and companies) we identify brands using a logo. A logo is so important for identifying and contributing to the cultural meaning of a product, that international laws protect a logo. Companies spend time and money developing a logo they think represents their brand and that logo might evolve over time to represent changes in meaning sought by the brand. For instance, below you see the evolution of the Starbucks brand as the company increased its commitment to sustainability by using a green logo and its transition to a global brand by removing English words from the branding.
According to the company, the siren (or 2-tailed mermaid) gained prominence and remained the image of Starbucks as the name was based on Moby Dick and reflects their seafaring orientation having evolved in Seattle (a major seaport) and the reality that most coffee travels long distances (often by sea) before reaching consumer markets.
Developing brand identity
So, where do these meanings come from? For the most part, brand meaning comes from advertising messaging (both verbal and nonverbal, including the logo). The brand name then is simply a container for this meaning in much the same way as your name is more than a means to separate you from others. Your advertising must maintain consistency across various communication channels, despite the need to change up the ads over time to avoid burnout. Ensuring your messaging is on point and resonates with your target market are key aspects of building a better brand.
In the digital world we now live in, brand meaning also comes from users through the content they share about a brand.  Increasingly, it is the person-to-person conversations about a brand, including crowdsourcing and consumer-generated content, that forms the backbone of a brand's image. Hence, managing your brand's online reputation to ensure it reinforces your brand meaning is a critical aspect of building a better brand.
The brand image captures this notion of a brand having a defined personality.
The business dictionary defines brand image as:
Impression in the consumers' mind of a brand's total personality (real and imaginary qualities and shortcomings). Brand image is developed over time through advertising campaigns with a consistent theme, and is authenticated through the consumers' direct experience.[source]
Product attributes
Consumers aren't stupid and don't mindlessly consume your advertising. They make their own assessments of your brand based on their experiences with the brand. Thus, aspects such as product quality, value, performance, and design make a serious contribution to building a better brand. Focus first on delivering on the promises you make to consumers before worrying about other aspects of your brand because you can't convince buyers to make a purchase (or to repurchase) unless the product they buy actually delivers on their wants and needs.
Brand loyalty and equity
Tied up with the notion of a brand are the consequences of a good brand strategy; namely brand loyalty and brand equity.
Brand loyalty is the nirvana of good branding. Loyalty means consumers continue to buy your brand and are resistant to the efforts of other brands to get your business. True brand loyalty doesn't exist very often. Instead, consumers evince a preference for a brand but will substitute other brands in cases where the preferred brand isn't available or simply for variety. This is especially true for younger consumers. Despite the fact that you may find it hard to achieve true loyalty, even partial loyalty (where consumers prefer your brand) has a huge impact on your market performance.
Brand equity is the name we give to the value of a brand to its owner. And some brands, think Coke or Apple, are hugely valuable.
How do firms build brand equity? Well, brand equity normally accrues over years of favorable interactions with consumers, including consistent brand messaging, positive customer satisfaction, and great interactions between consumers.
So, how do you go about building a better brand?
1. Quality (or at least consistency)
Quality is more than simply doing a job, however. Sometimes, we think about quality as the "mean time to failure" which assumes that all consumers care about is that the product works for a long time, or at least its normal expected lifespan. But that engineering definition of quality doesn't mesh with how consumers define quality. Consumers buy products to solve a problem, so quality also means that the product does a good job of solving the problem. Quality is more about fulfilling customer needs — easy to operate and clean, stylish, desired functionality, and maybe other needs specific to that particular product.
Hence, customer needs may be functional, such as a car is expected to get you from one place to another. Other needs are social needs, for instance, a red sports car not only gets you where you need to go, but people admire your car (and you), which makes you feel good. Other consumers might value styling or innovation and brands that consistently deliver on these aspects are seen as higher quality.
For instance, it's not clear that an iPhone is superior in performance or durability to some competitors. In fact, some competitors are judged by engineers and others with unbiased opinions as superior. Its popularity, therefore, is more a function of the cool styling and its ease of use. iPhone also remains in the #1 position due to its innovativeness — it stays one step ahead of the competition by introducing new styles and increasing usability, such as this year's camera upgrades.
2. Integrated marketing communications
Brands, at least good brands, present a consistent image to consumers across different implementations and different platforms, with each message optimized for the particular platform.
This means everything from your logo, to your packaging, to your employee uniforms, to your advertising, to the celebrities who endorse your product … every aspect of communicating either verbally or non-verbally sends a consistent message that resonates with consumers. Otherwise, a clear image of the brand fails to materialize. Think about how often advertising for an automobile differs between the brand and local dealers. The low-budget, often unprofessional messages developed by local dealers might cheapen the image of the brand or create confusion for consumers exposed to different messages that don't fit together to form a cohesive whole. To fight this, manufacturers attempt to control local advertising to ensure it fits the image they desire and even help pay for local ads either directly or by providing the collateral necessary for local retailers to run ads.
You'd also like the image that emerges to be distinct in some way. Some brands do this by being outrageous, such as GoDaddy or Howard Sterns. Others target attitudes and values salient to a specific segment of consumers — their target market. Brands often cultivate a distinct personality, like those brands listed in the image below.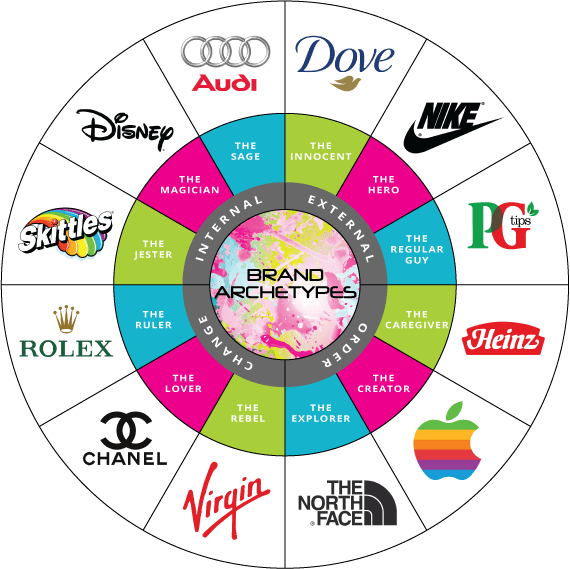 This personality sets them apart from competitors in the same industry to provide a rationale for some types of buyers to prefer the brand. A great example of this is the rivalry between Apple and IBM in the computer market. Apple positions its brand as young, hip, and cool while IBM positions its brand as a workhorse for more serious computing needs.
Unfortunately, some folks equate branding with a logo design or other design elements. While these are elements contributing to your brand, it's just not that easy. Logos may be the outward image of the product but may have little impact on the personality consumers find in a brand.
3. Reputation management
You're not the only one talking about your brand, as we mentioned above. While once you talked the loudest, with expensive national advertising campaigns costing millions of dollars, that's not true anymore. Now the media, especially social media, has a significant impact on your brand. A consumer putting up a Youtube video spoofing your brand can change your brand image significantly, especially if the consumer is an influencer or has skills that allow the video to go viral. Similarly, a single Tweet might sink your brand.
Or a product recall can damage your brand — look at the loss of brand equity experienced by Volkswagon following the disclosure of their emissions manipulations.
Building a better brand means supporting your brand image. In this environment, that means listening to conversations across multiple media sources and employing a system for responding to these conversations. Attempting to eliminate unfavorable comments can backfire to damage your brand but you have other tools in your arsenal for propping up your brand.
If people are complaining about your brand on social media, you need to respond immediately. Empathize, attempt to resolve the problem, and show the steps taken to keep the problem from reoccurring. Transparency is critical.
If there's a real problem, apologize and fix it, if it's just the perception of a problem explain the misunderstanding.
Maintain good relationships with local and national media.
Be honest and open — lies always come out in the end and magnify the problem.
If people are saying good things, support them, encourage them, and incentivize them without appearing to invade the privacy of the user.
If you use celebrity endorsements, make sure they are representative of the image you want for your product and investigate them thoroughly. You don't want to be caught with OJ Simpson as your image.
Conclusion
Building a better brand doesn't happen overnight. If you have a new brand, give serious consideration to the attributes you want consumers to associate with your brand. Build a strategy that ensures those attributes come out in a natural and consistent way. If you have an established brand, rebranding takes time and, at least in the beginning, can seem like you're moving backward as your customers may resist change, preferring the status quo over something more aligned with changes in values about members of your target market. It's tempting to avoid evolving to avoid the almost inevitable backlash but that's not what's best for your brand in the long run.
Good luck and let me know if this advice helps as you work toward building a better brand.
Need marketing help to support business growth?
We welcome the opportunity to show you how we can make your marketing SIZZLE with our data-driven, results-oriented marketing strategies.  Sign up for our FREE newsletter, get our FREE guide to creating an awesome website, or contact us for more information on hiring us.
Hausman and Associates, the publisher of MKT Maven, is a full-service marketing agency operating at the intersection of marketing and digital media. Check out our full range of services.