Marketing is a crucial part of any business, as marketing is the source of all revenue for your business, regardless of your market niche. Marketing optimization refers to getting the best ROI possible, despite your budget by using tactics with high ROIs and optimizing your strategy to get the highest return possible from these tactics.
One of the challenges smaller businesses have with marketing is getting sufficient revenue from their, commonly, small marketing budgets. Today we consider the best tactics for marketing optimization on a small budget.
Best tactics for marketing optimization
Budgeting
Marketing is the powerhouse that runs everything in your business, from production to administration to growth. If you can put some money into a marketing campaign, you potentially gain a lot of sales and, when done correctly, a high ROI.
After working for the US Small Business Administration counseling startups over the years, I can say with some confidence that businesses underestimate the importance of marketing and never allocate a sufficient budget to marketing in line with their business goals. In the days before the Internet, researching norms surrounding your marketing budget based on industry was challenging but now it's super easy.
The average marketing budget, often defined as a percentage of sales, varies with economic conditions. Hence, 2008 budgets were smaller due to the financial crisis and they dropped again in 2020 due to the worldwide pandemic. Despite this recent decline, CMOs responding to a survey in June 2020 reporting marketing spend of 11.3% based on forecast sales. Budgets also vary by industry, with B2C firms reporting a budget of nearly 19% of revenue while B2B firms reported a budget of up to 9.7% for tech, including biotech.
Many firms, especially startups, find it challenging to allocate up to 20% of their revenue forecast for marketing, but marketing costs for a startup are commonly MUCH higher than this 20%. Allocations well below these norms mean you'll have trouble gaining traction against the competition in the marketplace and your efforts will likely fail.
When obtaining sufficient startup capital is a problem, consider whether or not it is worth taking out a small loan with a lender such as Plenti.com.au for your marketing needs. Sometimes taking out a loan for your marketing campaign is exactly what you need to gain the customer awareness necessary to drive sales. As long as you plan your marketing campaigns effectively, you can pay back that loan quickly with the proceeds.
Utilize social media
Social media is a popular channel for budget-minded businesses since the cost of running a social media campaign is generally low. For instance, the average CTR (click-through rate) in the second quarter of 2020 was 1.3% of impressions. Unfortunately, that is only about half the CTR achieved as late as 2018, which CTR peaked. Depending on the platform, the average CPC (cost per click) ranged from $.38 (for Twitter) to $5.26 (for LinkedIn) in 2020. Facebook had a CPC of $.97, while Instagram and YouTube had a CPC of a little over $3.
In case you're wondering, the CPC for Google Ads, ranges between about $1 and $2, which also makes that channel very affordable. Compare this information with the costs associated with traditional advertising channels such as TV and radio and you see how social channels represent an extremely cost-effective avenue for advertising (all figures expressed in CPM (cost per 1000 impressions) since translating impressions to results isn't possible across traditional channels, with the exception of direct mail).
Direct Mail: $57
TV: $28
Magazine: $17
Newspaper: $17
Radio: $11
Billboards: $7
Social Media: $2.50
Facebook: $0.25
All hands on deck
While many companies prefer the control offered by funneling social messages through a person or department charged with that task, you can ask all employees to contribute to the messaging and sharing of corporate messaging without losing total control over what's shared by employing software such as Hootsuite (or other higher-cost alternatives) that require approval before a post goes live.
Companies like Johnsonville Sausage empower many front-line employees to create both social and traditional advertising, resulting in an expanded reach for social posts and bringing authenticity and trust to their messaging.
Consider email
Marketing optimization involves choosing tactics with the highest ROI and email produces the highest ROI of almost any other marketing channel, as you can see in the graphic below.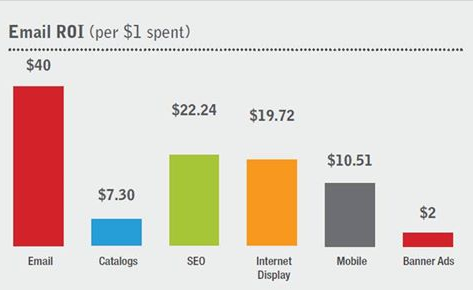 If you have a list of clients or customers that you want to encourage to buy from you it is time to create an email newsletter that engages subscribers and brings them to your website. Creating a newsletter that pulls visitors to your landing page and to your products is super important.
Of course, email marketing isn't totally free, as you must dedicate personnel to both creating subscriber lists according to prevailing privacy laws (which means you can't buy lists) and generating email content subscribers find valuable. Costs for email marketing include:
administration to plan email campaigns, monitor performance, and cull subscriber lists to maintain effectiveness
creative for the images and text
lead magnets such as ebooks or giveaways to entice visitors to subscribe
an email marketing program, such as Moosend or Constant Contact, which varies based on your number of subscribers.
Create a social media giveaway
The key to successful social media is to engage followers, as you can see in the graphic below.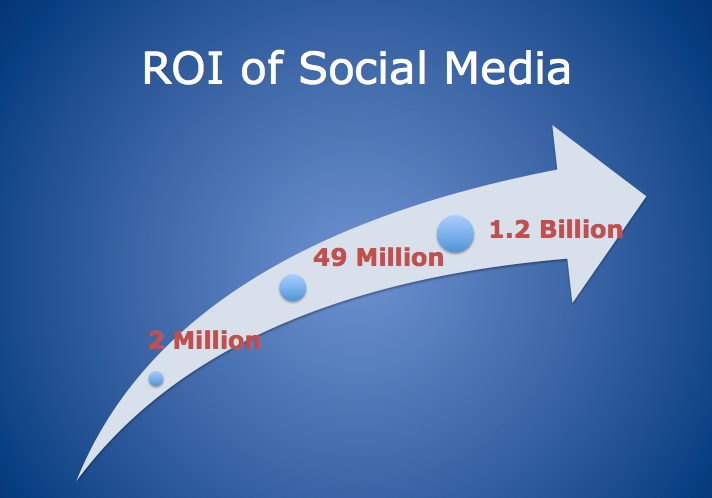 Engagement ensures your message travels from your own social platform (called owned media) through the engagement actions of followers, such as Liking or Sharing, to reach folks in their social sphere (called earned media). As reach proceeds from one engagement to another social graph, you earn clicks from those impressions.
Engaging content is one of the best tools for gaining a following as well as building trust from your audience. By creating useful and informative content, you provide something useful to your followers (and gaining a following) as well as getting engagement from your audience. Building trust in this way is a long term strategy that makes a massive difference to your business over time. Increasing engagement pulls people onto your website, people more likely to buy from you because they trust you and value your products, without the high cost involved in advertising.
One way to increase engagement is to offer a giveaway to your followers as long as they tag 3 people, share your post, or like your page. This is a very useful tool and one you should consider doing if you don't have much money for your marketing budget.
Consider collaborating with others
Working with influencers and others in your marketing is a good idea for marketing optimization when you have a small marketing budget. Social media influencers are powerful tools in the marketing industry because they act like real people who test products or services and give their honest opinions to their followers. When an influencer endorses a product to their following, the people who follow them trust their opinion and are more likely to buy the product themselves.
Businesses tangential to yours also offer a great option for building credibility and gaining access to new markets. For instance, consider collaborations with vendors and channel partners as a means to reach their networks.
Influencer marketing isn't free, either. It takes time and effort to build a relationship with influencers whether they're other businesses or influencers connected to your target market. Traditional influencers also require payment in the form of direct payments or freebies. For instance, I was offered a free trip to a venue in exchange for attending some seminars about the property. Obviously, the intent was to drive content creation about the property using the sales pitch given in the seminar.
Final thoughts
Marketing optimization doesn't mean dropping marketing or minimizing your marketing spend. It involves using tactics that are effective and less expensive, especially digital options. It also means doing your marketing as effectively as possible. Read many of the other posts on this site to learn more about how to do digital marketing strategies as effectively as possible.
I'd love to hear your ideas about this post. Also, if you have questions or ideas for future posts, please share those with us.
Need marketing help to support business growth?
We welcome the opportunity to show you how we can make your marketing SIZZLE with our data-driven, results-oriented marketing strategies.  Sign up for our FREE newsletter, get our FREE guide to creating an awesome website, or contact us for more information on hiring us.
Hausman and Associates, the publisher of MKT Maven, is a full-service marketing agency operating at the intersection of marketing and digital media. Check out our full range of services.