Marketing campaigns are expensive and a resource drain, so how can you make marketing campaigns that rock? Learn more in this post.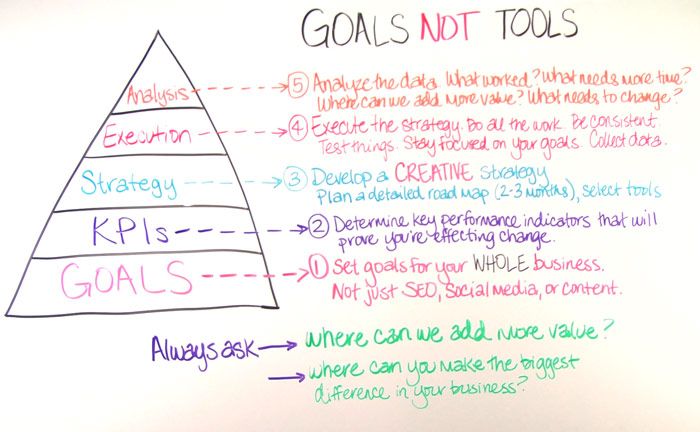 Check out the image above from Moz's weekly whiteboard Friday to see the key elements to help you make marketing campaigns that rock! By focusing on meeting your goals, you get more bang for the marketing dollar, thus promoting the growth and survival of your brand. By building campaigns that rock, you improve and boost the effectiveness of that campaign considerably, thereby ensuring you have greater success with your business.
Build marketing campaigns that rock
Start with a sound marketing strategy
First of all, you need to build a rock-solid strategy for your marketing and digital marketing campaigns as a whole. That ensures that you know what you are working with, where you are headed, and what you can do to make it a success. Once you have an overarching strategy in place, everything else flows from that framework, which means that you are a lot more likely to find a great deal of success this way. Building a 5-year strategy that encompasses your current situation, goals, and budget helps as you craft individual marketing campaigns and action plans that work toward reaching identified goals.
To improve your strategy, go back to the drawing board and make sure that you are as detailed and clear as possible on a few essentials – such as who makes up your target market, what they want, who competes with you in trying to solve their problems, and reasonable goals to move your business forward. When you have these things in place, you have a much better chance of finding true success with your campaign, so you should definitely make sure you don't skimp on the effort needed to create a strategic marketing plan.
A successful digital marketing strategy is realistic, practical and within budget. So make sure that you are aware of all of these things in particular if you want to really achieve the proposed outcomes If you have done that, everything else is considerably simpler and easier to achieve.
Create attractive assets
As part of a marketing plan, you need attractive, motivational assets, including a website, email and SMS (short messaging service) messages, advertising, brochures, and social media content. Of course, you may not utilize all these assets but you need at least several of them to reach your goals.
No matter what form your digital marketing takes, you need images that support your brand and motivate your target market. These images form a background to the whole campaign, and you need images that are as good as possible if you want to draw in as much attention as you hope through your campaign. That's why you need to make sure that you create the best, most attractive images that you possibly can.
So how can you create great images? Let's say you work with photographs. In order to create the best possible photographs, you first need to start with images that are clear and contain the necessary elements to drive consumers to buy your brand. Today's smartphones produce usable images, especially if you start with some lighting (even a ring light helps), a nice background, and some knowledge of composition. You can find resources to help with these aspects of creating a good image online or hire a photographer to help.
After you have the photographs you need, you next need to be careful about how you handle them. We are so used to thinking that digital photos can be moved around, resized, and traded from device to device without consequence, but this is not really the case. In fact, very often you find you lose a lot of quality that way, and this will then mean that you struggle to have the most attractive images possible – which, of course, affects the effectiveness of the marketing campaign itself. Adobe Creative Suite has several products, especially Photoshop, to help you edit your photos by adding captions, reducing imperfections such as dark sections due to poor lighting, and eliminating unwanted elements in the photo. It takes some time and patience to learn this tool, but you'll find it a useful skill once you master the software.
To avoid troubles in handing photos, make sure you always use only the best photo management software, and that you know how to use it properly. That will ensure your pictures turn out the best images possible for your campaign.
Of course, you won't always use photographs. Sometimes you might use animations, drawings and illustrations, or even cartoons to create marketing campaigns that rock. Creating these assets isn't something for the uninitiated so you'll likely hire an artist to craft the images you need for your marketing campaign. Try using Fiverr or another gig platform to find talented and reasonably-priced artists to help craft the images you need.
Create a style guide containing key images, such as logos and hero images, your colors, fonts, and rules used in creating content to ensure your brand maintains consistency across all platforms and marketing campaigns.
Choosing a layout
When you start to put things together for a digital marketing campaign, you need to think about the layout of the medium in particular. Let's say that you are working with a page online. How can you make sure that the layout provides an attractive and user-friendly page that supports your marketing goals? Consider elements such as white space, navigation, images that load quickly (consider lazy loading to speed up the process, since images tend to load more slowly), and text that invite users to engage with your content. Avoid big blocks of text as these aren't inviting. Instead, consider adding headings and subheadings that allow users to read the elements most interesting to them. You should also endeavor to make the layout as clear as possible – if it is too cluttered, then you are going to struggle to really make the impact you seek to make, and people might simply become confused and turn away or go to another website. For instance, replace links with buttons and bullet points for big blocks of text.
Firstly, think about where the eye is naturally drawn on the page (commonly the upper right). There is actually a known movement that the eye takes over a page, and as a marketer, you need to ensure you take advantage of these natural eye movements to produce the best results. If you want to determine how your visitors view your page, try adding a heat mapping plugin to your page to highlight the areas where your visitor's eyes track. If this heat map doesn't match your needs, try revising the layout and testing the new layout with a heat map until you get all your elements where they perform best.
Conclusion
Building marketing campaigns that rock isn't as hard as you might think if you go about building the campaign strategically and testing your campaign to achieve your goals.
Need marketing help to support business growth?
We welcome the opportunity to show you how we can make your marketing SIZZLE with our data-driven, results-oriented marketing strategies.  Sign up for our FREE newsletter, get our FREE guide to creating an awesome website, or contact us for more information on hiring us.
Hausman and Associates, the publisher of MKT Maven, is a full-service marketing agency operating at the intersection of marketing and digital media. Check out our full range of services.