Brands have a rather anemic notion of marketing analytics, as we discussed in a recent post on big data analytics. They focus too much on promotion, not enough on marketing; too much on pressuring purchases, not enough on building lasting relationships. Today, we'll discuss marketing analytics that drives ROI.
BTW, if you're interested in building an understanding of marketing analytics, Google just released a demo dataset to allow you to play around and see how these insights might drive ROI.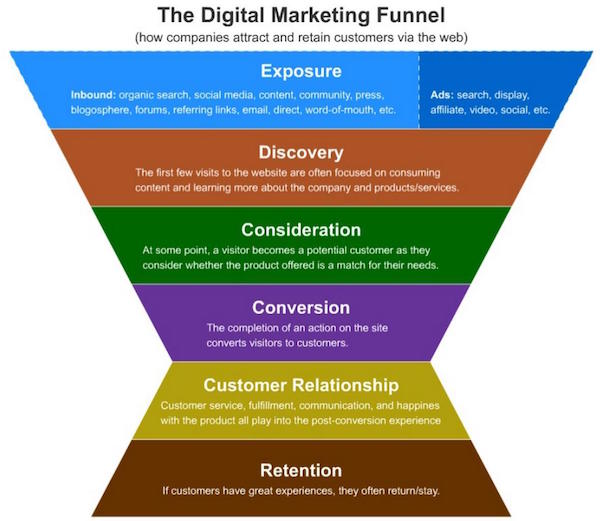 In today's discussion, I want to focus on using marketing analytics that drives ROI across the entire conversion funnel — such as the one on the right.
I'll get through the first 4 stages today and we'll pick on the last 2 in my next post. Too few marketing funnels recognize that there's still marketing to do after the sale!
Driving ROI begins at the exposure stage
No one can buy your product without first learning that it exists. At the exposure stage, you're interested in assessing how your outreach is doing in bringing in new qualified prospects — not just tire kickers, competitors …
Buyer personas ensure you're reaching potential buyers. But, don't build personas the old-fashioned way. Instead, using data from actual buyers, build insights on what they look like, where they come from, what they do on your site.
Google Analytics, as well as those from your social platforms and ads, are critical at this stage and you can learn more about those on this site by selecting the link provided. Don't forget to assess your influence marketing and campaigns, as well.
Tagging links is critical for increasing your understanding of where traffic comes from, as are using link shorteners, such as Bit.ly. Along with new insights on your audience (demographics and interests), these really help dive deeply into your marketing analytics to drive insights.
In making these assessments, don't stop with raw numbers, check to ensure you're reaching the RIGHT people, not just more people. Compare visitor characteristics with your data-driven buyer personas to determine how effective various outreach efforts are in driving sales.
In analytics accounts for my clients, I create pathways to purchase from the first visit through conversion. Now, I have a tool to help determine that, for instance,  a particular Facebook campaign may drive fewer visitors to my site, but those visitors convert at a higher rate than visitors from other sources. Without this deep data, I might discount my Facebook efforts and reduce spending on that platform.
By the same token, not all customers are the same. That's where the notion of CLV comes in. Data helps understand which marketing messages and channels bring in visitors with the highest CLV, again moderating decisions about spending on campaigns.
Marketing analytics at the consideration stage
Once visitors raise their hand by visiting your site (your website, your store, or your social platform), marketers hate to lose them. They fear losing them so badly, they actually might actually destroy their chances of closing a sale by forcing a sale.
Market to visitors; don't sell them.
It's very short-sighted to sell someone something. It sacrifices future sales in favor of closing this one deal. Instead, market to consumers, building relationships that generate ROI far into the future.
I don't want to be sold something. I want you to help me make a good decision that will satisfy my needs.
And, do it with as little violation of my privacy as possible. I don't know about you, but I don't want to give stores information to reach me unless I get something in return. And, I'm on to your trick of asking for my email to send my receipt.
My email is valuable information because, done right, you get not only information to contact me in the future, but tie my behaviors to that information. So, come on, dude … give me something extra if you want to know more about me. And, the first time you screw up with that information, I'm likely to add you to my spam folder permanently.
I heard recently that prospects are 80%-90% of the way to making a decision before visiting your site. Often, they just want pricing information to make the decision. Don't make them jump through hoops to get it by forcing them to register.
I guess my main point here is to be a good company to move beyond the consideration stage: make good products, provide great service, give visitors plenty of information formatted in a way that makes it easy to evaluate.
Let sales happen, encourage them, don't force them.
At this stage, you'll likely have to jump out of marketing analytics for your owned media. Look at what folks around the web are saying about your brand.
What image do prospects have of your brand? Your company?
What do customers say about you online? in your store?
How do your products perform for real customers?
How successful are you in getting customers to recommend your brand?
And, on the website, where do visitors exit? What was the message on that page?
Marketing analytics at the conversion stage
Once folks decide to buy your brand, factors can still interfere with them buying your product.
Here are just a few:
Poor payment pages – surprisingly, I run across this problem frequently. I want to buy the product, but I can't find the right button to make a purchase — FAIL
Poor payment options – especially these days, consumers don't have their credit card information handy or they don't trust you enough to give you their information. Offer options like PayPal for websites and use Square or other devices to take credit cards because few people carry money.
Offer payment and delivery options – maybe I can't make a large purchase today. Give me some financing options. Or, maybe I don't like having things delivered to my home or work. Amazon offers lockers where buyers conveniently pick up items themselves. Or, let me buy online and pick it up conveniently in the store. Don't make people wait for poorly trained employees who can't find items ordered online. For me, Wal-Mart is a huge fail in this respect.
Marketing analytics help you discover factors that divert consumers from buying your products. Shopping cart abandonment studies are the easiest. Not only can you see where the failure occurred, but, using heat maps, you can even break that down to the part of the page where folks stumbled.
In your store, look for problems at the checkout. Are lines too long? Do customers want to pay with other currencies, cards that you can't process? Do you offer help with bulky or heavy items?
For instance, I've started buying dog food online, paying a little more, because I have to lift the 40 lb bags multiple times in the store. The worst is having to lift it up to the counter just so the price code can be read.
I've stopped shopping for bulky stuff on Home Depot's website because they charge $100 for delivery and it's free on Amazon.
Just a little caveat here, these aren't the only marketing analytics that drive ROI — certainly, a bunch of analytical metrics contributes to ROI. I'm simply focusing on those that come into play throughout the customer journey.
Marketing analytics that drives ROI in the customer relationship
Unfortunately, many examples of the conversion or marketing funnel stop with a conversion. There's no underestimating the importance of conversion, especially in the short term, but you need a longer-term view of marketing to ensure the continual growth of the firm.
Today then, let's move on to the last 2 elements of the marketing funnel — customer relationship management and retention.
When I first started working in marketing, we took a very transactional view of marketing that ended with a conversion. In the '90s, we started talking about building relationships with customers because researchers discovered retaining a customer is 5X better (revenue, cost) than attracting a new one.
In the intervening years, CRM became fashionable, although it was focused on tactics rather than generating true customer relationships. Instead of working to ensure customers were engaged and happy, marketers focused on remarketing and tactics designed to extract the most value from customers and visitors. In other words, they focused on selling them, not truly caring about the customer experience.
I could give you a ton of metrics to reflect that selling focus, but I'd rather focus on the customer experience end of things — the part that drives customer loyalty and evangelism.
Why? You might ask.
Because customer loyalty (true loyalty not just behavioral loyalty) and evangelism are propellers for market performance that far outstrip your selling efforts.
Monitoring CRM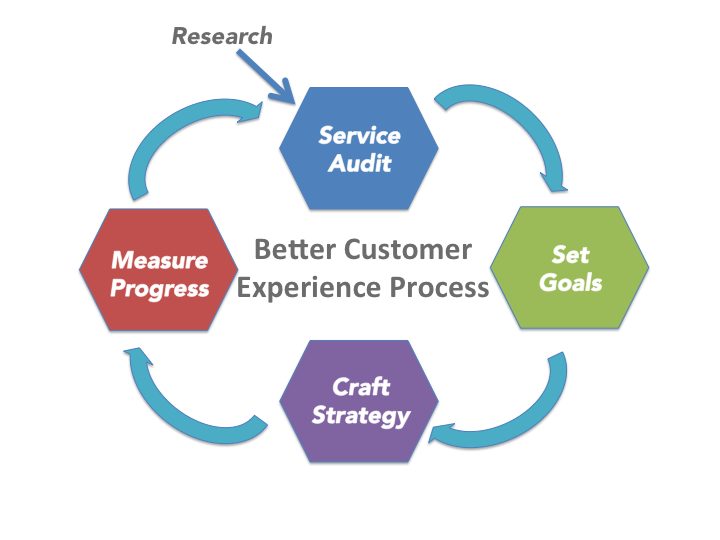 As I mentioned above, we're gonna focus on CRM metrics from the customer's point of view, not the firm's. I like the image above as a strategy for improving the customer experience.
Service audit – is the first step. Here you need research to identify current performance and factors that impact market performance. Redo the service audit over time as factors impacting performance change over time. Here are some metrics that help:
Customer satisfaction – both quantitative from surveys and qualitative from online sentiment
Engagement – is an early indicator of how customers feel about your brand. The more engagement, the more they support your brand — and the greater reach your message achieves. Social indicators of engagement are Likes, RT, Shares, and similar metrics. Watch how these metrics change over time and what causes spikes or dips.
Response time – how long it took you to resolve a customer problem, answer a question, or applaud positive feedback. You likely want to separate different channels and identify your response time across channels. Current thinking suggests response time expectations are very short on social channels — Brandwatch reported a study showing 65% of consumers expect a response within 2 hours of a Tweet. And, don't stop with managing complaints. Answer questions quickly and recognize folks who engage with your brand. That's the surest way to increase engagement.
I'm sure there are lots more metrics that help your marketing analytics improve ROI and likely you have some specific to your business/market. My point here is that simply tracking sales is an incredibly poor way to monitor the health of your brand as it often lags actual customer attitudes.
Measure progress – obviously, you don't stop with assessing performance, you set goals then determine your progress toward achieving them.
Two-way communication
The hallmark of CRM is two-way communication. Obviously, you're gonna monitor your communications with customers, such as email open/ click rates, but you also want to monitor customer communication with you or with other customers. Customer-to-Customer or C2C interactions are critically important for market performance as they are more trusted than B2C or B2B communications.
Metrics related to 2-way communication include things like user-generated content, the most important of which is consumers answering questions or supplying reviews for your products, participating in community forums, or other ways to support your brand community.
And, don't just think online when you think about community. Think about things like HOG rallies (Harley Owners Group), attendance at company-sponsored events, or other forms of real community.
Optimize customer revenue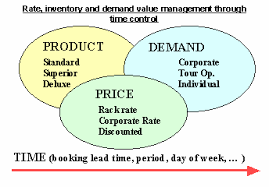 Yield management is a term for optimizing your revenue by manipulating pricing or other factors. Yield management is especially important in industries with a high fixed cost structure — such as airlines, hotels, amusement parks where the cost per visitor is very low and the costs of the operation are very high. But, you can think about any product as having some element of this. For instance, if you make toasters, sure, the cost per toaster is high, thus the cost per customer is also high. Thinking long-term, however, you discover the cost of your property, plant, and equipment is much higher. So you can think of yield management as there are a limited number of toasters you can turn out and you need to get the best price for them.
Traditional yield management seeks to use price as a tool for moderating demand — the higher the need, the greater the price. That's why business travelers often pay more for airline flights and hotels than vacation travelers. Disney used yield management when they increased prices for weekend visits versus those during the week.
A modified version of yield management comes into play when you think about which products to make or sell, as there is limited capacity for both.
Another factor in revenue optimization is the revenue each customer represents — with different types of customers representing a different amount of revenue. For instance, a customer who shops in your store occasionally doesn't contribute the same revenue as one who shops in your store routinely. Businesses try to maximize revenue using customer loyalty programs and contests to drive shoppers to their stores and products.
Customer lifetime value or CLV is a term we use to measure, quantitatively, the value of different types of customers. Sometimes, companies even "fire" customers reflecting low value or increase fees to these customers to increase their value.
Here's the formula, where t=time, m=monthly customer revenue, r=retention rate, and d=discount rate. Commonly, you create customer segments and calculate the CLV for each segment. Now, you have clear guidance for generating marketing strategies for each segment.
Hence, customer groups that represent higher value, should get more perks, like airlines that give frequent fliers extra stuff.
A word of caution here. Beware of treating low CLV customers badly, as they talk. Bad customer service travels 5X farther than good. Also, treating customers differently may bleed over into animosity. Finally, remember that low CLV folks can transform into high CLV folks, with the right incentives.
Think about CLV in the long run, not just the short run.
Final thoughts on marketing analytics that drive ROI
Just monitoring revenue isn't enough. You need to monitor performance across all aspects that drive ROI.
Need marketing help to support business growth?
We welcome the opportunity to show you how we can make your marketing SIZZLE with our data-driven, results-oriented marketing strategies.  Sign up for our FREE newsletter, get our FREE guide to creating an awesome website, or contact us for more information on hiring us.
Hausman and Associates, the publisher of MKT Maven, is a full-service marketing agency operating at the intersection of marketing and digital media. Check out our full range of services.