No brand or business can hope to achieve success without channeling some energy and money into marketing. Unless you effectively market your brand, consumers won't know about it and will never buy your brand regardless of how superior it is over your competition. You must make an effort to spread the word about your products to prospective buyers, convince them of their superiority, build trust in your brand, and provide answers to consumer questions. In the modern-day, online marketing methods are some of the most effective marketing tactics you can pursue, as you potentially grab the attention of billions of people that browse the internet each and every day for a much lower cost than other marketing tactics like TV and print.
Check out the image below to see the most valuable brands in the world for 2020. Not a single one of these brands lacks an effective online presence and some, such as Amazon at #1, pour most of their marketing efforts and capital into online marketing. So, let's take a look at some online tactics you can use to market your brand, as well as some tips for making these efforts more effective.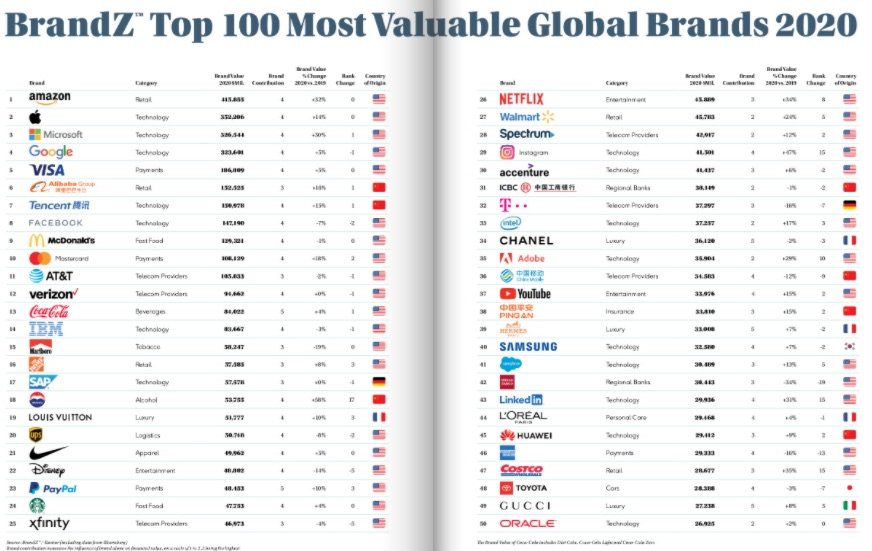 Market your brand online
The way that you market your brand online matters but so do all your offline marketing efforts as you must build a concise brand image across all your efforts. Consumers use this brand image to determine whether they want to make a purchase as they buy from brands that match their own vision of who they are and brands with a strong reputation as ethical and trustworthy, which reduces the impact of the price difference on purchase intentions. We also talk about brand personality as a shorthand for our feelings about a brand. Our perceived personality of the brand is mixed up with brand image such that the two can't be distinguished as separate attitudes toward the brand. As you can see below, brand personality impacts our beliefs about the brand.
To ensure you present a positive brand to would-be consumers, you should work in unison with a trusted online reputation management service. Services from a reputation management service help monitor current attitudes toward your brand, monitor changes in these attitudes, and help overcome negative comments and reviews with ethical tactics that improve your reputation over time.
Thankfully, learning how to manage your online reputation and build a positive brand image isn't as tricky as you might expect, as there are, in fact, just a few simple steps you can follow to turn your commercial dreams into a reality today. So, what are you waiting for? Read on to uncover some of the best tips and tricks that you and your team can use today to market your brand!
Social media marketing
Every brand operating in today's increasingly digital market must make an effort to develop a strong social media presence if they wish to achieve long-term success. Not only do social platforms attract billions of people (nearly 3.2 billion to be specific) every day but are ubiquitous for many users — the first thing they do in the morning is check social platforms and it's the last thing they do before falling asleep. In fact, the average user spends over 2 hours and 24 minutes a day on social platforms. Social media platforms truly took the world by storm, as many people use these applications and websites for upwards of 6-8 hours every single day, especially younger consumers who prefer TikTok and YouTube to traditional television.
Cashing in on the popularity of social media means you gain the ability to spread the word about your products and services far and wide, growing your following by networking through the use of hashtags, shared posts, and even influencers, which we'll discuss in a few moments. Not only does social media provide access to vast numbers of people across the globe, but it's also a highly effective and low-cost means to market your brand when used correctly.
Engagement – Social media doesn't work without engaging users in a conversation. By retweeting and other forms of sharing, as well as posting comments, you effectively reach an extensive network surrounding each engaged user; something we call their social graph. Since an individual's social graph mirrors some aspects of their own personality and behaviors, you're not just reaching more folks, you're reaching those most likely to find your brand attractive. See the graphic below for a deeper understanding of social graphs.
Targeting – Another great advantage of social media over more traditional ways to market your brand is that you can target who you reach using demographic and geographic variables, as well as certain lifestyle variables. Primarily, you gain access to targeted posts through advertising but social media advertising is much less expensive than traditional advertising.
Branding – You have many options when it comes to building your brand on social platforms. In fact, every comment, post, image, and video you share helps define who you are as a brand. You can also manage your brand reputation by responding quickly to negative comments, being open and transparent, and soliciting positive comments and reviews to counteract those few negative comments.
Influencers and reviews
Influencers are social media users who already managed to amass a large following of engaged users. You can employ influencers to help manage your brand image and improve its reputation as you can sponsor them to post your page or products to their followers. While some influencers command high fees. many micro-influencers offer very reasonable fees for their services.
In fact, if you run a well-managed social media account, produce a great product, and offer outstanding customer service (which you should for a variety of reasons), you gain access for free to micro-influencers and just plain users who will promote your brand because they love the brand. You can't trust gaining reviews and positive posts to chance, however, but there's a lot you can do to encourage them. For instance, ask customers to post pictures of your brand on social platforms like Instagram and reward them by including their photos in your mailings or other promotional efforts. Seeing the attention attracted by others, customers will willingly post their pictures, as well.
Another tactic to encourage the actions of micro-influencers is to call them out for their efforts. For instance, Google Analytics tweeted about one of my posts about their product. You can be sure I noticed and felt rewarded for my efforts, which I continue to this day. Taken to its ultimate extreme, these influencers become brand advocates who not only mention your brand but defend it when others offer criticism or they offer solutions to problems others might encounter.
Build a brilliant website
When you want to advertise your brand online, you need a place to send prospective customers and owning that resource is critical for your success since it eliminates rules and changes that might otherwise impact your ability to market your brand. The best way to do this is through the creation of your very own website, as this provides you with your own corner of the world wide web.
A website is a great way to spread your reach and attract more new customers too, as you can make the most of helpful tools like SEO (search engine optimization) that can increase the rank of your website in related searches, resulting in attracting more visitors. A website also offers a chance to nurture visitors and move them to conversion; something unavailable on other platforms.
Make sure that your website is both attractive and informative in equal parts, as you need to explain your ethos without rambling on, whilst showing off your creativity and design skills without going overboard.
Email marketing
Email marketing is a great tool to market your brand online. You need to both attract subscribers (often using a lead magnet or other means to encourage sign-ups) and send impactful messages that encourage subscribers to make a purchase or engage in other behaviors that benefit your brand. We often discuss this in terms of lead nurturing.
For instance, you might reach out to visitors who left a product in their shopping cart with alternatives or an incentive to complete their purchase. You might also reach out to subscribers with offers and introduce new products. Even maintaining a connection with subscribers over time provides value to your brand.
Online advertising
Online advertising offers benefits over traditional advertising. First, online advertising is a very cost-effective tool to market your brand when compared with traditional advertising. Online advertising also allows targeting unavailable through traditional advertising so you only reach your target market rather than wasting money to reach those who aren't interested in your niche.
You have many options for online advertising, but the most prominent ones are:
Display advertising where your image ads appear on websites related to your market
Search advertising where your text ads appear at the top of related queries
Shopping ads that show an image of the product, its price, and a link to your product page. This type of advertising is only available for products sold online.
Social ads appear as sponsored posts or ads on social platforms. Most social platforms offer some form of advertising
Conclusion
Learning how to market your business online isn't easy and takes some time to bear fruit but by working to master one or more of these options, you position your brand for success.
Need marketing help to support business growth?
We welcome the opportunity to show you how we can make your marketing SIZZLE with our data-driven, results-oriented marketing strategies.  Sign up for our FREE newsletter, get our FREE guide to creating an awesome website, or contact us for more information on hiring us.
Hausman and Associates, the publisher of MKT Maven, is a full-service marketing agency operating at the intersection of marketing and digital media. Check out our full range of services.