Managing your marketing career involves careful planning and constantly updating your skills to match today's marketing challenges. Your career also involves understanding who you are, what you're good at, and working well with the people around you. You also need to master time management so you can always complete tasks on schedule and achieve desired results.
Are you itching for your next challenge? Do you feel like you have more to give in your professional capacity? Climbing the career ladder is an aspiration of so many yet it is not always easily achieved. If you are looking for ways in which you can manage your marketing career, taking it to the next level, then consider some of these tips.
Managing your marketing career
Managing your marketing career starts with knowing yourself. This is no surprise as these questions come up in every interview you ever do. What are your skills and abilities? What are your strengths and weaknesses? Where do you see yourself in 5 years?
If you can't effectively answer these questions, managing your marketing career must start with a self-evaluation.
Once you know where you see yourself in 5 years, 10 years, or farther into the future, it's time to develop a plan to get you where you want to be. Nothing happens without a plan, so build something in sufficient detail to help guide your decisions as you progress through your career. But, don't fear taking advantage of unique opportunities or even changing your career goals in the face of unexpected events. Remember that experts suggest the average worker changes careers 7 times over their working years, although there's no hard data to back that up.
When I started business school, for instance, my plan was to study finance and become a financial manager. Until I took my first finance course. I hated everything about it. I got the opportunity to work for a market research agency housed within the School of Business (at the University of Pittsburgh) based on my undergraduate statistics courses and a degree in the hard sciences that taught me the scientific method. Run by faculty in the school, I learned a lot and loved every minute of the learning. I still use much of what I learned working there.
Obviously, I changed my career path to study marketing; subsequently getting a Ph.D. in marketing and working as an academic over the last 25+ years. A switch to digital marketing was inevitable given my interest in technology and a minor in what we used to call computer science as an undergrad.
According to Forbes, you need additional steps to manage your marketing career, including:
Managing your brand
Continuously evolve
Stand out from the crowd
Accomplish your tasks on time and within budget
Produce or exceed planned outcomes
Develop a portfolio of your best work
Grow as an individual and employee
Build happiness into your day
Here are some more specific tips for managing your marketing career.
Don't settle
Never settle for something that's not what you deserve or that makes you happy. If the company you are working for doesn't allow for career progression, then don't stay there. Consider whether it is time to move on and take on a new challenge. One that is congruent with your goals and aspirations. If you have career goals then staying in a dead-end position will do you a disservice.  You might find it scary to jump ship but it is a leap of faith you have to take for the bigger picture. Of course, never leave your old job until you have a new one lined up.
Supporting this, the average worker changes jobs every 4.2 years; more frequently earlier in their careers and less frequently later in their careers, according to the US Bureau of Labor Statistics.
Undertake professional training
When it comes to managing your marketing career, you need to stand out and show that you are the right candidate for a new job or promotion. That means upskilling as the marketing world changes. Below, you can see the biggest needs for marketing employees right now.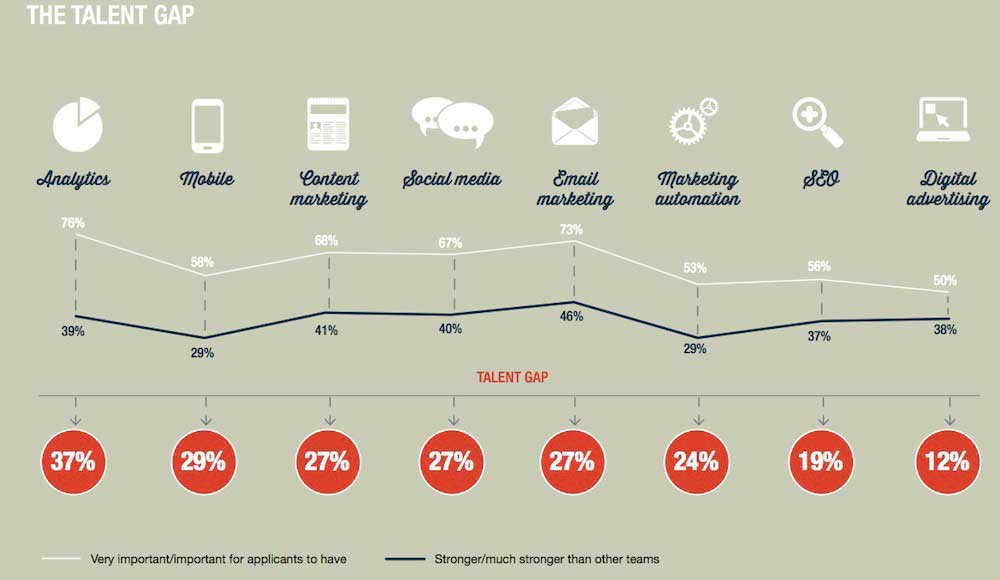 As you can see, analytics faces the biggest skill gap when it comes to digital marketing new hires. This is no surprise. When I first started studying marketing, analytics wasn't a key component of our training. In fact, beyond standard statistics and probability, we learned NOTHING about analyzing data. That's because, except in the world of market research, we didn't have data. Much of the analysis of marketing campaigns and performance were based on qualitative assessments such as increased sales, year over year, and improved awareness after an advertising campaign.
In today's marketing world, we're flooded with analytics. Knowing how to handle big data, analyze web statistics, and forecast future (and optimal) performance are de riguer. If you can use Python and SQL, you stand out as a star in the marketing world. Even today, colleges do a pretty poor job of training marketing students in business intelligence. That means additional training is needed beyond college. It also means managing your marketing career requires continuous learning to keep up with changes in the consumer market and marketing tactics.
One of the best ways you can upskill is to undertake continuous professional training. Whatever your industry there are courses available that help enhance your CV, skill level, and experience. Kallibr courses are one such provider that offers professional development in the construction industry, for example. As a marketer, you might consider online training from companies such as Coursera and Udemy, as well as a growing number of universities that offer online or hybrid training leading to a certificate rather than traditional degree programs. For instance, at Shenandoah University, I manage a digital marketing certificate program open to college graduates from anywhere. The 4-course sequence, taught over 2 semesters, is offered using a combination of Zoom and asynchronous online classes, so anyone can enroll without regard to geography. The American Marketing Association also offers an online digital marketing certificate.
Professional development is a great way to show management that you take your role and career seriously and puts you in a great position to progress your career.
Networking
Networking is an incredibly effective way to progress your career and even those who hate to network can learn this important skill. Start connecting with people in your company or those you come in contact with as part of your job. You can then expand your networking base at conferences, meetings, and business events in the area or in ever-larger geographic regions. Networking provides you with the opportunity to share skills and knowledge with others and helps build your personal brand both within your company and with others in your industry so that, when it comes time for your next job, you can reach out to folks who can support your efforts. This can be particularly useful when you wish to move forward in the wider industry.
LinkedIn is another great networking tool to meet others in your industry, learn about job openings, and participate in discussions about what's changing in your industry. Join groups around your industry, companies you do or might work with, and reach out to friends from college who might help you in your marketing career advancement.
Use your appraisals
Appraisals may feel like a box-ticking exercise for some but they are incredibly useful when it comes to managing your career. Take the opportunity offered by your yearly appraisal to learn how others view your efforts, what they see as your opportunities and challenges, and learn how to improve your performance in the eyes of those responsible for helping or hurting your career. If any negatives are discussed regarding your performance instead of brushing them off, use these comments as a chance to improve on your performance. If you receive praise, then use it as motivation to undertake more challenging work in that area.
You can also use your appraisal to discuss your careers goals with management as this is a great way to put yourself on their radar. If your management team knows you're keen to step up your career, a good employer will help you to achieve your goals and, where possible, advise you to take the steps you need to achieve the next rung on the ladder.
Conclusion
Managing your career shouldn't be shrouded in mystery. I hope you find this advice helps you on the path toward achieving your career goals.
Need marketing help to support business growth?
We welcome the opportunity to show you how we can make your marketing SIZZLE with our data-driven, results-oriented marketing strategies.  Sign up for our FREE newsletter, get our FREE guide to creating an awesome website, or contact us for more information on hiring us.
Hausman and Associates, the publisher of MKT Maven, is a full-service marketing agency operating at the intersection of marketing and digital media. Check out our full range of services.