Running a business is fraught with risks of all types, from lawsuits to financial collapse. If there is too much risk in your business model, you'll struggle to stay afloat and you could find you have no option except to close your doors. Often overlooked as businesses put strategies in place to manage risk are the risk emanating from your marketing efforts, such as poor customer service, bad reviews, and product failure. Today, we'll discuss managing your marketing to avoid some of the risks you face related to customers and other aspects of marketing your business.
Managing your marketing to reduce the risk of failure
Check out the nifty graphic above showing how a brand should calculate ROI (return on investment). A key element of all your business strategies, supporting the ROI of your marketing efforts is crucial for your growth and success. Make too few sales or spend too much on marketing efforts that don't improve performance, and you quickly find yourself in a financial position where you must either close your doors or borrow money to stay afloat, which is expensive as you pay back that money with interest.
Managing your marketing to produce a favorable ROI means developing a marketing plan based on a thorough analysis of your market, your internal strengths and weaknesses, economic conditions, your goals and objectives, and other issues that potentially impact your ability to succeed. But, the proof is in the pudding, meaning managing your marketing plan to ensure you implement strategies effectively and have systems in place to optimize your ROI. Let's begin by discussing some marketing elements needed for effectively managing your marketing beyond the marketing plan.
1. Planning your marketing and business
Another way to ensure that you are managing risk in your business is by building a business and marketing plan, which are intimately related. For instance, when you first open the doors of your business, investors want to know that you have a five-year plan for your company. Specifically, you need to consider various elements of your business, starting with forecasting sales.
Forecasting sales is challenging, especially for a startup without a sales history for reference. Here's a nice article on building a sales forecast. Once you build your forecast, the next step is to plan out your operation for the next 5 years (more in Eastern countries). Obviously, your planning is less detailed as you go out farther in the planning but it's still essential for ensuring your direction to plan out into the future.
The marketing plan forms the basis for the sales forecast, thus it's a starting point in building your business plan, with a lot of back and forth between these two planning functions.
2. Set a realistic budget
Setting your marketing budget is challenging when you first start out as you don't have the data necessary to estimate how much money you must spend on marketing to achieve your goals. But, don't throw up your hands in frustration. Even startups have some sources of information they can use to develop a realistic budget. For instance, you can look at industry averages, such as those shown in the graphic below. As you can see, this graph shows how much you should budget (as a percentage of anticipated sales) depending on your industry.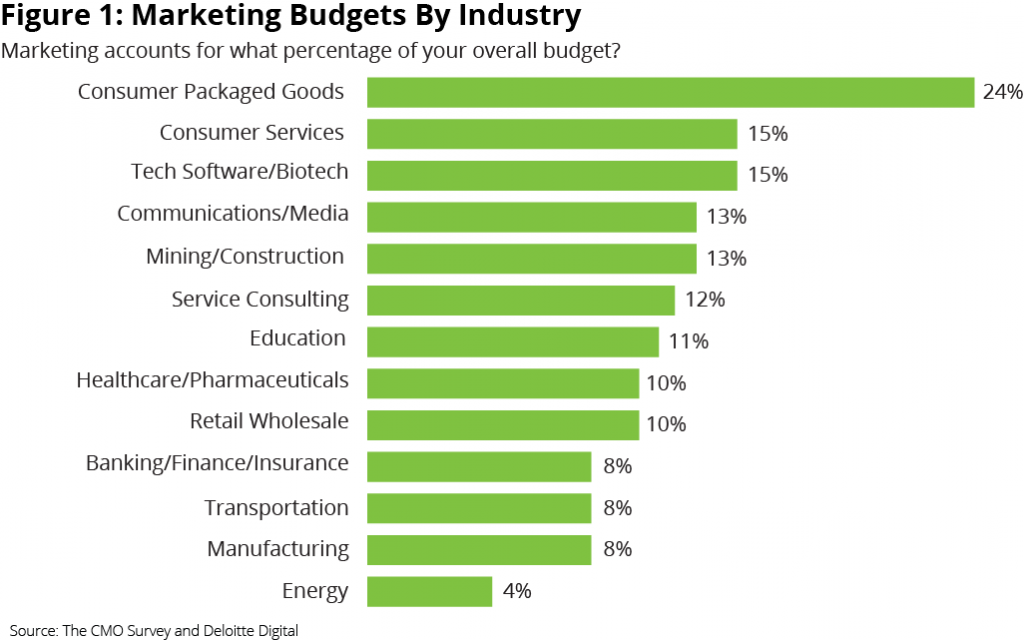 For a more nuanced view on developing a marketing budget, consider viewing the marketing budgets for publically traded companies that must file yearly reports to stockholders. Here's a website showing options for finding this financial information.
Once you determine your overall marketing budget, you must create a monthly marketing budget for your business. Sometimes, you divide your budget equally across the months; other times you concentrate your budget at certain times. For instance, if your business experiences seasonality, such as lawn equipment, you should concentrate your budget immediately before spring and throughout the summer, cutting back during the late fall and winter. As a new business, you might focus more of your budget at the launch phase then taper off afterward.
The next step is to allocate your budget [part of the resources element] across different campaigns as part of building action plans [see an action plan template below] to guide implementation.
3. Customer service
Managing your marketing to reduce risk relies heavily on providing superior customer service. Poor service not only results in costly efforts to mitigate the damage, such as replacing products and spending money on customer service employees but negative consequences as word of that bad service travels far and wide. After all, negative word of mouth spreads farther and faster than positive. In fact, even though they might not complain directly to you, unhappy customers share their negative opinion with 9-15 other people, on average. Make an influencer unhappy and you lost your reputation, potentially forever.
To avoid the negative effects of poor customer service, here are some things you must do:
keep your promises. Ensure you don't over-promise and that you can deliver nearly 100% of the time on the things you do promise.
keep lines of communication open. If you anticipate a service failure, the fast you communicate that fact to the buyer, along with actions you're taking to compensate them for the inconvenience. Also, share actions you're implementing to ensure such failure never happens again.
quickly, thoroughly, and openly address complaints rather than trying to bury them. Deleting negative comments on social media has the opposite effect of the desired result. By deleting a negative comment, you encourage disgruntled customers to paper your social media with negative comments.
conduct a customer service audit periodically to identify and fix potential problems that may result in failure. To help, here's a customer service audit checklist to get you started in managing your marketing.
build a company culture focused on the customer and ensure everyone knows how their job impacts customer satisfaction.
4. Diversification
You have no doubt heard the phrase 'too many eggs in one basket.' It's a simple idea but one that you shouldn't overlook when you're running a company. As a business, the more varied product you offer, within reason, the better you can weather a storm impacting one or two products. For instance, during the pandemic, the demand for craft breweries disappeared overnight. Smart owners transformed their business operations to focus on an in-demand product during the pandemic, hand sanitizer, which used similar equipment to produce.
In terms of marketing, and, don't get me wrong, products are a critical marketing decision, it doesn't make sense to narrow your campaign down to one form of promotion. Spread your marketing budget across several marketing channels, especially in the beginning when you have little idea what marketing campaigns will produce the highest ROI. Consider both traditional marketing and digital marketing channels. Here are some options you should consider:
A website, which is an absolute must-have
Social media
Digital advertising
An attractive storefront whether you operate a physical store or a virtual one
Local advertising, including Google My Business for digital local marketing
If you have excess capital available, consider diversifying into various financial instruments to increase your capital until you need it for other activities. So, for instance, if you're thinking about how to invest, you might want to consider speaking to a property developer like Paul Ognibene. You could also look at stocks and so on.
5. Use The Data
Finally, managing your marketing relies heavily on the greatest tool for your business in the modern age. This is undoubtedly the vast amount of data at your fingertips. Regardless of what type of company you run, you have a massive amount of data on customers and their behavior, your internal business operations and which activities represent the highest ROI, operational optimization data, and many other types of data. Never in the history of business have businesses seen such richness in the amount of data available to guide planning and optimize performance. Use this data to your advantage and you'll witness incredible results for your company. Here are just some of the data sources available for analysis:
Google Analytics to track the performance of your website and other digital efforts
Email marketing data from your provider to track growth in your subscriber list and performance of your email marketing campaigns
Internal customer data to determine key metrics such as CLV (customer lifetime value) and identify other aspects critical for deriving increased benefits from your customers, such as demographics
Ad performance from social media or Google ad campaigns
Internal performance data including critical factors such as on-time delivery percentage, number of complaints, favorability ratings, and much more
Conclusion
We hope this discussion of efficiently managing your marketing helps you understand elements you need to accomplish in managing business risk and ensuring the long-term success of your business. If you take the right steps identified here, then you can preserve the future of your company.
Need marketing help to support business growth?
We welcome the opportunity to show you how we can make your marketing SIZZLE with our data-driven, results-oriented marketing strategies.  Sign up for our FREE newsletter, get our FREE guide to creating an awesome website, or contact us for more information on hiring us.
Hausman and Associates, the publisher of MKT Maven, is a full-service marketing agency operating at the intersection of marketing and digital media. Check out our full range of services.