You can't really operate a business in today's world without marketing. Involves both advertising and strategies to meet customer needs and wants. Both elements of marketing involved costs but when most people think about marketing costs, they're really thinking about the costs involved in advertising your brand. Today, we'll discuss low-cost and effective marketing tools to promote and grow your business.
Without advertising, you can't reach your customers and potential customers, thereby, creating an awareness of your brand and trust in the products you produce. Thus, without advertising there's no way you'll achieve your marketing goals in the short-run and, in the long-run, your business will likely fail. If you can get the word out and show customers that you're a trustworthy brand, they'll be more likely to hop on the bandwagon. But, advertising isn't the only tool you should have in your toolbox.
Unfortunately, consumers often don't appreciate your advertising, especially when your ads aren't professional-looking or you overdo it by showing ads too frequently. Does this mean you should stop advertising altogether? Of course not. Instead, it means you need to devise out-of-the-box strategies to stand out from the crowd while producing marketing consumers find interesting, entertaining, or at least, not intrusive. And if they don't cost you an arm and a leg, well that's a bonus! If you're searching for inspiration on low-cost and effective marketing that converts, here's what you need to know.
Creating low-cost and effective marketing that converts
Paying doesn't mean it has to be expensive
Face it, advertising costs money and there's no free ride anywhere. However, digital advertising options offer very cost-effective ways to reach your target market because of their low cost and targeting options available on every digital advertising platform. Instead of paying hundreds of dollars on local cable stations or millions to reach vast audiences by using broadcast TV, many of whom aren't even part of your target market, digital advertising offers the opportunity to laser-focus on those most likely to make a purchase.
Social platforms allow you to target users based on geographic and demographic variables, as well as deep information about their lifestyles. Advertising on search engines, like Google and Bing, offer you the opportunity to reach users based on their queries. Thus, your targeting allows you to reach people who are in the market for the products you offer. Pay-per-click advertising is a prime example, as eCommerce PPC is easily scalable and offers an attractive ROI, making it an appealing option.
Another advantage of digital advertising payment is that cost is based on achieving goals. For instance, with search engine advertising you only pay when someone clicks your ad and on social platforms, you only pay for impressions or clicks, depending on your chosen option.
Native  advertising
Native advertising involves advertising on social platforms that don't interrupt the enjoyment users feel as they browse their Newsfeed or Twitter Stream. Don't get me wrong, native advertising is still paid advertising. Native advertising is made up of pretty much any kind of content you can imagine:
infographics
video
images
sponsored posts
articles
The reason we call these ads native advertising is that they fit the editorial style and readers' interests of the publication where they appear, even on social, where these ads blend in by looking exactly like all the other content on the platform. Below is a good example of a native ad produced by The Onion so you can see what one looks like.
The reason for native advertising is that the click-through rates are higher than true content advertising on the platforms.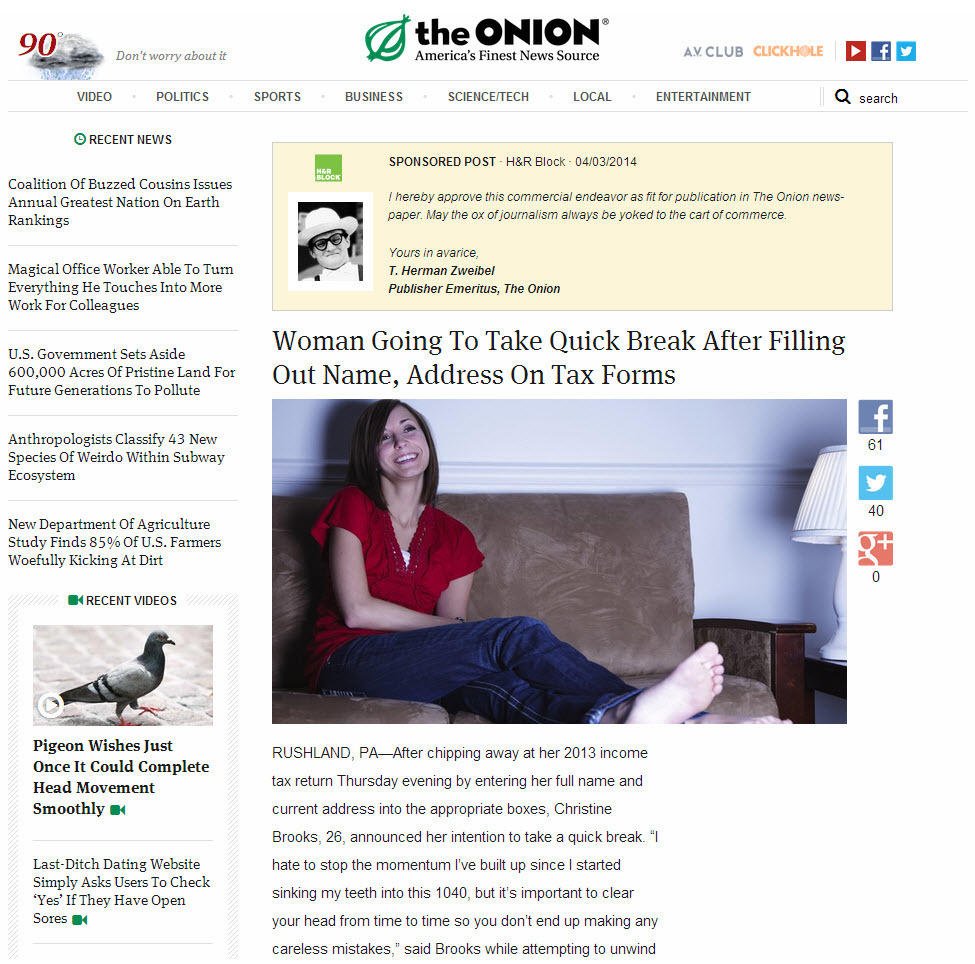 The ad subtly embeds advertising for H&R Block into an interesting context by framing this content with ads for the company. This turns a boring company into something at least mildly interesting. By poking fun at a topic most of us hate to deal with, the ad increased brand awareness, which was the goal.
Local is essential
Advertising, or even hyperlocal advertising, not only means that to reach local customers but you have enhanced display options available. Try it yourself. Type in a query for a product you would normally purchase from a local vendor, such as hair styling, into the Google search bar. You'll find products representing local businesses appear along with maps and links to their websites. These listings show up first in the search results, making them highly visible and more likely to earn a click. Plus, they're free.
Allowing your brand to appear in local searches requires more than connecting with the nearby community, although engaging with your local community is important. Since Google uses feedback from customers about your business by displaying your star rating along with your listing, it's important to maintain good customer relationships. Google local also raises awareness of your products and services with people who are from out of town. How? By showing up on Google Maps travelers use to navigate through your town. Therefore, creating a Google My Business account is a free and useful way to remain relevant in your local area.
Don't pay for email
Email marketing is a brilliant way to form a bond with your customers, producing well-above-average
rates of return. We commonly refer to email marketing used to convert visitors as lead nurturing. You can also use email marketing to interact with previous customers and visitors to offer a little incentive to make a purchase, such as a coupon.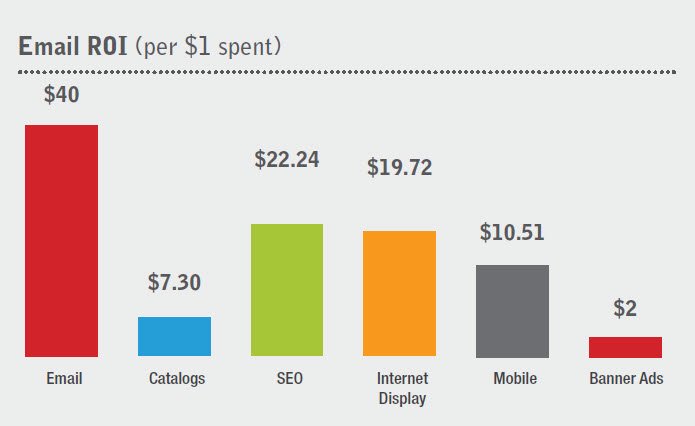 After all, it's not as annoying or invasive to get an email every week or so as to get a cold call and it's much less expensive than sending snail mail.
Still, the medium is a victim of its success since lots of email marketing companies charge for their services, with most charging an extra fee based on the size of your list. You need these email company marketing companies or you don't have a platform to talk to your clients and customers Since you can't send mass emails from your regular email program such as Gmail. Thankfully, the likes of Mail Chimp take on your client list for free if you have fewer than 2,000 subscribers. Mailchimp is easy to use and produces professional-looking emails.
Networking
Networking is an old hack that is almost cliche as it's used so often. However, networking exists today because it's effective. The costs of networking vary greatly, from $0 to hundreds of dollars. With a small marketing budget, networking might be your best option.
To do networking properly requires some skill. You don't want to use a networking event as a means to distribute your business card to anyone who will take it. Instead, focus on building connections with others attending the event. You never know when one of those connections will provide the introduction you need or form a basis for successful collaboration.
Meetup is a great tool to discover events happening in your local area that match your interests of fit with your business operation. Once you know the time and place, you can attend and build connections to your advantage.
Conclusion
The most effective and low-cost marketing methods include networking, setting up a Google My Business account, not paying for email management services, and remembering PPC.
Need marketing help to support business growth?
We welcome the opportunity to show you how we can make your marketing SIZZLE with our data-driven, results-oriented marketing strategies.  Sign up for our FREE newsletter, get our FREE guide to creating an awesome website, or contact us for more information on hiring us.
Hausman and Associates, the publisher of MKT Maven, is a full-service marketing agency operating at the intersection of marketing and digital media. Check out our full range of services.