Every successful SEO strategy will include creating high-quality content that provides value to your target marketing. You must post long-form content that's optimized to meet the standards of various search engines, most notably, Google (Google still accounts for 90+% of all search queries worldwide). We call this SEO, or search engine optimization, and it's critical for your digital success because up to 70% of all the traffic to your website comes through this source, called organic traffic (compare that with 5% of traffic from social media and about 15% from paid search). Below, you see a graphic depicting the relationships between the frequency of posting long-form content and customer acquisition. Hence, you need not only high-quality content but must produce content frequently.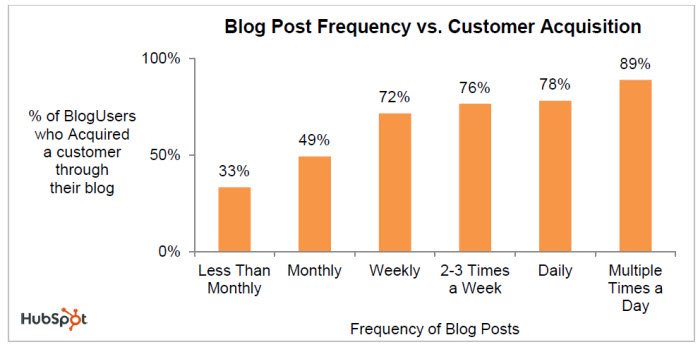 Certainly, driving traffic to your website isn't your only online goal, so you don't need every post to meet the needs of long-form content in driving organic traffic, but you're unlikely to achieve success without a consistent strategy of posting long-form content on your website.
What is long-form content?
What is long-form content when you get down to the nitty-gritty? Well, experts disagree as to the word count minimum for long-form content and the minimum word count seems to grow every year. The Yoast SEO plugin I use on my site, for instance, still requires a 300-word count minimum for SEO ranking. However, your content usually ranks better if it's longer and recent evidence suggests that high-ranking content tends toward a 2000 word count.
Of course, as we all know from school, word count is a poor measure of content quality (in fact, I refuse to provide word counts for my academic assignments). Instead of focusing on word count, long-form content should focus on providing value to the target audience. Content should cover everything that a person wants to know about a topic in sufficient depth to allow the reader to understand, develop plans, and implement the plan to solve their problem.
Word count is but one element of good long-form content, while images, videos, and infographics might provide significant insights into solving the visitor's problem. Including links to high-authority content on the website and content posted by others acts like citations in an academic paper to validate the information and demonstrate the writer's depth of knowledge on a topic. Filling your content with extraneous words that don't provide insight into solving the visitor's problem doesn't help your ranking, while even a short piece might provide significant value if it includes unique insights or treatments of the problem. For instance, as someone with a Ph.D. in marketing, I can provide unique insights by applying a variety of marketing concepts to the digital marketing space.
Will long-form content help your website rank higher?
Ranking higher on Google results pages for queries related to your brand is the name of the game in generating organic traffic. Below, you see how rank impacts the number of users who click on your content.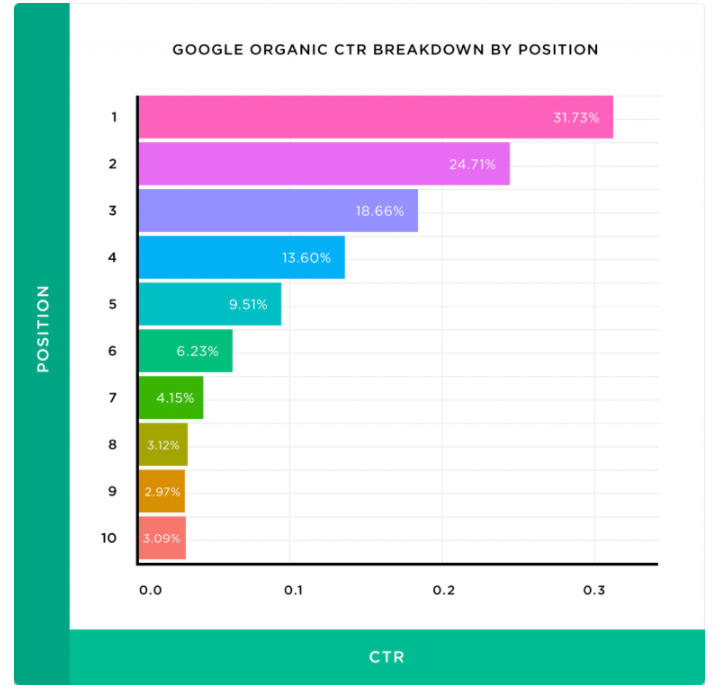 Now, let's answer the question that everyone asks about how long-form content impacts rank. Is creating long-form content the way to get you to the top of Google's result pages? The answer to this question is not quite what you think. Yes, creating long-form content can help you rank higher on search engines. But, this is not necessarily because of the number of words you write. In fact, content length isn't a factor included in the ranking algorithm.
Simply, if you create long-form content that provides value to your target market on a consistent basis, you improve your rank on Google results. But, ranking is much more than simply creating long blog posts, which we'll discuss later. An SEO agency can help you create and implement an SEO strategy that improves your SEO performance over time, but nothing happens overnight.
Relationship between long-form content and organic traffic
Let's take a step back to look more deeply at the factors that impact your rank and send organic traffic to your website. Remember, search engines thrive when they deliver high-quality links to users. ones that address their query best. By delivering high-quality links first, users are satisfied with the search engine and continue using it, which allows the search engine to monetize the vast amount of queries entered on their engine. So, the real question is: does long-form content provide the best answer to a user's query?
Long-form content can provide the best answer to a user's query, but its ability to address the user's questions isn't simply a factor of its length. Instead, the following characteristics of the content help search engines determine where it fits in the results.
Keywords are important because users enter keywords to help search engines find the "right" content. In building your content, use keywords that match those used in user queries appropriately. For instance, include the keyword in the title, subheading, meta description, alt text on images, and a few times in the content for best results. Overusing keywords, something called keyword stuffing, is not good and may earn a penalty from the search engine.
Quality signals tell search engines that your content is high-value. Likely the length of long-form content is a quality signal. Among other quality signals, you find the following:

backlinks from other websites, especially those that also produce high-quality content
time on page is a signal that visitors take time to read your content, so it must be good
repeat visits also suggest visitors found your content valuable
social media engagement, including shares and comments, which also spread your content farther on social platforms hence providing a double whammy
including links to high authority content produced on other websites

User experience factors such as load speed, navigation, and mobile-friendliness
Trustworthiness factors such as the age of the domain, domain authority, and privacy protocols
What are the other benefits of long-form content?
SEO is but one factor in helping you achieve your business goals and long-form content is integral to helping you achieve more salient goals such as conversion. Remember, getting traffic to your site is great, but you must do something with that traffic or it doesn't ring the cash register. That means creating content across the entire conversion process (see below) so you not only bring in traffic, you provide visitors incentives to make a purchase.
Above, you can see a common conceptualization of the conversion process; the reach, act, convert, and engage stages. Obviously, there's an interaction among these states that translates into a series of feedback loops rather than a straight, linear process. Different marketing strategies and content strategies come to the forefront at different stages of the process.
Then, consider the fact that long-form content is designed to set you up as an authority in your niche. You must cover all the bases of a topic and you want to really help your reader learn and make decisions easier. Since this is about writing quality and useful content, your content is likely going to attract links from other websites. Indeed, when you write something unique and novel on a topic, other sites will link to you. This is going to let Google know that you are trustworthy and an expert.
Conclusion
Let's not forget that long-form content is generally good if you have a blog or business website, although it can help send traffic to your physical store, as well. Not only can you attract an audience, but you are also able to keep them on your website. Longer content means that people will spend longer on your website. They can get to know your brand and might become interested in other topics you cover or products and services you offer. You can gain their trust through quality content and keep them engaged with your site.
Therefore, it is useful to have long-form content as part of your SEO strategy. It offers more opportunities for a range of keywords, it opens the doors to link building, and it keeps an audience on your site longer.
Need marketing help to support business growth?
We welcome the opportunity to show you how we can make your marketing SIZZLE with our data-driven, results-oriented marketing strategies.  Sign up for our FREE newsletter, get our FREE guide to creating an awesome website, or contact us for more information on hiring us.
Hausman and Associates, the publisher of MKT Maven, is a full-service marketing agency operating at the intersection of marketing and digital media. Check out our full range of services.