Ever wondered how your content does over time? How long a post works to drive traffic and engagement? What the lifecycle of content marketing looks like?
Well, the reality isn't very promising. Just take a look at the infographic below by Column Five. According to data from StumbleUpon and companies like Nielsen and Fast Company, the half life of the average post is:
Twitter – 2.8 hours
Facebook – 3.2 hours
StumbleUpon – 400 hours; that's almost 17 DAYS
On Pinterest, Pins capture about 70% of their engagement within about 2 days, but clicks keep on coming for as much as 30 days, according to VentureBeat. I wasn't able to find information about the half like of a Reddit post, but colloquially, Reddit has the best click-through rate of any social platform.
Dealing with the lifecycle of content marketing
Different folks recommend different strategies and tactics to deal with the relatively short lifecycle of content marketing.
B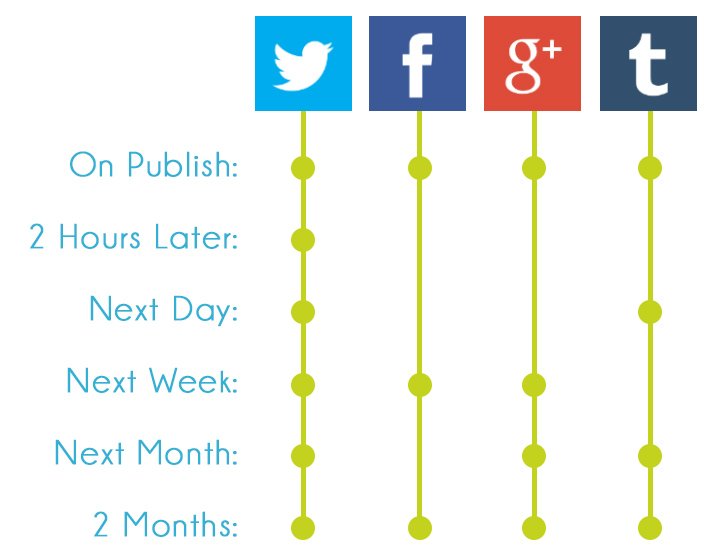 uffer, among others, recommends re-sharing your content to encourage more engagement over time. Here's the schedule recommended by Buffer:
Resharing content multiple times extends the lifecycle of content marketing as each share starts a new lifecycle. Oversharing can turn off your target marketing, so I don't recommend sharing more frequently than suggested by Buffer. I also recommend sharing content created by others (curating content) to supplement sharing your own content. A good content marketing strategy involves an 80/20 split with 80% of shared content comprised of content created by others and 20% your own content. I also stretch things out a bit by sharing after 2 weeks not 1 as shown in the graphic.
Obviously, reaching out to influencers to share your content not only increases your reach, but starts the lifecycle of content marketing over again, so that's an excellent strategy. A couple of caveats in reaching out to influencers. Influencers are busy people and their job isn't to make your life easier. Before asking an influencer to share your content:
Do your homework. Make sure the influencer commonly shares content in your content area. It's amazing how many times someone reaches out with their infographic or press release without carefully researching my content marketing efforts. They either send me something so far out of my content marketing area or something that contradicts my other content.
Getting influencers to share content is a two-way street. Don't just pop into an influencer's inbox out of the blue. Develop a relationship with the influencer first or prepare some inducement to get them to share your content. A nice tit-for-tat is to share their content first or offer to share your content if they share yours.
Be sure to recognize influencers who share your content. A simple thank you is usually sufficient.
Social bookmarking
Unlike traditional social networks, social bookmarking involves submitting content to a site where users search for interesting articles. But, social bookmarking shares some value with social networks when it comes to SEO because users-generated bookmarks help Google categorize your content, as well as showing the value users find in your content. Some social bookmarking sites even provide backlinks, which can also help your SEO.
Delicious
Delicious is the king of social bookmarking sites and very easy to use. Like Reddit, it allows users to vote content up or down and displays content with the highest votes. Delicious uses tags and comments to help users find content.
Reddit
Reddit is the most powerful social bookmarking site, based on my experience and several other bloggers I respect. Reddit, which identifies itself as the front page of the internet, contains links and text about various topics (subreddits) and encourages users to vote up or down content. Reddit is a community-driven social bookmarking site.
Here are a few things to know if you plan to use Reddit:
Choose an appropriate subreddit. Each subreddit has it's own rules (for instance, business doesn't allow you to submit content that's your own and marketing doesn't allow linked content only texts). Respect the community by following the rules — or face the consequences of banishment.
Each subreddit has folks who follow it. Obviously, you'd like to share your content in the subreddit (don't duplicate shares on several subreddits) with the largest number of followers.
Play nice by sharing content submitted by others.
Make it easy for visitors to share your content by adding a Reddit button to your website.
StumbleUpon
StumbleUpon is another popular bookmarking site. The infographic shows just how enormous StumbleUpon is — with 51 pages added every minute. To make StumbleUpon an effective part of your content marketing, be sure to use tags and leave some comments when you submit your content because finding it among all the other content is like finding a needle in a haystack.
Not only is StumbleUpon a great place to share your content, it's a great place to find content for sharing or just to learn something new — called Stumbling. I find it a great research tool in preparing new content.
Other social bookmarking sites
There are tons of other social bookmarking sites: Digg, Newsvine, Squidoo, and Yahoo Bookmarks are among them. Check some out and see if they work for you.
Need help?
We welcome the opportunity to show you how we can make your marketing SIZZLE with our data-driven, results-oriented marketing strategies.  Sign up for our FREE newsletter, get the 1st chapter of our book on digital marketing analytics – FREE, or contact us for more information on hiring us.
Hausman and Associates, the publisher of Hausman Marketing Letter, is a full service marketing agency operating at the intersection of marketing and social media.